A Weber River Bonnie
by Paul Burnett
One of the greatest rewards in conservation work includes engaging the anglers in research and on-the-ground restoration.  By being involved in these projects, we as anglers come away with a renewed sense of ownership and a deeper connection to the home watersheds where we live, work, and play.  Recently TU staff partnered with the Weber Basin Anglers and the Utah Division of Wildlife Resources to sample Bonneville cutthroat trout in the Weber River by deploying an age-old sampling tactic--hook and line sampling.  Our goals were to catch as many cutthroat trout as possible, record their geographic location and insert Passive Integrated Transponder Tags, also known as PIT tags, which are similar to the unique tags used by vets in identifying pets.  Equally important was to get people out, enjoying the resource and a beautiful late winter day.
The cutthroat trout in the Weber River tell an amazing story of perseverance.  Cutthroat trout that live in the mainstem rivers are known as fluvial cutthroat and are similar to salmon in that need to move potentially large distances between mainstem habitats and tributaries to complete their life cycle.  And this connectivity provides escape routes from events like hot summers, fires and floods. The fluvial cutthroat trout are important for maintaining biodiversity and they also get very large, sometimes exceeding 20 inches in length.  Like most river basins, habitat has become more and more chopped up or fragmented over time, as irrigation diversions, dams and roads have been constructed within the watershed and these large cutthroat trout have all but disappeared.
In the Weber River, TU is partnering with the Utah Division of Wildlife Resources, Utah State University, the U.S. Fish and Wildlife Service, NFWF and a whole host of private landowners and water users to restore critical connections between the Weber River mainstem habitat and its tributaries.  We are using data collected from these fish to help us understand where fish are moving and what the priority areas and actions should be.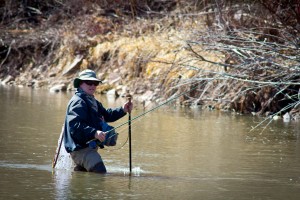 Fishing for research: someone has to do it. . .
Thankfully a few of these cutthroat trout have persevered and still persist in the Weber River.  The opportunity to merge research and angling generated a lot of interest from the press and allowed us to tell the story of our cooperative work and these amazing fish to a broader audience.  Unfortunately, the water ended up being turbid from snowmelt, and fishing was slow.  Nevertheless, 22 anglers participated in this project, which turned out to be a great opportunity for volunteers and fisheries professionals to interact and enjoy something we are all mutually passionate about.  Fishing.
Paul Burnett is TU's Weber River Home Rivers Coordinator.