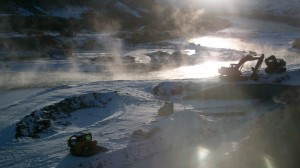 A cold day at the Relief Ditch site
By Cary Denison
Working in the cold of winter is an unfortunate and often unavoidable circumstance of river restoration, especially those projects that involve upgrading irrigation diversion structures like the Relief Ditch Diversion, which is currently under construction on the Gunnison River near Delta, Colorado. This winter, the construction project started off just fine, and then the heart of winter settled in with bitter lows that nearly crushed the construction crew's spirits as well as the progress.
About two weeks into that cold snap, I stood shivering on the bank of the river watching excavators tear at frozen, concrete-like ground, wondering if we'd be finished by spring. In my mind I ran through a grim scenario where aggravated local irrigators tar and feather me as high water poured over the coffer dams, washing out the job site. My stomach rolled at the thought.  I turned and faced two men striding purposefully toward me. I guessed they were irrigators paying a visit to schedule the tar and feathering.
They introduced themselves as Ken and Ken Jr., father and son who farmed off the ditch. Both surveyed the job site only somewhat approvingly. I was worried, so I jumped right in with the project elevator speech, explaining how TU funded the $750,000 project through a variety of funds and how we had moved the diversion up the river 250 feet, removed the old push-up dam and railroad rails that were driven into the river bed with a new rock diversion structure, stabilized the river banks, and would provide the ditch company with a modern headgate to improve water management.
I also explained how the project would improve the fishery, and there we found common ground. The older of the two men told me how he'd been fishing the river for over 40 years, including a number of years when he hiked into the Black Canyon every month of the year. Simply put, his fish stories were much better than mine, and the method of take is not something you'll read about in Trout magazine.
They both shared stories of hauling bales of hay, tarps, logs and other such detritus into the river to push water into the ditch when the dam would fail and they didn't have access or couldn't afford heavy equipment.
Before leaving he patted me on the shoulder and said, "Keep up the good work. I've been fighting this sonofabitch for 42 years. I'm glad to see someone is finally fixing it"—and with that he spun on the heels of his weathered cowboy boots and the two walked off. Watching them leave, I realized that the project is worth the struggle and that I was no longer shivering.
The Relief Ditch Diversion Modification Project will be completed by April, 2013.
Cary Denison is Gunnison River project coordinator for TU's Colorado Water Project.