Such a boat would be an absolute Ferrari on the river. You could surf the tiniest waves, sneak the big stuff with ease, or run the meat if you felt rowdy
Join Trout Unlimited today
Help us protect the places you love to fish, and to make your fishing better.
By Jim Aylsworth Corey, an old friend from college, has become a wise philosopher. He thinks life is all about "experiences" and how he wants more of them. This adventure to Colorado was my sixth attempt to time my trip for the famous Mother's Day caddis...
It feels different this year. Summer has been brutally hot around the region, and water temperatures are still much to warm to warrant chasing fish when even a short-lived catch and release encounter might all a nice trout can take
The bends and pools with undercut banks were clearly defined. Walking up carefully to the first of likely spots I saw maybe 40 to 50 very clearly defined California goldens. Their hallmark par-marks and crisp lines were clear as day.
As I rowed the 14 foot lumbering Jon boat back to her berth on the side of a remote lake in the Adirondack mountains after an incredible day of smallmouth fishing the other day I thought to myself how much I both love and hate Jon boats. They are ugly as hell, hard to row, but definitely get the job done.
It's later in the season, but not too late for stoneflies. Below, TU's Nick Halle ties his After Hours Stonefly, a solid "tweener" of a bug that could be seen by trout as either a smaller Yellow Sally or even a larger, nocturnal stone. Even...
An impromptu trip to Bristol Bay to remind us why we should always say "yes" to fun invites and taking action for special places that need permanent protections
Fishing stillwater for trout is so good for you, and good for your game, on so many levels. But many anglers don't bother. Here are five reasons to go jump in a lake (or at least fish from the shore 1. Knowledge You learn things you don't often learn on the river. ...
While this might be a slight exaggeration, it might not be either… Over the weekend my buddy sent me a link to a boat over on a group we belong to on Fakebook called Drift Boats Unlimited. In the posting a gentleman named Grant Brown had about 25 images of a boat he was wanting to sell.
In New Mexico, fences protect trout habitat and livestock It feels great to get out again on TU field projects. A few weeks ago, we journeyed to the Gila to take some stream measurements, and last week we went to the northwestern Jemez...
The design idea was to create an anchor with more edges so that the anchor had more opportunity to grab the river bottom. This theory lead to an anchor design of a series of stacked plates. The concept being that it would create a ribbed surface and more exposed edges. The anchor evolved quickly with the realization that these stacked plates could also be allowed to rotate independently.
One of the biggest challenges those new to fly tying encounter is how to tie in wings for various patterns. Hair wings for everything from big stonefly patterns to tiny mayfly imitations require some dexterity and precision. The only way to get better at it is to do...
Some years back, I got a gift package in the mail right around Christmas time. It was from my uncle John, my mom's brother. Long and slender, the package was a complete mystery to me–we'd long since stopped receiving gift packages from aunts and uncles, so I was...
"Arctic grayling," I responded without batting an eye. "I've never even seen one, let alone fished for them before. It'll signify just how far from home I am on this trip."
All it really consists of is using a girth hitch to attach your cam-strap to the frame, d-ring … whatever really
Blue Smoke that is… There was a time where finding a good meal in a small river town was a challenge. While not a fishing town by trade, Three Forks, Mont., is finding itself in the middle of a recreation boom and among the throngs frequenting the local rivers...
Two old friends get together in Salida for one last trout trip By Jim Aylsworth While my dear friend Dick and I would enjoy fishing anywhere together, for this trip we chose to explore the water around Salida, Colo. Upon seeing him at the airport I knew better, but...
Humans are coming to grips with the damage we've done … and the need to repair it Even in New Mexico, a state so over-endowed with emptiness that one can find a place to hide a body almost anywhere, Gila country is about the loneliest place imaginable. ...
Editor's note: Water in the West is at a defining moment with severe drought and climate change upending decades of management practices and creating the need to find common ground so all users can benefit. Read or listen to learn more about how conflict...
I'm trying to improve my health. Still. Again. Since my hip surgery, working out has required considerably more intentionality than I've been able to muster over the last decade or so. Pain speaks in different terms; the "your legs are sore because you're making...
I may have finally found my solution to dependable travel luggage in the Simms GTS Roller bag, so forgive me if it seems I'm a bit too excited about it. You see, I have a toxic relationship with luggage. I expect perfection, even if I don't always return...
At the Memorial Wall in D.C., I remember tears rolling down my good friend's face the moment he located the name of his father, who died when my friend was but two years old and had yet to commit his dad's face to memory
An angler tangles with a Dolly Varden on Alaska's Stikine River. Chris Hunt photo. How can I adequately capture the essence of fishing the world's wildest fisheries in a few sentences when only a book might do them justice? I can't. But it's fun...
Growing up in the Denver suburbs, one of my favorite childhood haunts was a public park a short bike ride from home. It sported the sketchy jungle gym with the sharp, rusty edges, the little spring loaded ridable critters that, with enough momentum, could send a small...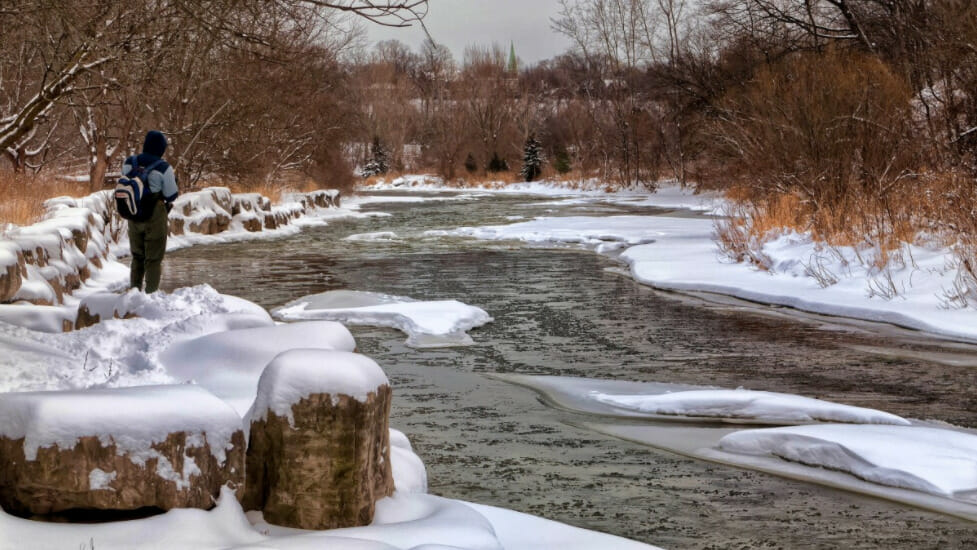 One learns not to expect much when fly fishing during the winter months. At least around here, or if you're me. Regardless of the season, sometimes you step into a river and just know something's off. The water's not moving right, or the sound of...
Enter the 2019 Great Gear Giveaway!
Win a Flycraft 3-person boat, a suite of Yeti gear, an Orvis rod and MUCH MORE. Sixty winners in all!
Get fly patterns, fishing tips and conservation news in your inbox weekly.