Join us Oct. 2-6, 2019 in Rogers, Arkansas!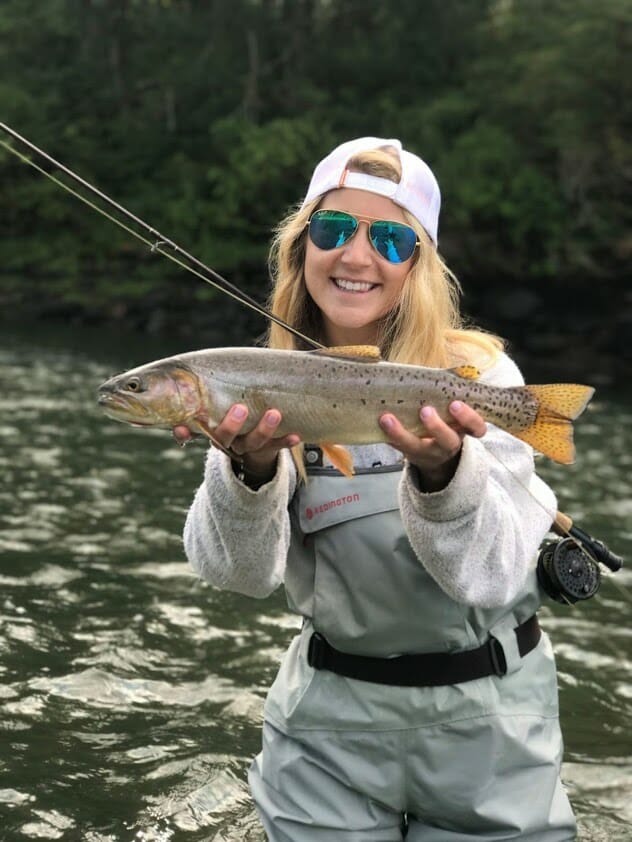 Registration Coming Soon
There's nothing quite like the TU Annual Meeting to get you excited for another great year of conservation. Save the date and plan to join us in Northwest Arkansas this October 2-6 as we kick things up a notch with the help of our incredible volunteers in the Arkansas Council and the local chapters.
You'll be treated to once-in-a-lifetime fishing opportunities on the White River and Beaver Tailwaters – the tailwaters of legend where monstrous trout are brought to net each week! You'll also see first-hand how conservation partnerships are making a difference to keep these amazing rivers clean, cold, and ideal for trout.
You'll hear from Chris Wood on the State of Trout Unlimited and celebrate all we have accomplished together to make a difference in rivers and streams across the country. You'll have the opportunity to meet, learn and discuss critical issues in coldwater conservation with TU's volunteer army, expert staff and scientists and partners from state and federal agencies.
Most importantly, you'll meet hundreds of conservationists and anglers like you, people who share your passion and live the motto "Take care of the fish, and the fishing will take care of itself."
Start your planning now, and stay tuned for registration to open in the weeks ahead. We hope to see you in Arkansas this fall!
Lodging
Lodging for the 2019 Annual Meeting is provided by Embassy Suites Northwest Arkansas Hotel, Spa & Convention Center, 3303 Pinnacle Hills Parkway, Rogers, AR 72758 .
We have secured a discounted room rate of $159 per night for our meeting attendees. The discounted room rate expires on Sept. 3.
To make your reservation, click here to book a room online, or call (479) 254-8400 and provide the group code "Trout".
Schedule of Events
Wednesday, Oct. 2
Optional Day of Fishing: Learn why so many anglers travel to the White River system to chase big trout! You'll have an option of wading the nearby Beaver Tailwaters with local volunteers, or enjoying a float trip down the White River with hired guides.
Thursday, Oct. 3
Conservation Tour: Spend the day learning what it takes to keep these incredible tailwater streams cold, clear and clean with the local TU volunteers who make it possible. You'll join partners in conservation to learn about watershed-wide efforts to protect the White River, and see active in-stream construction efforts to improve trout habitat!
Tailgate Party & BBQ: One thing the Arkansas Razorback fans know how to do is throw a good tailgater! Join your new friends from the local TU community as they treat you to a fun, festive dinner full of great food, cold drink, and lots of laughs.
Friday, Oct. 4
The Business of Conservation: Step into our National Leadership Council business meetings throughout the day to see first-hand how volunteers are driving the discussion on issues such as Climate change, Native Trout, Diversity and more. Learn how your efforts can help grow our impact nationwide!
Conservation Luncheon & Senior Staff Q&A: Enjoy a great lunch and discussion with hundreds of conservationists and anglers like you. Have the chance to ask your question from our panel of senior staff and President & CEO Chris Wood.
Volunteer Awards Dinner: Join us to celebrate and toast TU's heroes of conservation and education as we recognize the people who make our local chapters and state councils tick! Nominate your deserving volunteers for award consideration before July 15 at www.tu.org/awards.
Saturday, Oct. 5
State of TU: Hear directly from Chris Wood, President & CEO, the difference we are making together across the country in this riveting and inspiring presentation. You'll see our efforts in action from Alaska to Georgia, Maine to Arizona and everywhere in between!
STREAM Kids: Bring your family and friends to a great outdoor environmental education day along the nearby Osage Creek where we'll have time to explore the creatures and critters in the stream, learn a lesson or two about healthy streams and watersheds, and spend some time casting and fishing for bass and bluegill. Ideal for ages 7-12.
Arkansas Council Fundraising Banquet: Close out the week of events and activities with a bang! Join us as we gather one final time to enjoy each other's company and support the incredible work of our Arkansas volunteers!