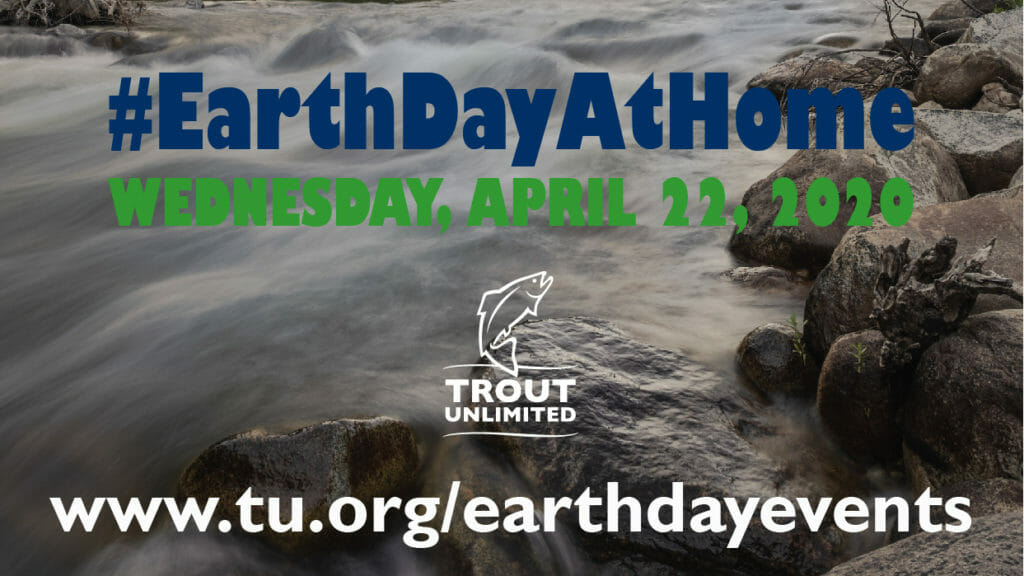 Engaging Members for a DIY Earth Day Celebration
On Wednesday, April 22, Earth Day will turn 50 years old, marking a milestone for conservation consciousness at a time when millions of Americans are under stay at home or social distancing orders in response to the COVID-19 pandemic.
Traditionally a time when TU chapters are at their most active, hosting stream cleanups, tree plantings, family friendly environmental festivals and more, this year all of those events have been put aside.
At the same time, it is more important than ever for us to feel connected as a community, to feel like we are part of something bigger than ourselves and that we can make a difference. As a chapter, you can help your members take action on Earth Day in a way that is uniquely TU and helps them engage their entire family in a positive action during challenging times.
Five Chapter Activities to Encourage #EarthDayAtHome
The following activities are great ways to celebrate Earth Day's anniversary as a chapter community – even though you can't get together:
1) Share www.tu.org/earthday with Your Members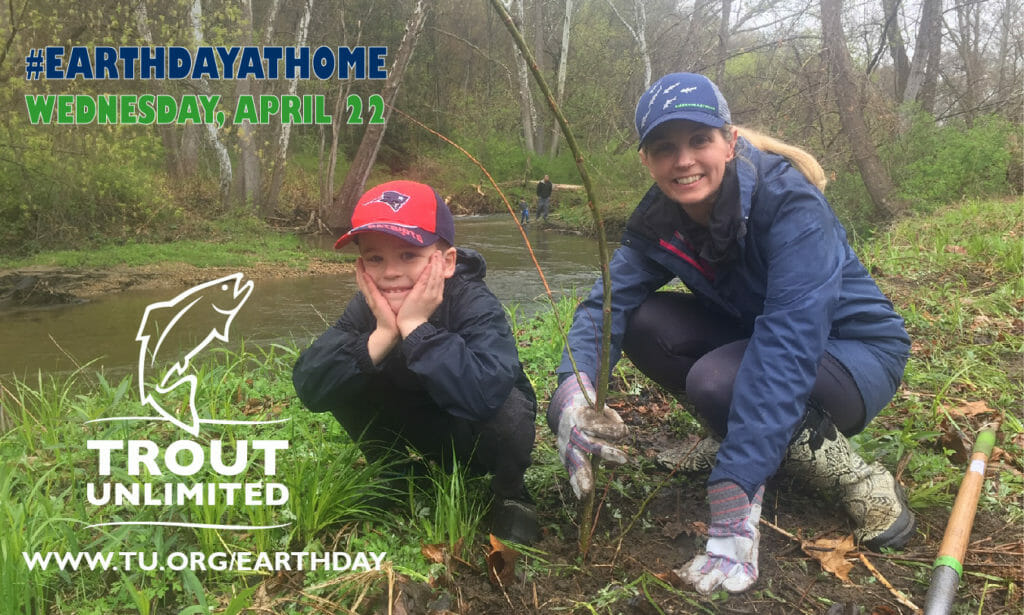 If your chapter doesn't have the bandwidth to run its own #EarthDayAtHome campaign, simply encourage your members and supporters to join the national effort online. Send an email, or post on social media to get your local communities to connect with the resources at www.tu.org/earthday. You could copy and paste the following into your chapter's Facebook page: "Join @troutunlimited for #EarthDayAtHome on April 22. Find great ways for you or your family to make a difference in your own back yard and to make a meaningful connection with our conservation community even when #socialdistancing. #TroutUnlimited"
2) Run a Kids Digital Art Contest in Your Community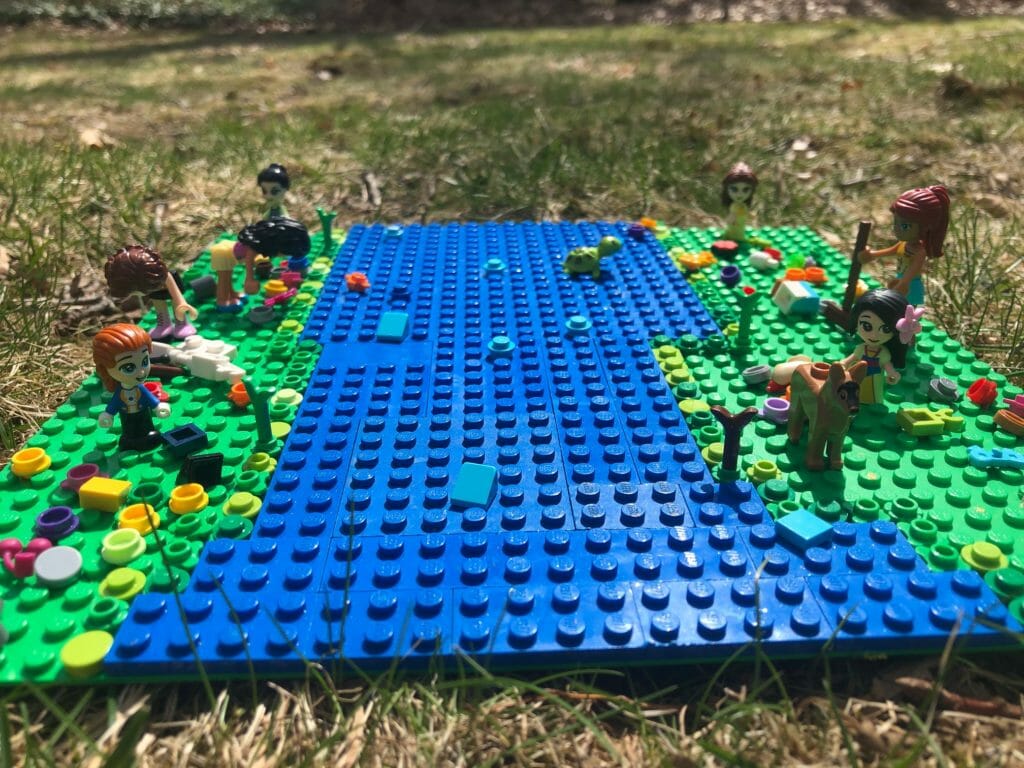 With children home from school, now is a great time to connect to them, and their families in a digital way. Hosting a #EarthDayAtHome poster contest is a fun way to show the world that the next generation cares about conservation. Set your rules, set a deadline, create some prizes (a kids Bug Launcher fly rod outfit from TFO is easy and affordable in our fundraising program) and be sure to have the parents post the photo to Facebook and/or Instagram with #TroutUnlimited #EarthDayAtHome and to @ mention your chapter and @troutunlimited in the post.
3) Encourage People to Post a Photo & Pledge an Action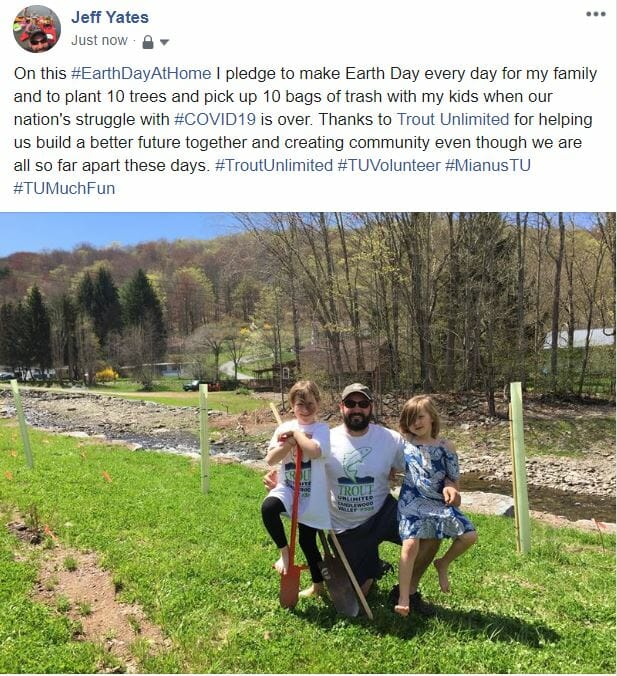 Have your members post a photo of themselves fishing their favorite river, planting a tree, picking up trash or hiking a trail near their home and share their personal pledge to take a conservation action this year once the COVID-19 pandemic has faded. It's a powerful way to make everyone feel hopeful for the future and feel connected to a community of like-minded TU members and supporters who are all in this together. They should use #EarthDayAtHome, #TroutUnlimited, #TUVolunteer and be sure to ask them to give your chapter an @ mention as well as plugging @troutunlimited.
4) Coordinate a DIY Native Tree Planting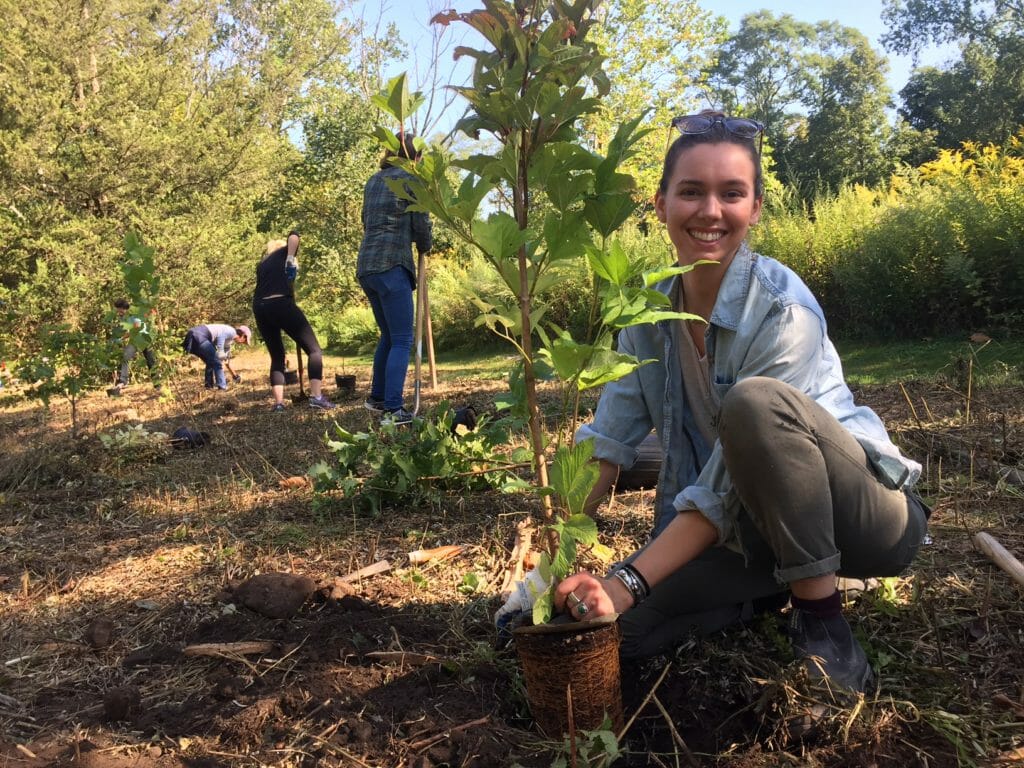 Just because we can't all get together to plant trees doesn't mean we can't work together to keep our local streams healthy. You chapter can create a DIY tree planting event encouraging your members to practice social distancing as they head out to a nearby stream – or in their own back yard – to plant native trees and shrubs. You can up the game by building a Google map of known areas where native tree plantings are needed (and already approved by the landowner) and encourage members to head out to make a difference. You can provide them a list of native species for your area, and connect them with a local native plant nursery to purchase their plants. Have them post photos of the tree they planted and post it on social media to get more people to join in the fun using #TroutUnlimited #EarthDayAtHome and @troutunlimited. (Note: Be sure to advise your members to follow all federal, state and local rules regarding travel and outdoor activities.)
5) Plan a Paint the Drain Campaign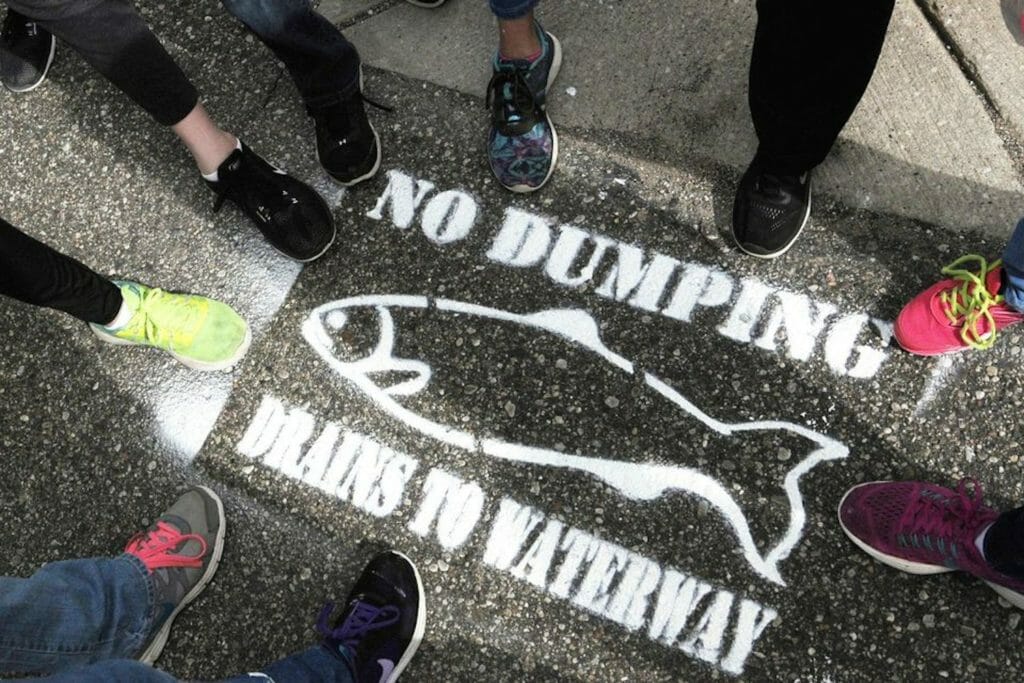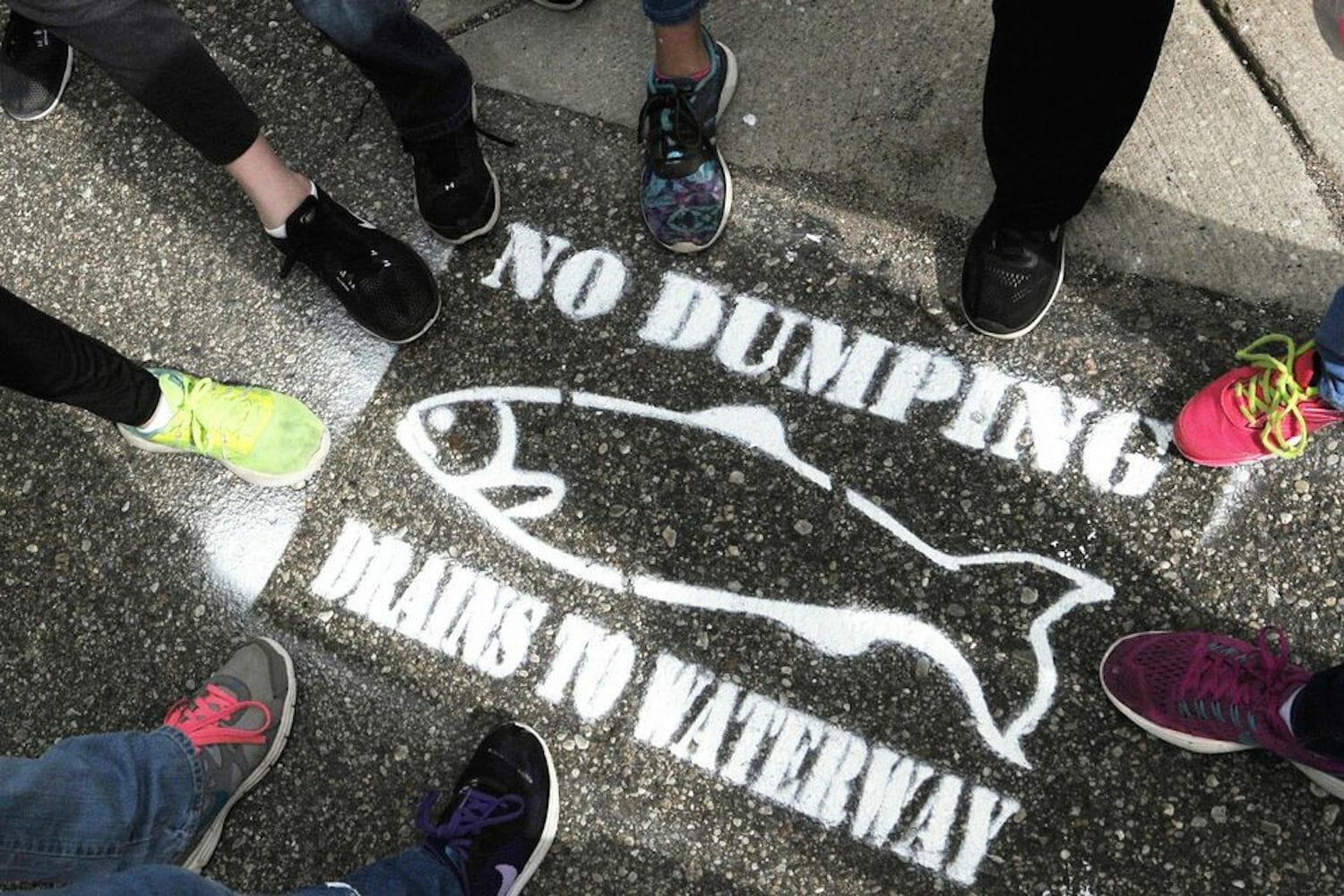 "If it hits the ground it heads to the stream" is a common way to understand the impact of stormwater runoff. From road sand and salt to neighborhood pesticides and fertilizers along with spilled oil, gas and anti-freeze, everything that goes on roads, parking lots, driveways and the nearby land will eventually wash into a storm drain and wind its way to your local waterbodies.
Plan a stormwater drain painting campaign with your local state, county or municipal agencies and train your members and supporters in the community to take to the streets with a stencil and spray paint to mark the storm drains with a clear, powerful message, or spend a few hours creating an eye-catching piece of art as a community contest. Have them take a photo of their work and post it on social media using @troutunlimited , @ mentioning your chapter, and use #EarthDayAtHome #PaintTheDrain and #TroutUnlimited
6) Host an Online Conservation Conversation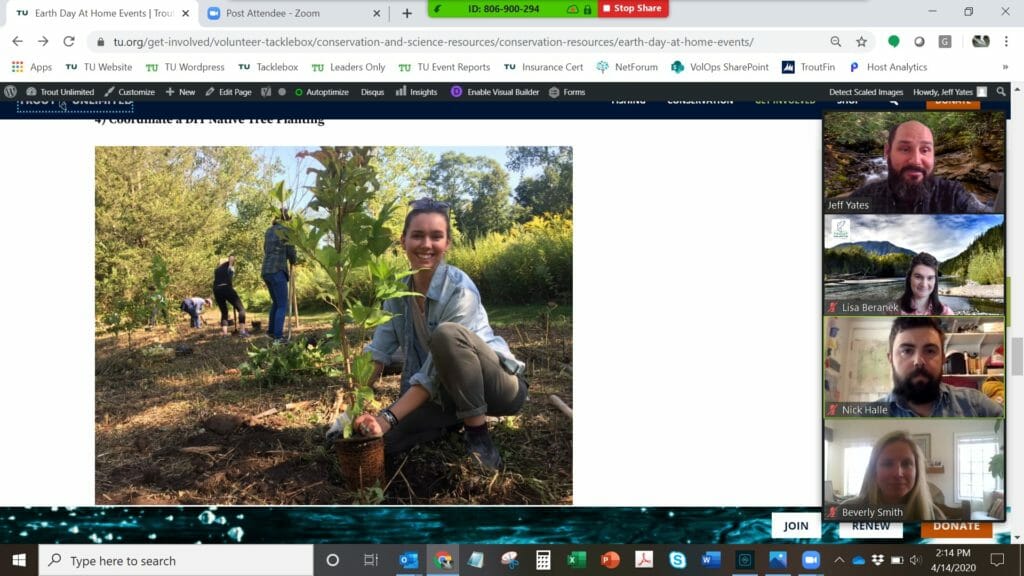 When you can't get everyone together in the same room, you can still get together at the same time using web conferencing software. People are eager to connect and see the smiling faces of the friends and fellow conservationists, so give them that chance by hosting a digital get-together. You can have an open discussion about fishing, host a fly tying night where everyone is behind their vise showing off their favorite pattern or you can gather together to learn about an important local conservation topic. Inviting guest speakers – such as a state expert on dam removal, or a TU conservation staff member who can share their efforts in river restoration, or even hosting a panel where the audience can ask questions are all great ways to create the online community and keep our mission moving forward. TU is currently using Zoom for our web trainings and conferences and your Volunteer Operations staff can help train your chapter leaders to do the same.