---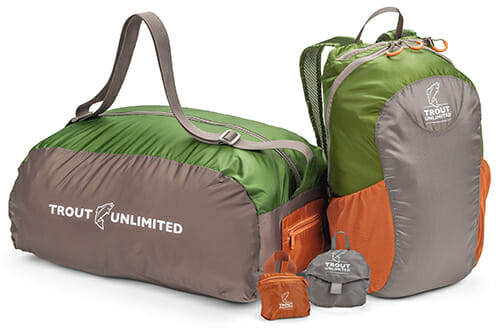 Get Your Packable TU Bags
You'll receive two TU Packable Bags, a backpack and a duffle, when you make your donation today! And tell us what you think by taking the 2020 Member Survey.
---
EVENTS & TRAININGS
TU Volunteer Leaders trainings are a powerful way to connect with resources, learn from fellow volunteers and grow your impact locally. Join us for the following in-person and online events:
In-Person Trainings:
Online Trainings:
View recordings of past webinars online at www.tu.org/training. Online webinars are held at 8 p.m. EST unless otherwise noted.
April 1 – Annual Financial Report & IRS Training (8PM)
April 3 – TU Social Hour: Volunteer Community Conversation with Chris Wood (5PM)
April 6 – Leaders Roundtable: Communications Tools & Tips (12PM)
April 7 – Connecting with Members During COVID-19 (8PM)
April 9 – Using TU's New Online Fundraising Tools (8PM)
April 14 – Leaders Roundtable: Membership Engagement (2PM)
April 21 – Organizing a Leader Recruitment Committee (8PM)
April 22 – Leaders Roundtable: Leadership Development (4PM)
April 30 – Leaders Roundtable: Fundraising Tools & Tips (8PM)
May 5 – Generating & Prospecting Leadership Leads (8PM)
May 7 – Keeping Conservation Going this Summer (8PM)
May 19 – Innovations Driven by COVID – Tactics & Technology (8PM)
June 4 – Planning for the Fall: What Activities Work Best (8PM)
CONTACT VOLUNTEER OPERATIONS
Your Volunteer Operations Staff is here to help! 
Nick Halle
Volunteer Operations Coordinator
(703) 284-9425
Contact Nick for:
Volunteer Leader Login Issues
Insurance Requests / Questions
Fundraising Program & Support
Membership Recruitment Tools
L.L. Bean Rod Donations

Lisa Beranek
Leadership Development Manager
(907) 205-0974
Contact Lisa for:
Leadership Recruitment & Development
Embrace A Stream Grants Program
Strategic Planning Support
Diversity Event Planning