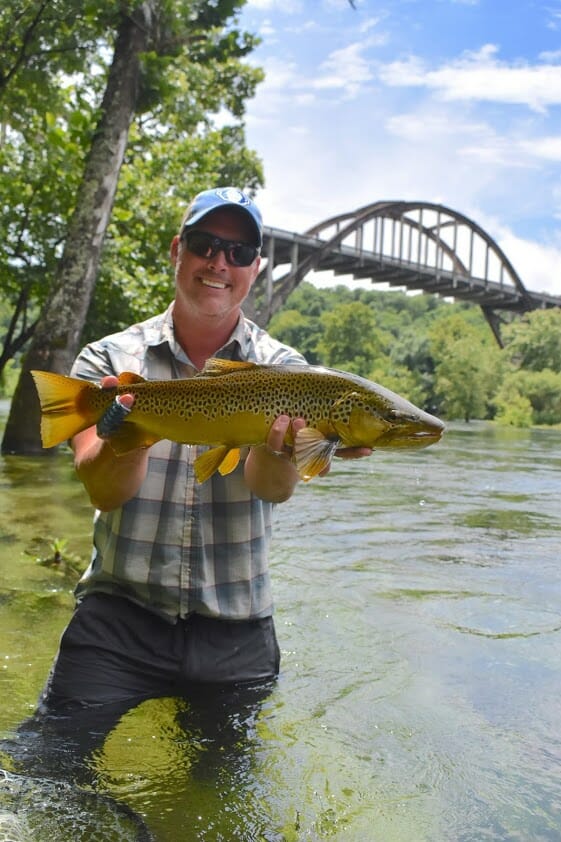 2019 Annual Meeting Fishing Day
Wednesday, Oct. 2
The world-famous White River system is renowned for the big brown trout it grows – fish of 16-18 inches are average, fish over 20-inches are common, and fish over 30-inches lurk in the depths and are increasingly being caught!
This year, anglers have two great options for the optional fishing day:
A boat trip on the White River below Bull Shoals for $250 per angler.
A wade trip on the Beaver Tailwaters for $60 per angler.
Boat Fishing on the White River
Limited to just the first 30 anglers, the White River trip will feature a guided half day for two anglers per boat who will ply the waters for big brown trout and the occasional rainbow, Bonneville cutthroat trout and more. A coach bus will meet anglers at 6 a.m. at the Embassy Suites lobby and take the group on a two-hour drive to Bull Shoals where you will connect with guides who have set aside the day just for TU. A boxed lunch will be provided, as will as a dinner at Gaston's White River Resort before the trip back to the hotel.
Wade Fishing on the Beaver Tailwaters
Just 30 minutes away, the Beaver Tailwaters is an easily-wadeable, heavily stocked stream loaded with rainbows, and with a good mix of large brown trout. Your volunteer hosts will help you with fly selection, figuring out where the fish are holding, and ensure your day on the water is fun and memorable. You'll get a boxed lunch to take with you and enjoy streamside and your host will help you get back to the hotel for dinner on your own once your arm is too tired from fighting fish!
Gear for the White River System
For your trip to the White River, your hosts and guides will provide some great local patterns proven on these rivers, but you'll also want to bring a mix of streamers, dries and nymphs. Fall is prime hopper season on the White so you'll want to be ready for some intense surface action for big trout! Big streamers – even those up to 4-6-inches – can be deadly on the White, and small nymphs and midges can be productive all day long as well.
Nymph Fishing:
To be rigged and ready for nymph fishing on either river, bring a five or six weight rod with floating line and 5X tippet. For flies, be sure to pack midges in size 18 including: Size 18; Ruby midge, Rootbeer midge, Zebra midge in red or black, and nymphs sin sizes 16 and 18 including: Prince nymphs, Pheasant tails, Egg patterns, San Juan Worms, and scud patterns.
Hopper Fishing:
To be ready to toss  big hoppers to big fish, a six weight fly rod may be best, rigged with 3X to 4X tippet. You'll want to have a box ful of size 10 Fat Alberts in black or tan, Goulds Western Lady in pink and tan, Dave's Hopper, or any hopper pattern of your choice. Having some foam beetles and ants is also a good bet.
Streamer Fishing:
Depending on flows there may be streamer opportunities as well:= and you'll want to have a beefier rod in size six to eight weight with sinking lines, sink tip lines, 12-pound mono leader or 0X tippet. For flies, be sure to include: Zoo Cougars, Sex Dungeons, Double Deceivers, Sluggos ( in yellow and olive), woolly buggers and other favorite streamer patterns – don;t be afraid to go big with your flies!