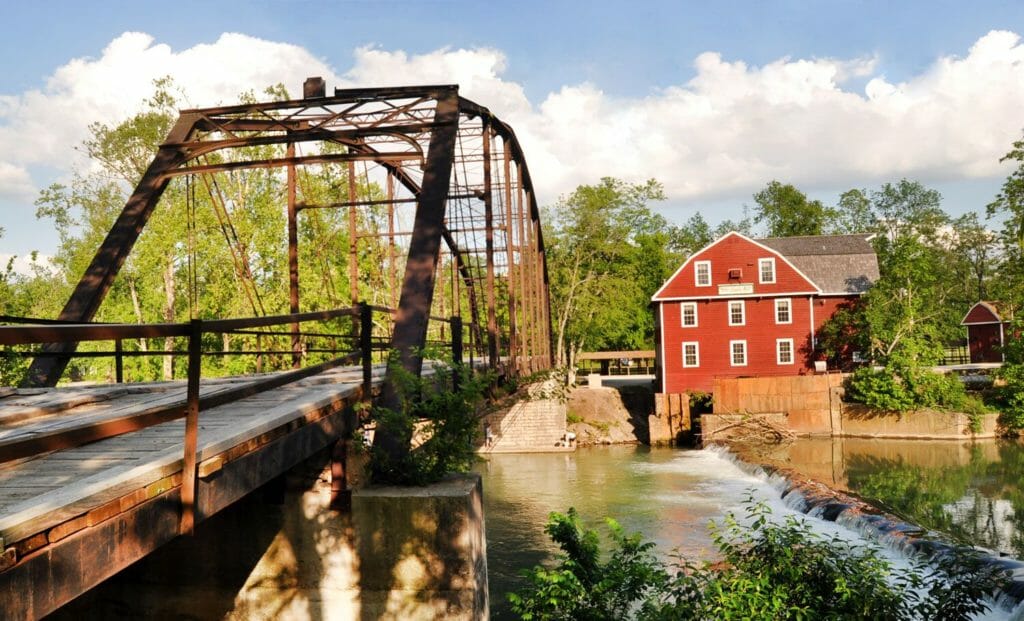 Friday & Saturday, Oct. 4 & 5
Experience a curated tour of the best sites, stops, cultural and historical attractions and more with a friendly local chaperone as your guide.
The two-day guest and spouse tour is a fun way to experience a new area in the company of new friends from the TU community.
The exact stops and sites will be refined in the weeks ahead, but as you can see below, there's a lot of great opportunities to draw on!
Northwest Arkansas Offers Urban and Outdoor Fun
By Jill Rohrbach
Northwest Arkansas is mid-America's playground for outdoor fun with plenty of urban offerings to complement the experience.
It's one of the most dynamic regions, not only in the state, but in America. Northwest Arkansas' big three Fortune 500 companies — Walmart, Tyson Foods and J.B. Hunt — are the region's largest employers and all have made new commitments to a strong future in Northwest Arkansas.
This metropolitan statistical area is one of the fastest growing in the nation. Yet, it retains its natural beauty. A big part of its appeal is the proximity of outdoor fun to its urban developments.
Urban Fun
Vibrant entertainment districts are full of shopping, dining and the arts in all of the cities that make up Northwest Arkansas. Then there are the extra special offerings, like Crystal Bridges Museum of American Art which attracted 633,000 visitors in 2017. Asher B. Durand's Kindred Spirits, Charles Willson Peale's George Washington, and Norman Rockwell's iconic Rosie the Riveter are among the most recognized paintings in the museum's amazing collection.
The TU National meeting will be headquartered in Rogers. Here, brick-paved streets lead to old-fashioned store fronts filled with unique furniture, antiques and gifts, cafes, jewelry and business offices in the historic downtown, which encompasses about eight square blocks. The Daisy Airgun Museum, home to the world's largest collection of antique airguns, and the Rogers Historical Museum are also located here. More contemporary and cosmopolitan shopping abounds near Interstate 49 at Scottsdale Center, Pinnacle Hills Promenade and at Village on the Creeks.
Next door, Bentonville is no longer just known as the corporate headquarters for Walmart. It's home to Crystal Bridges, the Scott Family Amazeum, the Walmart Museum, and the Museum of Native American History. A new premier climbing facility, Climb Bentonville, just opened this year as well.
About 20 minutes north, Fayetteville offers the fun that only a college town can with an arts and entertainment district, University of Arkansas, historic downtown, and unique locales like Terra Studios, an artist retreat. No trip to Fayetteville is complete without a visit to the famed Dickson Street, where you can find a variety of restaurants, bars and live-music venues, including George's Majestic Lounge, the oldest and longest-running club and live-music venue in Arkansas. The Dickson Street Bookshop and the Botanical Gardens of the Ozarks are other iconic stops. The Fayetteville Ale Trail serves all the craft beer lovers.
Springdale is the place to catch a ride on the Arkansas and Missouri Railroad in a beautifully restored turn-of-the-century passenger car. It's also home to the Shiloh Museum and Black Apple Crossing cidery.
Eureka Springs is exploding with art galleries, boutiques, Victorian architecture, and spas. It's also home to Turpentine Creek Wildlife Refuge, a 500-pound Humpty Dumpty, The Great Passion Play, and the seven-story Christ of the Ozarks statue. Its entire downtown area is on the National Register of Historic Places. Designed by famed Arkansas architect E. Fay Jones, Thorncrown Chapel, tucked in the hills of Eureka Springs, is a breathtaking structure that made the American Institute of Architecture's list of Top 10 Designs of the 20th Century.
All of this awaits exploration, plus a river runs through it.
Outdoor Escapes
The White River is known for great trout fishing. It flows for 772 miles from its headwaters in the Ozarks to its mouth at the Mississippi River and drains a watershed spanning 17.8 million acres across 60 counties in two states. It is a vital part of the wildlife-related economies of both Arkansas and Missouri. And in short, healthy rivers and watersheds are vital–providing not only outdoor recreation, but also clean water and flood and drought protection.
In addition to trout fishing, consider a visit to a national treasure and America's first national river. Perhaps the best-known tributary of the White, the Buffalo National River, winds 150-miles through some of the most scenic territory in mid-America. Towering limestone bluffs, great whitewater canoeing, smallmouth fishing, and unspoiled natural wilderness are among the wonders of this free-flowing stream, located a little over an hour from Rogers.
If you're looking to stretch your legs, the nearby Ozark Highlands National Recreation Trail is a 258-mile hiking and backpacking trail through some of the most scenic areas in the Ozark Mountains. Also hidden in Northwest Arkansas are the Oz Trails, 200 miles of mountain biking trails, ready for visitors to come and shred.
Beaver Lake, easily accessed in Rogers, is Northwest Arkansas's sparkling crown jewel and birthplace of the White River. Limestone cliffs and clear water characterize this 28,000-acre playground for boating, fishing and swimming.
The 36-mile Northwest Arkansas Razorback Regional Greenway starts in south Fayetteville and runs north to Bentonville. This paved trail serves as the central corridor to a seemingly endless number of connecting shared-use trails. It meanders by creeks, green spaces, lakes and parks, as well as town squares, restaurants, historic sites and stores.
Other rivers loved by canoeists and anglers include the Mulberry and Kings. Hiking is popular at Hobbs State Park-Conservation Area in Rogers and nearby Devil's Den State Park, Lake Fort Smith State Park and Withrow Springs State Park. Prairie Grove Battlefield State Park and Pea Ridge National Military Park are also located less than an hour away for those interested in Civil War history.
During the TU National meeting, explore and experience all that's available in the northwest corner of The Natural State. For more tourism information, visit www.Arkansas.com, email jillrohrbach@mac.com or call Jill Rohrbach at 479-443-7228.