2018/2019 PROGRESS REPORT
DEAR READER,
When we look around at the staff, the volunteers, the business owners and the tireless advocates who make Trout Unlimited what it is today, we see what follows when you mix a little work ethic with a strong dose of backbone.
Short answer? You get things done. TU is the organization that gets it done for trout and trout anglers.
Maybe that comes across as bragging. But consider the context in which we live: These days, our sense of time has warped a bit. We forget what happened this morning, let alone commitments made 10 years ago. At the same time, we are living in politically tense times. Often it seems we as a country cannot agree on the color of the sky, let alone how to protect our greatest resources.
But within those challenges, TU has not only survived, it has thrived.
We know and deeply believe that conservation is not political. In 2018, we protected more than a half a million acres of land, helping usher through the John D. Dingell, Jr. Conservation, Management and Recreation Act, one of the largest public lands protection acts in recent history. In doing so, we also honored the conservation legacy of one of our World War II heroes and his dedicated wife.
We also know that a desire for clean water is not Democratic or Republican. And TU has the vision and power to not only protect our resources, but fix them when they are in need. This year we reconnected 418 miles and restored 508 miles of streams and rivers across the country. Then we went to bat to protect those investments, pushing decision makers to protect our headwaters by standing by the Clean Water Act.
Because simply caring for a river itself is not enough, we increased our efforts to foster a connection to place. This past year, the Veteran Service Partnership hosted 4,000 veterans with 700 programs and added 10 new chapter programs.
This is only the tip of the iceberg.
When we sit down to write these reports, we do it with eyes wide open. We see the landscape for what it is, warts and all. And we tend to be pragmatic about these things.
What we don't expect is to be amazed at what happened right in front of us each year. Perhaps we become accustomed to the over-achieving nature of TU over time. But there is no denying the positive impact Trout Unlimited is having in community after community, all across this country.
Among our 300,000 members and supporters and more than 220 staff, we have a generous depth of talent, not to mention an endless supply of optimism.
We also have what many other conservation organizations do not: The grit and selflessness to go out, get our hands dirty, quite literally, and make our streams and rivers better. When others find it easier to phone it in, TU supporters and staff put in the sweat-equity to get the job done. Rain or shine, no matter how uphill the battle.
In the pages of this annual report you will find the many other threads that tie us together as anglers. Love of place, dedication to our coldwater fisheries and a deeply engrained drive to pass on these gifts to the future.
We hope it inspires you to pull out the work gloves and help us continue the long, yet gratifying march toward better coldwater fisheries.
Sincerely,
Chris Wood
President and CEO of Trout Unlimited
Bernard C. Bailey
Chairman of the Trout Unlimited Board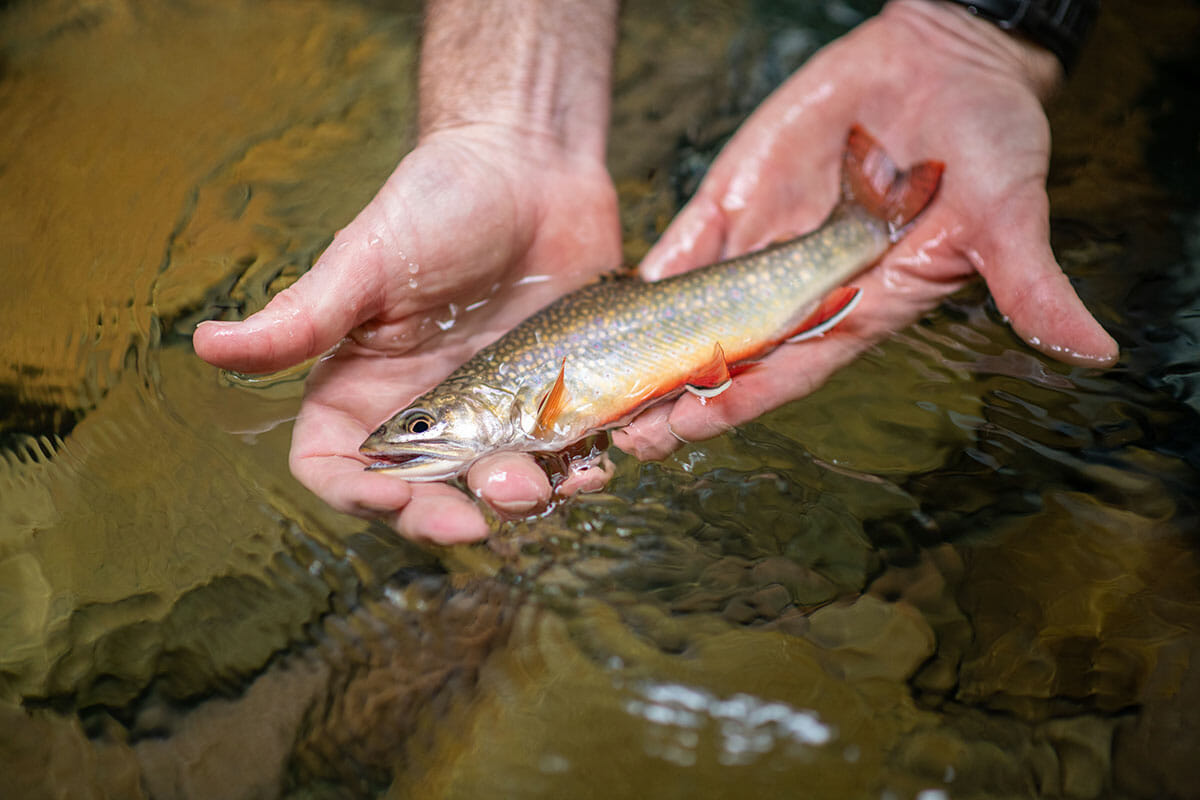 Trout Unlimited is a conservation organization dedicated to protecting and restoring trout and salmon fisheries and the watersheds upon which they depend.
Take care of the fish and the fishing will take care of itself.
Trout Unlimited is a community of more than 300,000 members and supporters operating out of more than 400 local chapters and state councils. We are the most dedicated trout, salmon and steelhead anglers in America, who not only appreciate the pastime of fishing, but who are also dedicated to keeping our resources around for future generations.   
As an organization, we are wholly committed to an inclusive culture that respects the dignity and worth of each individual. In fact the Diversity and Inclusion workgroup of the National Leadership Council has been working for over a decade to foster diversity and belonging across Trout Unlimited's volunteer-led chapters and councils.  Today we are navigating how to meaningfully adopt practices that foster diversity, equity, and inclusion at all levels of the organization — values that are core to our identity and our strategy. 
Our "boots in the water" accounted for more than 737,000 volunteer hours, 1,078 conservation projects and 1,668 education projects that engaged youth. 
But what does "boots in the water" mean? It means physically working – digging, planting, carrying, cleaning. Making rivers better. Planting trees, placing rocks, securing logs, all to benefit the stream, those who inhabit it and those who fish it. It means being present. Participating. Being there for events that teach children river stewardship or get wounded veterans on the water. Being part of the process from the obscure planning meeting to the high-profile Congressional hearing. Showing up, again and again, educating, advocating, all in the name of conservation. Mile by mile, acre by acre, no organization in the world has the bandwidth nor physically does more to improve, protect and sustain trout and salmon waters than Trout Unlimited.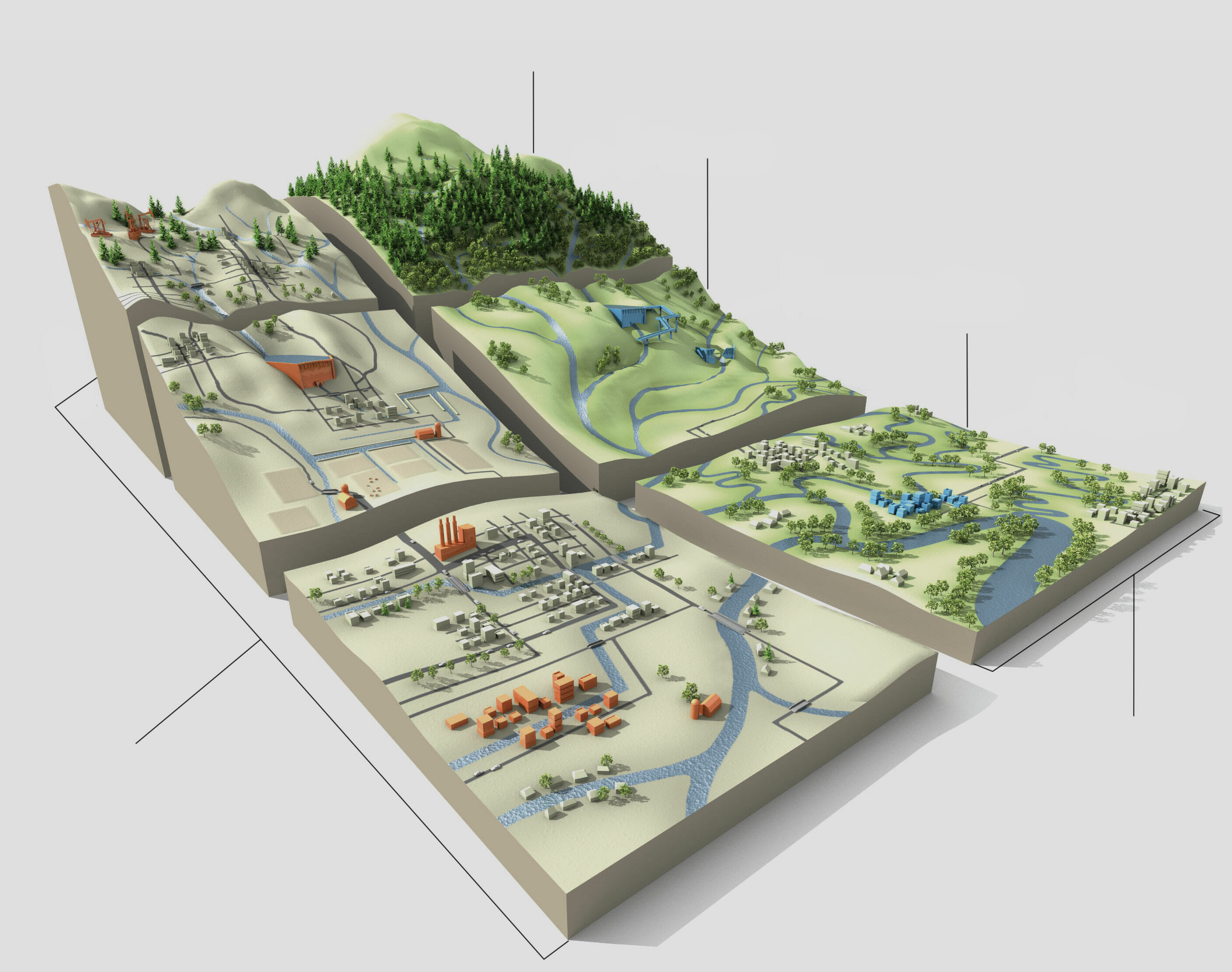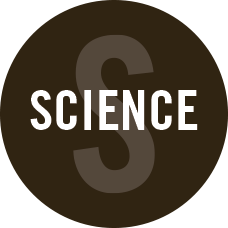 Science
Our work is informed and influenced by the most up-to-date science. it provides a foundation for all of our work, from the headwaters to the sea.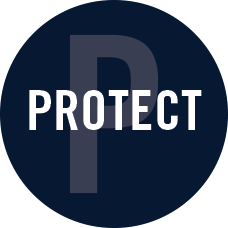 Protect
We protect the highest quality rivers and streams — the sources of cold, clean water.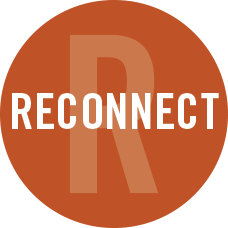 Reconnect
Because fish need to move in response to floods, fire, drought, and, in some cases, their lifecycles, we reconnect high-quality streams to downstream areas through changes to law and policy, and by removing unneeded dams and addressing stream blockages such as perched culverts.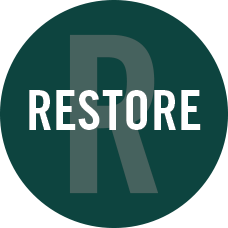 Restore
We identify and restore areas where we see the highest return on investment for cold
water fish.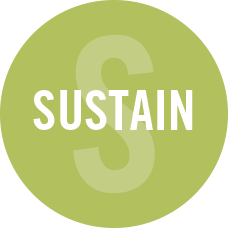 Sustain
We sustain this work over time by investing in kids, volunteers, veterans, and the communities in which we live.
We are here to be the positive change in our communities. By making our waterways more resilient, we are working toward a better, safer, cleaner future. By protecting public lands, we are safeguarding the birthplace of our rivers and upholding the promise of places that belong to all. In reconnecting these places we are keeping water in our streambanks and utilizing flood plains thereby lessening the impact of drought and flood. By restoring degraded streams we are removing toxic chemicals from our water supplies and providing usable habitat to fish and wildlife populations. Through outreach to youth and veterans, we are passing along the wonder and healing and peace that comes with the power of water and fishing.
From the headwaters to the sea, we are not daunted by the challenges we face.
Quite the opposite in fact. Trout Unlimited is here to serve. We are here to get things done.
Donors
TU Businesses, Orvis, Fly Out Media
In what has become one of the conservation battles of our generation, Trout Unlimited has been a leader on the frontlines to safeguard Bristol Bay, from the devastation of the Pebble Mine proposal for over a decade. Good things take time and we don't plan to halt our work there until upfront protections are in place that promise anglers and residents can continue fishing its clear, uniquely productive waters for many generations.
Taking advantage of a political window in 2018, the threat of Pebble moved from an ill-conceived idea to a project advancing through permitting. TU was there to meet this rising challenge with the help of numerous business members, chapter leaders, volunteers and "clicktivists" from across the continent.
Together we kept Pebble on the defensive.
Thanks to input from across the country, Bristol Bay advocates celebrated a supportive nod from former EPA Administrator Scott Pruitt, which came just weeks after Pebble filed for one of its key permit applications. Trout Unlimited delivered thousands of messages to decision makers and the U.S. Army Corps of Engineers (the permitting agency), in opposition to Pebble's key permit and continues to uncover staggering issues with the plans set forth by Pebble and the permitting process itself. Throughout the course of the year, we have communicated these issues with key decision makers, urging them to halt the process leading to an ill-conceived and poorly planned mine at Bristol Bay's headwaters.
One critical outcome of the strong public opposition was Pebble's sole financial partner, First Quantum Minerals, backed out of the deal leaving Pebble unfunded and once again scrambling to find the capital to continue.
Despite more than 400,000 anti-Pebble mine comments, the Corps continues to advance the permit on an unprecedented timeline, leaving the future of Bristol Bay in limbo and Trout Unlimited hard at work.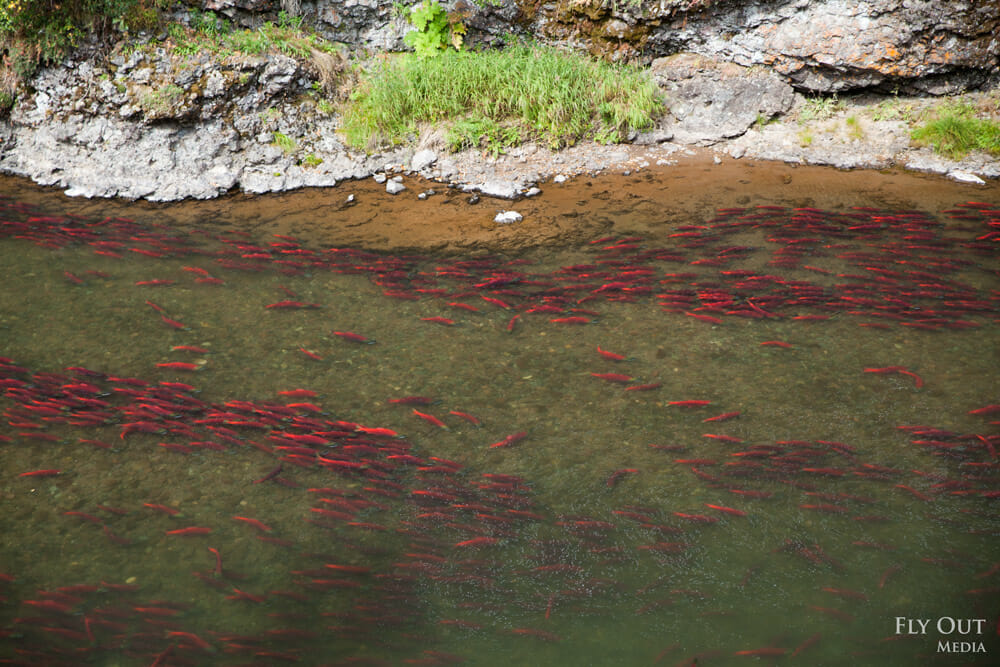 To those who have worked tirelessly to protect Bristol Bay, thank you: 
TU members and supporters who continually generate many thousands of comments time and again. 
Orvis who partnered with TU's Alaska team on paid ads, opinion articles and in attending D.C. meetings to ensure the "Save Bristol Bay" message is heard. 
Fly Out Media, the number one donor of imagery and video. 
Alaska Sportsman's Lodge, Bear Trail Lodge, No See Um Lodge, Grizzly Skins of Alaska, and Crystal Creek Lodge who signed on to letters, called Alaska's congressional delegation and state leaders, traveled to Washington, D.C. and fundraised on behalf of the sportfishing businesses and interests in the region. 
Wild for Salmon and Pride of Bristol Bay, two TU business members working to ensure our supporters get to taste the bounty of Bristol Bay in a sustainable way that gives back by donating a portion of each order to the "Save Bristol Bay" campaign. 
John D. Dingell Jr. Conservation, Management and Recreation Act
Donors
William and Flora Hewlett Foundation, Wyss Foundation and Wilburforce Foundation
After letting the Land and Water Conservation Fund lapse in September of 2018, Congress passed a bill permanently re-authorizing the fund as part of the package of bills later dubbed the John D. Dingell Jr. Conservation, Management and Recreation Act.
Since 1965, LWCF has been one of America's most successful conservation and recreation programs, investing a total of $16 billion into local communities in every state. LWCF is also the primary funding source to acquire and conserve new public lands that are essential for sustaining our outdoor traditions and protecting fish and wildlife habitat.
Trout Unlimited continues to pursue full and permanent funding of the program through a bi-partisan bill making its way through both the House and Senate.
"Without full funding, the LWCF is like a sportscar with an empty tank of gas," said Corey Fisher, public lands policy director for Trout Unlimited. "The President's FY20 budget eliminated discretionary funding for LWCF, underscoring why this legislation is so important. Permanent funding will provide the certainty needed for LWCF to be successful."
Yakima River Basin Water Enhancement Act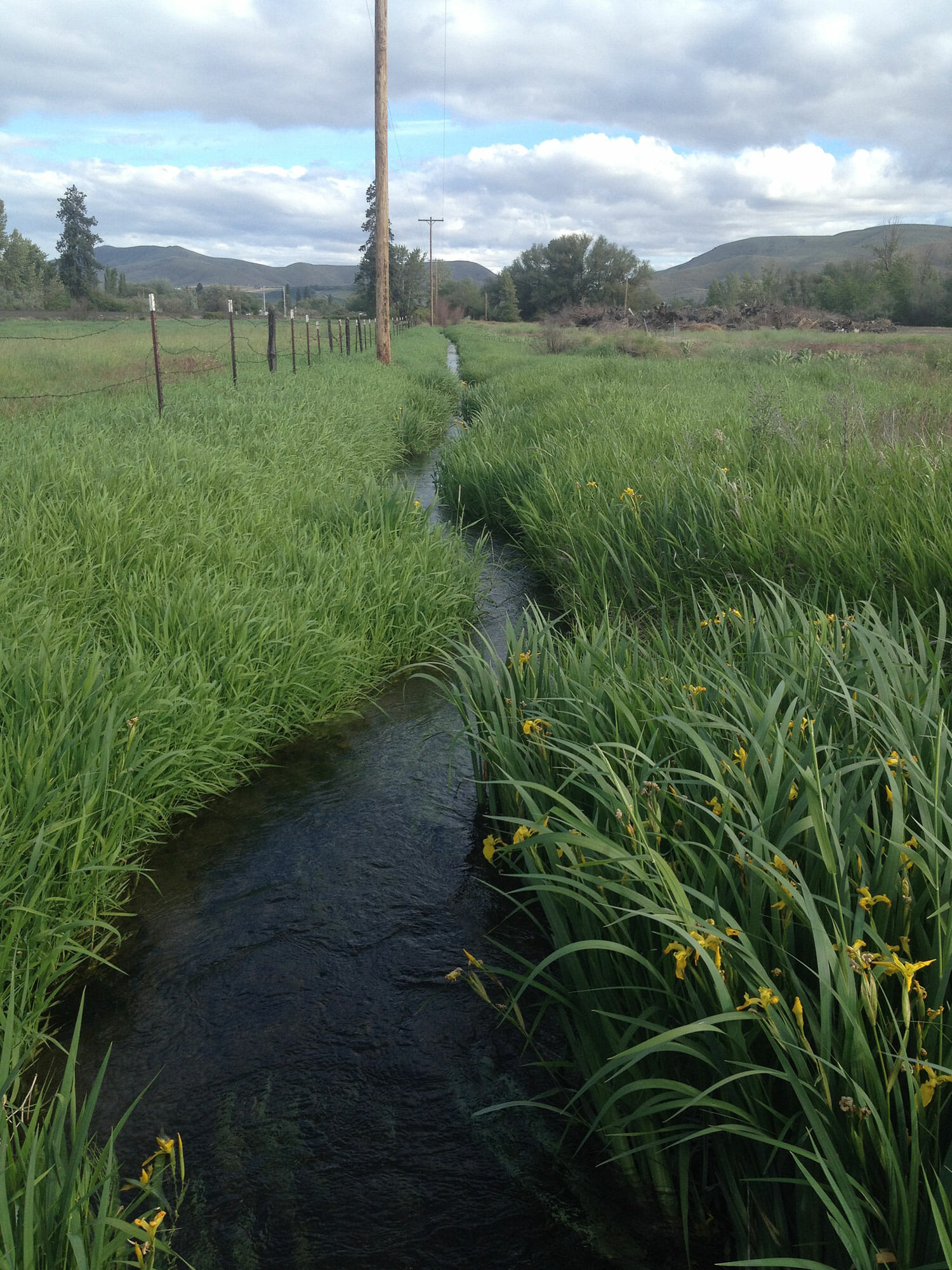 The Yakima River Basin Water Enhancement Act includes federal authorizations needed to advance the Yakima Basin Integrated Plan. This is a balanced package of actions that will restore hundreds of thousands of salmon and steelhead to the Yakima basin, improve water quality and quantity, and support a healthy agricultural and recreational economy. The plan was agreed upon by a diverse coalition of conservation groups, irrigators, farmers, sportsmen and women, local, state, and federal governments, and the Confederated Tribes and Bands of the Yakima Nation.
Frank and Jeanne Moore Wild Steelhead Special Management Area
TU played a major role in the passage of the Frank and Jeanne Moore Wild Steelhead Special Management Area Act, which honors a WWII hero and his wife, who together became two of Oregon's leading conservationists for more than half a century. This designation—long championed by Oregon congressional delegates Rep. Peter DeFazio (D-Ore.) and Senators Ron Wyden (D-Ore.) and Jeff Merkley (D-Ore.)—permanently protects nearly 100,000 acres on Steamboat Creek, one of the major spawning tributaries for summer steelhead and spring Chinook in the North Umpqua River.
Methow Mineral Withdrawal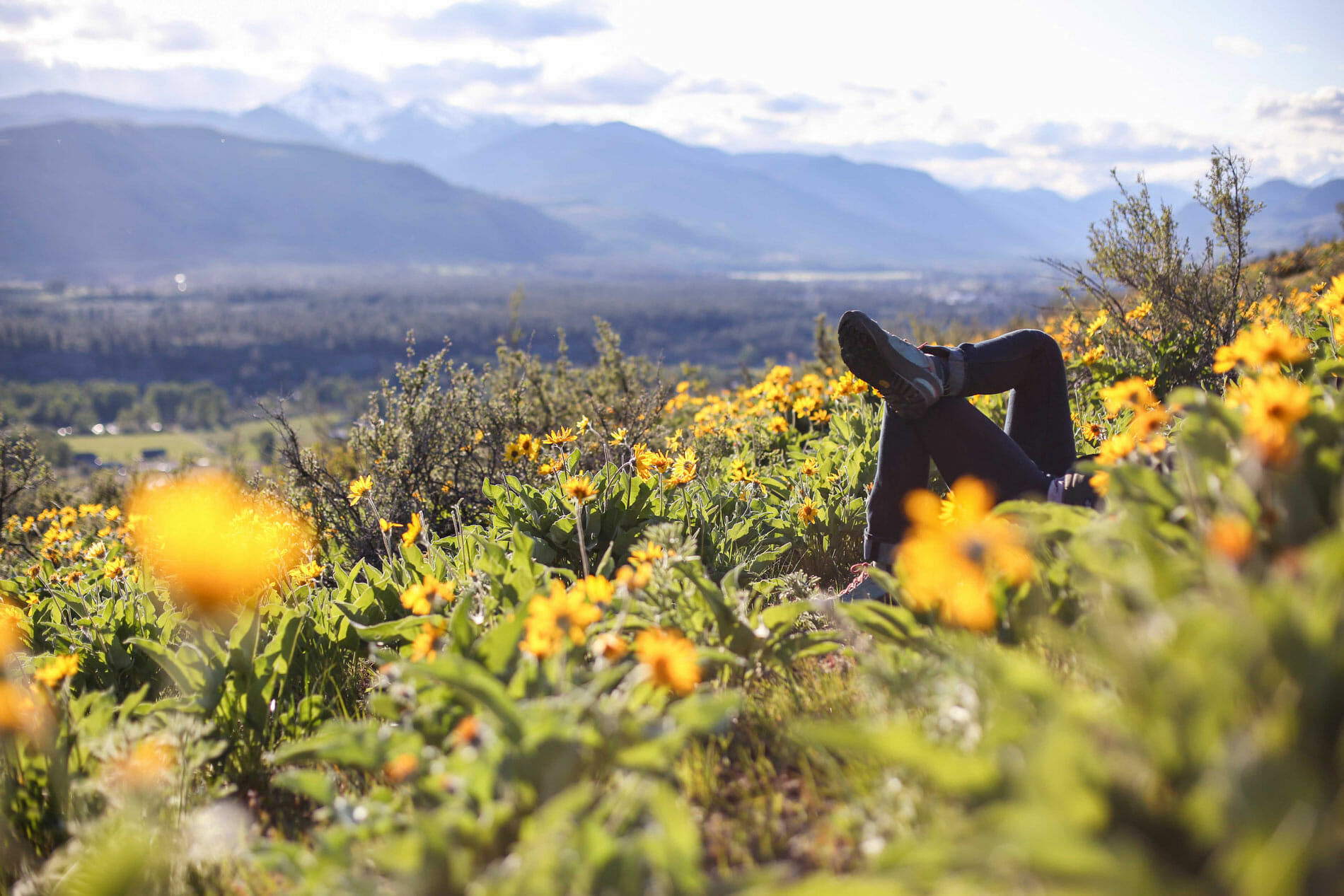 Some places are too special to mine. The 340,000 acres of the Upper Methow Valley are among the wildest and most pristine places in the Lower 48. In 2018, this region received protections from harmful threats posed by large-scale mining. The Methow sustains habitat for Endangered Species Act-listed Upper Columbia Chinook, steelhead, and bull trout, as well as a diversity of other native fish and wildlife species. In addition to protecting the integrity of the Methow River watershed, this act protects the Methow Valley's recreational and agricultural economy, which is dependent upon clean water, intact landscapes, and healthy fish and wildlife populations.
TU's advocacy helped pass the Oregon Wildlands Act as part of the John D. Dingell Jr. Conservation, Management and Recreation Act. This legislation will better conserve some of the most famous salmon and steelhead waters in the West by permanently protecting over 30,000 acres in the Devil's Staircase area in the Siuslaw National Forest as Wilderness and by designating some 280 miles of rivers as Wild and Scenic (including segments of the Rogue, Molalla and Elk rivers and their tributaries, and portions of Jenny Creek in Cascade-Siskiyou National Monument—home to a unique, isolated strain of native redband trout). TU staff and grassroots combined forces to convey the support of sportsmen and women in Oregon for the Oregon Wildlands Act through letters to legislators and other public officials, opinion pieces in media outlets, and by doing outreach to other sportsmen's groups at various events.
Headwaters of the Potomac
Partners
Forest Service, Fish and Wildlife Service, Natural Resources Conservation Service
In early October 2018, Trout Unlimited staffers Josh Duplechian and Mark Taylor arrived in Pocahontas County, W. Va., in a 20-year-old van filled with camping gear, cameras and fishing equipment.
Their goal was to spend the next week traveling from the headwaters of the Potomac River to the Chesapeake Bay.
The result of the trip was the film "A Nation's River," which was released this past spring.
The 10-minute film highlights the incredible breadth and depth of the work TU is accomplishing in the upper reaches of the Potomac watershed, such as in West Virginia, where TU is helping landowners address restoration needs brought about by legacy impacts largely from poor post-flood practices, but also from agriculture, logging and development. 
On adjacent public lands, we have been partnering with the Forest Service to restore tumbling mountain streams that feed those valley creeks.
Across the border, in Virginia, TU leads an effort employing the same kind of watershed-scale approach in the upper reaches of the Shenandoah, an important Potomac tributary.
On the upper reaches of the North River, on the George Washington National Forest, TU and the Forest Service have been working together to restore a stretch damaged more than 50 years ago by ill-conceived attempts to address flooding. Native brook trout are thriving in the restored stretch.
Cumulatively, the work in the Potomac headwaters is not only good for trout, it is helping reduce the load of sediment and nutrients that flow through our nation's capital as the river makes its way to the Chesapeake Bay. In fact, this spring the Chesapeake Bay Program reported that water quality in the bay met its highest standard since monitoring began in 1985.
Cleaning up abandoned mines in Pennsylvania
Donors
Pennsylvania Growing Greener Grant, Richard King Mellon Foundation
Covering approximately 7,000 square miles, the West Branch Susquehanna watershed is nearly double the size of Yellowstone National Park. With public ownership of nearly one-third of the watershed, it is a tremendous resource for outdoor recreation. But it is also impacted by a challenging legacy. Within the watershed, more than 1,100 stream miles are classified as impaired by abandoned mine drainage (AMD).
That number is shrinking thanks to decades of reclamation and remediation, much of it spearheaded by various local watershed organizations, including Trout Unlimited.
Over the past year a team, headed by science staff member Shawn Rummel, has been collecting data to compare to a benchmark study TU completed in 2009, collecting water, habitat and benthic macroinvertebrate samples. The original study in 2009 compared results to 1972 and 1984 by the Commonwealth of Pennsylvania and the USGS respectively.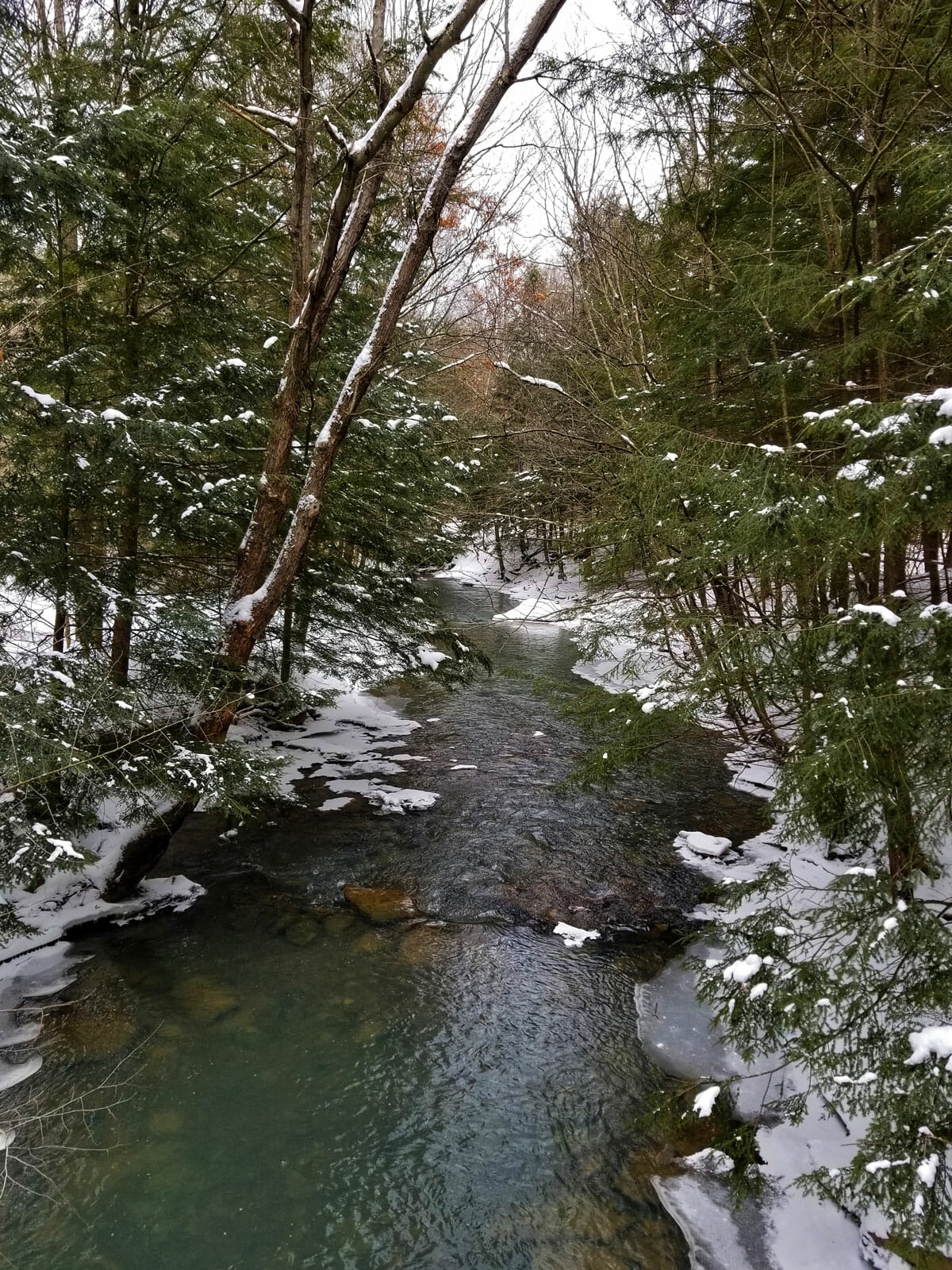 In 1972, the entire river was acidic and polluted throughout its entire length and a sustainable fishery was non-existent. The 2009 study revealed a different story resulting from years of remediation efforts by TU and partners. The river was in an alkaline state with reductions in acidity, iron and aluminum concentrations. In addition, large increases in both the numbers and diversity of fish were documented.
Since that time, TU and its partners have continued remediation efforts within the watershed with the ultimate goal of a full recovery of the river and its tributaries.
The benthic macroinvertebrate community, another indicator of water quality, has also responded positively. Biological metrics have all increased for benthic macroinvertebrates since the last samples were collected in 2009, including an increase in pollution sensitive taxa such as mayflies, stoneflies, and caddisflies. These data show how remediation has positively impacted the waters and will help TU assess where future efforts are needed. 
One of those wild trout streams is Potts Run, a great example of the impact of AMD projects. Trout Unlimited's Rachel Kester oversaw the 2019 completion of a treatment system paid for with a $1.2 million grant from the Abandoned Mine Land Reclamation Economic Pilot Program.
The Potts Run project held special meaning for Kester, who first worked on Potts Run as a college student in the early 2000s, and now lives in a home near the creek. Kester was proud to help oversee the effort and is looking forward to watching the creek's brook trout population grow in the coming years.
Driftless Area projects focus on flood resiliency
Partners
Natural Resources Conservation Service, state agencies
Restoration projects have not only improved habitat for trout and other species that rely on the region's 600-plus spring-fed creeks, but they have helped make those streams more resilient to the heavy precipitation events that are becoming more common in the region.
Much of the recent work in the Driftless Area has been supported by $9.2 million in funding from the Natural Resources Conservation Service's Regional Conservation Partnership Program. Those dollars went to more than 35 projects in Wisconsin and Iowa in 2018.
A severe flood season occurred in 2017, causing damage to communities along the Kickapoo River and Coon Creek. Lessons learned from that 2017 flooding, which damaged some historical habitat work, prompted Trout Unlimited and partners to evaluate projects to understand how they can better withstand extremely high flows.
A team of scientists and restoration specialists completed a white paper summarizing best practices for flood resilience in the Driftless Area, and that paper is now available as a reference.
New projects were immediately tested in 2018 by more extreme weather, including one case in which 15 inches of rain fell over a 24-hour period near Black Earth Creek. Although those projects proved to be quite resilient to the extreme flows, TU and its partners continue to work to improve methods to best address restoration needs.
Support from chapters and individual donors has helped increase TU's capacity in the region. For example, the program's volunteer steering committee, chaired by Jerry Sapp of the Lee Wulff chapter, raised funding to hire summer crews to maintain projects in the southern end of the Driftless Area in Wisconsin. The program is modeled after a similar, effective efforts in Northeast and Central Wisconsin and the hope is to expand the program to the entire region.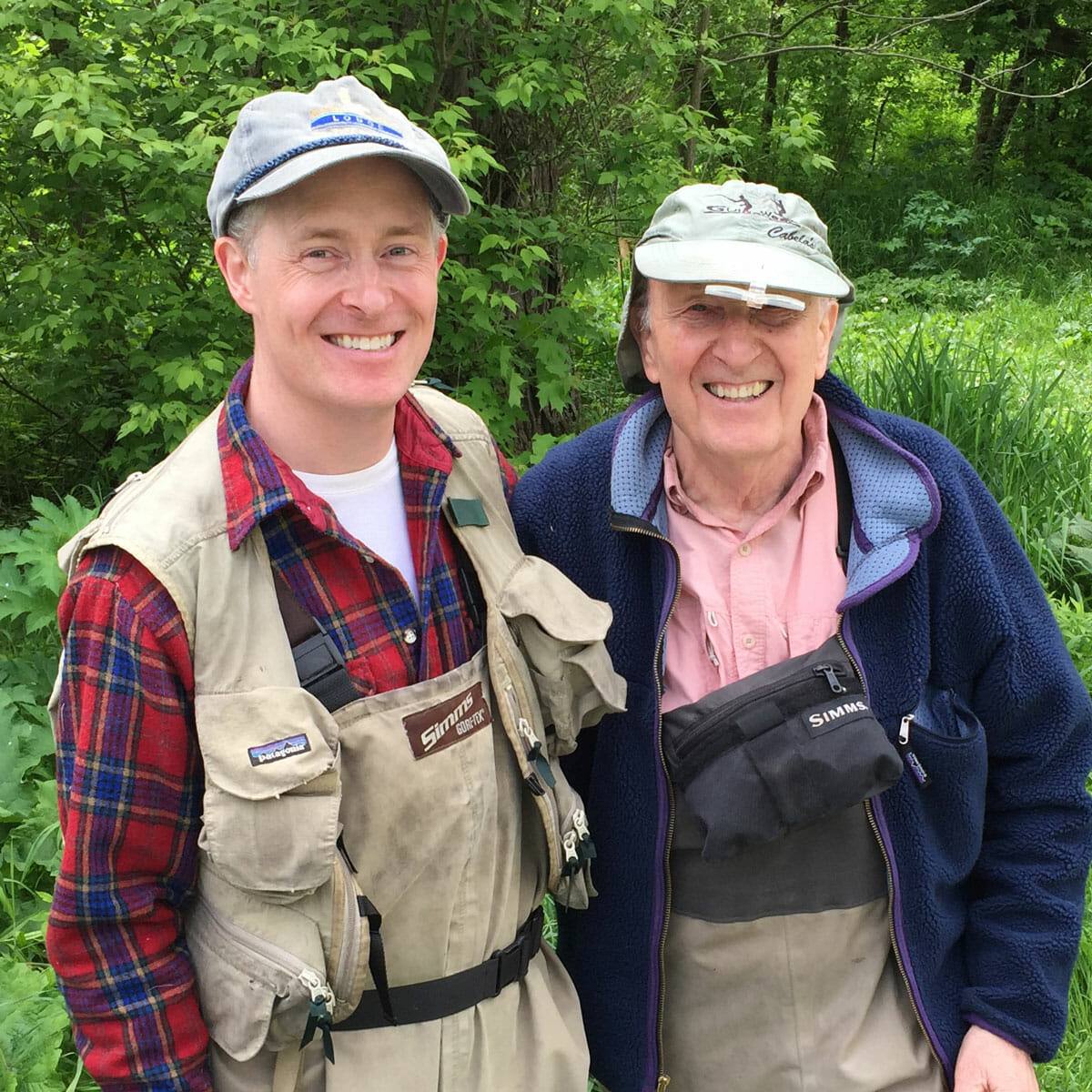 FEATURED DONOR
Hatch Family Foundation
Bob Hatch and his son Rob first witnessed TU's restoration work on tributaries of the Root and Mississippi Rivers in southeastern Minnesota. It was spring, and a caddis hatch blanketed the restored stream they fished. In the previous decade, that stream was shallow, warm, and nearly fishless, but now runs deep and cold, teeming with wild trout.
The Hatch Family wanted to help TU do more.
"It's great that many stream restoration designs include benefits to other animals," Bob remarked, "like the hibernaculum for snakes and shallow side-channels for frogs."
Generosity is a pervasive quality throughout the Hatch family's story. With his brother John, Bob is a founding member of an international microfinance non-profit organization called FINCA, that works to alleviate poverty in over 20 countries.
In 1990, Bob started an employee-owned ingredients manufacturer called Cereal Ingredients, rewarding his employees with additional shares of the company for good work. It's this attitude of "giving back" that Bob and Rob have brought to TU's Driftless program, helping that program thrive, and the organization deliver on better fishing and a healthier environment.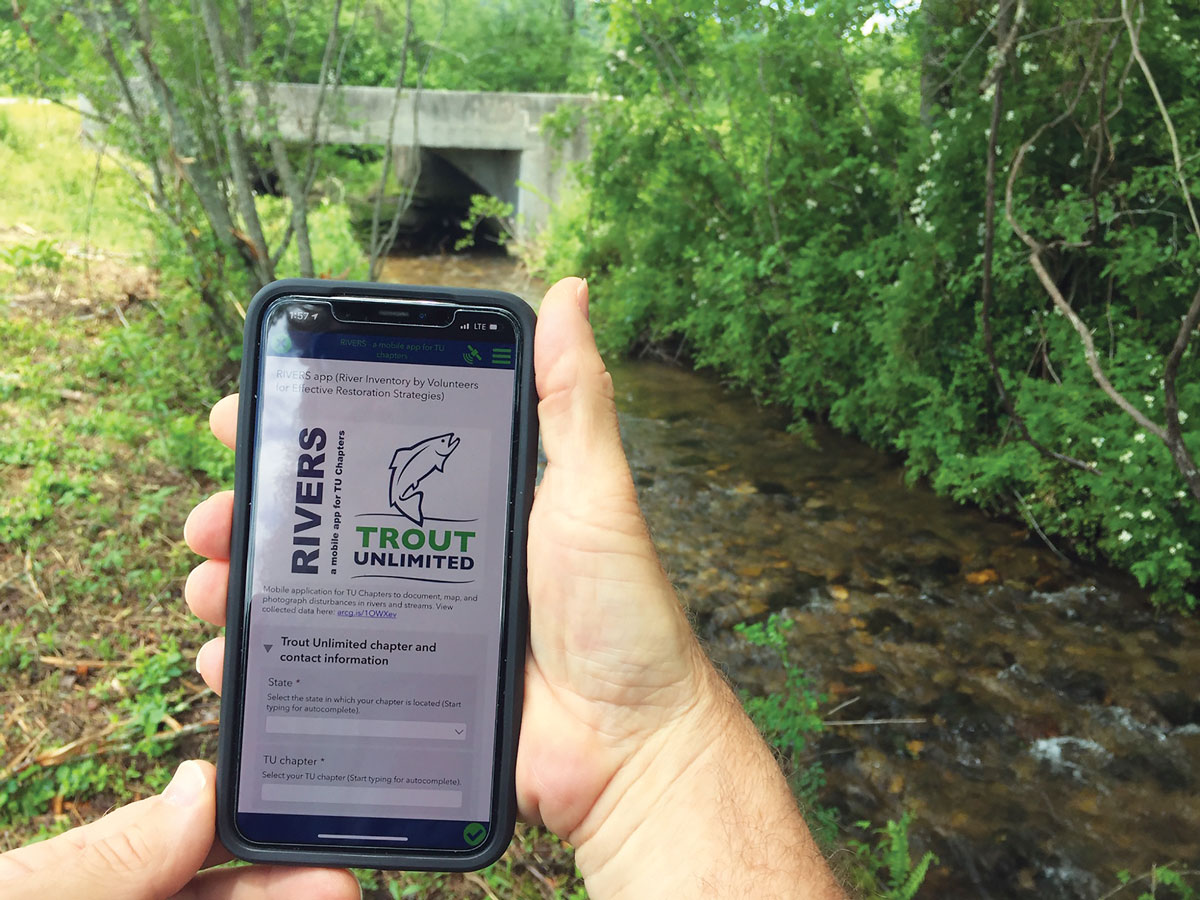 Trout Unlimited is a science-based organization and Angler Science is a strong part of our strategic plan. The TU Science Team helped create two mobile applications for use by grassroots volunteers and staff to collect data to help form conservation decisions.
The RIVERS (River Inventory by Volunteers for Efficient Restoration Strategies) app encourages data collection and photographic documentation of stream and river impairments. More than 40 individuals have already submitted more than 300 observations.
The WiseH2O app enables people to participate in water quality monitoring using a color-reactive test strip paired with a mobile phone to screen for contaminants. The app is being tested by the Kiap-TU-Wish Chapter in Pierce County, Wisconsin.
These apps give Trout Unlimited a vast potential for volunteer-based data collection to increase our ability to make informed conservation projects decisions and monitor changes in the environment.
Utah water leasing bill made permanent
Partners
Former TU staffer, Tim Hawkes (R-Utah)
In early October 2018, Trout Unlimited staffers Josh Duplechian and Mark Taylor arrived in Pocahontas County, W. Va., in a 20-year-old van filled with camping gear, cameras and fishing equipment.
Their goal was to spend the next week traveling from the headwaters of the Potomac River to the Chesapeake Bay.
The result of the trip was the film "A Nation's River," which was released this past spring.
The 10-minute film highlights the incredible breadth and depth of the work TU is accomplishing in the upper reaches of the Potomac watershed, such as in West Virginia, where TU is helping landowners address restoration needs brought about by legacy impacts largely from poor post-flood practices, but also from agriculture, logging and development.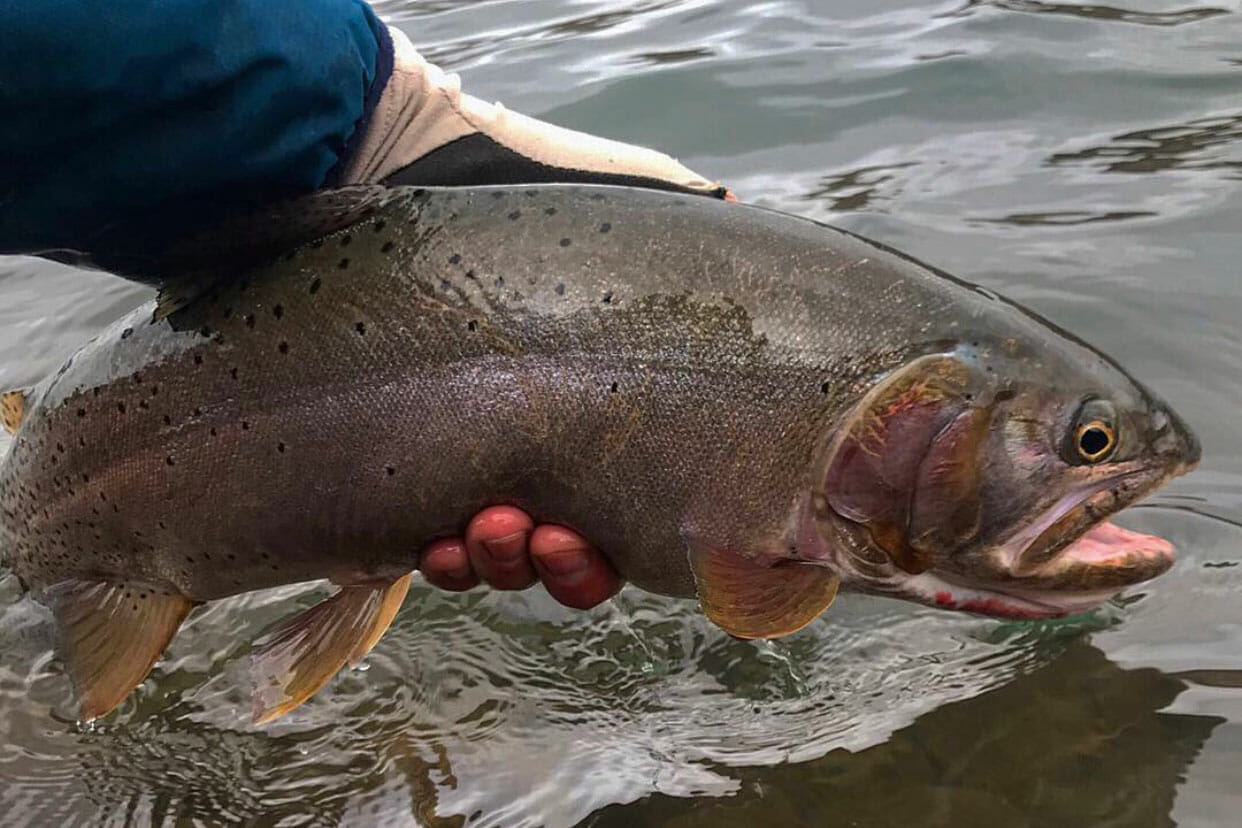 Maintaining federal funding for the Chesapeake, Great Lakes, Delaware, Pacific coast salmon states
Partners
William Penn Foundation, Keith Campbell Foundation, Erb Family Foundation
When it comes to protecting and restoring some of our nation's most critical water resources, federal funding is a must.
Trout Unlimited, both members and staff, have been hard at work advocating to protect and even increase revenue sources that we have been utilizing for critical protection and restoration efforts.
In each of the past two years, early federal budget proposals suggested massive cuts to funding for the Chesapeake Bay Program.
While funding from private supporters, such as the Keith Campbell Foundation, is important to Trout Unlimited's work in the watershed, federal funding is necessary for achieving the kinds of large-scale restoration and protection projects that are contributing to continued improvement in Bay water quality.
When Chesapeake Bay Program funding was threatened, Trout Unlimited advocated for restoration of that funding, and the funding was restored.
Bipartisan support, from Chesapeake advocates such as Rep. Shelly Moore Capito (R- W.Va.), Sen. Joe Manchin (D-W. Va.), Rep. Betty McCollum (D-Minn), Rep. David Joyce (R-Ohio), Sen. Ben Cardin (D-Maryland), Sen. Chris Van Hollen Jr. (D-Maryland) and Rep. Dutch Ruppersberger (D-Maryland), has been key to establishing Congress's commitment to the Bay.
To the north, Congress is also pledging support for the Delaware River Basin, in 2016 creating the Delaware River Basin Restoration Program.
That program focuses and enhances conservation efforts in a region that harbors important wild trout fisheries and supplies drinking water to 15 million people.
Grassroots advocacy by TU and our partners has helped generate bipartisan support for the Delaware in Congress and secured $11 million for the basin over the past two years. Dedicated funding is now flowing to on-the-ground projects—several of them led by TU staff—to restore and reconnect streams, mitigate flooding, and improve recreational access.
With support from the William Penn Foundation, we are also documenting wild trout populations and advocating for stronger regulatory protections for coldwater streams in Pennsylvania and New Jersey.
Another key federal program, the Great Lakes Restoration Initiative, also got a boost this year from the U.S. House of Representatives, which proposed $320 million for the GLRI in the new fiscal year, an increase of $20 million from Fiscal Year 2019.
Chairwoman McCollum and Ranking Member Joyce continue to show their support for Great Lakes programs, offering a manager's amendment in full committee increasing GLRI funding from an original $305 to $320 million.
The GLRI will also face an upcoming hurdle as the program is set to expire in 2021 and will need to be reauthorized. This is an opportunity for TU and partners to seek increased funding overall to help bolster stream restoration programs and reconnect more coldwater streams throughout the basin.
On the West Coast, TU's advocacy helped restore funding for the Pacific Coast Salmon Recovery Fund after the Trump administration proposed to eliminate funding for this key program in the FY 2019 budget. Ultimately, Congress approved an allocation of $65 million for the PCSRF in FY 2019 – this funding is leveraged by matching state and other funding to deliver far more value to projects (some of them led by TU) that restore habitat and fish passage in important streams for salmon and steelhead from San Diego to Anchorage.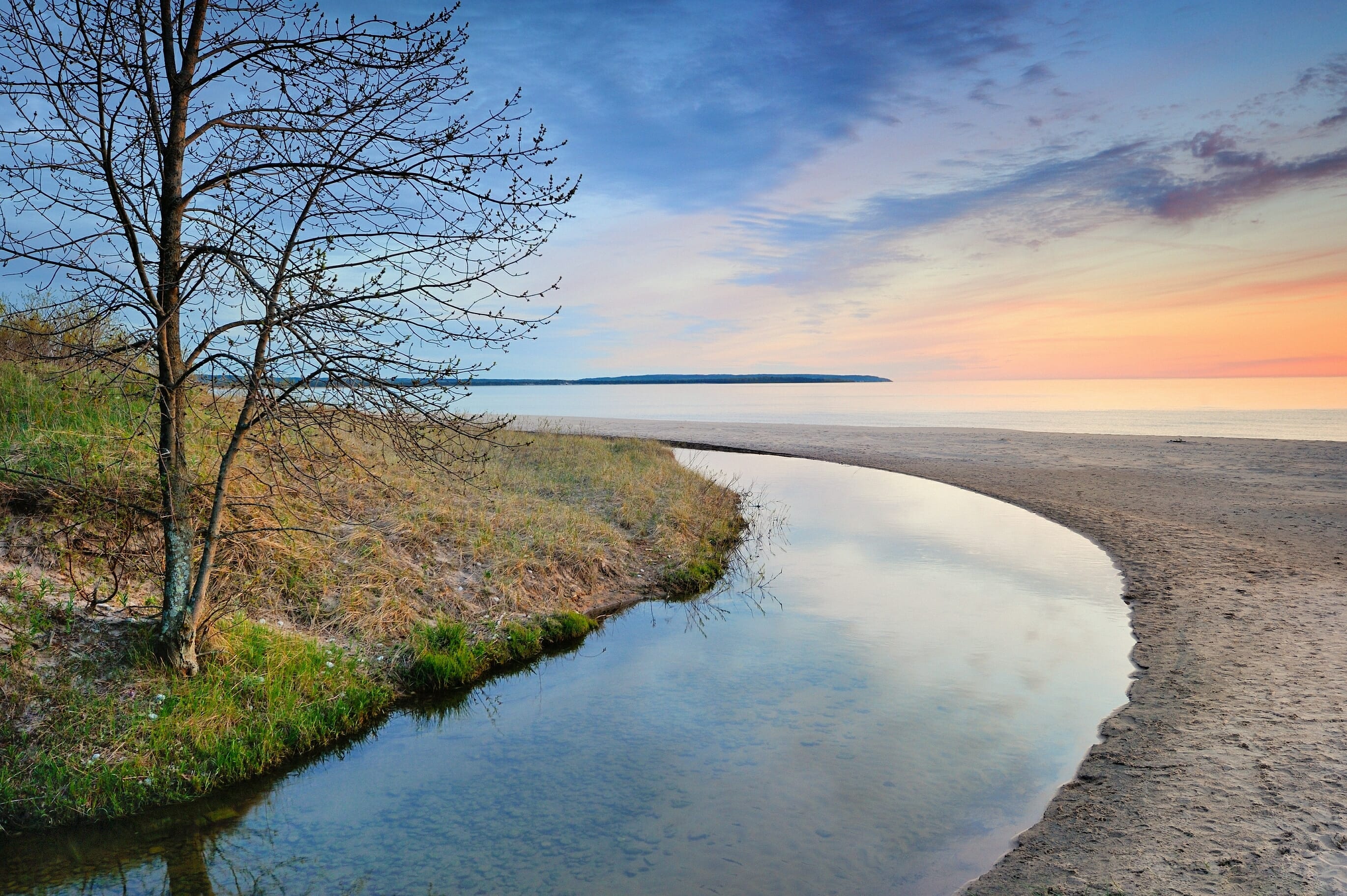 Partners
City of Missoula, Montana Fish, Wildlife and Parks, Montana Department of Natural Resources and Conservation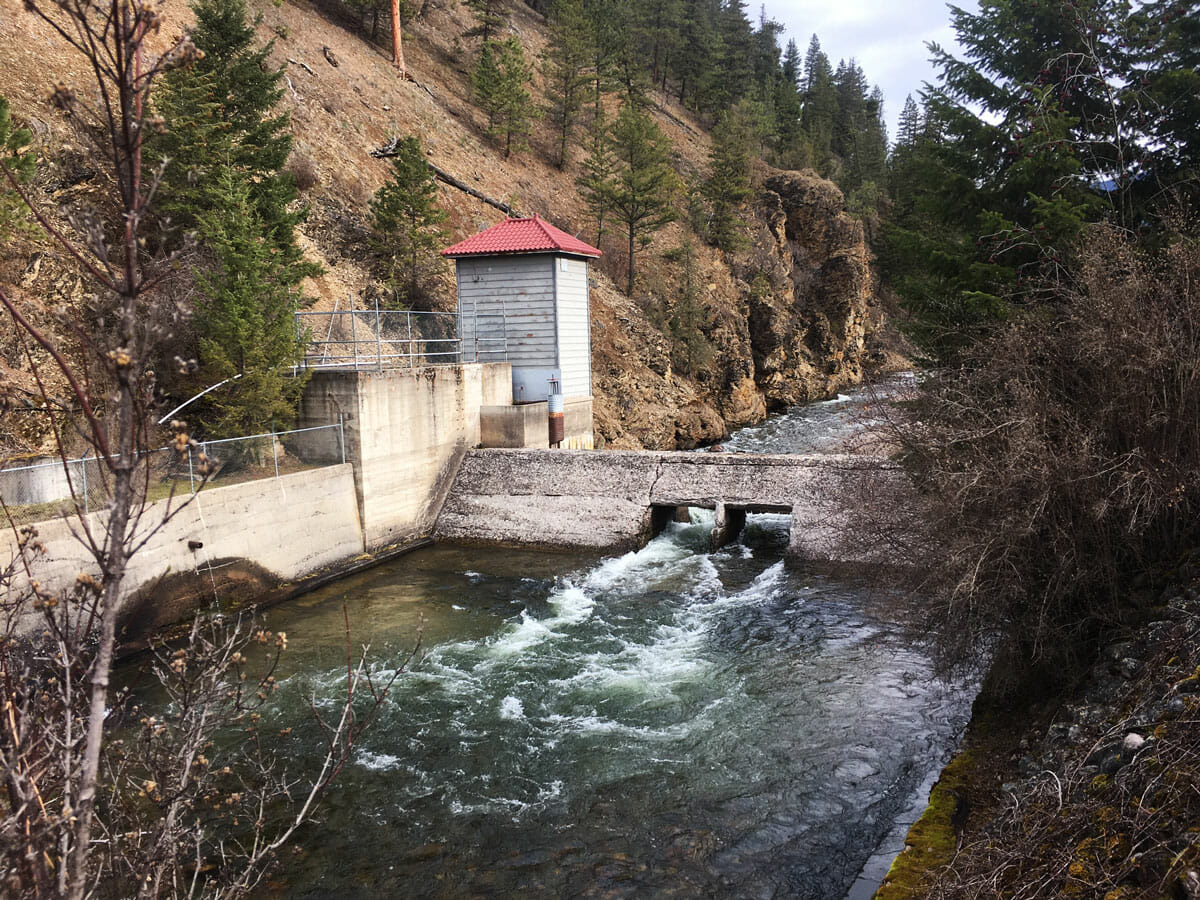 While TU is heavily invested in restoration efforts on the Snake River and its tributaries, science increasingly shows that restoration alone will not address the larger issue of dwindling populations of salmon and steelhead in the Snake River basin. To that end, TU is making preparations to meet this challenge as we engage with all stakeholders to ask hard questions about restoring these critical populations — including consideration of removing the four lower Snake River dams.
TU president and CEO Chris Wood was a key speaker during a pivotal conference in Idaho where Congressman Mike Simpson (R-Idaho) led the charge to put breaching the lower Snake River dams on the table.
"For three decades, we have accepted half-measures and lurched from crises to crises – unwilling to address the cause of the decline of Idaho's magnificent salmon and steelhead," said Wood. "These fish are remarkably resilient. If given half a chance, they will return, but they are running out of time."
Kira Finkler, director of Idaho's Water Project, was later invited to participate in Governor Brad Little's salmon and steelhead workgroup. This year TU brought on additional staff in the Lewiston area, hiring a new organizer and moving a restoration expert to help identify opportunities to positively engage in the community. TU is also forming an internal team to explore all options for bringing back fishable populations of wild salmon and steelhead to the Snake River basin.
Expansion of West Coast Sonar to measure adult salmon and steelhead populations
Partners
Cal Tech, TU Grassroots, Oregon and California Departments of Fish and Wildlife, Pacific Gas & Electric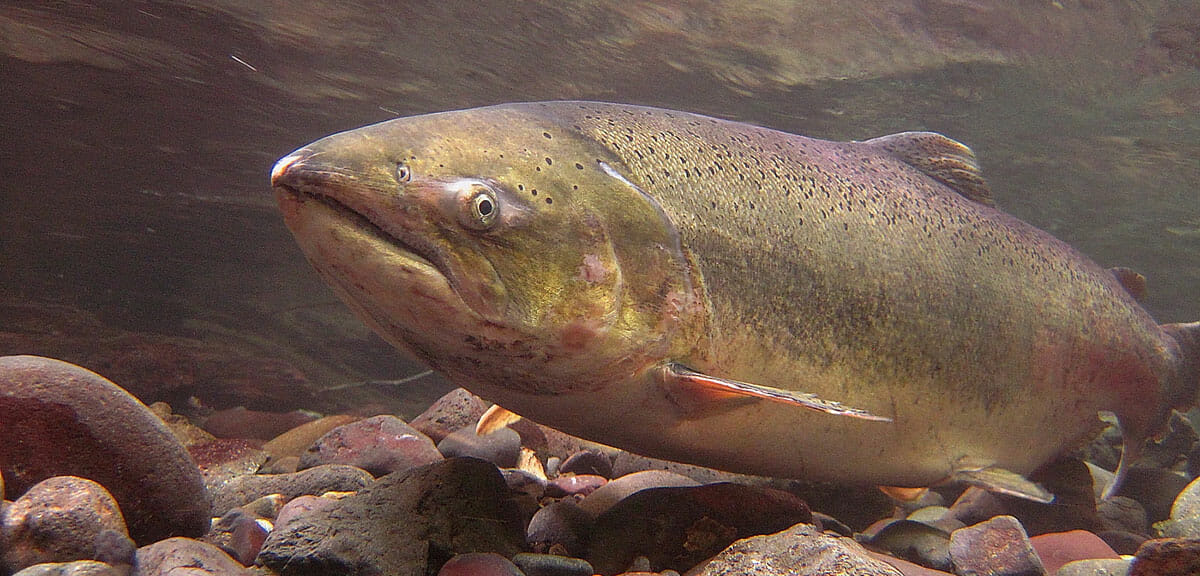 Trout Unlimited's Wild Steelhead Initiative is dedicated to protecting and restoring habitat, enhancing steelhead fishing opportunities, and advancing the science and best practices involved in managing wild steelhead populations.
That's why we have focused over the past several years on increasing the use of sonar technology for filling data gaps in population numbers on some of our most important wild steelhead rivers.
Sonar technology detects the presence and movement of fish and dramatically improves our ability to track a fishery's response to improvements in habitat, fish passage and water quality.
In 2018 the Wild Steelhead Initiative purchased a sonar device for use on a coastal river in Oregon and is now partnering with the Oregon and California Departments of Fish and Wildlife to improve monitoring of salmon and steelhead through augmented use of sonar of key watersheds in both states.
On California's legendary Eel River, for example, TU is partnering with CDFW and Pacific Gas & Electric to employ sonar cameras that can be moved easily from one location to another in a customized trailer paid for by TU's Golden Gate and Redwood Empire Chapters.
The fall and winter of 2018-19 marked the pilot season for this project, which aims to enumerate adult and jack salmon and adult steelhead escapement into the lower mainstem Eel above the confluence with the South Fork Eel. The data gathered from this project allow for a confident estimate of 3,506 Chinook salmon (adults and jacks) and 1,395 steelhead during the limited period the sonar equipment was deployed after the steelhead returns had commenced.
Partners
TRCP, Wyoming Wildlife Federation, United Steelworkers Union 13214, Grand Canyon Brewery, Arizona Wildlife Federation, Bowhunters of Wyoming, Muley Fanatic Foundation
Wyoming's Greater Little Mountain Range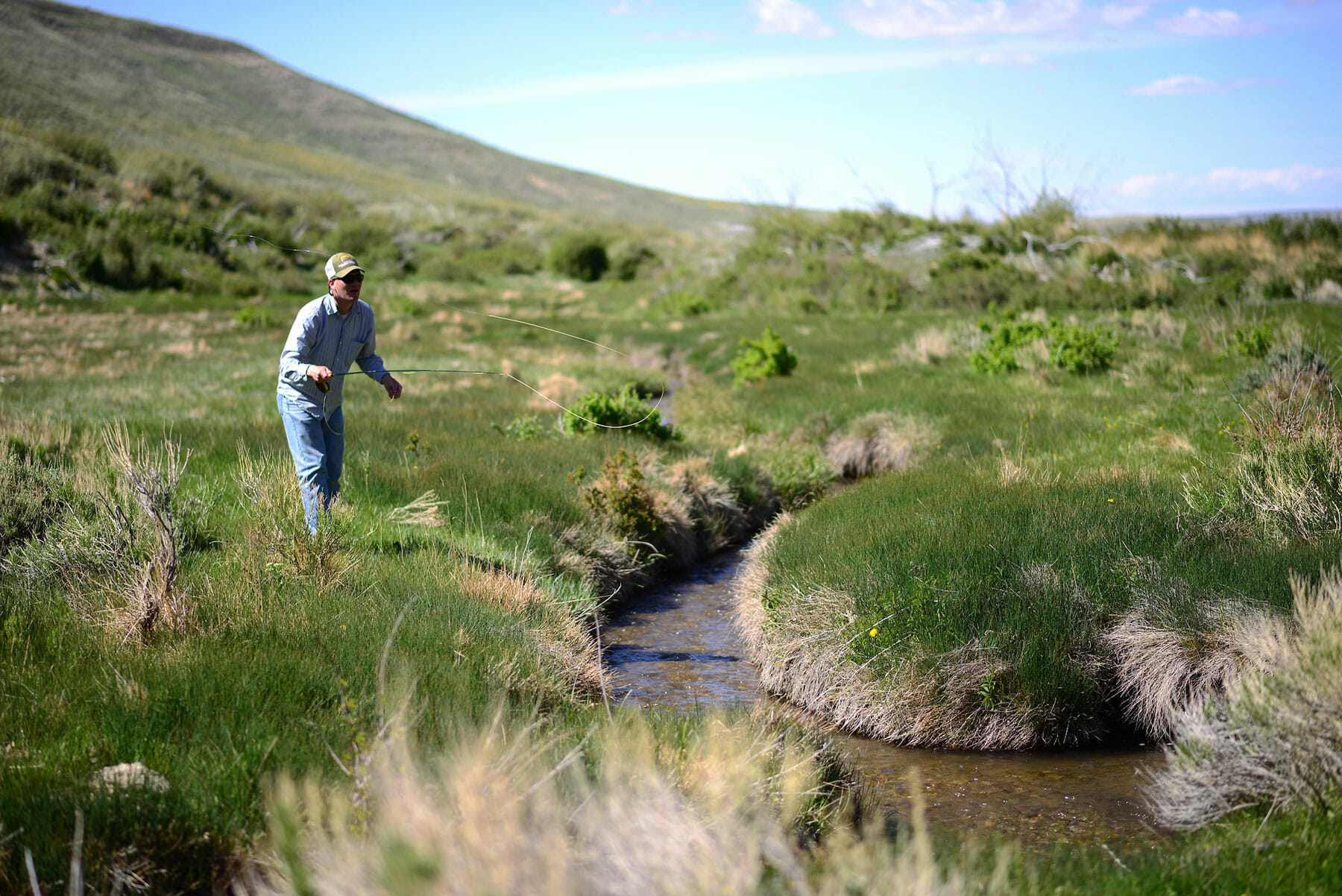 Years of work to educate the public, politicians and the Bureau of Land Management about the value of the Greater Little Mountain area in southwestern Wyoming paid off in the fall of 2018. For more than a decade our partnership with other hunting and fishing conservation groups and local steelworkers has focused on responsible energy development in the Greater Little Mountain area.
Anglers and hunters travel to the Greater Little Mountain area to pursue native Colorado River cutthroat trout, elk and deer. It is a popular camping area with stunning views of the high desert landscape.
The coalition celebrated when the Bureau of Land Management decided to defer on 173,000 acres of oil and gas leases proposed for Greater Little Mountain. Deferring the leases allows for the completion of a management plan, safeguarding critical wildlife resources, providing jobs and allowing energy development in the right places.
"We are blessed to have a strong community of support to conserve wild places needed by fish and wildlife to thrive, working with our local, state and federal partners is key," said Tasha Sorensen of Trout Unlimited.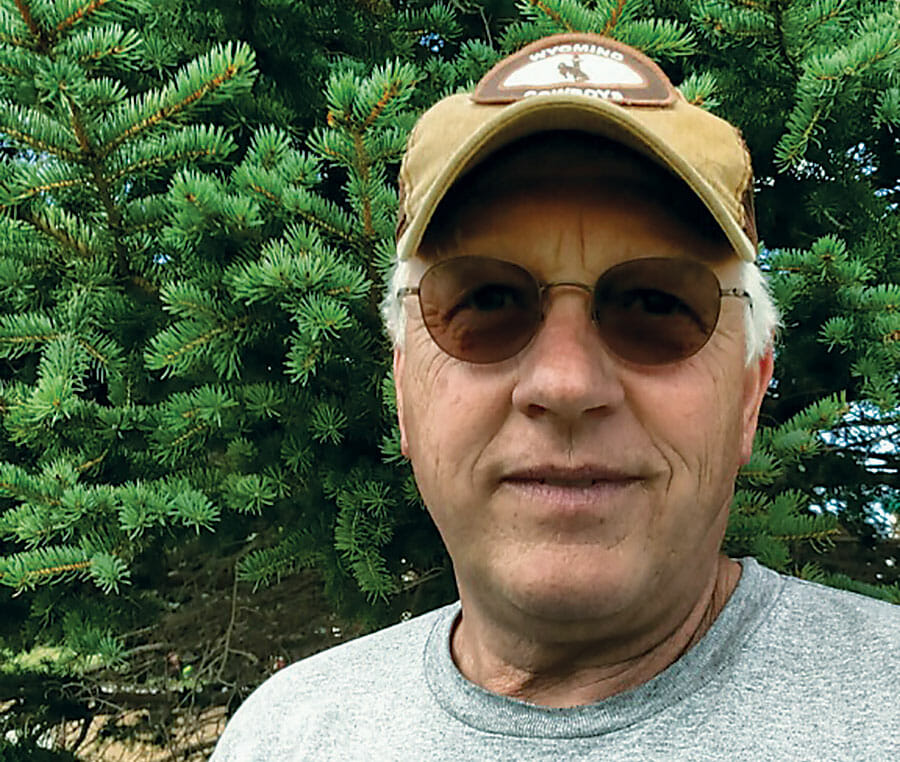 FEATURED ADVOCATE
MONTE MORLOCK
Monte Morlock, board member of the local United Steelworkers Union, avid hunter and angler and instrumental advocate for the Greater Little Mountain area in Wyoming.
"We have a treasure here that needs protecting, and we as local citizens, no matter our backgrounds, will stand up to do so. We've gained the support of our local governments, partnered with many conservation groups, so now we just need to convince our state and federal legislators to do what's right and protect these important lands."
Grand Canyon Mining Withdrawal
With the support of sportsmen and women, a uranium mineral withdrawal remained in place near the Grand Canyon.
Trout Unlimitied helped bring in 15,000 comments and 250 businesses in support of the withdrawal. TU also partnered with local businesses such as the Grand Canyon Brewery who designed the "Conservation Kolsch" can to advocate for clean water and public lands within the Kaibab National Forest.
Looking ahead, TU will lend support to a bill introduced by Congressman Raul Grijalva (D-Ariz.) to permanently withdraw 1 million acres surrounding the Grand Canyon from uranium mining.
Western states who were once leading the charge to transfer federal public lands have seemingly readied an about-face. Both Arizona and Wyoming successfully passed legislation designating a state public lands day, and Utah, once a serious threat of wresting these lands from the public, now understands the value of them to its constituents and is working with the federal government to better manage them. TU has been instrumental in developing language for these bills, engaging politicians with members, councils, staff, and others to understand the value of public lands, and will continue to stay vigilant against such threats.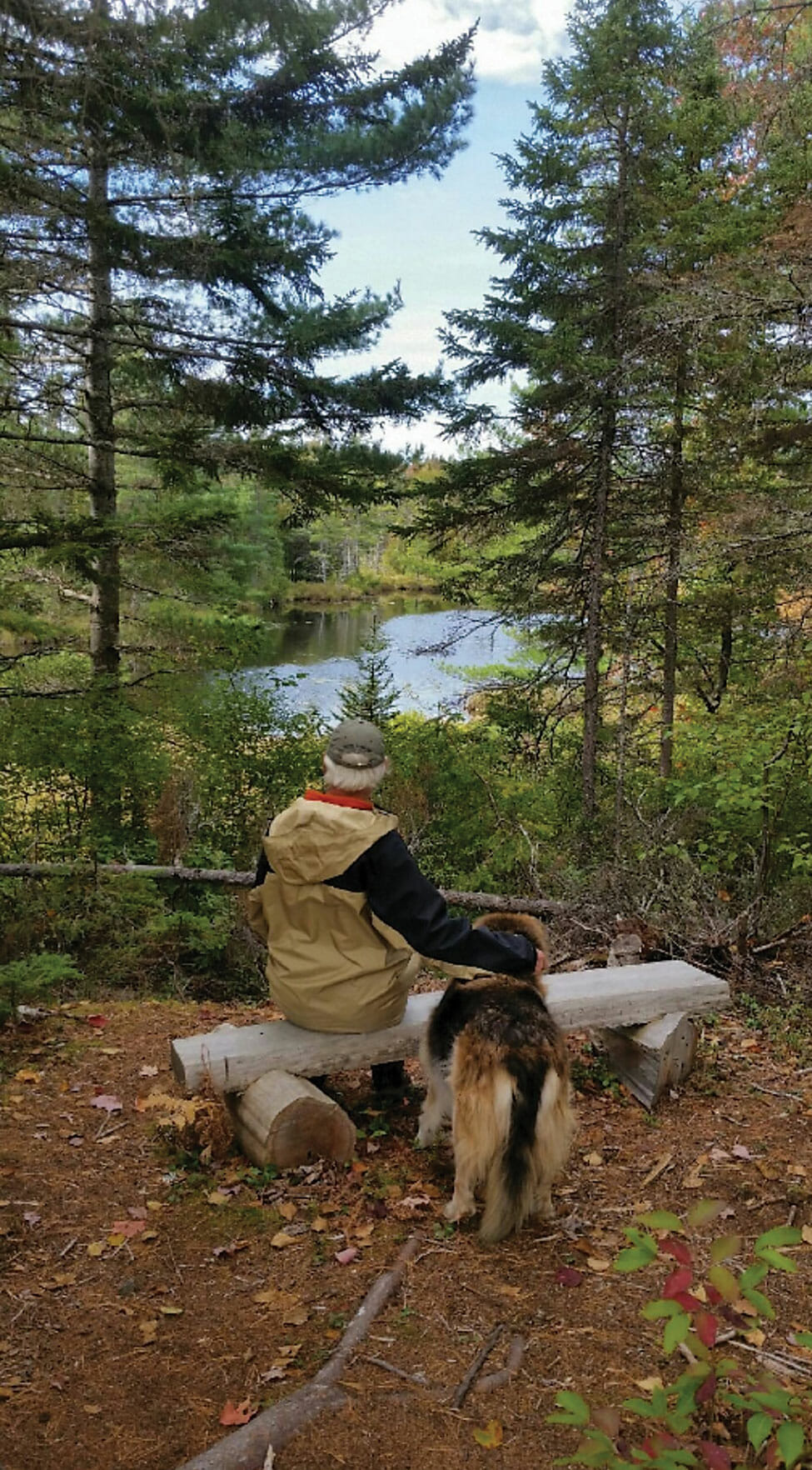 The Antiquities Act has been used to sign some of the country's most revered public lands to permanent protection, and Trout Unlimited has been at the forefront of defending its use. After protecting places anglers and sportsmen love such as Browns Canyon in Colorado and Katahdin Woods and Waters in Maine, the Antiquities Act has come under fire with the current attempt to reduce national monuments and threaten the integrity of this Act. TU continues to fight for this important conservation legacy.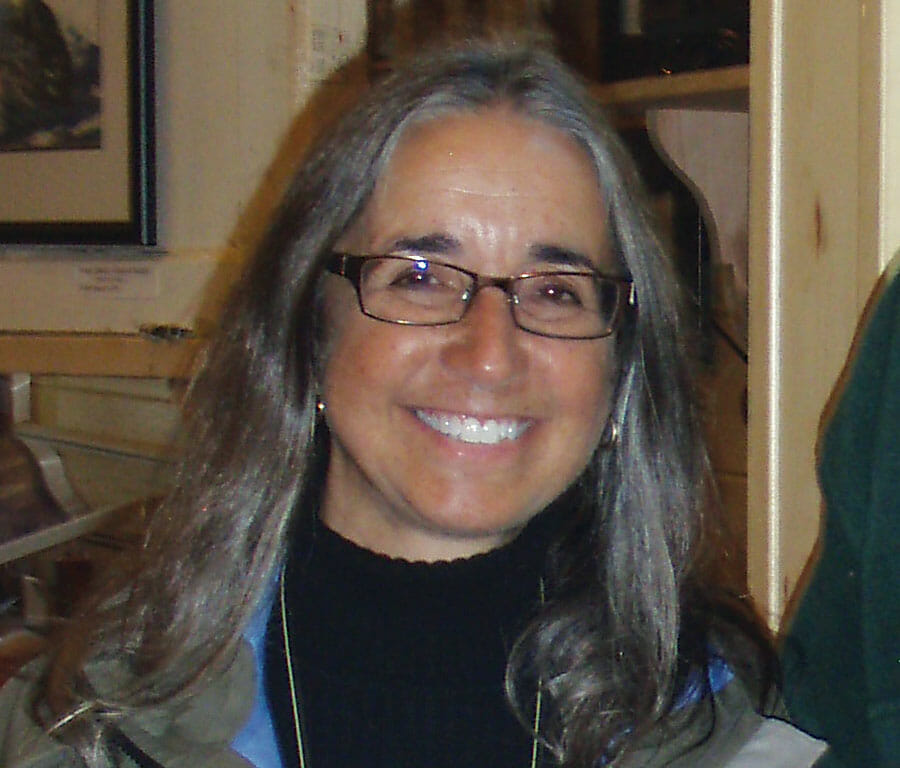 FEATURED ADVOCATE
KATHY SCOTT
Kathy Scott, past chair of the Maine Council of Trout Unlimited and advocate for Katahdin Woods and Waters National Monument in Maine.
"Despite intense political pressure, TU stepped up to defend Katahdin's heritage brook trout ponds, extensive wild rivers and streams, and more than 28,000 units of rearing habitat for endangered Atlantic salmon. Now, at only 3 years old, Katahdin Woods and Waters is on track to top 18,000 visitors, who found it last summer despite no signage. Coldwater habitats, abundant wildlife, and impressive vistas bring visitors from around the world to explore our newest piece of public lands designated by the Antiquities Act. I'd say everyone wins."
Partnering with the Nez Perce Tribe
Partners
Nez Perce Tribe, U.S. Forest Service, Bureau of Reclamation, Lewiston Orchards Irrigation District
Partnering with the Nez Perce Tribe, Trout Unlimited completed two important restoration projects to help listed species such as steelhead and bull trout in Idaho.
Completed in 2018 and 2019, the projects involved a series of log jams on Waw aa' lamnime creek, and Imnamatnoon creek, both tributaries to the Lochsa. The installed log jams created cover and backed up water to create pools and eddies for the benefit of steelhead, chinook, bull trout and Westslope cutthroat trout. TU also repaired a road on Imnamatnoon creek that washed out from the runoff in 2018.
The additional habitat also functions to sort gravels. Because the gradient on these tributaries is so steep, unchecked water tends to run like a firehose. By adding additional structure, water is slowed and gravels can be deposited at a depth which increases spawning habitat.
Looking ahead, TU is continuing the partnership with the Nez Perce and working with the Lewiston Orchards Irrigation District and the Bureau of Reclamation to switch the irrigation district's water source from Sweetwater Creek to a series of deep groundwater wells.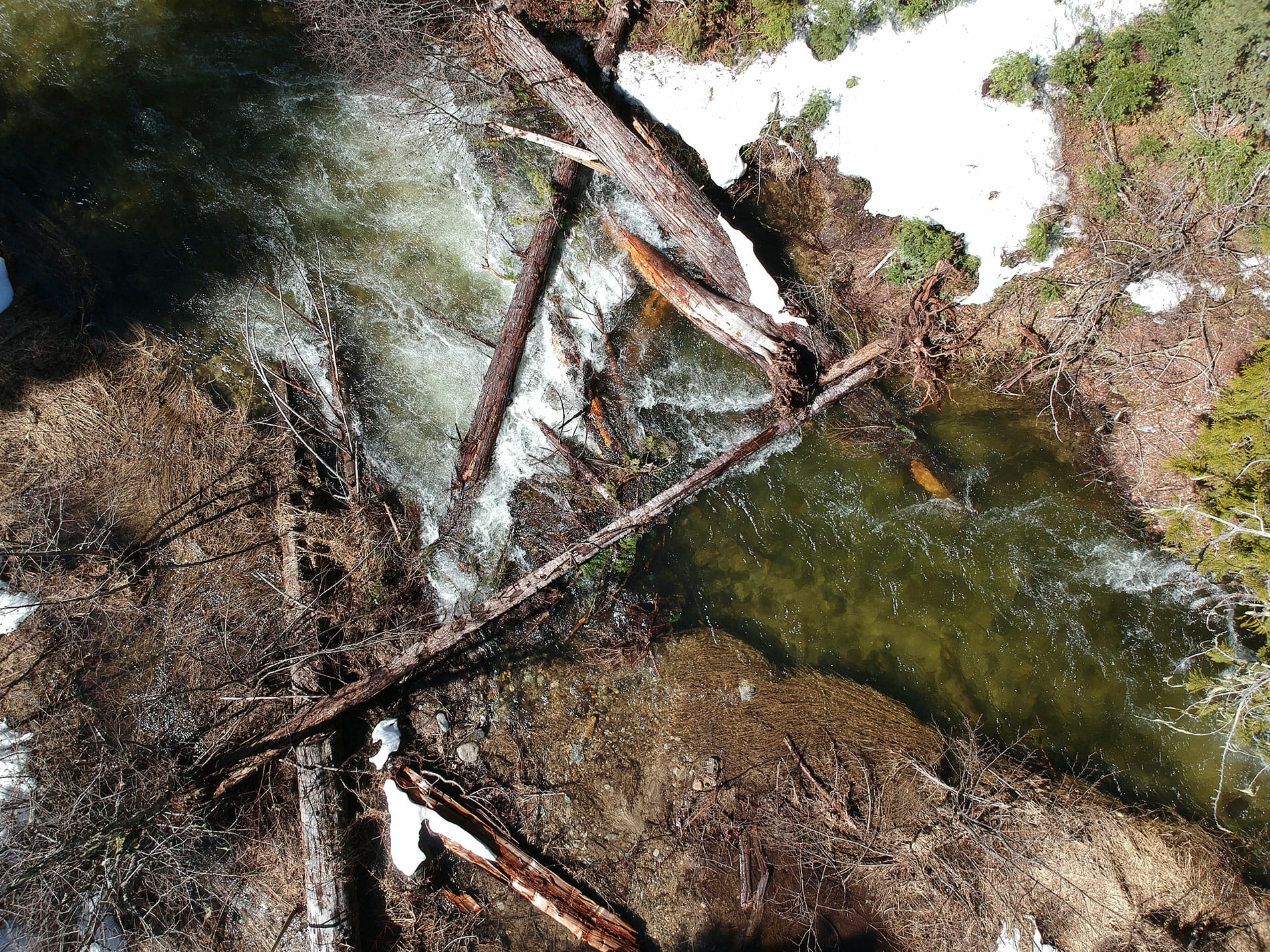 Because the source of the water is so deep the four wells will cost between $5-7 million apiece. However, keeping water in Sweetwater Creek is a high priority for Trout Unlimited and the Nez Perce Tribe.
Historically, the creek was one of the largest producers of steelhead in the Clearwater system. Because the water comes from a spring at its source, it maintains a steady 50-degree temperature year-round. The headwaters are also significant to the tribe as a place of healing and cultural and ceremonial importance.
"We hope to put back online that historically critical spawning and rearing fish factory," said Warren Colyer, co-director of the Western Water and Habitat Program for TU.
Partners
City of Missoula, Montana Fish, Wildlife and Parks, Montana Department of Natural Resources and Conservation
In a continuing effort to weaken protections for our nation's headwaters, the Army Corps of Engineers and the Environmental Protection Agency proposed to significantly narrow the scope of the Clean Water Rule. The proposal would replace a positive, TU-supported 2015 rule designed to clarify the scope of Clean Water Act protections, which includes protections for headwaters, intermittent and ephemeral streams, and wetlands. The new proposal (Replacement Rule) would substantially weaken the Clean Water Act, ending protections for millions of miles of streams which not only provide important habitat for fish and wildlife, but also provide drinking water for one in three Americans.
By engaging our grassroots, TU members and supporters contributed more than 4,000 comments for the official record, including 25 council and chapter letters.
The Trout Unlimited science team grounded the national conversation by providing cutting edge data, resources and mapping, showing the public and administration intermittent and ephemeral streams that would lose protection – data the government claimed it did not have.
The agency is currently reviewing these comments and is expected to make a final decision in the fall of 2019.
353,607 miles of streams are mapped in Colorado river basins in USGS's High Reslolution National Hydrography Dataset. 63% of streams are mapped as Intermittent and 25% as ephemeral.
Even where ephemeral streams are mapped in the NHD, many ephemeral stream channels visible on the ground are missing in the dataset. TU estimates an additional 0.8 miles of unmapped ephemeral streams exist for every mile of mapped stream in Colorado.
Waters of the United States Colorado
percent intermittent / ephemeral streams NHD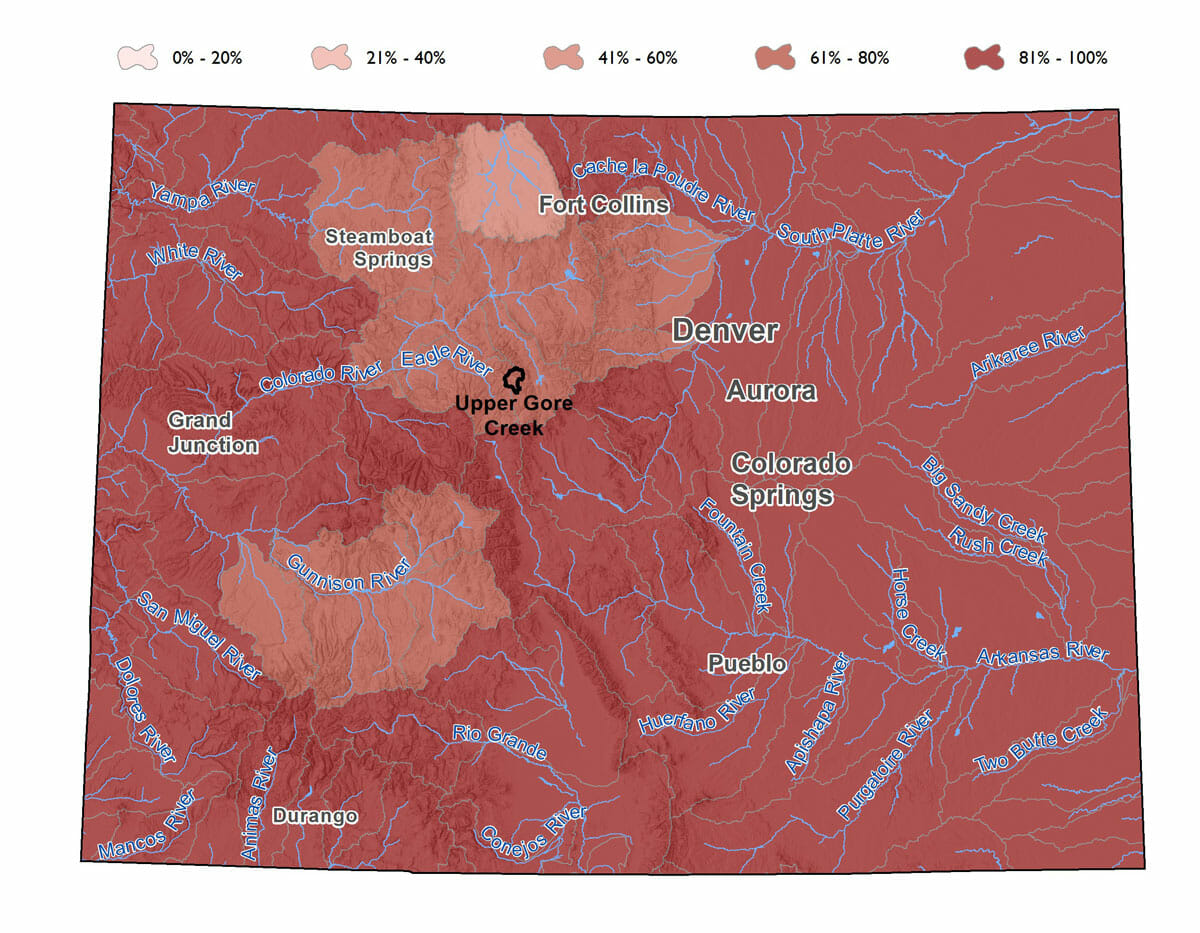 Focusing on the Great Lakes
Partners
U.S. Forest Service, U.S. Fish and Wildlife Service
Trout Unlimited's work in the Great Lakes region continues to expand, the efforts coming at a critical time for the Great Lakes, when climate change, invasive species and habitat degradation are placing intense stress on our coldwater fisheries.
TU's staff in the region has nearly doubled in recent years, with nine full-time staffers working alongside thousands of members and volunteers to advance TU's mission through a combination of policy advocacy, habitat improvement across multiple priority watersheds, gathering data to inform conservation efforts and cultivating the next generation of environmental stewards through youth education.
In the past few years, TU has restored almost 20 miles of degraded Great Lakes tributaries. The work includes adding wood habitat to streams that lack sufficient cover. We've also opened more than 100 miles of habitat by replacing culverts and removing dams that block fish passage.
In the Rogue River watershed, TU staffers are partnering with volunteers, including schools, to reduce impacts from urban runoff by enhancing riparian corridors and building rain gardens. We have further increased our investment in youth conservation programs by partnering with the Girl Scouts on a popular STREAM Girls program.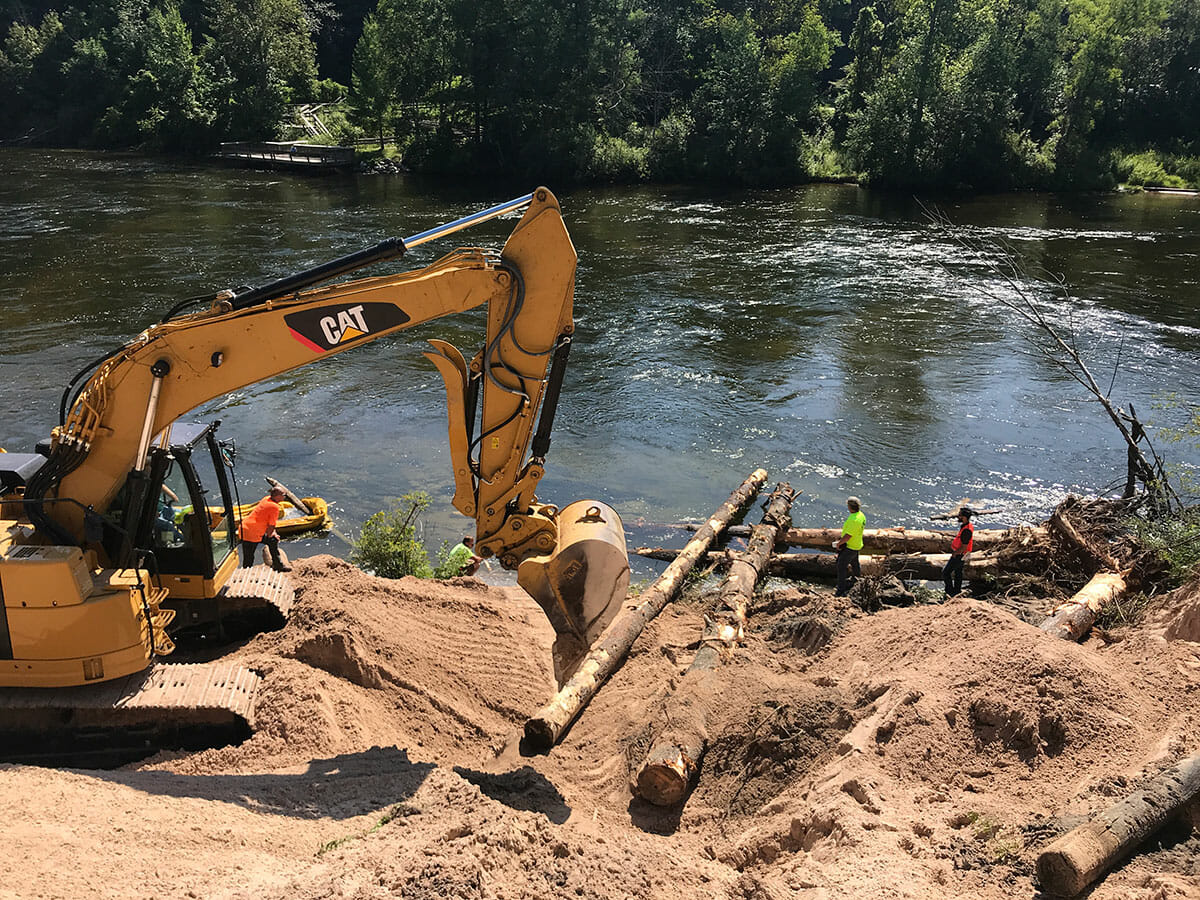 TU staff and volunteers have been extensively involved in support for plans to help stop the spread of Asian carp.
The Army Corps of engineers has submitted their final recommendation to Congress for constructing an Asian carp barrier at Brandon Rd. Lock and Dam, which will include an engineered channel, bubble curtain, acoustic fish deterrent, electric barrier and flushing lock.
In order for construction to begin, Congress now needs to authorize and appropriate the funds for the project. Support continues to grow as governors from both Illinois and Indiana have voiced their support for the project, joining other Great Lakes administrations from Michigan, Wisconsin, Ohio and Ontario.
Aside from beginning Project Engineering and Design, the next major step for moving the plan forward will be to authorize the construction through the Water Resources Development Act that will be introduced in 2020. Trout Unlimited will continue to work closely with our members, chapters, partners and Great Lakes legislators to ensure Asian carp do not reach Lake Michigan.
California coastal streams: Yellowjacket Creek, Pennington Creek, Lawrence Creek
Partners
Community-based Habitat Restoration Program of NOAA, Humbold Redwood Company, Jackson Family Wines, California Department of Fish and Wildlife, FlowWest, Parsons Walls
On the California coast north of San Luis Obispo, TU's North Coast Coho Project and California Water program are leading multiple projects that restore and improve habitat conditions and fish passage for steelhead and salmon. 2018 marked the first year of the NCCP's Lawrence Creek Reconnection of Critical Off-Channel Salmon Habitat Project, a three-year project to restore 5 acres and 1,000 feet of off-channel floodplain habitat and connectivity with the mainstem stream on Lawrence Creek, a tributary to Yager Creek in the Van Duzen River drainage (the Van Duzen River is a major tributary to the Eel River). Funding for this project comes from the Community-based Habitat Restoration Program of the National Oceanic and Atmospheric Administration's National Marine Fisheries Service, and supports a partnership between TU, the Humboldt Redwood Company (HRC), consulting firms and resource agency field staff working collaboratively to implement high priority actions under the federal recovery plans for Coho and steelhead in this region. HRC is one of TU's most important partners in habitat restoration, road repair and decommissioning, and fish barrier mitigation projects along the North Coast.
In the fall of 2018, TU completed a major restoration project on Pennington Creek (provides important habitat for multiple life stages of native steelhead). TU served as lead partner on this project, which required three years to complete and involved removing a high-priority fish passage barrier at a diversion structure and installing a new screened diversion to protect fish and streamflow. Now, steelhead can more easily access 2.3 miles of good habitat above the old diversion structure that stays wet year-round. This project is distinguished by its involvement with youth education and natural resource programs, in particular the San Luis Obispo County Office of Education's Rancho El Chorro Outdoor School, the California Conservation Corps' Riparian and Watershed Restoration Program, and the Morro Bay National Estuary Program.
On Yellowjacket Creek, an important tributary for coho salmon and steelhead in the Russian River watershed, TU worked in partnership with Jackson Family Wines to complete a high-priority project in October 2018 that restored fish passage to almost two miles of high-quality spawning and rearing habitat above a concrete weir and spillway apron. The project was funded by Jackson Family Wines and the California Department of Fish and Wildlife's Fisheries Restoration Grants Program, and constructed a series of 33 boulder step pools and installed a new fish screen at the diversion structure. Other members of the project team included the National Oceanic and Atmospheric Administration (NOAA Fisheries), FlowWest, and Parsons Walls.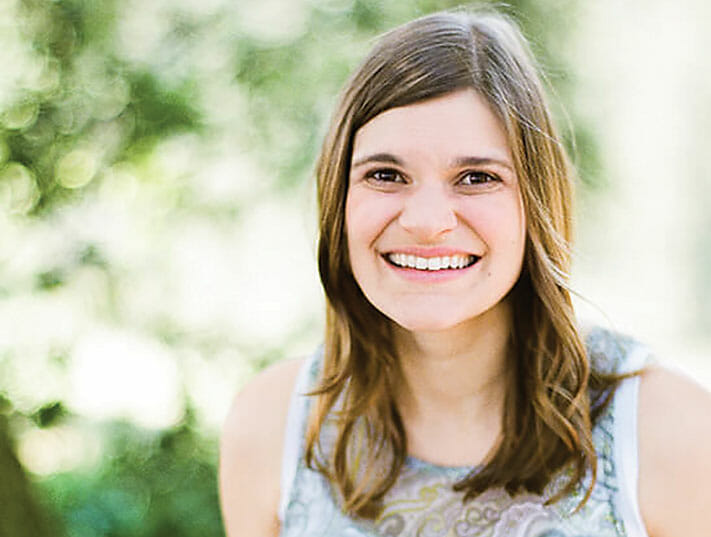 FEATURED PARTNER
KATIE JACKSON
Katie Jackson, senior vice president of corporate and social responsibility at Jackson Family Wines
"My parents envisioned a family-owned, multi-generation business. Managing our lands responsibly to ensure the ongoing viability of ecosystems is the foundation of how we farm and make wine. My hope is that my children will be able to watch once-endangered fish swim alongside our vineyards at the Kellogg Ranch."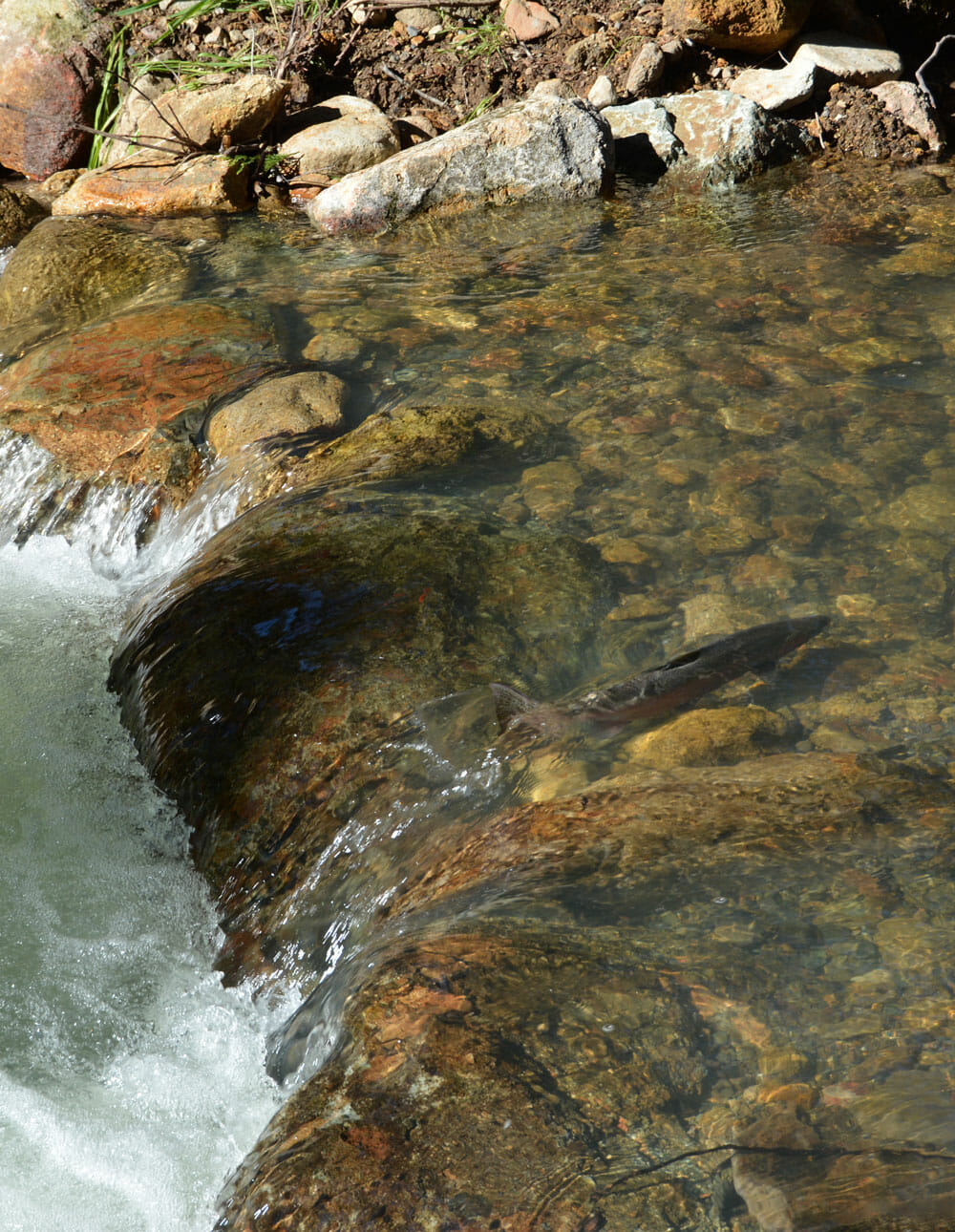 Partners
Costa, Simms, Orvis, Fishpond, U.S. Forest Service, S. Kent Rockwell Foundation
For five weeks, four lucky college students explored the watersheds of the Columbia River system learning about conservation issues, performing on-the-ground rehabilitation work, and most importantly, fishing thanks to Costa, Simms, Orvis, fishpond, USFS, and the S. Kent Rockwell Foundation. These four students got to see the effect that small projects can have on major river systems and fisheries. From beaver dam projects in tributary streams to larger restoration work on the McKenzie all the way to the estuaries of the Columbia River, the 5 Rivers Odyssey team learned what it takes to restore native fisheries.
"Working on projects like Sheep Creek, a tributary to the Grand Ronde, and meeting people like Levi Old and Ian Wilson, was an unforgettable experience," said Matteo Moretti, 5 Rivers Native Odyssey attendee. "Levi made us feel like part of the team right off the bat while explaining the importance of keeping water high in the watershed through restoration methods. Ian, from the Confederate Tribes of Umatilla, taught us the importance of working together to create the strongest, healthiest fish in headwaters to survive their life's journey. Seeing their passions permeate throughout these projects made each of us feel a strong desire to continue work like this and be involved with Trout Unlimited wherever our lives take us."
Traveling from the massive mouth of the Columbia River up to the Deschutes to understand its water quantity challenges, the team then made it to the McKenzie River and the Methow to learn the importance of collaboration and beaver dams for watershed health. From there the Odyssey took the team to the North Cascades to gain an understanding of threatened species and then on to the Lower Snake to learn about dams and their relationship to wild steelhead and salmon. Rounding out the adventure, the Odyssey worked on Sheep Creek and the John Day River to learn more about tributaries importance to the Grande Ronde. What an adventure it was.
"Gaining an understanding of TU's role in working with state and federal agencies, tribes, contractors, and its own volunteers and members all the way from tributaries to the estuary proved our odyssey fruitful," said Dan Eiden, Odyssey member. "I'm looking forward to putting the knowledge and skills I learned to use throughout the rest of my fishing career….and real career."
Partners
Girl Scouts, TU volunteers and councils
STREAM Girls has been taking Girl Scouts on an exploration of their watershed as a scientist, artist and an angler since 2015. By completing activities including a Streamwalk, macroinvertebrate survey, fly casting and fly tying, the Scouts earn their STREAM Girls (Science, Technology, Recreation, Engineering and Math) patch over a weekend. The program started with one troop in Wisconsin and has grown to seven additional states in 2019.
In Michigan, the Rogue River Home Rivers Initiative Project, with funds from an EPA grant, doubled the number of events in 2019 to four, reaching more than 100 scouts. They partner with Girl Scouts of Michigan Shore to Shore.
A steady and sustainable program is coordinated across the state by the Washington TU Council, and supported by the Bellevue/Issaquah chapter. A well-attended train-the-trainer event in 2019 hosted by Spokane Women on the Fly, in partnership with the Spokane Falls chapter, resulted in numerous opportunities reaching more than 40 scouts annually.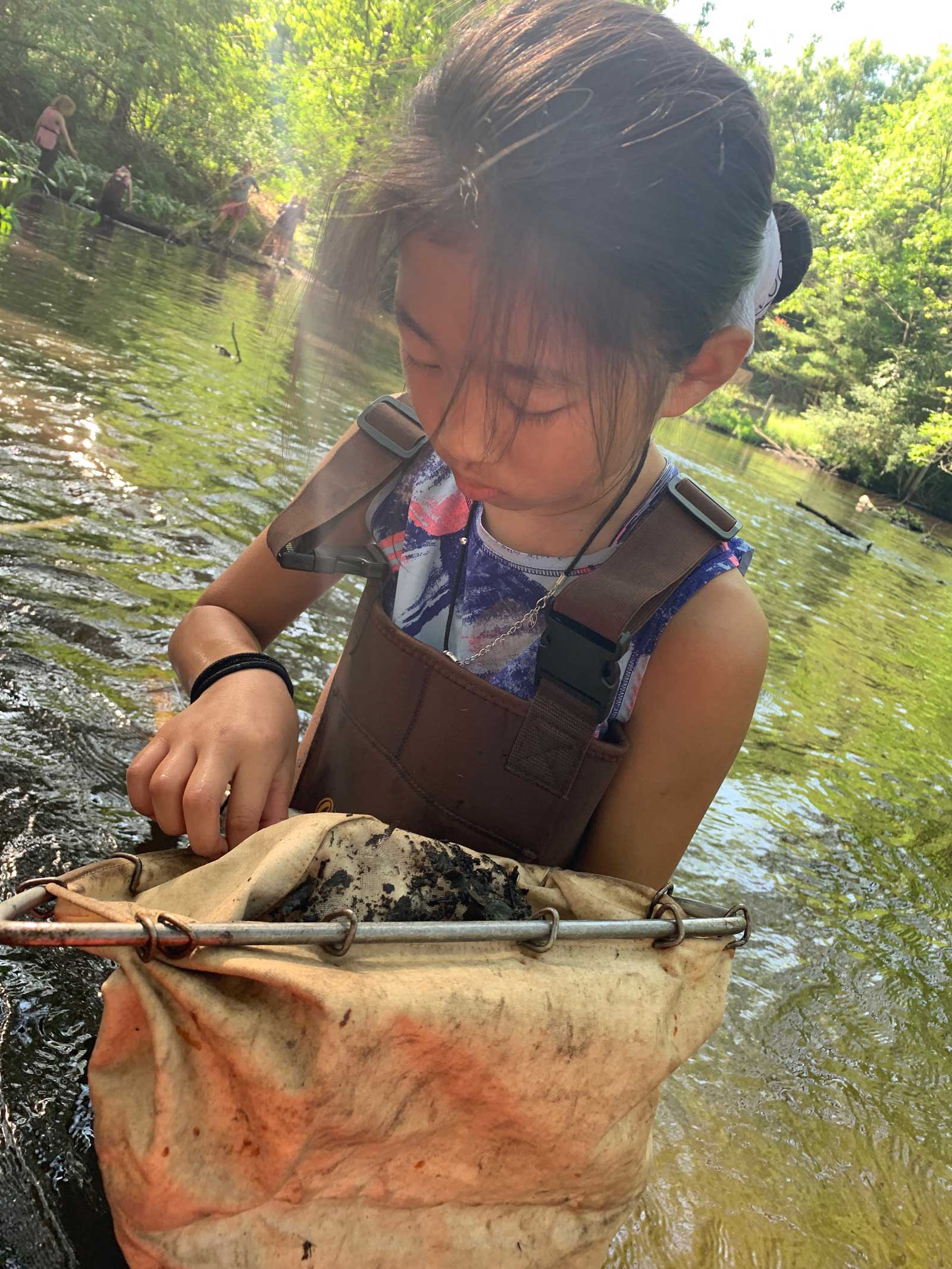 A successful train-the-trainer program hosted by the Pennsylvania TU Council and the Spring Creek TU Chapter was held in 2018. STREAM Girls is now in three regions of the state, with three events to serve 40 scouts. A valuable partnership with the Stroud Research Center has helped the program grow in central Pennsylvania.
Oregon launched a program in 2018. Funded by two grants, a coordinator was hired to administer the STREAM Girls Program in the central Oregon area. An additional event, hosted by Blueback Women on the Fly, was held outside of Corvallis in 2019. All told, 6 events throughout 2019 served more than 85 scouts.
A program in western Montana is in the works with women leaders from the Westslope chapter and Missoula Fly Gals taking charge.
South Carolina STREAM Girls is set to run for a fourth year in spring 2020 to reach 16 scouts in partnership with Girl Scouts Peaks to Piedmont.
The West Virginia Department of Environmental Protection's (WVDEP) Project Water Education for Teachers (WET) is partnering with West Virginia TU and the Black Diamond Girls Scouts to serve 15 scouts in their first-ever event in Summer 2019.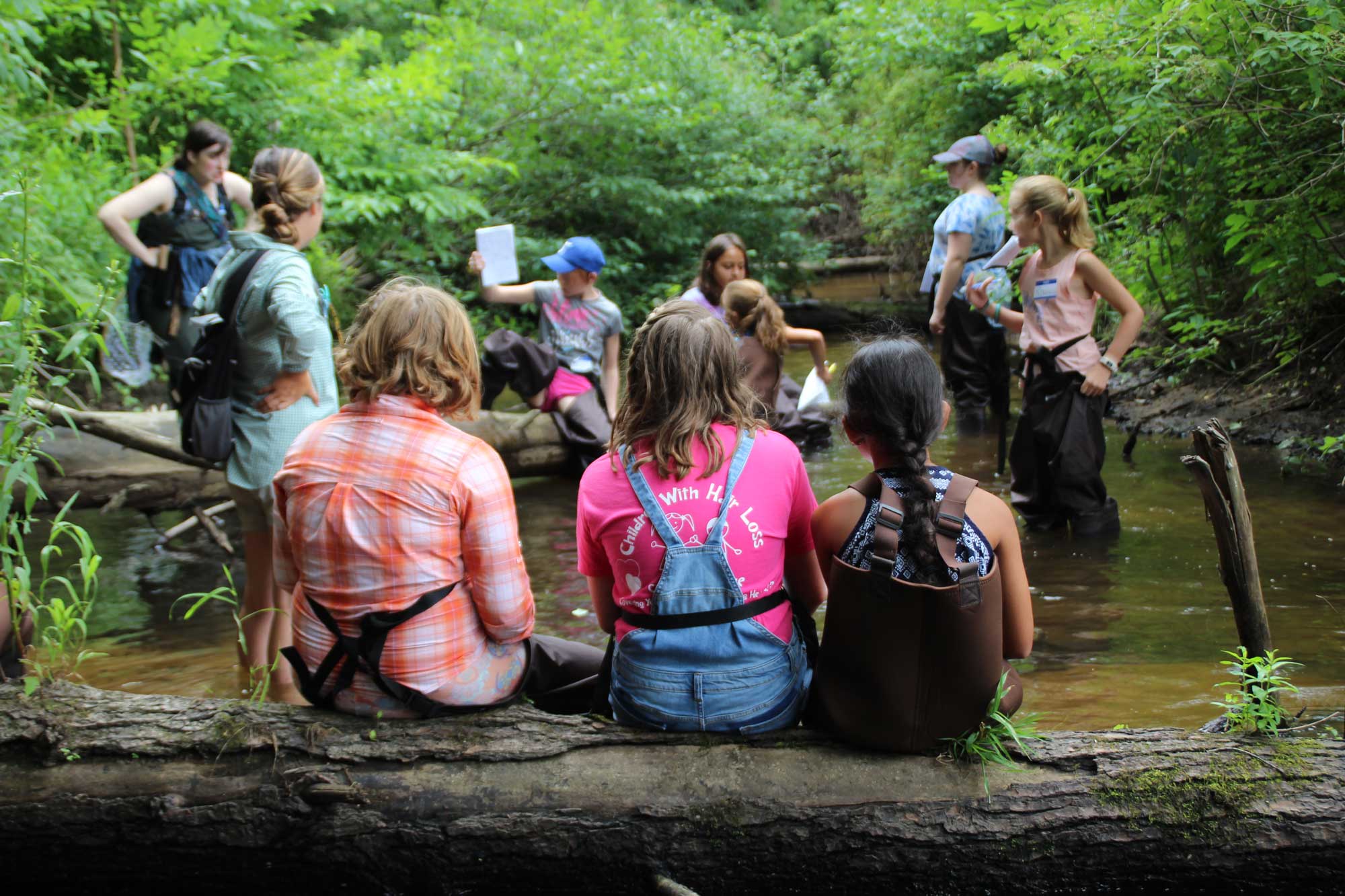 National Forest wood additions for brook trout
Partners
U.S. Forest Service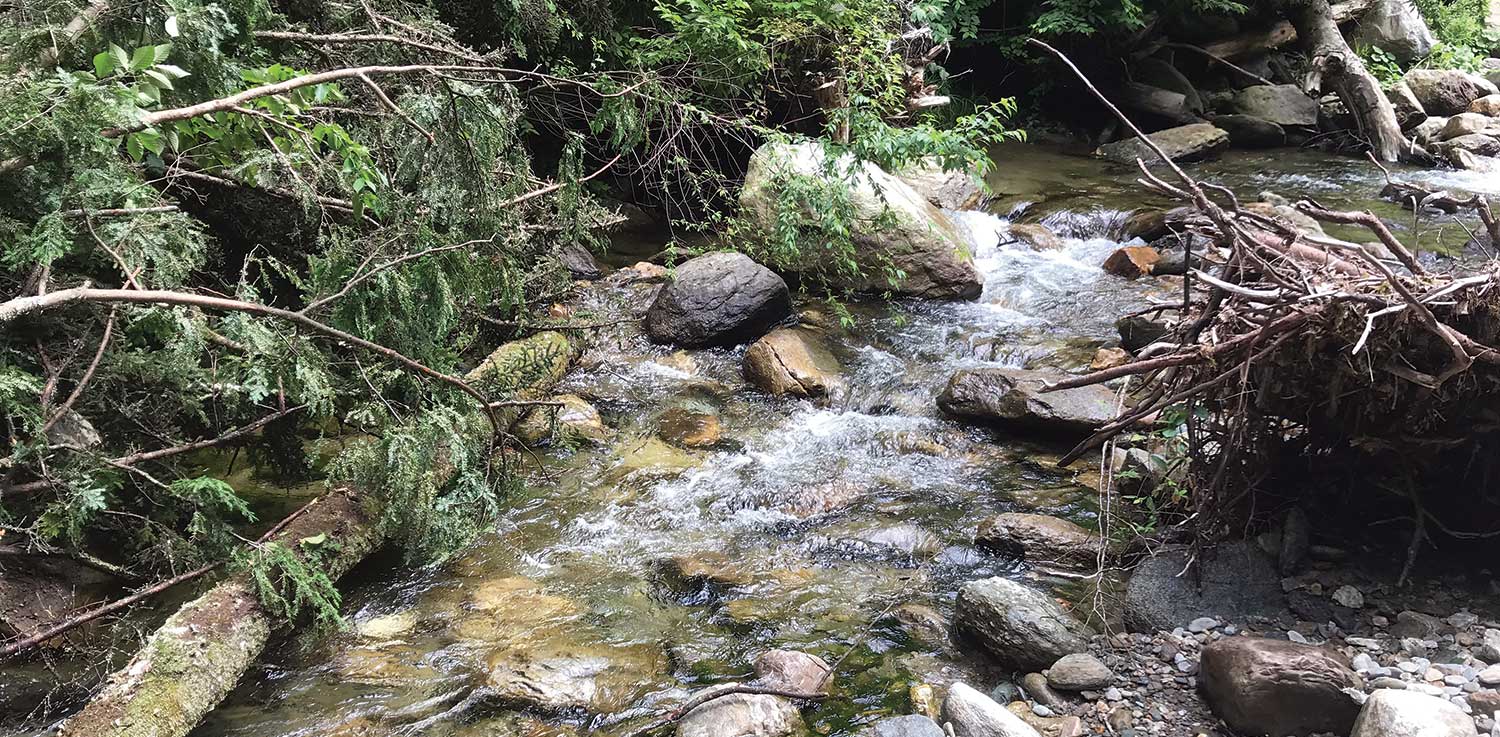 When Trout Unlimited undertakes a habitat restoration effort, we use science to inform and shape the work. After the work is complete, science helps quantify the impact.
A growing set of data is showing that when it comes to helping populations of native brook trout in the East, wood works
TU crews, both staff and volunteers, have been installing woody habitat in streams across the region, from the Carolinas, to New England, to the upper Midwest.
Restoring large wood to largely barren stream reaches is beneficial in several ways.
Wood provides cover for fish, both young and adults. It also impacts stream hydraulics and helps streams maintain smaller sediments and gravels that are important for spawning.
Additionally, it can slow down and spread out stream flows during high-water events, reducing flooding risks and damage.
In terms of brook trout populations, improvements often are impressive and come quickly.
The ultimate proving ground has been in Vermont, where state fisheries biologist Jud Kratzer has been painstakingly and carefully tracking the impact of wood habitat work in several waters, including the East Branch and Black Branch of the Nulhegan River, the Paul Stream watershed and the Dennis Pond watershed.
For more than five years, Kratzer has been sampling streams where Trout Unlimited and partners, including the Vermont Fish and Wildlife Department, have installed woody habitat at more than 400 sites.
Post-work analysis, conducted through electrofishing, has shown that brook trout biomass has increased roughly 150 percent in those areas compared to sites that had not been improved.
Farther south in Vermont, TU crews are utilizing strategic wood additions in the Green Mountain National Forest. This past summer saw a crew led by TU staffers Erin Rodgers and Joel DeStasio add woody habitat to 11 miles of streams, including a 3.5-mile section of Chittenden Brook, a tributary to the White River that falls within the Forest Service's Robinson Integrated Resource Project Area.
Over four years, a total of nearly 15 miles of stream work will be restored in the Robinson Integrated Resource Project Area.
The Forest Service is an important partner for wood addition projects elsewhere, including the Huron-Manistee National Forest in Michigan and the Monongahela National Forest in West Virginia. TU improved 14 miles of streams in Michigan and West Virginia this past year.
In all these project areas, wood additions are being done in addition to other habitat work, such as addressing barriers to fish passage.
Reconnecting fragmented stream sections, in addition to the wood additions, is helping to improve trout habitat across watersheds. As this work continues it will help to ensure better conditions for trout that have long battled adversity.
Upper Klamath restoration
Donors/Partners
National Fish and Wildlife Foundation, U.S. Fish and Wildlife Service, NOAA, ranchers, private landowners, resource agencies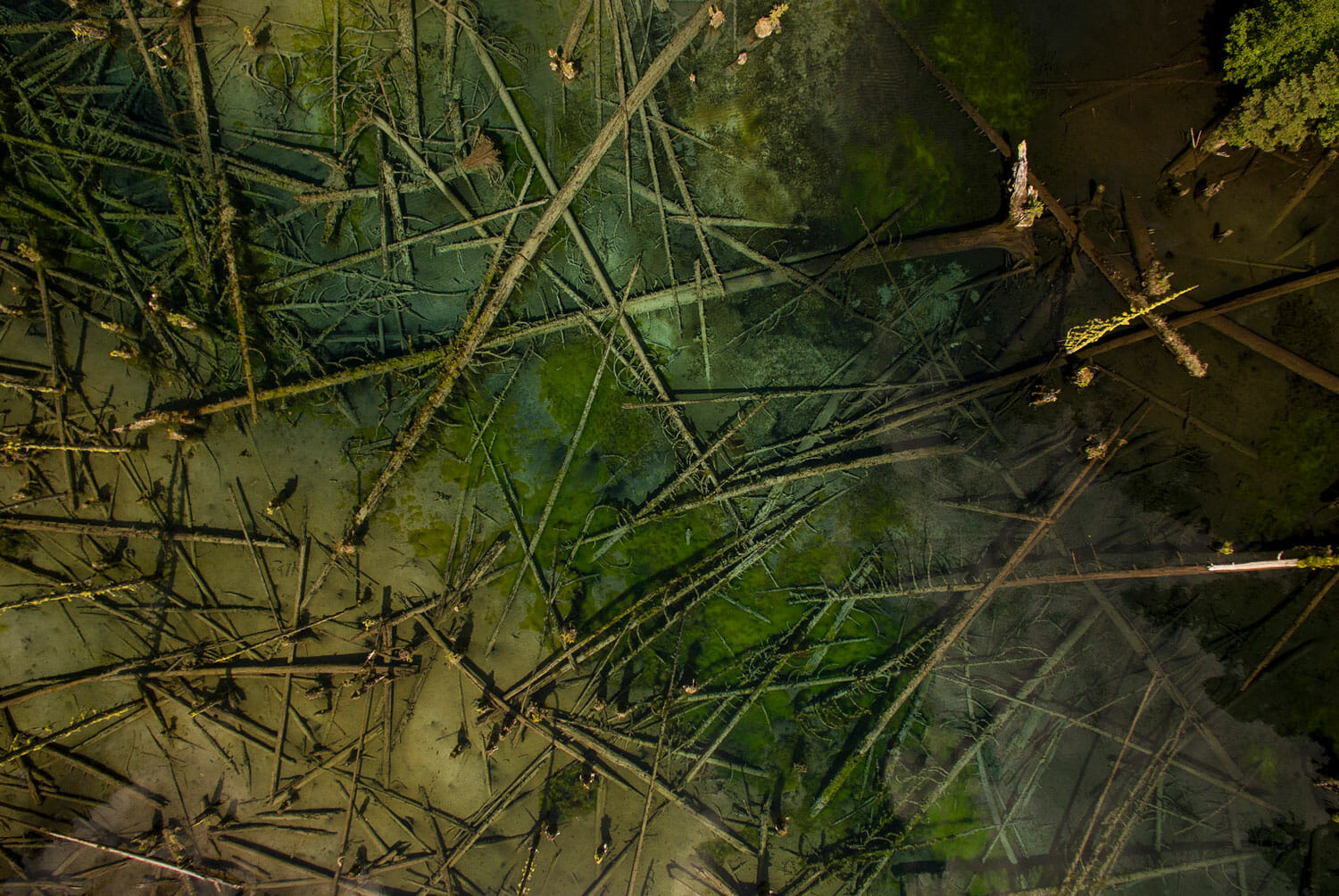 TU is working throughout the Klamath River watershed (historically the third most productive river system for salmon and steelhead on the West Coast) to restore habitat, water quality and fish passage, and to realize a comprehensive, collaborative solution for water use and sharing that will end decades of strife over water in this basin.
This work includes playing a lead role in brokering formal settlement agreements and advocating for the proposed license surrender and removal of four old dams below Klamath Lake, which will re-open more than 400 miles of good spawning and rearing habitat for anadromous fish.
It also includes preparing the upper watershed for the return of salmon and steelhead through restoration projects that improve fish passage, streamflow, water quality and habitat while reducing impacts on ranchers and landowners. In August 2018 the National Fish and Wildlife Foundation awarded TU four new grants totaling over $675,000 for restoration projects in the Upper Klamath: water acquisition and channel restoration in the Threemile and Crane Creek drainage; fish screening on the Wood River; riparian habitat protection and enhancement on the Upper Sprague River; and installation of large wood structure (to improve habitat complexity) on the Wood and Sprague Rivers.
These projects will reduce nutrient or sediment pollution, help stabilize water temperatures, improve instream flows to reduce disconnection of habitat for spawning, rearing and migration, and enhance stream channel and ecological function.
Remote sensing: high-tech monitoring with satellites and drones
Donors/Partners
TU's CCF, U.S. Bureau of Land Management, NASA
Trout Unlimited uses cutting edge remote sensing tools – including satellite imagery analysis using cloud computing to on-demand drone flights – to be efficient and effective in the way we monitor our work. Funding from a variety of sources, including TU's Coldwater Conservation Fund, the U.S. Bureau of Land Management, and NASA, has supported TU in becoming a leader in the application of remote sensing to fisheries.
There are three big benefits of monitoring with remote sensing tools:
History: Large archives of biweekly satellite imagery dating to the early 1980s provide an excellent resource for tracking landscape-scale changes over time.
Scale: Nationwide aerial imagery datasets like the kind used in Google Earth allow TU to rapidly survey habitat conditions across vast landscapes.
Detail: Drones are a new and emerging technology that hold great potential for TU staff and volunteers interested in monitoring places and projects at extremely fine resolution.
In a recent publication in the journal PLOS One, TU scientists and partners demonstrated the power of remote sensing tools. By using satellite and aerial imagery to track streamside vegetation changes and map beaver dams along several trout streams in Nevada and Oregon, the researchers linked changes in vegetation over three decades to livestock management, beaver colonization and climate factors. The results show how increased beaver activity and grazing regimes emphasizing conservation can enhance streamside vegetation by up to 40 percent, meaning more shade for streams and more insect production to feed trout. By quantifying these restoration dividends, TU is making the case for widespread adoption of the practices on rangelands across the western US.
Veterans Service Partnership
Partners
TAPS, VA, Higher Ground Sun Valley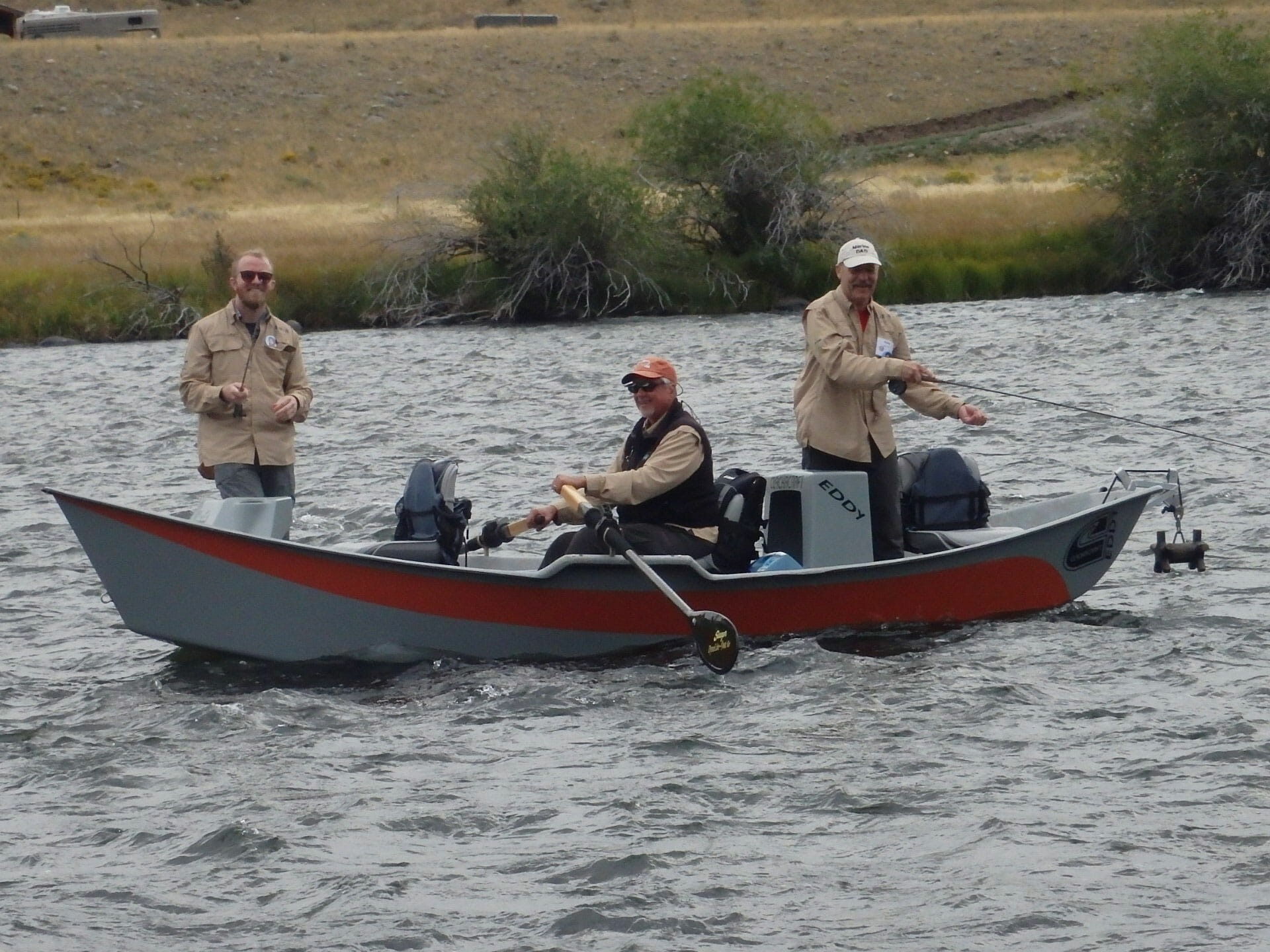 An ever-growing program of Trout Unlimited Volunteer Operations, the Veteran Service Partnership (VSP) hosted 4,000 veterans through 700 programs and grew by 10 new chapters in the past year. Part of the Sustain mandate of TU, VSP welcomes active duty service men and women, reservists, veterans and their ever-supportive families into a ready-made community of passionate conservationists and anglers. Through VSP, TU gains lifelong, dedicated volunteers, many of whom have risen to lead their local chapters and develop more veteran programs for service members and their families. It's a win, win.
This year TU VSP partnered with the nationally recognized recreational therapy program Higher Ground Sun Valley to run the 2nd "Train-the-Volunteer-Trainer" event. Funded through a grant from the Department of Veterans Affairs, 24 TU VSP leaders from around the United States received training in adaptive fly fishing, gained a better understanding of military culture, received suicide awareness training, and derived best practices from the national network of VSP programs. These events empower VSP leaders to return home and train their program volunteers to better serve our Nation's veterans.
The TU VSP also continued a strong partnership with the Tragedy Assistance Program for Survivors (TAPS) and ran the 6th annual Montana Men's Retreat at Parade Rest Ranch on the Upper Madison River. Forty Gold Star survivors attended and received grief counseling and support, a day of fly fishing instruction, and two days of guided fishing on the world-famous Madison River.
Finally, TU VSP continued to provide therapeutic fly fishing events for military veteran couples. The two events run in 2019 included a four-day event on the Upper Delaware River in New York, and four spectacular days at a private ranch on Slough Creek, bordering Yellowstone Park and Montana. The veteran couples received fly fishing instruction and equipment, travel, accommodations and meals, and guided world class fly fishing. Most importantly, however, they received the gift of time and space in which to heal together.
Brian Moran
U.S. Army retired
"As soldiers, sailors and airmen, when in combat, things happen and a little piece of us gets left behind. Your organization gives back to a section of society who gave so much and is honored to do so. That same section of society looks at this organization and is humbled to be recognized."
---
J.W. and Jen C.
Veteran couple
"Thank you for selecting us for this once in a lifetime opportunity. You are doing amazing things for our veterans, and we will never forget this. Your knowledge, expertise, and patience with us as newcomers to this sport is unmatched. You have given us something as a couple that we didn't even know we needed. We are very excited to continue this sport together and share the knowledge you gave us with our sons. If there is anything we can do to help give back to this organization, please don't hesitate to ask."