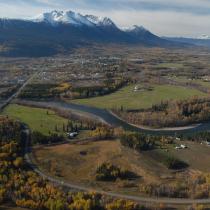 About Us
About us
The Bulkley, Skeena and Nass Rivers rank among of the most spectacular steelhead rivers anywhere in British Columbia. Our operation, 3 Rivers Steelhead Expeditions is located on a private 80 acre ranch on a high bluff overlooking an inside bend of some of the Bulkley River's finest and least accessible steelhead water. The views from the lodge porches are straight downstream with not a neighbor in site and Hudson Bay Mountain out the front deck.
What we do
Part of the charm to our program is the total privacy of the property and small number of guests. Our capacity is five guests, but most weeks we run four anglers. There is not another operation that offers our flexibility and capacity to cater to our guests needs on and off the water.
Where we do it
3 Rivers Steelhead Expeditions on the Bulkley is our latest steelhead venue. The lodge location is hands down the finest anywhere on the river. We are five minutes by jet boat from both canyons on the Bulkley. This allows us to beat any boat to the river if desired. Additionally we have a whitewater jet boat which allows us to access stretches of the Bulkley others simply can't. Our guides are all veterans of the business and always willing to help with any aspect of your trip.
---
Contact