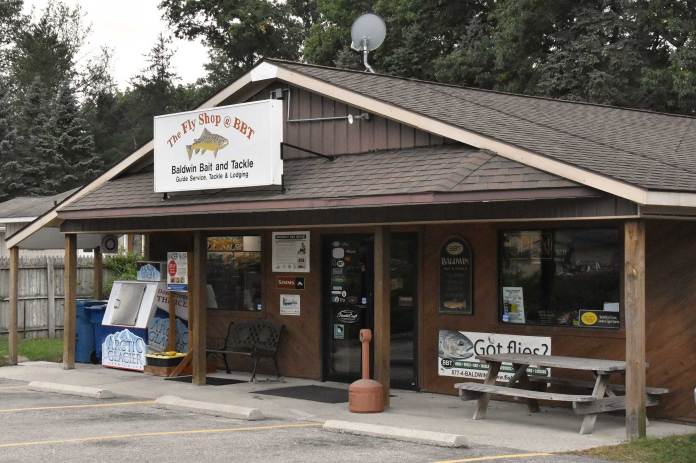 About Us
Steve Fraley has had ties to the Baldwin area and Pere Marquette River for most of his life. He has been guiding primarily fly fisherman with some spinning in the mix on the Pere Marquette River for almost 3 decades. He also guides in Alaska during part of the summer, as well as hosting trips along with his business partner John Karakashian to destination locations like the Bristol Bay area of Alaska, Patagonia Argentina and Ambergris Key (San Pedro) in Belize. He has served on the board of the Pere Marquette Watershed Council for many years until John joined the shop as co-owner and took over that role representing BBT. He now serves on the board of the Pere Marquette Chapter of Trout Unlimited as well as continuing to hold title of Treasurer to the Michigan River Guides Association as he has since 1993. He makes his home in Baldwin Michigan.
In 2002, John Karakashian began guiding on the Pere Marquette and Muskegon rivers and quickly learned that guiding is extremely enjoyable and gratifying. In 2004, he was asked to join the Guide Staff at BBT.  And in 2006, he left "Corporate America", moved to Baldwin to guide full time and became a co-owner of BBT.  He considers himself a lucky man to make a living doing what he loves and have family/friends support his dream!  Some of his fondest memories have been on the river and he looks forward to all the good times yet to come. His fly fishing addiction has taken him around the world (countless trips to Alaska and Argentina, the Florida Keyes, Belize, Canada, Colorado, Idaho and Wyoming…plus, many more places on the list).
What we do
Baldwin Bait & Tackle provides guide service, lodging, and a full fly and tackle shop to help you successfully fish the Pere Marquette River in Baldwin, Michigan. This institution is an equal opportunity provider and is operated under special use permit with the Huron Manistee National Forests.
Where we do it
Northwest Michigan (specifically, the Pere Marquette River) holds some of the best year round fly fishing opportunities in the country (migratory wild steelhead and salmon, year-round trout fishing and some world-renowned hatches). We love working spey/switch rods for steelhead, stripping streamers for trout, dredging deep pools for aggressive kings and most of all dry fly fishing. We like instructing clients on their techniques, as well as learning new tricks from them. The most rewarding aspects of guiding for us is slipping the net under someone's first species (or the fish of a lifetime) and taking in that contagious enthusiasm.
---
Contact