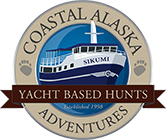 About Us
About us
Coastal Alaska Adventures provides exclusive, yacht based Alaskan hunts taking place in the highest density of brown bears in the world. Master Guide Keegan McCarthy has not only been hunting in Alaska for over 30 years but has been guiding big game hunts for the last 18 years. And because of his extensive experience, he has exclusive access to some of the best trophy hunting areas in the world. We provide world class hunting, luxury accommodations and all inclusive of 5 star cuisine.
What we do
We offer Brown Bear Hunts, Black Bear Hunts and Sitka Black Tail Deer/Sea Duck Hunts. Fishing is also available while hunting, as our boat is fully stocked with all gear needed. Fishing license is not included.
Where we do it
Our hunts typically launch from Juneau, Alaska or Wrangell, Alaska and provide access to exclusive areas not accessible by road.
---
Contact