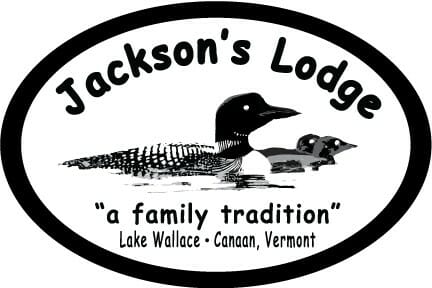 About Us
About us
Jackson's Lodge, a historic lodge built in the 1920s as a sportsmen's fishing & hunting destination, has been for the past 58 years a family tradition of Elmont & Audrey Jackson; daughter Gloria Jackson the owner/operator the past 30 years.
What we do
Spring thru fall destination, historic Jackson's Lodge hosts & caters events including Vermont's 'Trout Camp', Vermont Outdoors Woman 'Fall Doe Camp', writers retreats, weddings, anniversaries, reunions, business gatherings, etc.
14 lakeside log cabins (very clean & fully furnished), 2 Wayfarer Rooms, and 2 houses include daily, weekly, and monthly rentals. Pet-friendly too.
Jackson's Cafe is a renowned weekend destination serving hearty country-style homemade breakfast from Memorial Day thru Labor Day weekend.
We offer quiet roads & trails, bountiful pristine lakes & rivers, sandy beach, moose eagles and loons, enchanting beachside campfires, brilliant stars. Explore VT, NH, and Canada all in a half-day trip.
As us about our 'Rewards Program for Fishing Guides'.
Jackson's Lodge is best described as 'naturally unaffected and deliberately unhurried'. Check out our '5-Star' reviews on TripAdvisor.
Where we do it
Jackson's Lodge, in Canaan, Vermont, is a historic lodge located in the wild & scenic Northeast Kingdom of Vermont and borders New Hampshire and the Eastern Townships of Quebec, Canada. Jackson's Lodge includes log cabins on the shores of pristine international Lake Wallace and just five miles west of the bountiful Connecticut River.
---
Contact