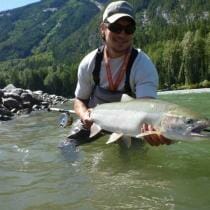 About Us
About us
The Lower Dean River Lodge was originally built by Rob Stewart and Dick Blewett. In 2012, the lodge and outbuildings were literally wiped off the river by a 200 year flood. We are proud to finally announce that the new lodge and site is finished. As someone not involved with the actual building of the new lodge and camp, I don't mind saying there has never been a lodge as nice. The Blewett family and the crew at the Dean are entirely to thank. It is hard to imagine improving the Dean experience, but in the ten years since the change in ownership Billy and Mandi have consistently raised the bar.
What we do
Dean River Steelhead season is from mid June until September 30. The average fish is 10-12 lbs. but some reach 25-30 lbs. Dean River Chinook enter the river in June and July and can reach 60 lbs. These powerful wild salmon can be caught on flies and are a challenging quarry in the fast flowing Dean. Northern Coho salmon enter the Dean in late August and September and can reach 20 lbs. The river opens June 1 and the area we fish is "FLY ONLY" from July 15 to season's end. The Steelhead fishery is CATCH & RELEASE.
Where we do it
On the Dean anglers enjoy summer weather, few bugs, water temps a constant 50º, snowcapped peaks and granite rock faces in every direction, old growth forests, an unparalleled guiding and lodging experience and finally the finest summer run steelhead fishing anywhere. Dean River steelhead return in incredible numbers beginning June 20 and enter the river without stopping until the close of the season October 1. Our lodge operates for steelhead within 20 miles of the salt so fish are blazing hot. They are often sea lice laden and as silver as ocean fish.
---
Contact