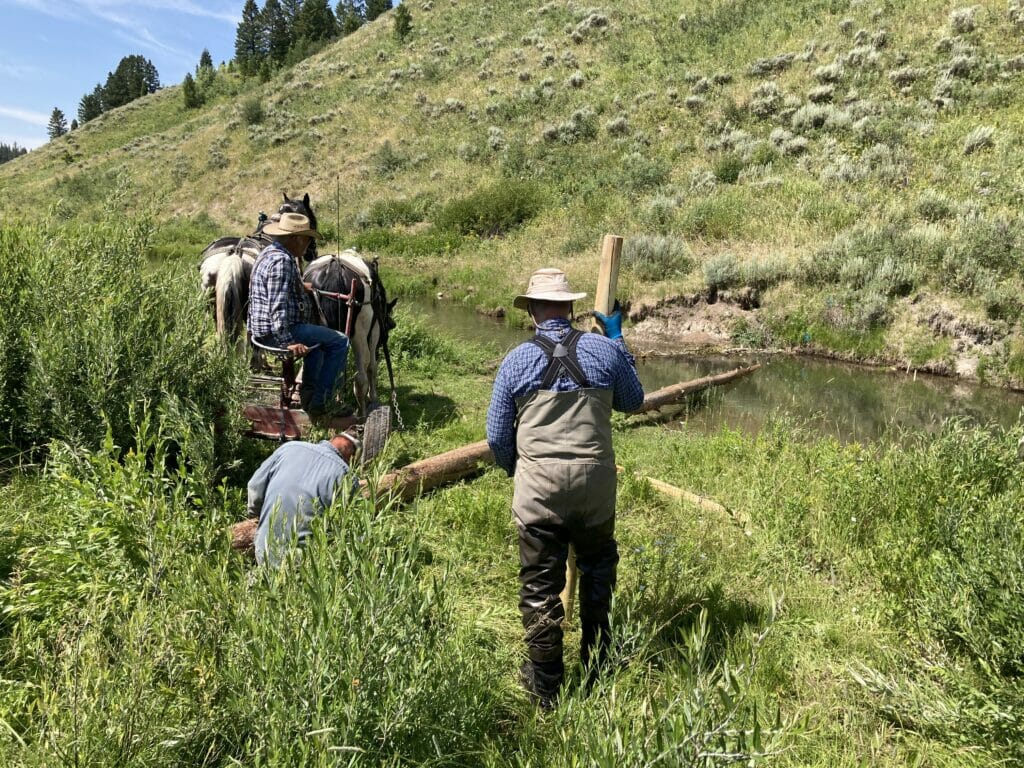 Monday, August 15, 2022
Contacts:
Lee Mabey, Forest Fisheries Biologist, Caribou-Targhee National Forest, 208-557-5784, lee.mabey@usda.gov
Leslie Steen, NW Wyoming Program Director, Trout Unlimited, 307-699-1022, leslie.steen@tu.org
###
JACKSON, Wyoming –The Caribou-Targhee National Forest (CTNF) and Trout Unlimited (TU) announced today that restoration work using innovative techniques on the North Fork of Tincup Creek is currently underway. The project is using draft horses and hand crews to install log structures to improve stream health, floodplain connectivity, and habitat for cutthroat trout and other native fish species on 2.1 miles of degraded stream on CTNF lands. This year's construction implementation began on July 18th and will be completed by August 25th.
The North Fork Tincup Creek project area is in a remote roadless area of the CTNF accessed via USFS Road #117 (Tincup / Bridge Creek Road), near Wayan, Idaho, and Freedom, Wyoming, in southeast Idaho. The stream in the project area is currently too wide and downcut, with vertical eroding banks 2 to 4 feet in height. It has low fish densities due to poor instream habitat, and is listed as water quality impaired by the Idaho Department of Water Quality as a result of excess sedimentation. Because it is in a roadless area, project partners opted for a "low-tech, process-based restoration" design strategy pioneered by researchers at the University of Utah, which calls for using low-cost, simple structures built from natural materials to mimic natural stream processes such as beaver activity and letting the water do the work.
"We saw this project as the perfect opportunity to try these low-tech, process-based restoration techniques for ourselves, since using heavy equipment would not be an option due to it being in a roadless area. We had to get creative to figure out how to get the work done, and luckily we were able to find skilled draft horse teams, a crew from the Montana Conservation Corps, and Forest Service staff to help us in our efforts," said Lee Mabey, Forest Fisheries Biologist for the Caribou-Targhee National Forest.
Through the project, about 500 large trees are being installed in the degraded stream channel to restore floodplain connectivity and fisheries habitat. Trees felled by the Forest Service are being pulled to the stream and positioned by teams of draft horses, then pinned into place using wood posts installed by Montana Conservation Corps crew. Structures are designed to provide instream cover, increase scour rates, and capture sediment to raise the streambed elevation and reconnect the stream to its floodplain. Natural stream processes and dam-building activities of beaver are being relied upon to return the stream to a healthier state.
"I have been involved with over a dozen stream restoration projects at TU, and this is the first that I'm aware of that has been done by horses and by hand. It's impressive to see these skills from a different era being used to benefit fish habitat and stream health. We're grateful to all the project partners and contractors that are making this project possible," said Leslie Steen, TU NW Wyoming Program Director.
The project is a follow-up to the large-scale, multi-phase Tincup Creek Stream Restoration Project that restored 5 miles of aquatic habitat in the Tincup Creek watershed from 2017 to 2020 with the help of nearly 20 partners. It seeks to address similar issues of loss of habitat, degraded stream function, and impaired water quality, but with process-based techniques. In addition to the technical and in-kind partners mentioned above – CTNF, TU, and the Montana Conservation Corps – the project has received funding support from the US Forest Service, Desert Fish Habitat Partnership, Jackson Hole One Fly, Southeast Idaho Wildlife Mitigation Fund.
Over time, project partners expect that within several years, there will be significant benefits to the riparian and stream ecosystems in the North Fork of Tincup Creek and the fish and wildlife species that inhabit them. The North Fork Tincup Creek Process-Based Restoration Project is a project of TU's Snake River Headwaters Home Rivers Initiative, an ambitious initiative to restore and protect the headwaters of the Snake River and its fishery, together with a diverse group of community, landowner, and agency partners.  
Please visit the CTNF Facebook page and Jackson Hole Trout Unlimited Facebook page for photos and video footage of the draft horses at work.

About Trout Unlimited
Today, Trout Unlimited is a national organization with more than 155,000 volunteers organized into 400 chapters nationwide. These dedicated volunteers are paired with a respected staff of organizers, lawyers, policy experts and scientists, who work out of more than 30 offices. Our mission is to conserve, protect and restore North America's cold-water fisheries and their watersheds. Follow TU on Facebook and Twitter, and follow our blog for all the latest information on trout and salmon conservation.

About the Caribou-Targhee National Forest
One of the original purposes of the Forest Service was to provide healthy watersheds and clean water. Forest Service lands are to be managed to provide the greatest good to the greatest numbers as we care for the land and serve the people.