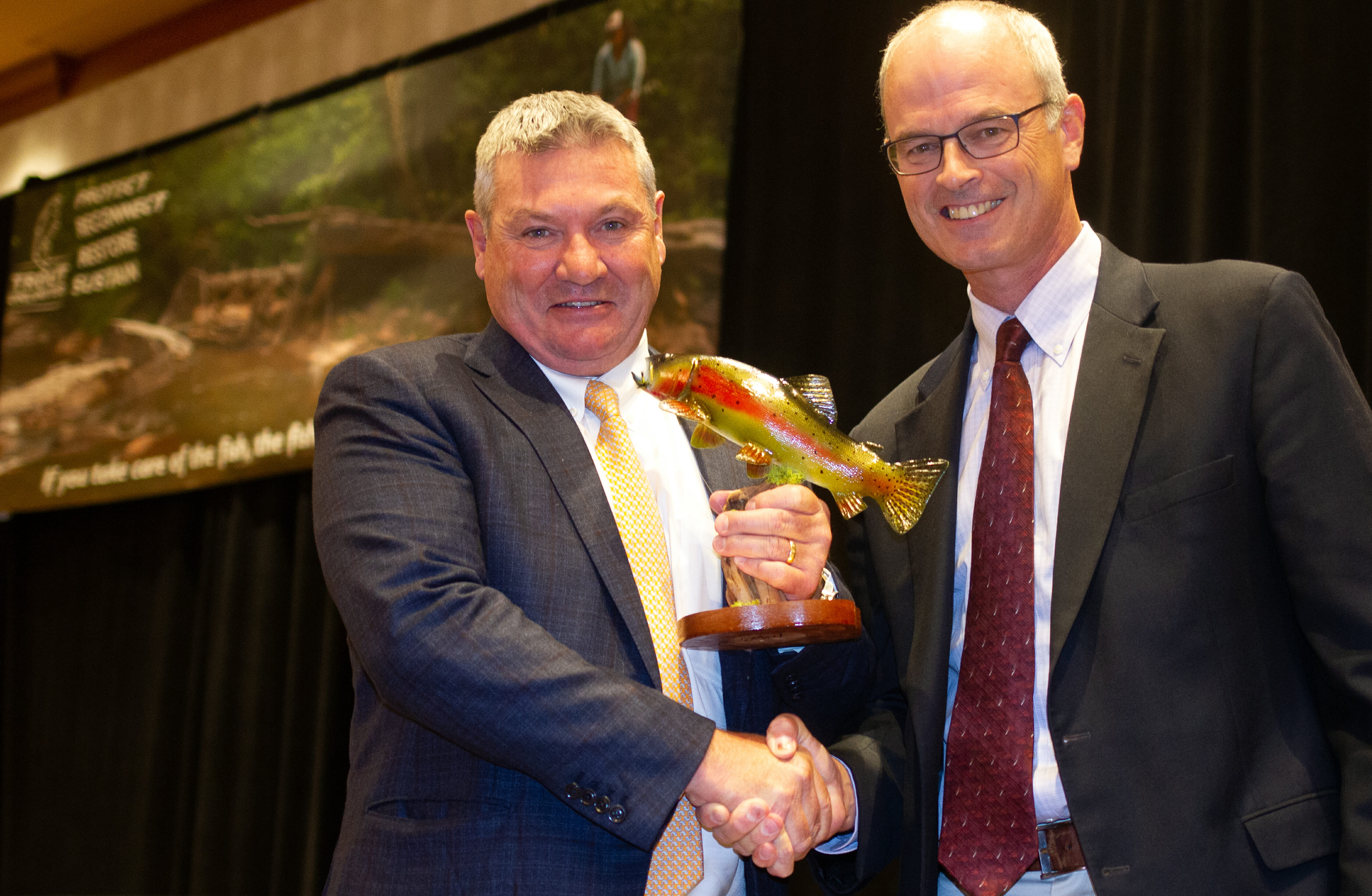 October 10, 2019
Contact:
Brett Prettyman, 801-209-5320, brett.prettyman@tu.org
Kinross Gold Named Corporate Conservation Award Winner
ELKO, Nevada — Kinross Gold Corp., an important partner of Trout Unlimited in Nevada, was recognized recently by the conservation organization at its annual meeting.
J. Paul Rollinson, president and CEO of Kinross, was on hand in Rogers, Arkansas, last week to receive the 2019 Corporate Conservation Award from Trout Unlimited President and CEO, Chris Wood.
"Kinross has shown a committed corporate responsibility to our conservation efforts and a strong desire to make the communities where they work better places," Wood said. "They are a true partner in every sense of the word, and it was an honor to recognize their efforts with this award."
Kinross is actively partnering with Trout Unlimited to connect more than 25 miles of important redband trout habitat, including replacing a culvert currently acting as a barrier to migration between Salmon Falls Creek and Dry Creek near Elko.
For the past three years, Kinross' Bald Mountain mine has sponsored the annual Trout Unlimited Nevada Youth Fly Fishing Camp at the Spring Creek Marina. The two-day camp is open to a dozen children age 9 to 12 and teaches them everything from fly-casting and fly-tying to an introduction in trout conservation. Kinross Bald Mountain and Trout Unlimited plan to partner again in 2020 for the Nevada Youth Fly Fishing Camp.
The Ruby Mountains Fly Fishers group started hosting the popular Fly Fishing Film Tour in Elko in 2018. Kinross Bald Mountain has helped support the well-attended film tour and plans to do so again next year.
"Having a partner like Kinross on conservation projects and community events like the youth fly fishing camp and the film festival means a lot to Trout Unlimited. They help us get things done in so many ways," said Pam Harrington, Nevada field coordinator for Trout Unlimited. "I'm truly thankful for the partnership."
Kinross also partners with Trout Unlimited in other locations across the country. The company made one of the largest and most ecologically significant water right donations in history when leaders signed an agreement with Trout Unlimited that resulted in 3 billion gallons of water per year being kept in critical tributaries of the Yellowstone River in Montana.
Kinross Gold U.S.A., Inc., supports Trout Unlimited's work to pass Good Samaritan legislation, a policy to allow public/private partnership in cleaning up thousands of abandoned mines polluting waters across the country. Rollinson made a trip to Capitol Hill in Washington, D.C., with Wood to show support for the legislation.
In 2018 and 2019, Kinross' Gold-Fort Knox mine sponsored an Armed Service Appreciation Fly-Fishing Trip in Alaska that took participants to some of the best lodges in the state where the active and retired military personnel could fish and hear about Trout Unlimited's work.
Pictures of the award presentation and from the Nevada Youth Fly Fishing Camp available upon request. Send an email to brett.prettyman@tu.org with the request.
About Trout Unlimited
Today, Trout Unlimited is a national organization with more than 155,000 volunteers organized into 400 chapters nationwide. These dedicated volunteers are paired with a respected staff of organizers, lawyers, policy experts and scientists, who work out of more than 30 offices. Our mission is to conserve, protect and restore North America's cold-water fisheries and their watersheds. Follow TU on Facebook and Twitter, and follow our blog for all the latest information on trout and salmon conservation.