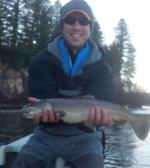 Elizabeth Maclin
Feb. 23, 2015
Contact:
Chris Wood, President and CEO, Trout Unlimited (703) 284-9403
FOR IMMEDIATE RELEASE:
TU promotes Maclin to executive VP post; Curley promoted to VP for eastern conservation
WASHINGTON, D.C.Trout Unlimited President and CEO Chris Wood announced today the promotion of Elizabeth Maclin to the organizations executive vice president position. Maclin has worked for TU for eight years as its vice president for eastern conservation. Keith Curley, the current director of government affairs, will be promoted to the senior staff and take Maclins former eastern conservation post.
Elizabeth is a top hand who has grown the eastern conservation staff from about six to about 43 in the span of eight years, Wood said of Maclin, who holds MS and MBA degrees from the University of Michigan and has overseen several major conservation victories in the eastern U.S. since coming to TU in 2007. Not only does this speak to the great work that Elizabeth has done over the years, it shows our members and the conservation community that women continue to have a prominent presence in TUs leadership. She earned this opportunity, and Im very proud to give her even more responsibility.
Keith Curley
Maclins work includes the successful effort to organize anglers and hunters to promote responsible energy practices in the face of shale gas development across Central Appalachian states. Shes also been deeply involved in recovery efforts for Atlantic salmon through the Penobscot River Restoration Project in Maine and for native brook trout throughout Appalachia as well as the ongoing restoration efforts to restore trout waters impacted by major storm events such as Irene and Sandy.
In her new role, Maclin will oversee much of TUs business operations, and she will help coordinate the organizations strategic opportunities as put forth in TUs newly finalized strategic plan.
Im looking forward to these new responsibilities, Maclin said. It gives me the opportunity to help shape TUs future and, with the growth weve experienced in recent years, allow TU to continue building upon our work to protect the places our members love to fish while reconnecting and restoring waters for coming generations.
Curley, who started at TU a decade ago as an intern, will move into Maclins former post as vice president for eastern conservation. Curley has worked in numerous positions at TU, including working on public lands issues, managing relationships with foundations and, most recently, as the director of government affairs under Vice President for Government Affairs, Steve Moyer.
Keith was simply too good to lose a decade ago when he first came to TU, Wood said. He has continued to prosper in every position hes heldhe has earned the opportunity to take over our work on the East Coast, and I am confident that he will continue the great work Elizabeth has done over the years.
This is an amazing opportunity for me, Curley said. The team we have assembled here on the East Coast is the best there is, and Im thrilled to have the chance to help them meet their goals and work to make fishing better by protecting and improving trout habitat in the region.
Both Maclin and Curley will begin their new positions in mid-March.
Trout Unlimited is the nations oldest and largest coldwater fisheries conservation organization dedicated to conserving, protecting and restoring North Americas trout and salmon and their watersheds. Follow TU on Facebook and Twitter, and visit us online at tu.org.