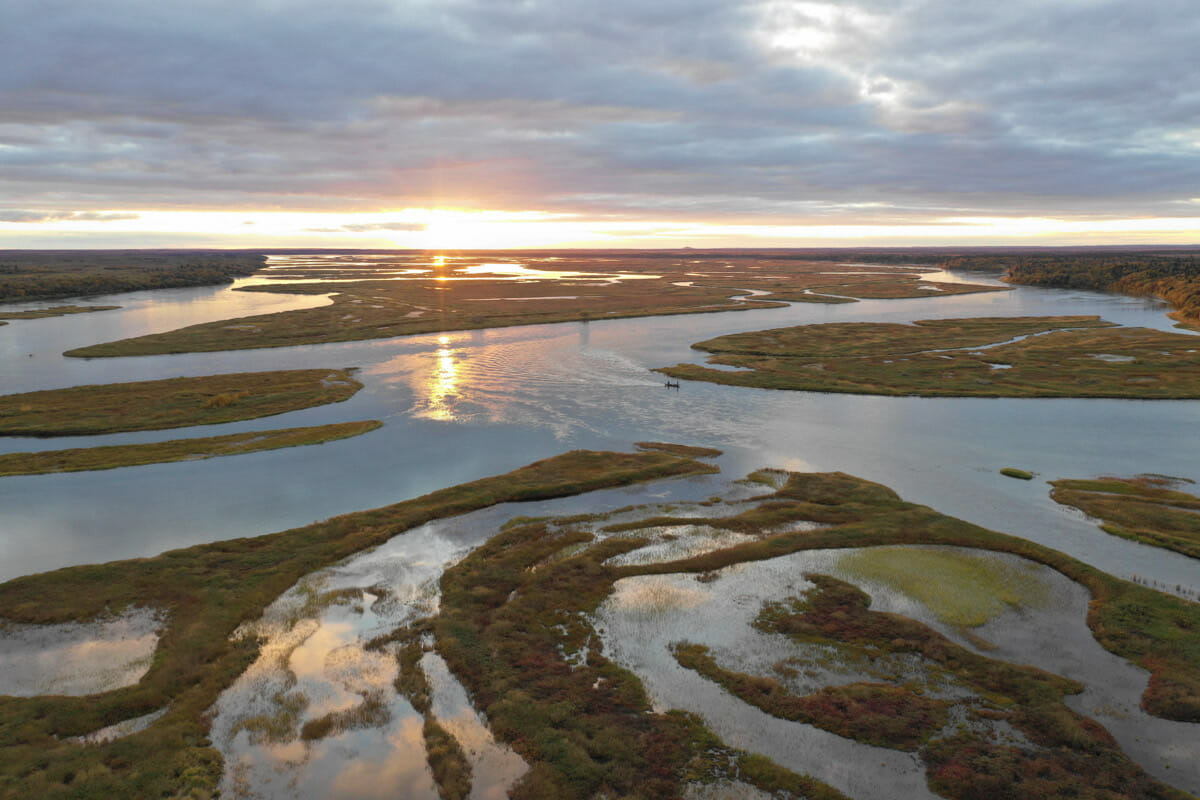 For images and b-roll, click here
Contact:
Chris Wood, Trout Unlimited president and CEO, (571) 274-0601, cwood@tu.org
Nelli Williams, Trout Unlimited Alaska director, (907) 230-7121, nwilliams@tu.org
Nanci Morris Lyon, Bear Trail Lodge, (907) 469-0622 
Brian Kraft, Alaska Sportsman's Lode & Katmai Service Providers, (907) 276 -7605, bkraft@alaskasportsmanslodge.com
Pebble mine stopped by Trump Administration
U.S. Army Corps of Engineers denies permit for widely-opposed project. Sportsmen and women applaud the decision.
ANCHORAGE, AK – Today, in a move welcomed by millions of Americans, Alaskan communities, and admirers of the most prolific wild salmon fishery in the world, the U.S. Army Corps of Engineers (Corps) denied the application for the key permit for the proposed Pebble mine. The Corps had said the mine would cause significant degradation and significant adverse effects to the waters and fisheries of the Bristol Bay region.
"The Corps' denial of the permit for the Pebble Mine is a victory for common sense," said Chris Wood, president and CEO of Trout Unlimited. "Bristol Bay is the wrong place for industrial-scale mining, and we look forward to working with the people of the Bristol Bay region, Alaska's Congressional delegation, the state, and other partners to permanently protect Bristol Bay and its world class fisheries."
The Corps announced in August that the project could not be permitted "as currently proposed" and required Pebble Limited Partnership to create a new compensatory mitigation plan. Since then, technical experts concluded that it would be nearly impossible for the company to meet those mitigation standards. In the meantime, Pebble's reputation took a hit with the release of the Pebble Tapes, which led to CEO Tom Collier's resignation.
"Good riddance. The opposition to this project from all corners of the political spectrum runs strong and deep. The process has played out, and the science is clear. There is no way this ill-conceived project can coexist with Bristol Bay salmon," said Nelli Williams, Alaska director of Trout Unlimited. "The denial of Pebble's permit is a victory for American jobs, rural communities, and a fishing and hunting paradise long threatened by this shortsighted and reckless proposal. With this behind us, the people of Bristol Bay can start the work of ensuring the region is protected into the future from threats."
Throughout the two-year permit review process, many organizations, federal and state agencies, independent scientists, and individuals raised potentially fatal concerns about this project. Among them were the project's expected destruction of streams and wetlands, its untested and incomplete water management and mitigation plans, its unreliable tailings dam design, and its huge economic costs. Those concerned about the mine also cited threats to existing businesses, communities, and cultures that rely on the intact fishery, among various other issues.
"Thousands of us have looked forward to this day for well over a decade," said Brian Kraft, owner of Alaska Sportsman's Lodge, president of Katmai Service Providers and a Trout Unlimited business member. "The world-renowned spawning grounds of the Bristol Bay region are simply no place for large, industrial, open-pit mining operations. Kudos to this Administration for seeing this project for what it was—a half-baked and risky proposal that does not belong in the heart of Bristol Bay. This is a good day. We should all celebrate and be thankful today, and get ready to achieve long-term protections next."
The final Environmental Impact Statement documented nearly 200 miles of impacted streams, 4,500 acres of impacted waters and wetlands (See FEIS at 4.22-15, Table 4.22-1.). The Army Corps said the function of the tailings facility was "uncertain,", and the Corps' EIS contractor described it as "very similar" to the facility that failed catastrophically at the Mount Polley mine in 2014.
"I am relieved and thankful," said Nanci Morris Lyon, resident of King Salmon, Alaska, and owner of Bear Trail Lodge. "This is the right call. The message is as clear today as it ever was: Pebble is not welcome in Bristol Bay. Now we can work toward the future without the shadow of Pebble hanging over our heads. We look forward to working with our Senators to make sure this is lasting."
"Thank you to all who came together and made their voices heard to keep one of the world's great watersheds pristine. Today, Bristol Bay, Alaska, is one step closer to being a protected American treasure that sustains local communities and industries and that outdoor enthusiasts can enjoy and experience for generations to come," said Orvis President, Simon Perkins.
###
Trout Unlimited is the nation's oldest and largest coldwater fisheries conservation organization dedicated to conserving, protecting and restoring North America's trout and salmon and their watersheds. Across the country, TU brings to bear local, regional and national grassroots organizing, durable partnerships, science-backed policy muscle, and legal firepower on behalf of trout and salmon fisheries, healthy waters and vibrant communities. We have worked in the Bristol Bay region for almost two decades along with thousands of supporters including dozens of businesses that depend on the fishery of the region. For more information on the Save Bristol Bay campaign go to SaveBristolBay.org or tu.org.
The Katmai Service Providers represents 64 Alaska fishing, hunting, bear viewing and tourism businesses that operate in the Bristol Bay region. Brian Kraft is the president of the KSP and the owner of two sportfishing lodges in southwest Alaska, one in Igiugig, Alaska and one near Dillingham, Alaska. www.Katmaipark.org
The Orvis Company: Founded in 1856, Orvis operates more than 80 retail stores in the U.S and the U.K., and maintains a network of over 400 dealers worldwide as a trusted source of fishing and hunting gear. They have millions of customers throughout the world. www.orvis.com
Header photo by Alaska Fly Out