Recreation industry leaders outline important job qualifications for next nominee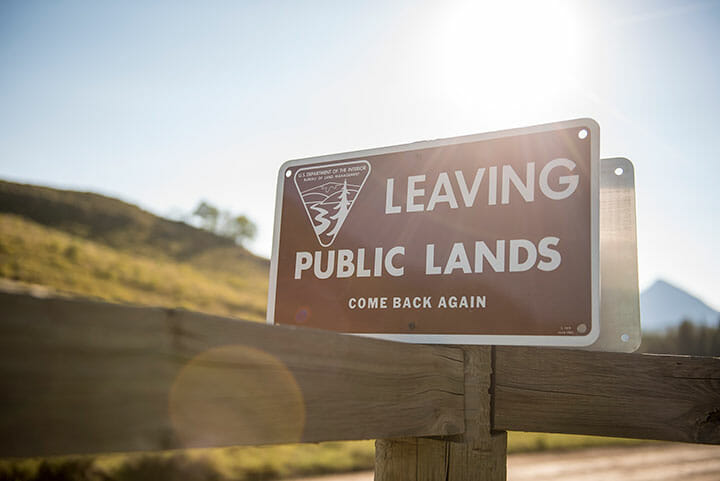 For Immediate Release
Oct. 4, 2019
Contact:
Shauna Stephenson
Trout Unlimited
(307) 757-7861
Shauna.stephenson@tu.org
Katie McKalip
Backcountry Hunters & Anglers
(406) 240-9262
McKalip@backcountryhunters.org
(Oct. 4, 2019) WASHINGTON, D.C. – Leaders in the recreation industry called on the Trump administration to put forth a credible nominee to lead the Bureau of Land Management, an agency responsible for the administration of 245 million acres of America's public lands.
This week Interior Secretary David Bernhardt announced his decision to keep William Pendley on as the acting director of the BLM until Jan. 3, 2020, a move that made sportsmen and women uneasy after Pendley has regularly expressed views supporting the sale or transfer of public lands.
"It's critical that the BLM have a confirmed director who understands the true value of public lands," said Tim Romano, managing editor of Angling Trade Media. "Having someone in that role who discounts the true value of open spaces and waters that support billions of dollars in outdoor recreation business every year would be inexcusable. And it is inexcusable to not put forth a nominee who can be fully vetted to ensure that we have a public lands champion in charge of our largest public land management agency."
The recreational industry fuels an $887 billion economy each year, and a 2018 study by Southwick Associates indicates that total direct spending for just hunting, fishing and wildlife viewing on BLM lands and water accounted for more than $2 billion in economic activity.
Other outdoor business owners reacted with similar concern:
"Small businesses, including Hunt To Eat, depend on sportsmen being able and excited to hunt and fish on BLM lands. Having a BLM director who supports divesting our public lands from federal stewardship would be devastating to small businesses across the West," said Mahting Putelis, owner of Hunt to Eat.
"Mr. Pendley has regularly expressed views supporting the sale or transfer of Western public lands and waters," said Corinne Doctor, co-owner of RepYourWater. "This is a position that supports neither our company's values nor our economic solvency as a nation. RepYourWater is dedicated to the future of angling, hunting and outdoor recreation and is proud to be an economic force deeply connected to our lands and waters. We respectfully urge the administration to initiate a transparent congressional appointment process to identify a leader committed to bringing people together around the BLM's mission and values."
"It is unacceptable that someone whose twitter handle is @Sagebrush_Rebel was placed in charge of an agency which manages 245 million acres of public land," said Ford Van Fossan, conservation, content and digital merchandising manager for First Lite.

###
Trout Unlimited is the nation's oldest and largest coldwater fisheries conservation organization dedicated to conserving, protecting and restoring North America's trout and salmon and their watersheds. Follow TU on Facebook and Twitter, Instagram and our blog for all the latest information on trout and salmon conservation.
Backcountry Hunters & Anglers is the voice for our wild public lands, waters and wildlife. Learn more about BHA: Visit our website. Connect with us on Facebook. Follow us on Twitter. Find us on Instagram.