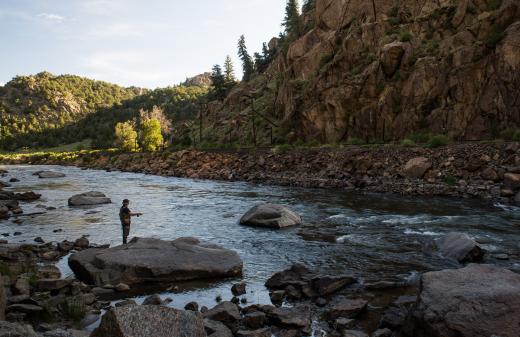 News for Immediate Release
May 10, 2016
Contact: Randy Scholfield, TU, 720-375-3961, rscholfield@tu.org
Katie McKalip, BHA, 406-240-9262, mckalip@backcountryhunters.org
Kristyn Brady, TRCP, 617-501-6352, kbrady@trcp.org
Judith Kohler, NWF, 720-315-0855, koherj@nwf.com
Sportsmen groups praise Colorado Public Lands Day
New holidayfirst of its kind in the nationwill recognize value of public lands
DENVER A coalition of sportsmens groups today praised the Colorado General Assemblys passage Friday of a Colorado Public Lands Day bill, SB 21, which designates the third Saturday in May each year to recognize the importance of public lands in the state. The bill has been sent to Gov. Hickenlooper, who is expected to sign it into law.
It is wonderful that Colorado is acknowledging in bipartisan fashion how valuable and important Americas public lands are to its residents by being the first state to designate a Public Lands Day, said Tyler Baskfield, Colorado Sportsmen Coordinator for Trout Unlimited. The outpouring of support for this legislation demonstrates how much Colorado sportsmen and sportswomen, outdoor enthusiasts and businesses value Americas public lands. Those pushing a public lands transfer agenda are really just fringe groups whose interests serve very few.
Baskfield noted that Trout Unlimited has worked with sportsmen and sportswomen for decades to enhance coldwater fisheries. Much of this work has taken place in cooperation with state and federal agencies and other conservation organizations on Colorados public lands.
Its about access, added Baskfield. Colorado is fortunate enough to have millions of acres of public lands for hunters and anglers to exploreand sportsmen and women deeply appreciate the opportunity these lands provide for outdoor recreation. We look forward to celebrating Colorado Public Lands Day.
Other sportsmen groups lauded the official recognition of the benefits of public lands.
Just as our landscapes make Colorado a special place, the bipartisan bill creating an annual Public Lands Day demonstrates positive leadership at a time when politics is often too full of division, said Suzanne ONeill, Colorado Wildlife Federation executive director. Public lands, from the mountains to the sagebrush steppe and rolling plains, support our fish and wildlife, hunting, fishing, wildlife watching, and other outdoor recreation that generates more than $34 billion in economic activity each year.
Bipartisan support for Public Lands Day is a great indication of the passion Coloradans have for outdoor recreation on public landsnational treasures owned by all of usas part of a healthy and fulfilling lifestyle, said Nick Payne, Colorado field representative for the Theodore Roosevelt Conservation Partnership. Im sure thousands of hunters and anglers will join me in tipping a hat to our state lawmakers, with the hope that this will spark constructive conversations about responsible management of our public lands, which ensures continued access to world-class hunting and fishing experiences.
Sportsmen are pleased to see the state of Colorado continue to maintain our longstanding bipartisan tradition of supporting public lands, public access and habitat conservation, said Matt Kenna, Colorado Backcountry Hunters & Anglers board member from Durango. It's now time to capitalize on this momentum and work toward implementing real, on-the-ground public lands management solutions.
# # #
Trout Unlimited is the nations oldest and largest coldwater fisheries conservation organization dedicated to conserving, protecting and restoring North Americas trout and salmon and their watersheds.
Backcountry Hunters & Anglers seeks to ensure North America's outdoor heritage of hunting and fishing in a natural setting, through education and work on behalf of wild public lands and waters.
Inspired by the legacy of Theodore Roosevelt, the TRCP is a coalition of organizations and grassroots partners working together to preserve the traditions of hunting and fishing. Ensuring access to quality fish and wildlife habitat safeguards the $646-billion contribution that sportsmen and women make to the American economy.
The National Wildlife Federation is America's largest conservation organization inspiring Americans to protect wildlife for our children's future.