New short film features local community members, agencies, and small businesses partnering together to restore stream connectivity through collaborative project.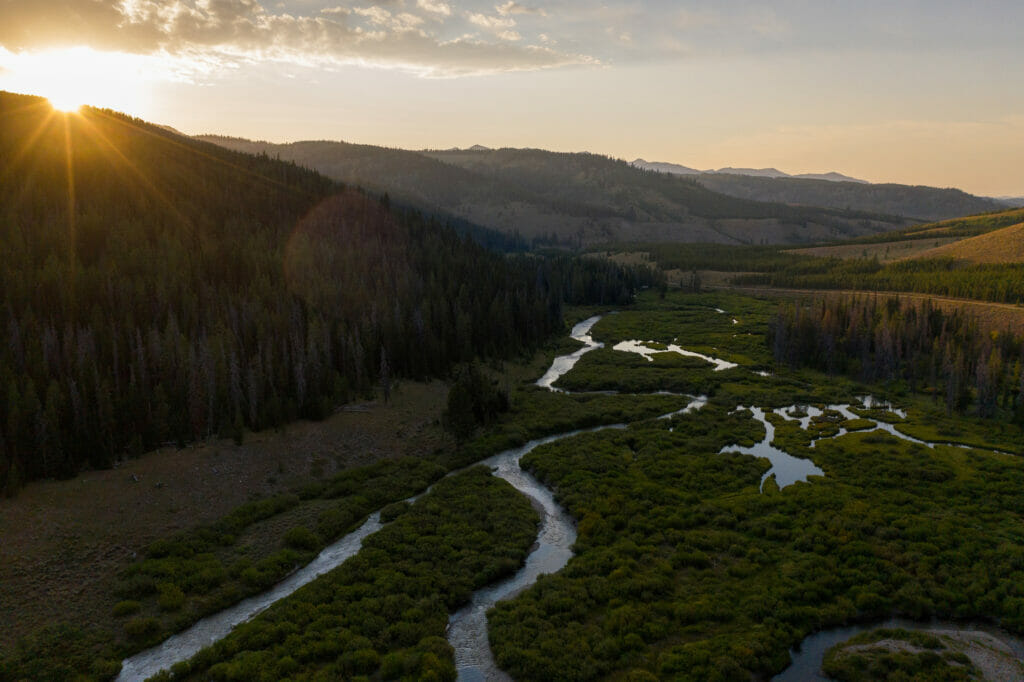 CONTACT
JACKSON, WYOMING – Trout Unlimited, Grand Teton National Park, Bridger Teton National Forest, and Wyoming Game and Fish Department announced today completion of the final phase of the collaborative Spread Creek Fish Passage Project. To tell the story of the incredible local partnerships that made this native trout conservation project possible, Trout Unlimited released a short film. Watch the film here.
About the Spread Creek Fish Passage Project
A large irrigation diversion dam that spanned the entire width of Spread Creek, just outside of Grand Teton National Park on Bridger-Teton National Forest was removed in 2010 through a partnership effort led by Trout Unlimited. The dam was a barrier to fish passage and by removing it, well over 50 miles of the watershed was opened to migratory Snake River cutthroat trout.
The dam was replaced with a fish passage-friendly diversion structure and new water delivery system. Partners documented fish successfully moving throughout the stream's headwaters and Snake River for the first time in more than 50 years. However, they also found that some native fish were trapped in the irrigation system as they migrated downstream.
Partners once again teamed up for the project's $1.6M second phase, which installed a fish screen on the Spread Creek irrigation system to prevent fish entrapment through the water intake system. It also improved the existing diversion structure, stabilized nearby banks and channels, and in doing so, built climate resiliency for native cutthroat trout and for irrigators.
Instream construction was completed in November 2021, and construction of a fish screen was completed in July 2022.
The Trout Unlimited short film about the project features interviews with John Turner of the Triangle X Ranch, Todd Stiles of the Bridger-Teton National Forest, Leslie Steen of Trout Unlimited, Robert Al-Chokhachy of the US Geological Survey, Simeon Caskey of Grand Teton National Park, and Diana Miller of the Wyoming Game and Fish Department.
In the words of Trout Unlimited's NW Wyoming Program Director Leslie Steen, "The story of Spread Creek is a story of persistence, it's a story of resiliency, not just for the fish and the stream and our beautiful, native cutthroat trout, but also the partnerships and the relationships we've built."
"The National Park Service relies on robust partnerships with other land management agencies and nonprofits to come up with collaborative and creative solutions and opportunities to work together to create heathier, natural wildlife habitat," said Simeon Caskey, Grant Teton National Park's physical science branch chief.
"Partnerships such as this makes these improvements a reality, resulting in increased ecological connectivity and improved watershed condition, while also protecting infrastructure to withstand flooding and increased stream runoff," said Mary Cernicek, Bridger-Teton National Forest Public Affairs Officer.
This Spread Creek Fish Passage Project's second phase was led by Trout Unlimited's Snake River Headwaters Initiative in close collaboration with Grand Teton National Park, Bridger-Teton National Forest, and the Wyoming Game and Fish Department. Funding and additional support has been provided by the Community Foundation of Jackson Hole, Desert Fish Habitat Partnership, Jackson Hole Trout Unlimited, Jackson Hole One Fly, Moosehead Ranch, National Forest Foundation, National Fish and Wildlife Foundation: Bring Back the Natives, Pinto Ranch, Snake River Fund, Teton Conservation District, The Nature Conservancy, Triangle X Ranch, US Fish and Wildlife Service Fish Passage, US Geological Survey, Vail Resorts Epic Promise, Western Native Trout Initiative, Wildlife Tourism for Tomorrow via The WYldlife Fund, WorldCast Anglers, WY Department of Environmental Quality, WY Game and Fish Department, WY Water Development Commission, WY Wildlife and Natural Resources Trust, local businesses, and private donors.
Watch the full video online here: https://www.youtube.com/watch?v=plEKy7cnxq0&feature=youtu.be
###