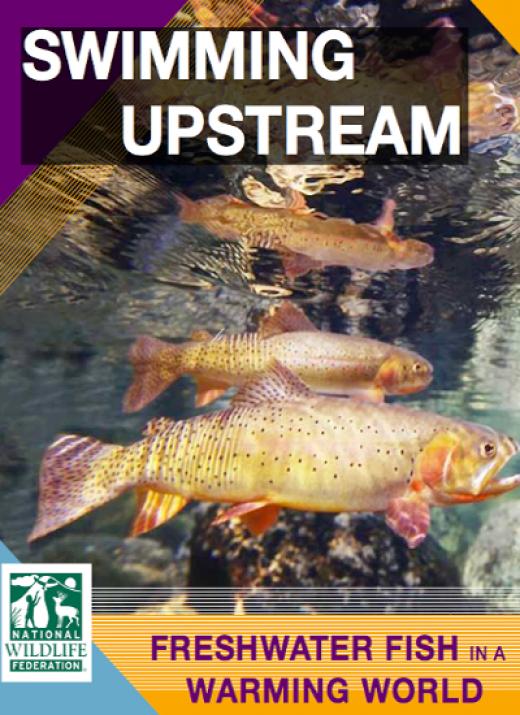 Sept. 4, 2013
Contact:
Zach Cochrum (703) 284-9426
Jack Williams (541) 261-3960
FOR IMMEDIATE RELEASE
TU praises National Wildlife Federation report documenting impacts and threats of climate change on Americas freshwater fisheries resources
TU Science Team Contributed to Report
WASHINGTON, D.C.Trout Unlimited today praised a report released by the National Wildlife Federation that details the most current information available regarding the climate change impacts on, and threats to, Americas valuable fisheries resources, and the potential impact to fishing.
TUs science team contributed to Swimming Upstream: Freshwater Fish in a Warming World. The report, which builds on past reports by TU and a coalition of fish and wildlife conservation groups, is a strong science-based call to arms to address harmful and nationwide threats to trout and salmon resources, and angling opportunity all across America.
Trout and salmon are on the front lines of the climate change battle. Trout and salmon depend on cold, clean, plentiful water to survive, all of which are threatened by predicted changes in air temperature and precipitation. Increased wildfire risk, decreased snowpack, droughts in some places, and intense floods in others, will radically impact trout and salmon habitat in the years to come. As the nations premier organization for protecting, reconnecting and restoring coldwater fisheries, better understanding these changes directly impacts Trout Unlimiteds core mission. Todays report confirms that by mid-century, the future for trout could be bleakas much as 50 percent of suitable habitat for trout in the West could be lost, and a dramatic reduction of brook trout habitat in the East, including complete elimination from iconic watersheds such as Shenandoah National Park, could take place.
Using tools like the Conservation Success Index, TUs scientists are working to integrate predicted changes in the climate with current threats to trout and salmon habitat.
Climate change is just another factor that greatly complicates the existing problems facing coldwater habitat, said Jack Williams, senior scientist for Trout Unlimited. We were happy to work with the National Wildlife Federation to spotlight how challenging it will be to protect, reconnect and restore trout populations for future generations as the climate continues to warm. Adaptation projects that increase the resistance and resilience of our streams to impacts from climate change is an emerging focus for our organization. This is what TU has always been good atimplementing on-the-ground conservation strategies that keep cold water cold and plentiful to the benefit of fish and fishers alike.
TU projects that range from very largeopening a 1,000 miles of habitat on the Penobscot River with our coalition partners in Maine, to the very smallfixing culverts and removing small dams in Virginiahelp to build resilience to climate change in fish populations. Working with landowners, farmers, ranchers, industry and government agencies of all shapes and sizes, TU specializes in these types of projects. However, the report also correctly calls for tackling the root of the climate change problem, greenhouse gas emissionswithout meaningful reductions in emissions, much of TUs work could be outpaced by warming trends.
NWF has long been one of TUs best conservation partners, said Williams. We look forward to working with NWF to further enhance our understanding of climate change impacts on the nations fisheries and our angling opportunities, but most importantly, fulfill the reports roadmap for curtailing climate change impacts on our fisheries.
Trout Unlimited is the nations oldest and largest coldwater fisheries conservation organization dedicated to conserving, protecting and restoring North Americas trout and salmon and their watersheds. Follow TU on Facebook and Twitter, and visit us online at tu.org.