Lake Sammamish Kokanee. Photo by USFWS
By: Dave Kyle
When I interviewed for my position with TU in 2016, I was asked if I was familiar with remote stream incubators (RSI). RSI's are systems typically installed in remote spring fed streams allowing salmon eggs to be reared and released with minimal handing. With a hatchery background, I responded "I know how to make fish and I am sure I can figure it out," which started a 2.5-year journey.
In 2016, I received funding support for the design and implementation of an RSI system from Campbell Global and Wally Pereyra (kokanee super fan). TU and King County worked together to develop and install two RSIs, which were designed to be installed in remote locations and provide a "safe space" for kokanee salmon eggs to rear, hatch, emigrate to the stream or lake, and rapidly recolonize the natal stream. Unfortunately, in 2016 The Lake Sammamish kokanee spawning returns were low (88 fish) and none were collected for the supplementation program. Consequently, we decided to test our system to failure to find the bugs and fix them before the next season.
In 2017, TU and King County deployed the RSI's with the bugs found in 2016 worked out on two streams. We patiently waited for the Kokanee salmon to return and were disappointed to see only 19 fish return, with none collected for the supplementation program. Again, not wanting to waste an opportunity, TU and King County worked with WDFW to source kokanee eggs from the Lake Whatcom Hatchery and conduct a biological test of the system. We were allotted 4,000 certified disease-free eggs from the hatchery and split them evenly between our sites: Zackuse Creek in Sammamish, Wash., and Idylwood Creek in Redmond, Wash. We enumerated the fish exiting the RSI's outflow and found an average 80-plus percent survival from eyed eggs to emergence. This result gave us confidence that once we were able to collect eggs for supplementation we could successfully produce Lake Sammamish kokanee in remote streams.
The 2018 kokanee spawning season is almost over and with the help of new fish collection weirs and some directed electroshocking we were able to collect brood stock for the supplementation program. The first eggs were collected and fertilized on Nov. 15, 2018, and installed in the RSI's on Jan. 7. The fish will hatch in roughly a week and will live in the egg box for a couple months until they release themselves to the system.
Yahoo!
Huge thank you to our project partners, Jim Bower and Chris Gregersen from King County, and supporters of Lake Sammamish Kokanee Restoration.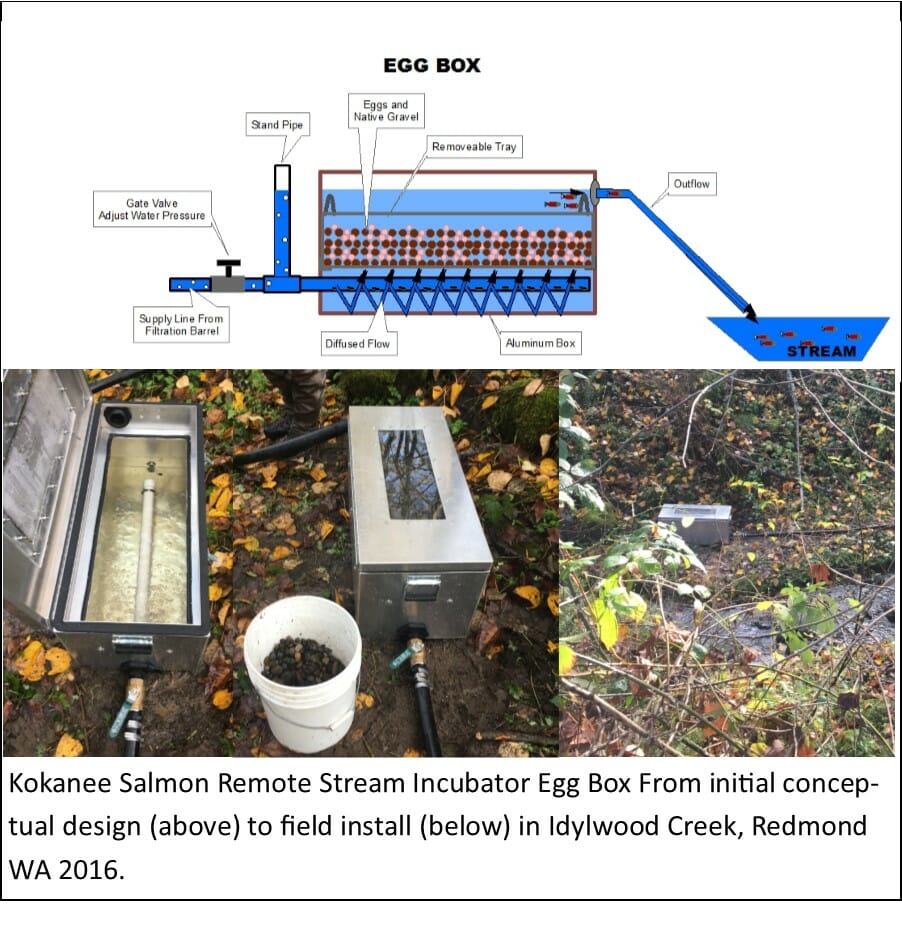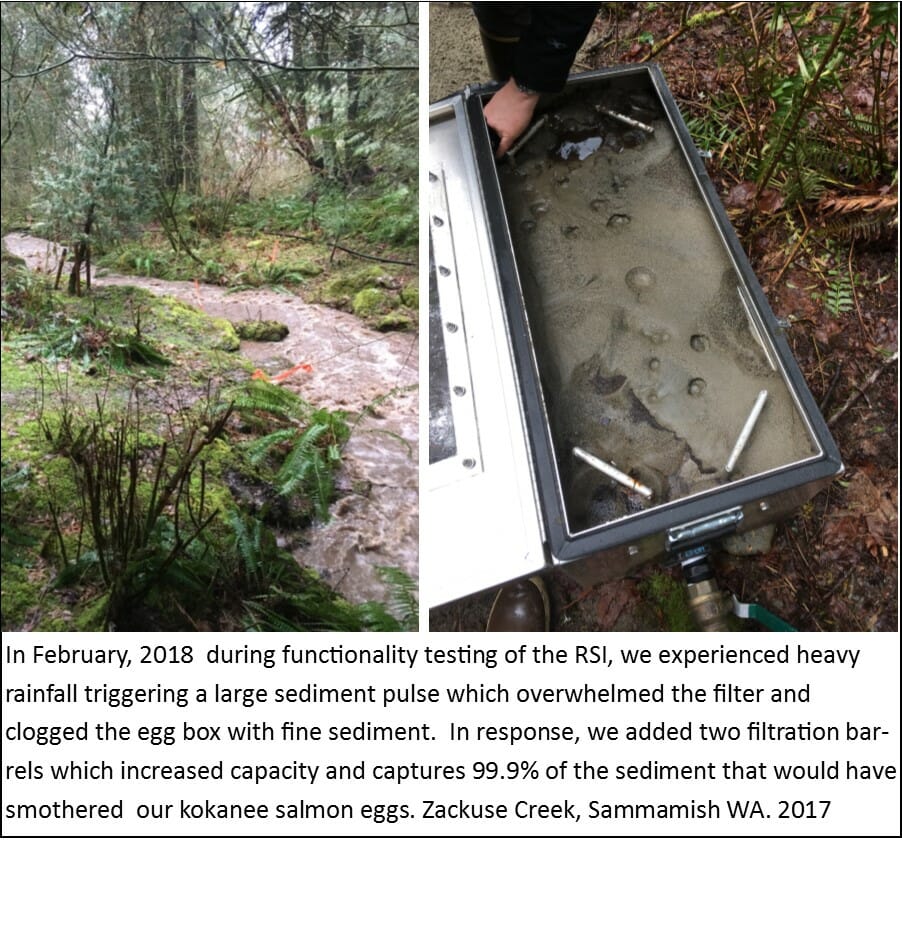 Dave Kyle is TU's Lake Sammamish Kokanee Restoration Project Manager in Issaquah, WA