The Klamath River is the third most productive watershed for salmon and steelhead on the West Coast.
The Klamath and Eel Rivers are legendary for their salmon and steelhead runs. But these famous fisheries have been hard hit by dams, diversions, and in recent years extreme drought.
TU is at the forefront of efforts to restore the Klamath and the Eel. Our North Coast Coho Project is working with private timber companies and other parties to improve fish passage, water quality and spawning and rearing habitat on miles of Eel River tributaries. In the upper Klamath Basin, our Oregon team is working with ranchers and landowners to do the same.
And TU is playing a prominent role in regulatory processes related to dams on these rivers. On the Klamath, TU helped negotiate agreements that will end decades of struggle by removing four dams below Klamath Lake and improving water quality for people. On the Eel, TU staff and grassroots are closely engaged in the FERC relicensing process for the Potter Valley Project—two dams and major diversion infrastructure in the upper watershed which block salmon and steelhead from 150 miles of prime spawning and rearing habitat.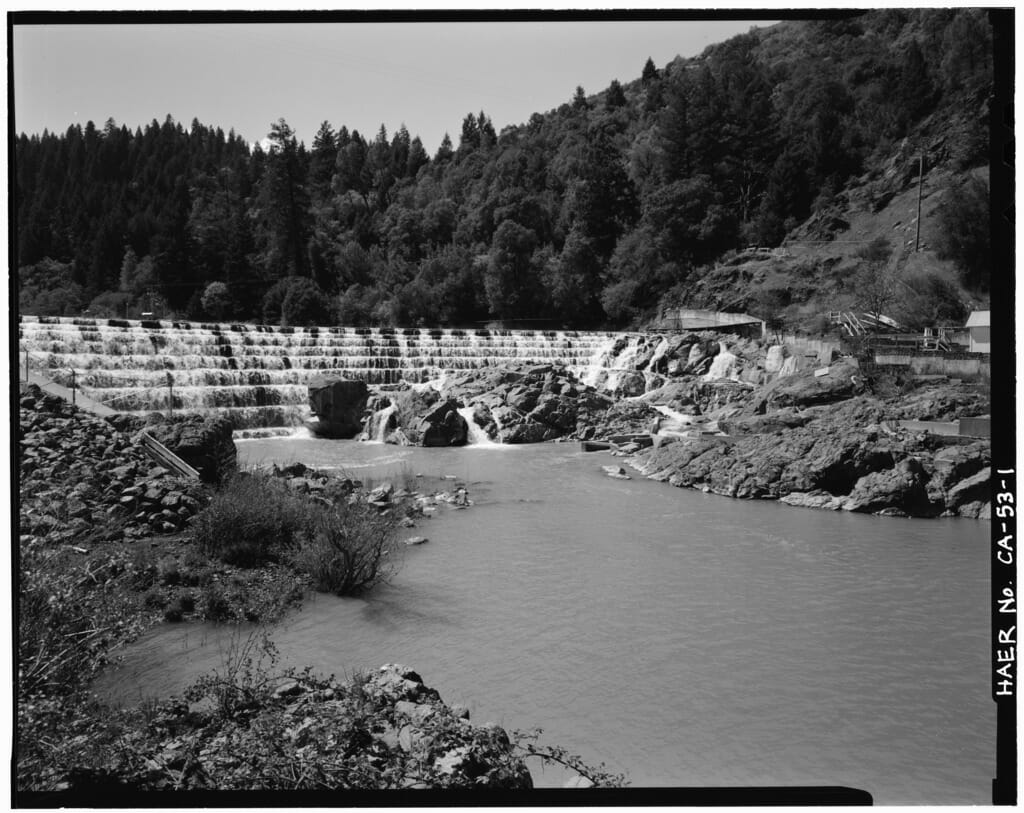 (L) Van Arsdale Dam, Potter Valley Project.
Last Friday, the current owner/operator of the Potter Valley Project (PVP), Pacific Gas & Electric, informed FERC that it would no longer seek to renew the hydropower operating license for the PVP. This project has been unprofitable for many years and PG&E had put it up for auction while beginning the license renewal process. This move halts the auction and effectively creates an "orphaned" project. FERC now will give other potential operators 90 days to express interest and then 18 months to prepare an application to take over the project.
This development highlights again this once-in-a-lifetime opportunity to give a major boost to salmon and steelhead runs in the Eel River, and, since the PVP diverts water into the Russian River watershed, the need for a comprehensive and collaborative water solution that restores fish passage, respects tribal interests, and provides reliable water for both basins.
TU and other parties to Rep. Jared Huffman's Ad Hoc Committee for the Potter Valley Project continue to monitor the PVP relicensing process closely and to advance opportunities to achieve the co-equal goals of improving fish passage and habitat on the Eel River sufficient to support recovery of self-sustaining and harvestable native anadromous fish populations, including migratory access upstream and downstream at the current dam locations; and, minimizing or avoiding adverse impacts to water supply reliability, fisheries, water quality and recreation in the Russian River and Eel River basins.
Recent developments on the Klamath also underscore the rare opportunity to restore a major salmon-and steelhead-producing river through dam relicensing. The Klamath Hydropower Settlement Agreement between tribes, federal and state agencies, and conservation groups provides for removal of four dams on the Klamath by 2021: JC Boyle dam in Oregon, and Copco I and II and Iron Gate dams in California. The plan for achieving this action must be analyzed by both Oregon and California to certify that taking out the dams will comply with water quality requirements under the Clean Water Act.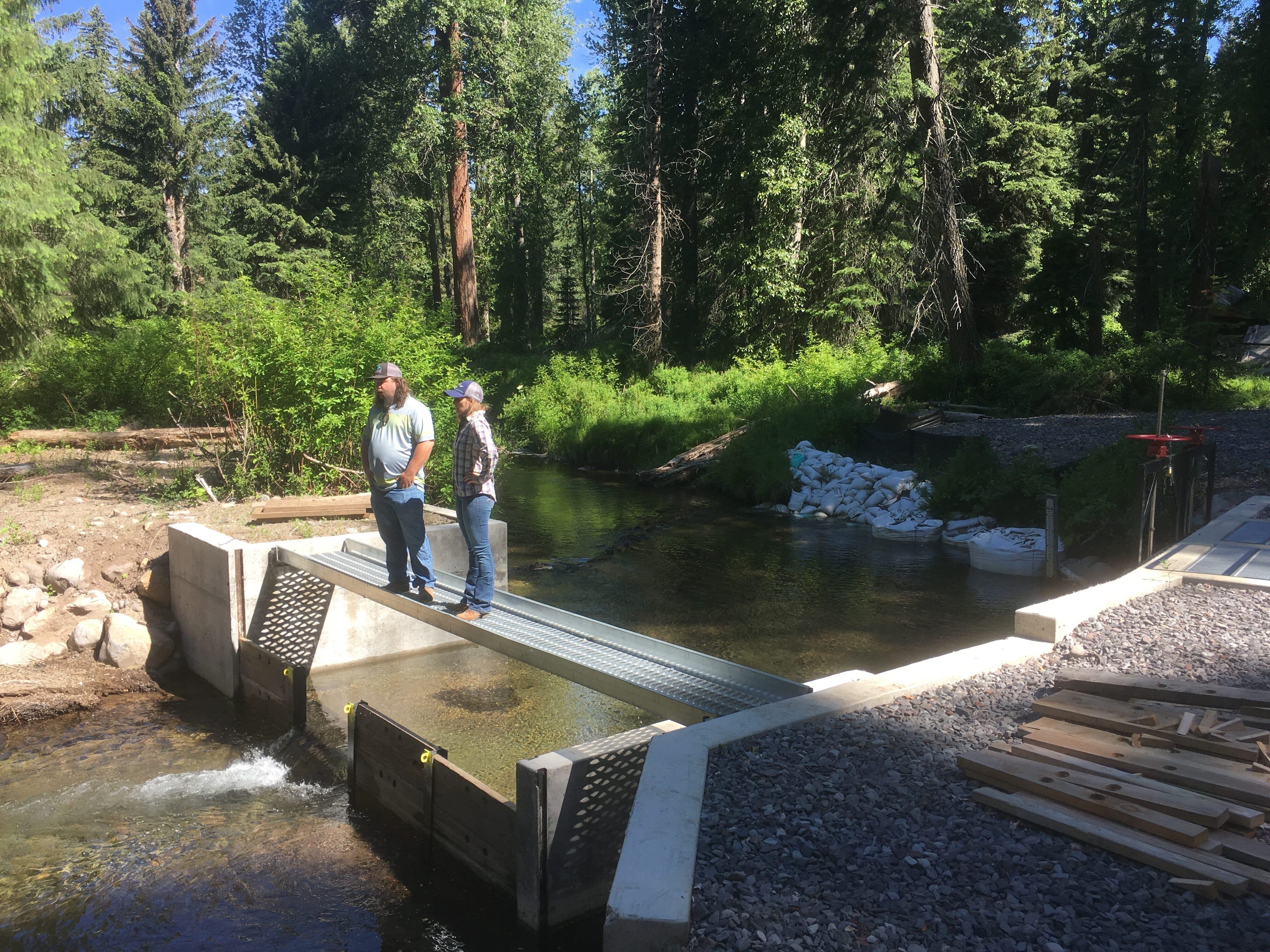 (R) TU's Chrysten Lambert and project partner, fish screen and diversion improvement project, upper Klamath Basin.
Last September, the Oregon Department of Environmental Quality issued its certification that the plan would meet water quality standards. And in late December, the California State Water Board released its Draft Environmental Impact Report on the plan. The DEIR in general affirms that dam removal is the best alternative and would comply with water quality requirements.
The State Water Board will hold a series of four public meetings next week around northern California to review the DEIR's preliminary findings. TU encourages its members and supporters to attend these meetings, communicate support for removing the Klamath dams, and thank the State Water Board for moving the process forward. TU will submit formal comments to the Board emphasizing:
The Klamath is the third most productive fishery for salmon and steelhead on the West Coast;

Dam removal is the only project alternative that achieves the project purpose of restoring a free-flowing river, and will re-open over 400 miles of spawning and rearing habitat for struggling salmon and steelhead.

Dam removal

improves water quality and complies with Clean Water Act water quality objectives.
Of note: last week's federal appeals court decision on the Klamath Project relicensing process, which found that states had waived their water quality certification for project relicensing because they did not make a decision within one year should have little bearing on the current Klamath River dam removal effort. The utility PacifiCorp has applied to transfer and surrender the dams to the Klamath River Renewal Corporation so they can be removed, and the states retain their Clean Water Act authority in this process.
For more information, contact Sam Davidson, TU's communication director for California and Oregon, at sdavidson@tu.org.