For the fourth time in the past five years, the Camp Meeker Recreation and Park District has dedicated water to streamflow for coho and steelhead in a key Russian River tributary.

Fish need water. And in many smaller streams along the California coast, they don't get much of it during the dry season. This time of year, for example, many tributary streams that provide vital spawning and rearing habitat for native coho salmon and steelhead in California's Russian River watershed slow to a trickle—or cease flowing altogether.
One such stream is Dutch Bill Creek. And thanks to the Camp Meeker Recreation and Park District (CMRPD), today marks the fourth year that this stream—and juvenile coho and steelhead—have benefitted from augmented flow during the dry season.
Dutch Bill Creek flows for eight miles through the hills of west Sonoma County, and drains an area of over 12 square miles. This stream was identified as a Core Focus Area for coho protection and restoration in the Federal Recovery Plan for this species, and juvenile steelhead require similar rearing habitat conditions as juvenile coho during the summer months.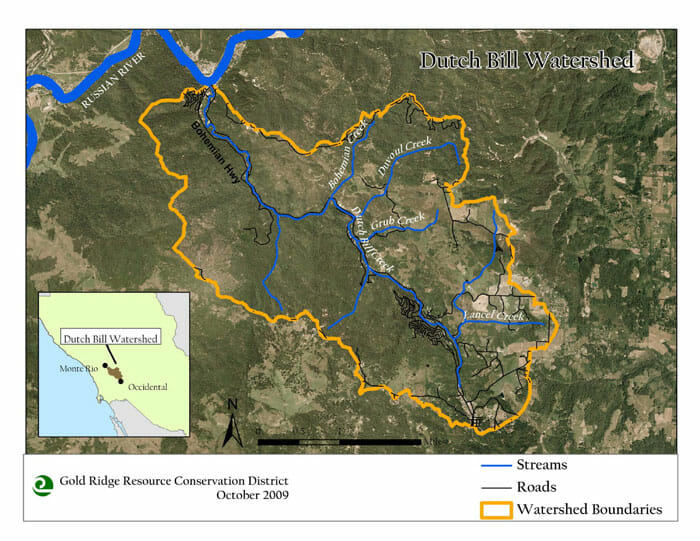 Thus, for more than a decade enhancing habitat and fish passage in Dutch Bill Creek has been a high priority for the residents of the watershed, resource agencies, for TU, and for many other partners. Through the Russian River Coho Water Resources Partnership, this effort has extended into projects that boost water conservation, storage and dry season flows.
One tool that is becoming increasing useful in this effort here is temporary use of a water right to provide supplemental flow. In this case, CMRPD has had to change its water right to enable some of that water to be used instream for fish and wildlife enhancement—providing an excellent example of how a water right holder in California can help keep vital coho and steelhead habitat wet in the hottest and driest months of the year.
Four years ago, during the height of the recent extreme drought in California, the National Marine Fisheries Service and other partners approached CMRPD regarding the possibility of using its existing water right and water delivery infrastructure to augment flows in Dutch Bill Creek. CMRPD agreed, and has generously agreed to supplement streamflow in Dutch Bill Creek for three years since.
To date, CMRPD has supplied more than 43 acre-feet of water to Dutch Bill Creek in the dry season (an acre-foot is 326,000 gallons).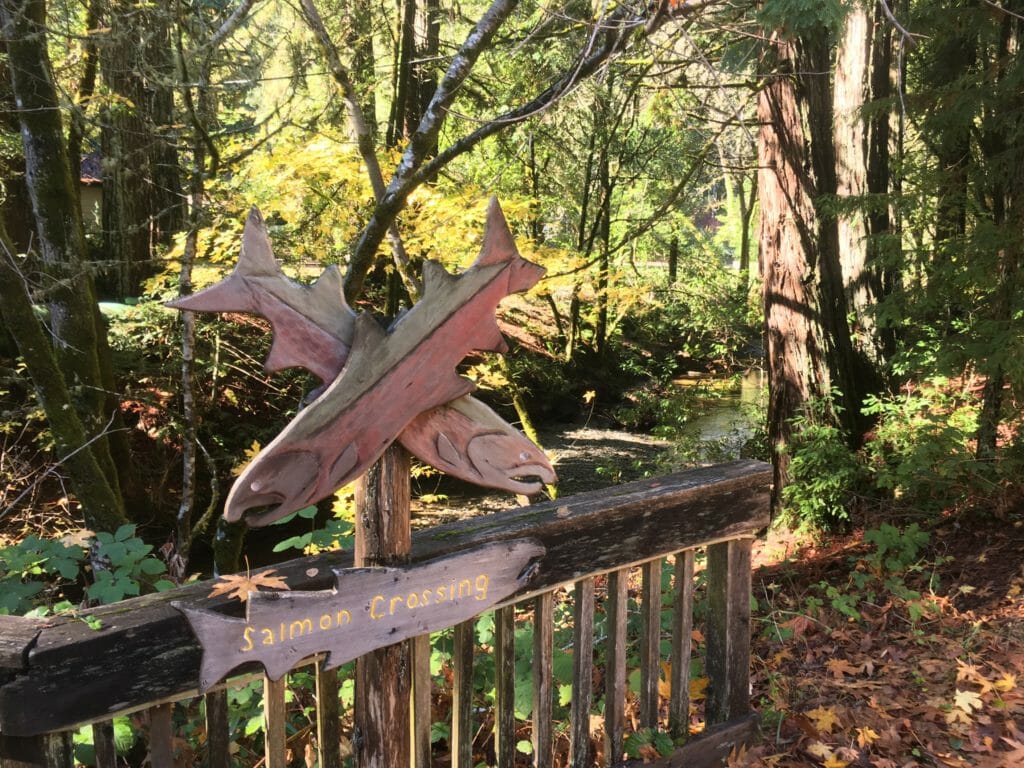 TU, through the Russian River Coho Water Resources Partnership, has helped make this project possible, by assisting CMRPD in preparing the temporary water rights change and through ongoing streamflow monitoring performed by our Conservation Hydrology team.
The increasing frequency and severity of drought in California has brought into sharp relief the plight of native coho salmon and steelhead populations in coastal streams between Santa Cruz and Eureka —and catalyzed more interest and investment in keeping small tributary streams wet enough in the dry season to enable juvenile salmonids to survive.
In Dutch Bill Creek and other Russian River coho and steelhead streams, TU will continue to work with key partners such as CMRPD to find collaborative, effective ways to do this—and to turn ad hoc problem-solving in support of coho and steelhead recovery into creative longer-term conservation solutions.
Top photo courtesy Jim Coleman/Occidental Arts and Ecology Center.