A mechanical grip hoist is used to reposition trees and woody material in the stream channel in the Little Manistee River.
By Jeremy Geist 
Trout in streams in the Huron-Manistee National Forest are gaining access to more and better stream habitat.
Working with U.S. Forest Service staff, TU field technicians have been inventorying and managing wood accumulations in trout streams in an effort to maximize habitat benefits and provide safe passage for recreationists. Such wood habitat includes channel spanning trees, log jams and other instances where wood is in the stream.
The work is done by utilizing a mechanical grip hoist to reposition trees and woody material in the stream channel. This method helps to avoid cutting the trees into smaller pieces while minimizing disturbance during the process.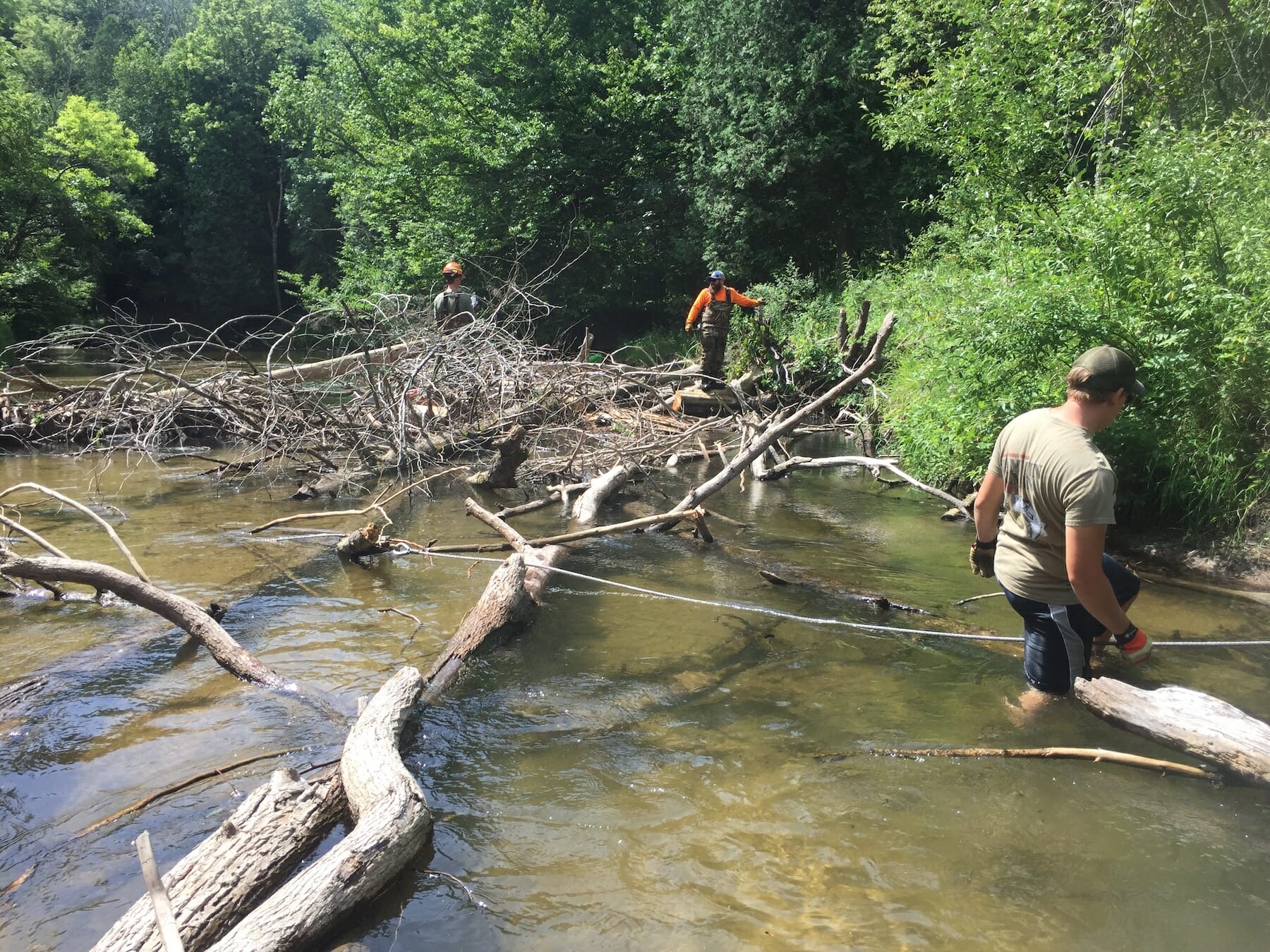 Heavy storms left sections of the Pere-Marquette River choked with trees near Baldwin, Mich.
Work sites in 2018 were in the Little Manistee River, Pine River and Pere Marquette River.
TU staff repositioned downed channel spanning trees at two locations in the Little Manistee River and conducted reconnaissance work along the Pine River, taking inventory of natural log jams and blockages.
In the Pere-Marquette River, TU worked with Forest Service staff in the Baldwin-White Cloud District in a cleanup response effort to manage multiple log jams that were created by severe storms during the month of August.
The storms produced winds nearing 100 mph and two tornado touchdowns were documented in the Baldwin area. As a result, hundreds of trees were blown down throughout the area, and many ended up in the river.
While in-stream wood is important for trout habitat, the downed trees were so numerous that many popular fishing stretches were impassable.
Jeremy Geist is TU's Great Lakes stream restoration manager in Northern Michigan.