Northern Pike, Bass, Bluegill, and other warmwater fish are great fly alternatives when trout need a break.
The little headwater stream to a wild native brook trout river in the western Upper Peninsula seemed like a perfect place to find little brookies and no other people. I drove a tangle of muddy logging roads after a cooling rain to an access under a bridge on public land, strung up my 4-weight, and doused myself in bug spray. Within a half hour of getting eaten alive by mosquitoes the size of ospreys with no fish, I decided that a lake with a slight breeze and pike on the fly from a canoe sounded pretty good.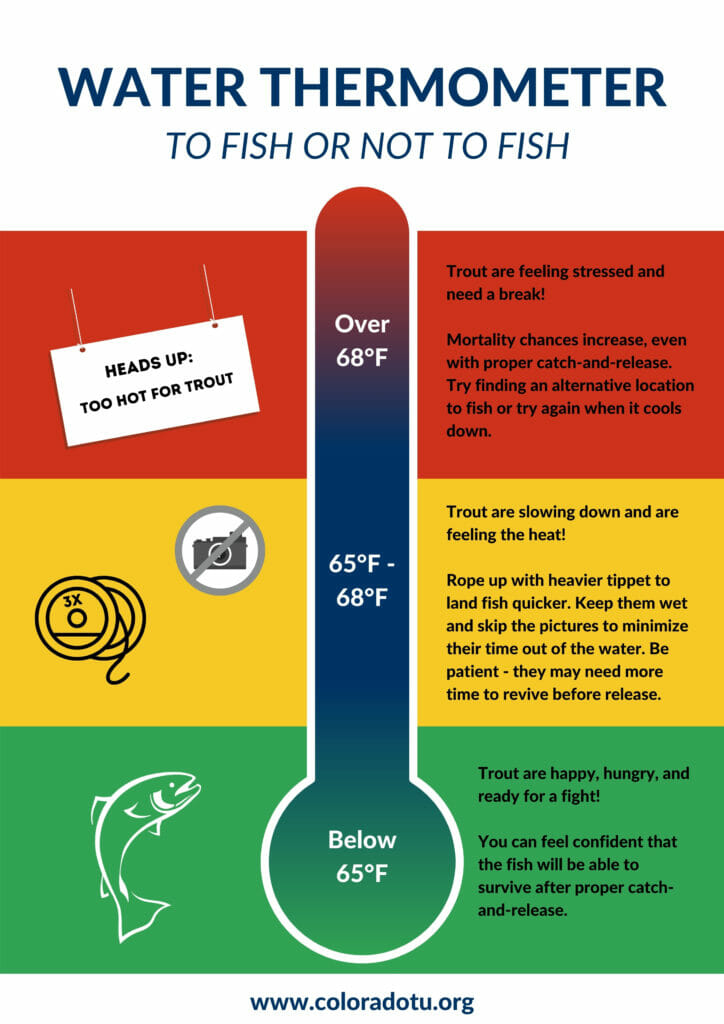 In the middle of the summer, it's common to find good reasons not to fish for trout. For some of us, it's hard to admit that there might ever be good reasons, but they exist. Maybe the trout are just getting hammered by too many anglers on your local waters and need a break. When the water is too hot, hoot owl restrictions might kick into place or, even if they're not regulatory, it's a good idea to abide by the 70 Degree Pledge and abstain from catch and release trout fishing. The hot and less-oxygenated water stresses trout and increases their mortality after release.
Trout Unlimited is doing the work to cool waters and make them safe for trout amidst climate change, but sometimes they still need a break.
Northern pike, bass, and bluegill are all abundantly available locally where I live in southeast Michigan where native wild trout are hours away and take flies readily with all the fight for their size that you could hope for. They do pretty well in warm water, and all are abundant enough that keeping a few for dinner is a delicious option, especially northern pike and bluegill.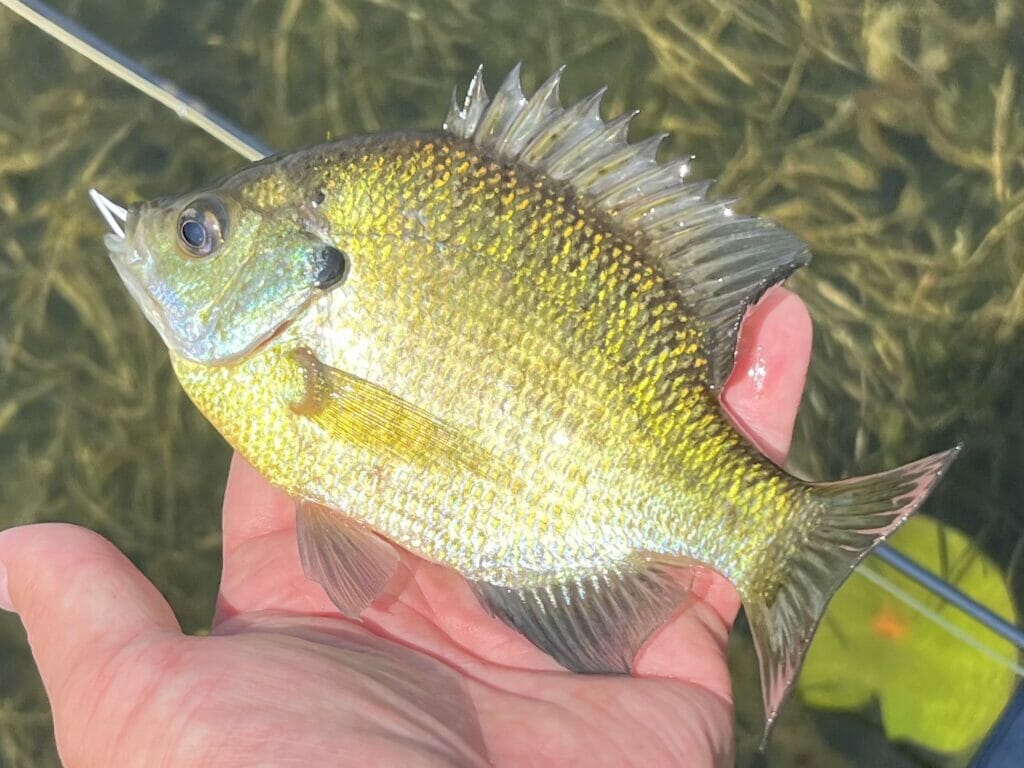 Fly fishing for panfish is the closest to trout, in my opinion, as far as equipment goes. I use a 3-weight Orvis Clearwater as my dedicated panfish rod but any light rod from 2 to 5 weight will let you feel all the fight and wiggle from eager bluegills, pumpkinseeds, crappies, perch, and other panfish. You can use trout flies, too, as panfish aren't very picky. I keep a box of my less-than-perfectly-tied trout flies for panfish plus a few specific patterns like Bully Bluegill Spiders and small poppers.
Bluegills can be found in almost any warmwater river, lake, or pond close to shore or shoreline structure. Casting to them is great practice for trout fishing if you treat it that way, but they'll reward even your worst casts if they're biting. Catching and releasing bluegills on the fly or keeping a dozen for fish tacos is a relaxing way to spend a hot summer day.
Largemouth bass offer a heftier tug on the fly line than bluegills. A 6- or 7-weight streamer rod is good for bass, though I generally use an 8- or 9-weight when I also expect to find northern pike or to cast large wind-resistant deer hair poppers. Largemouth bass are found pretty much everywhere that bluegills are and like to ambush and cruise around structure. They explode on topwater poppers and will try to pull your line into the deepest, gnarliest weed structure to try to lose your fly.
Smallmouth bass, especially in a warmwater river system, might be the closest to trout as far as location and strategy. They like to hold in similar places – seams, riffles, in front of or behind boulders – and will take the same streamers, especially ones imitating crayfish, sculpins, and, famously, Clouser Deep Minnows.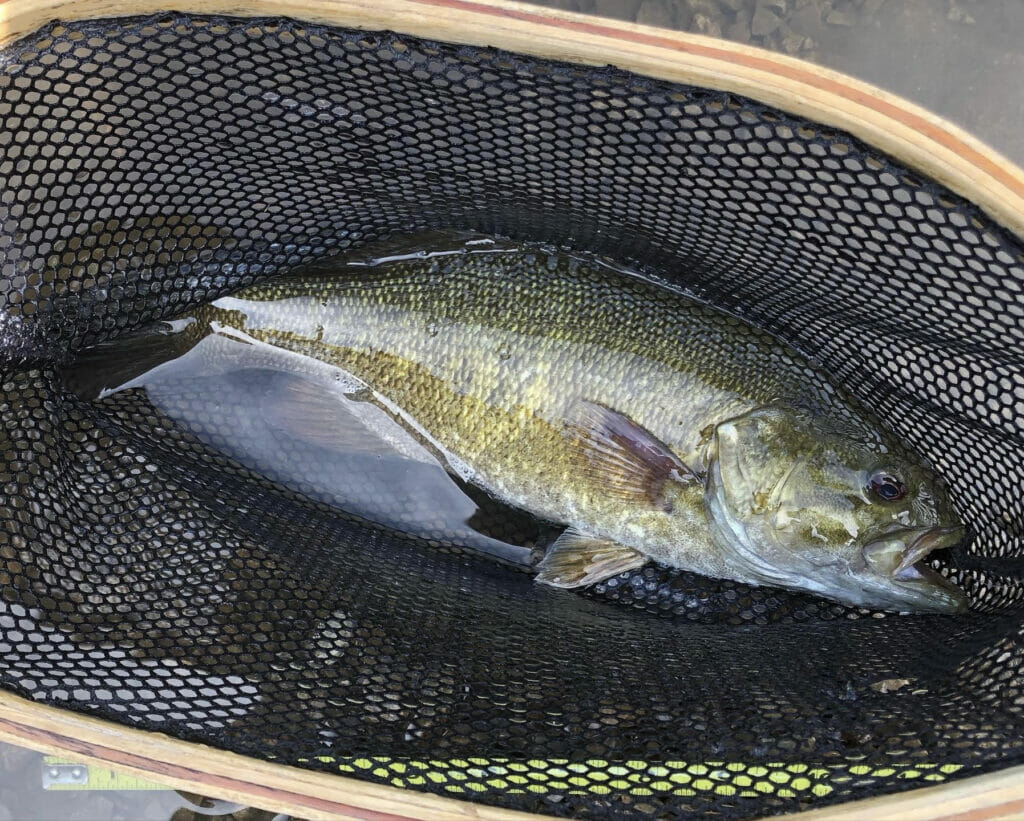 Northern pike are my favorite fish to catch on the fly. While trout fishing is all about finesse for me, fly-fishing for northern pike is about anticipation and adrenaline. Northern pike are located across the northern latitudes circumglobally. They're native here in Michigan and the upper Great Lakes, but they've been stocked in reservoirs in other parts of the country, some places they're now considered invasive.
Northern pike are more coolwater than warmwater fish, and on hot summer days the big pike are likely to be in deeper, cooler water difficult to reach with even sinking fly lines unless on really shallow lakes, but smaller northerns will still be hunting shallower water and even small northern pike rival trophy trout in size and tenacity. They'll crush a fly with abandon sending adrenaline up your arm. A strip set is mandatory to sink the hook into a pike's bony mouth, and rather than peel off line down to your backing, they'll thrash and bulldog your line all the way back to the net.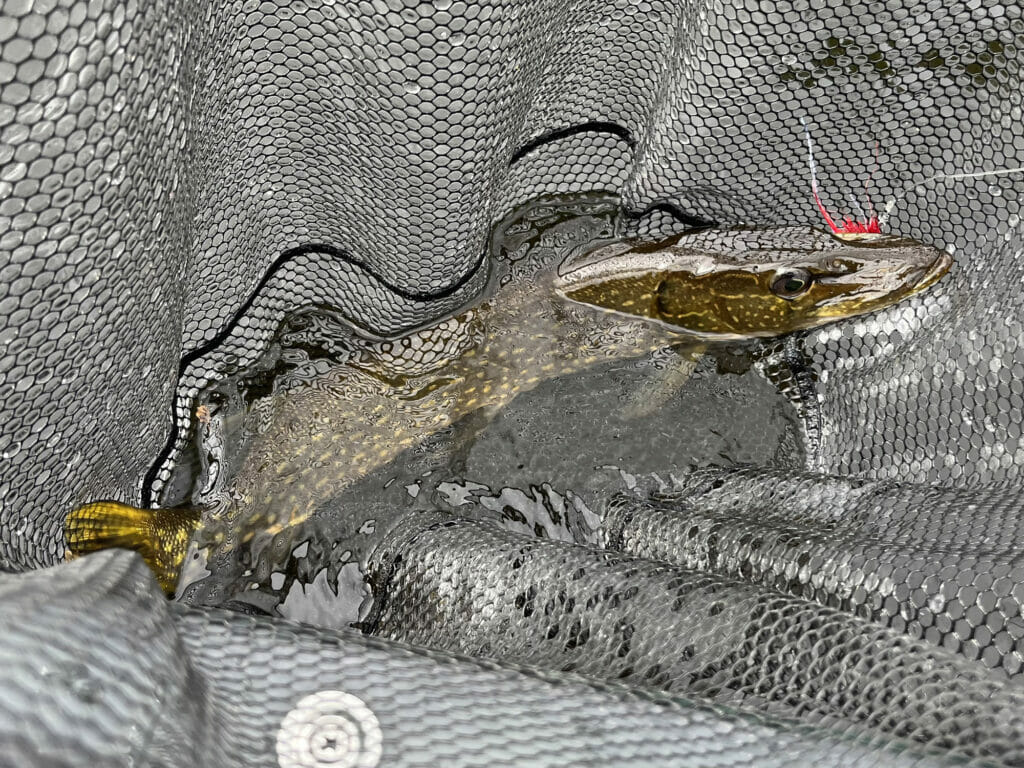 I use 9- and 11-weight rods for northern pike (the 11-weight doubles as my musky rod) and keep one rigged with floating line and the other with either sink-tip or full sinking line to work the water column. My favorite flies for northerns are Bufords, Pike Bunnies with nontoxic dumbbell eyes, and different variations of Lefty's Deceivers in red/white, fire tiger/perch, and all black or all white colors and in 2/0 to 4/0 hooks, and 6 to 8 inches in length. Northern pike are ambush hunters, so the strategy is to cast flies mimicking wounded baitfish near weeds, drop-offs, and structure, and strip them back erratically to entice a follow and a strike.
Other cool and warmwater fish like carp and musky might also be good options where you live. When trout need a break, though, whether due to heat, pressure, or both, there are plenty of other fish that offer a fly angler a rewarding experience on the water until it's safe to pursue trout again, they're not too far away, or the mosquitoes aren't quite so ferocious.