When I think of glass rods, I think of noodly little sticks meant to pluck backcountry brook trout from beneath overhanging willows or in tight quarters where a short backcast is as vital as a quiet presentation. But I have new appreciation for big glass after a day spent casting for tight-lipped reds and trout in the Lower Laguna Madre last week.
I took the 8-weight version of the Redington Butter Stick with me to South Padre Island—mostly, I was planning to get out of winter here in eastern Idaho for a few days (we hit minus 9 on New Year's Eve), but I wasn't going to let the chance to chase some inshore fish get away from me. Together with Capt. Tim O'Brien, a lifelong resident of south Texas and an expert on the flats off the Lower Laguna Madre, we put the 8-weight glass rod through its paces, and both of us were impressed.
Yes, you must slow your cast. It is a supple fiberglass implement after all. But, honestly, I didn't find myself compromising much, if at all, when it came to distance, and, as O'Brien noted, that's likely becuase the reds and specked trout of the flats didn't require long casts. Armed with a RIO Coldwater Redfish line, most casts were ideally executed within 30 feet of the boat (about where the head of the line ends and the body begins). The Butter Stick had absolutely no issues throwing accurate casts. None.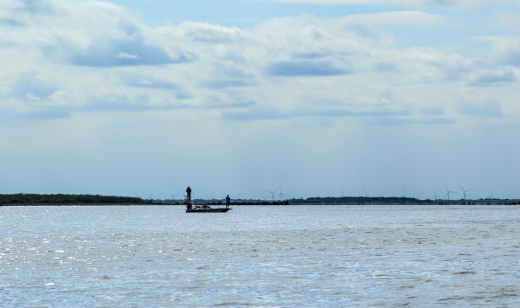 As a trout guy, I've always loved to fish with glass—I just think the supple nature and the inherent delicacy these rods provide on small water is ideal. But after a full day spent casting the 8-weight version, I now have an appreciation for glass on bigger water. I found myself casting easier, expending less effort and allowing the rod to load and do its thing without having to put much into it. The fish were there, but they were quite spooky, so I spent a lot of time simply casting and working out some of my saltwater kinks. I thoroughly enoyed it.
Only when the wind kicked up did I find myself having issues with the Butter Stick—and I'll be the first to admit that I was probably more of the problem than the rod was. Even then, after a few suggested corrections from O'Brien, I managed to punch through a 15-knot wind and put flies in the feeding zone (even if the fish we saw were just not interested).
If you're like me, and you appreciate the elegence of a small-water glass rod, don't be afraid to step it up on your next big-water adventure. The 8-weight Redington Butter Stick would be a lot of fun to try on your next steelhead, pike or smallmouth bass outing. And, priced around $275, it's a solid investment, particularly if you like glass, or you're at least glass-curious.
I have at least one more saltwater trip on the books this year—I'm taking this noodle with me.
— Chris Hunt