Beth Lynn Dishman fishes for a Colorado River cutthroat trout to complete one of her seven Utah Cutthroat Slams. Paul Dishman photo.
Fishing challenge for native cutthroat trout keeps Utah couple busy and close
Beth Lynn Dishman thought her fishing days were over. It had been years, even decades, since she last held a fly rod.
Her husband Paul Dishman thought otherwise. After completing the Utah Cutthroat Slam with a friend in the summer of 2020, Paul decided it was the perfect thing to get his wife back on the water.
"I registered her for it and didn't tell her until we were well on our way to chase the first cutthroat together," Paul said, remembering that she wasn't really into the idea at first. "She was nonplussed and somewhat disconcerted, to say the least."
But it didn't take long for Beth Lynn, a spry 67-year-old from Provo, Utah, to find the rhythm of the river and match it with her casting.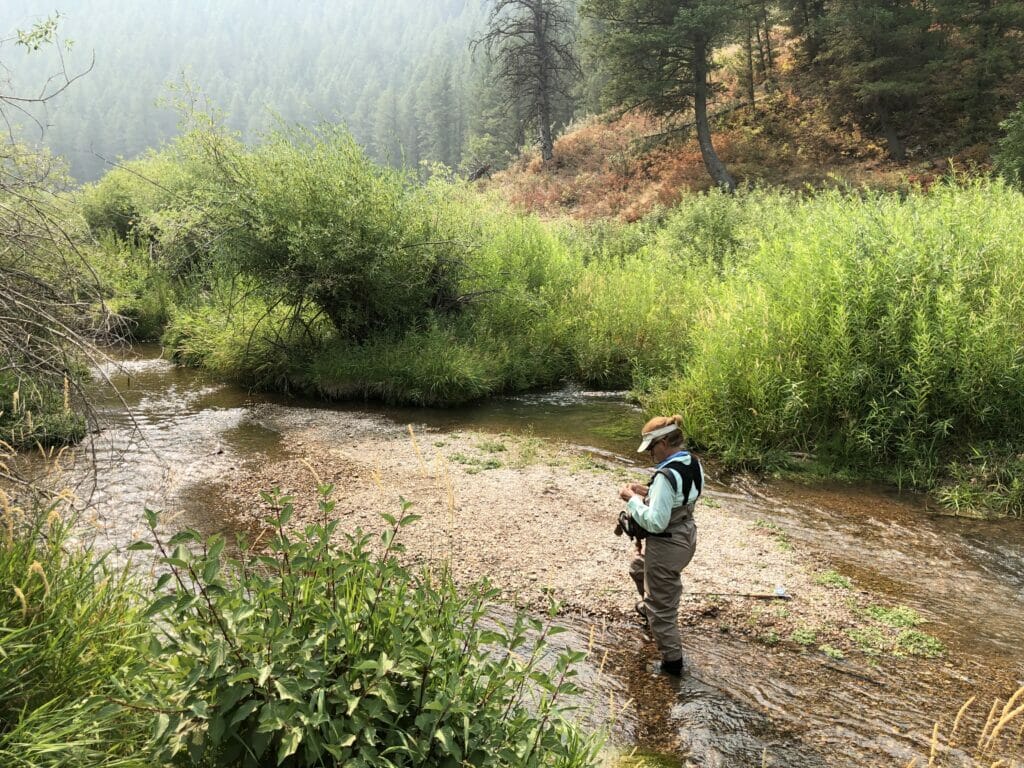 "I guess my first reaction was something to do with it was during the COVID pandemic and what else would we do? I never really thought I would actually be able to complete it," Beth Lynn said. "He really knows me and I'm so thankful he found a way to get me back into fly fishing. I just love it."
Beth Lynn did go on to finish the slam and became the 633rd angler to do so since the unique partnership between Trout Unlimited and the Utah Division of Wildlife Resources was launched in 2016.
She went on to be numbers 743, 749, 787, 800, 835 and 853. That's right – Beth Lynn has completed the slam seven times. That's 28 cutthroat trout caught in their historic range in Utah in 12 months. 
"I had to learn new fishing techniques for little streams and very skittish fish," Beth Lynn said. "Before we were fishing wide rivers and streams and making big casts. Now I'm on my knees trying to avoid snagging something on my cast and putting the fly in that one spot where a trout might be holding."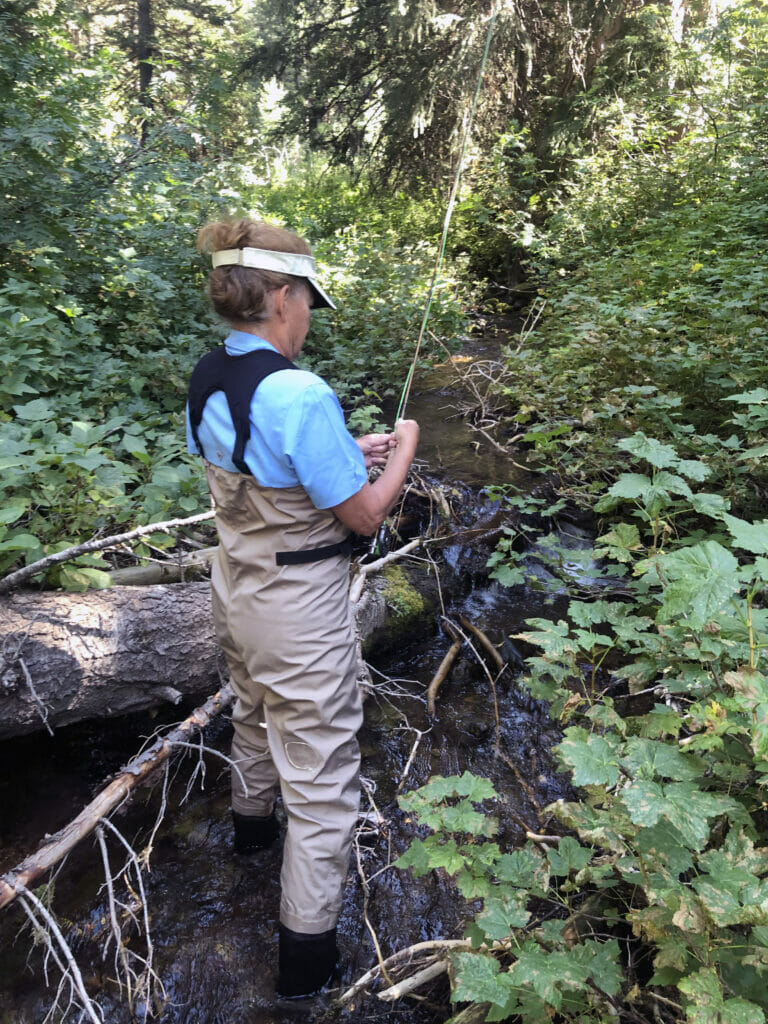 Of all the fish he has watched his wife hook during their slam adventures, Paul remembers one in particular – the one that helped her complete her first slam.
They were fishing for Bonneville cutthroat in Mill Creek in a Salt Lake City canyon. The underbrush was dense and tricky navigating through it was complicated by deadfall. The couple came to a barrier to the creek and Beth Lynn started to climb over it.
"She had crawled half-way over a log that much larger than she was when she spotted a Bonnie in a small pool on the other side of the log," he recalled. "Not wanting to scare it away, she laid down on the log and pushed her rod slowly in front of her. Before she could get the fly where she really wanted it, another trout rose and took it."
The Dishmans got started with the slam when a good friend of Paul's become hooked on fishing for native cutthroat in their range. Kent Tuttle had completed several slams and Paul asked if he could tag along for his first attempt. Tuttle led Paul to success on his first slam and that's when he got the idea his wife might like it as well.
There is reason other than their love for fishing and the fun of the slam that has led to a bank's worth of medallions and enough certificates to wallpaper a room in their house.
"Kent kept telling us he completed yet another slam and we started to think about all the time he was fishing by himself in remote locations and started to worry about him," Beth Lynn said. "So, we just told him we would go with him so he'd have some company."
It doesn't hurt that they are fishing with the most accomplished Utah Cutthroat Slam angler out there. As of Oct. 4, 2021, the Elk Ridge, Utah, resident has caught the four native subspecies of cutthroat (Bonneville, Colorado River, Bear River and Yellowstone) in their native range 14 times. The next closest is Robert Spencer at 14 completions. 
The Dishmans, and Tuttle, see little reason to stop using the slam as an excuse to go fishing. Knowing the $20 they pay to register for the slam each time goes back into conservation and outreach for native cutthroat makes it all the more worthwhile.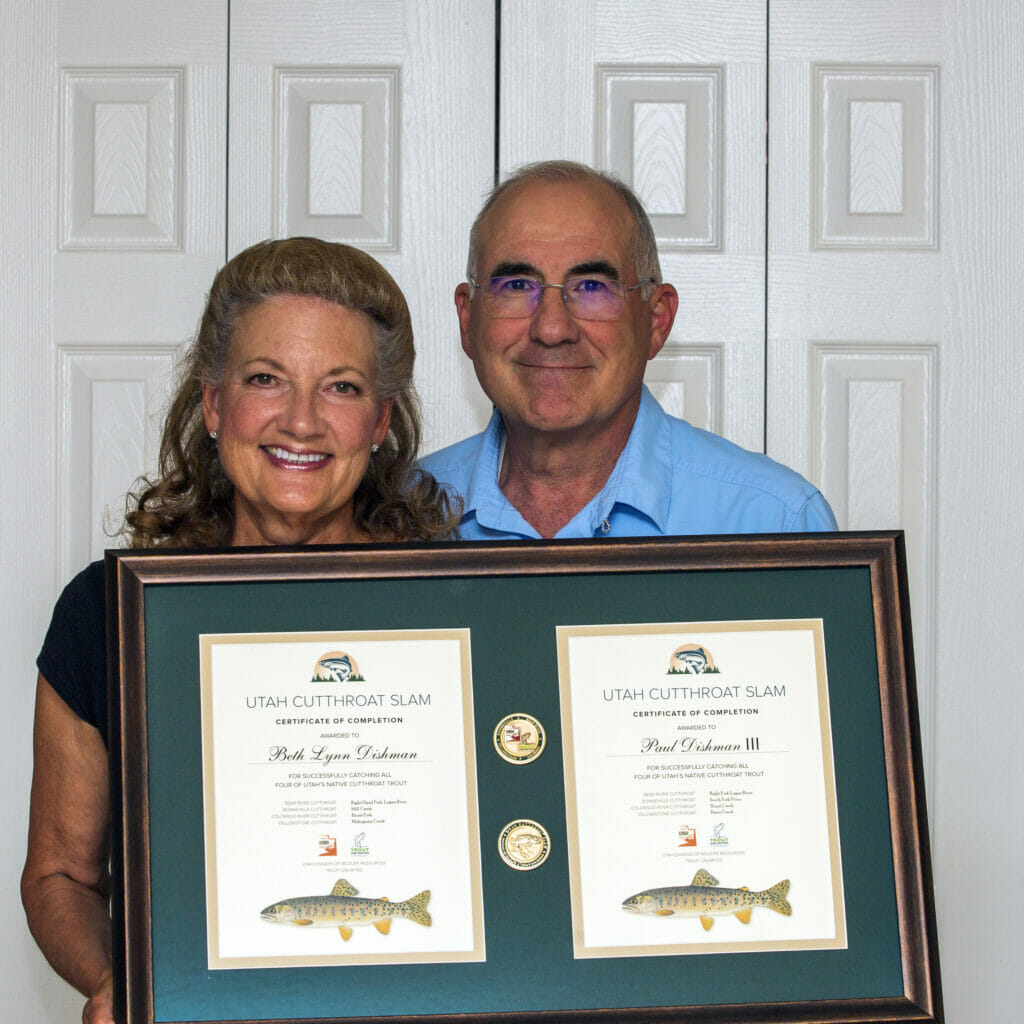 "We find great pleasure in catching, admiring and releasing the fish back into their native habitat," Beth Lynn said. "There is no way we would have been going to these remote places if we were not trying to find these fish. I always through a trout is a trout, but doing the slam has educated me about the different histories of the fish and that has been a lot of fun too. I'm definitely a better fly fisher now."
The Slam is also special to the Dishmans — each with seven completions, because it is something can enjoy and appreciate together. They are a team on the water, sometimes with Coach Tuttle helping when they need it, and being outdoors in beautiful places is meaningful to each of them. 
"We always kiss before we hit the water," Beth Lynn said. "We want to give each other luck. When we forget to kiss we don't have any luck. We just love fishing together."
Brett Prettyman is a communications director for Trout Unlimited. He is based out of Salt Lake City.