Apply today to join us for a day of fishing during July!
Last fall, 14 veteran or active-duty members of the Armed Forces in Alaska congregated at Bing's Landing in Sterling, Alaska for a day chasing wild rainbow trout, Dolly Varden, and silver salmon on the famed Kenai River. The complimentary trip was the 3rd Armed Forces Appreciation Fishing Trip hosted in partnership with Kinross Fort Knox with the help of Fish Em LLC & friends.
It is with great excitement that we announce the 2022 Trout Unlimited and Kinross Fort Knox Armed Forces Appreciation Fishing Trip on Willow Creek with FishHound Expeditions!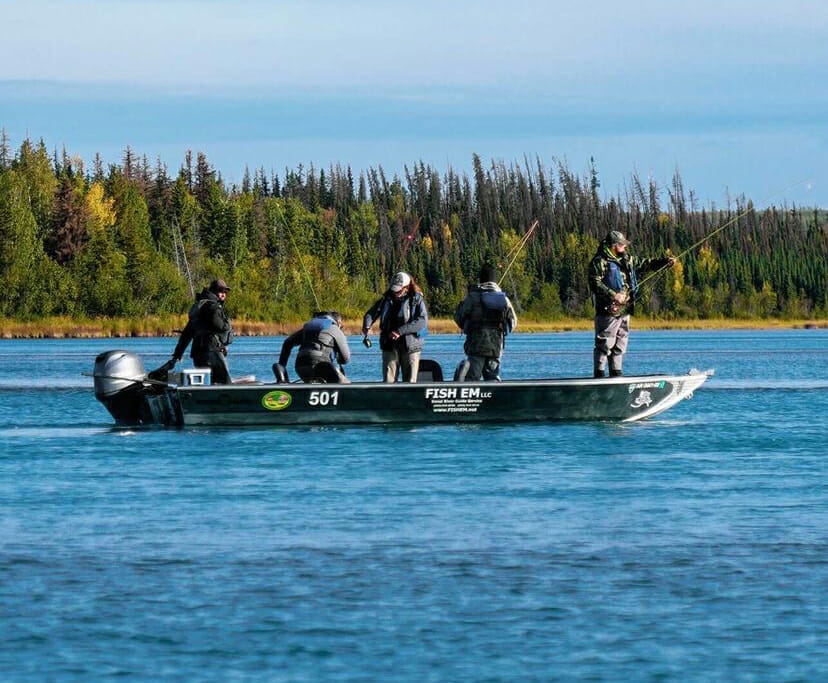 What: Over the course of 2 days, we will host 20 veteran or active-duty members of our armed forces on a single day of guided fishing. This trip is our way of expressing our gratitude for their service and sharing our passion for fly angling. We'll chase wild rainbow trout and salmon on the fly, relax, and form community. Fly anglers of all abilities are welcome and will have ample opportunity to find success while being guided.
When: July 27 & 28, 2022
Where: Willow Creek in Southcentral Alaska with FishHound Expeditions.
Activities: Willow Creek is a favored salmon stream in Southcentral for its diversity of salmon, feisty rainbow trout and outstanding scenery. Participants will spend a full day on the water floating by raft and being guided by the pros.
Cost: A day of guided fishing is on us! Transportation & fishing license not provided.
Eligibility: This trip is open to all Alaska resident active or retired members of the U.S. Armed Forces living in Southcentral or willing to travel. However, we are unable to accept prior trip participants. Whether a life-long angler or novice, this trip will be an excellent opportunity to enjoy Alaska's outdoors, further your own fly-fishing skills, or, if you're brand new to the sport, add a new outdoor skill to your repertoire that can be enjoyed anywhere life may take you.
To apply or learn more about the 2022 Armed Service Appreciation Fishing Trip on Willow Creek July 27th & 28th, download our application form and submit it to Eric at  Ebooton@tu.org or apply online.  Applications are due by June 10th.