There is no denying that tens of thousands of abandoned mines are having a negative impact on America's streams.
There is no denying that tens of thousands of abandoned mines are having a negative impact on America's streams.
Nor is there any question that cleanup efforts can make a difference.
Trout Unlimited's Steve Moyer told a Senate committee on Wednesday, March 2, that draft bipartisan legislation that will provide protection for good samaritans engaged in abandoned mine cleanup will go a long way toward repairing some of the damage the mines are inflicting.
"We have seen first-hand the devastation that abandoned mines can cause to watersheds and communities," told the Senate Committee on the Environment and Public Works, chaired by Sen. Jim Inhofe (R-Okla). "As a Good Samaritan, we have also experienced first-hand the opportunity for recovery at these same locations."
Senators Cory Gardner (R-Co.) and Michael Bennet (D-Co.), and Rep. Scott Tipton (R-Co.), released the draft Good Samaritan of Orphan Mines Act in January. ( good-samaritan-cleanup-of-orphan-mines-act-of-2016.pdf) Both Senators attended the hearing and commended TU for its efforts on the ground, and for assisting with the drafting of the bill.
The Government Accounting Office estimates that there are more than 160,000 abandoned mines in the United States. More than 33,000 are thought to pose safety and environmental risks.
These abandoned mines have no responsible party to take on the cleanup, so these sites continue to languish or fall to the state and federal government to maintain. Groups like Trout Unlimited or others who have no legal responsibility or connection to the project – true Good Samaritans – are interested in tackling some of these issues, but are deterred from doing so due to the incredible liability risks.
The bill would provide such protections while also holding good samaritans accountable to terms of their permits.
Trout Unlimited is actively involved in abandoned mine cleanup efforts in Colorado, Montana, Washington and other places in the West. In Pennsylvania, where state policies provide for reasonable liability protections, TU and watershed groups are actively involved in dozens of clean up projects on abandoned coal mine sites. A federal Good Samaritan policy is needed to allow for those efforts to expand.Screen Shot 2016-03-03 at 11.05.34 AM.png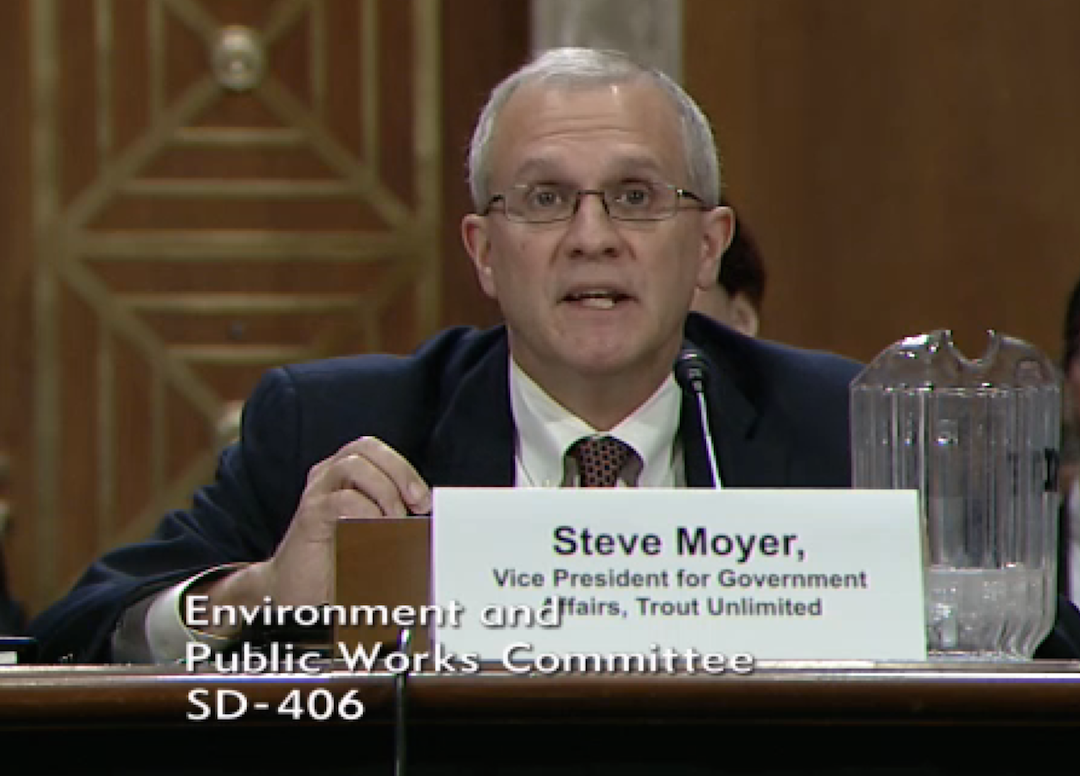 Stever Moyer, TU vice president for government affairs.
"We and others have developed a number of model abandoned mine cleanup projects that can be easily replicated," Moyer said. "In Pennsylvania, aided by a sound state-based Good Samaritan policy, watershed groups, including Trout Unlimited, are working with State agencies, communities, and other partners to conduct more than 250 abandoned coal mine pollution control projects. Kettle Creek watershed in north central Pennsylvania, being just one example, has seen dramatic water quality and fisheries restoration through this work.
"In Colorado, the western leader in abandoned mine cleanup work, Trout Unlimited – again in partnership with state and federal agencies and private landowners – has used the limited Good Samaritan tools afforded by EPA under current law to good effect in restoring Kerber Creek, Colorado."kerbercreek.pdf
Moyer provided additional details of TU's efforts in his 16-page-long written testimony moyer-testimony.pdf.
In her opening statement, committee ranking member Sen. Barbara Boxer (D-Ca.), said she appreciated the Gardner's and Bennet's efforts, and is working with them to ensure the Good Samaritan bill is the best it can be.
"I want to make improvements to the legislation so that it will protect the environment and ensure that taxpayers will not be on the hook if a Good Samaritan makes the pollution worse," Boxer said. "Any Good Samaritan legislation approved by this Committee must ensure adequate oversight of cleanup efforts, require clean ups to result in clear improvement of the environment, and protect taxpayers if a cleanup fails."
While two other bills under committee review generated discussion and questions for witnesses, the Good Samaritan Act didn't generate additional questions or discussion, indicative of the non-controversial nature of the legislation.
Mark Taylor is TU's eastern communications director. He is based in Roanoke, Va.