The deviation from the plan started when the app we were using to navigate across downtown Seattle in morning traffic guided us down appallingly skinny, twisted streets and a scenic tour of old neighborhoods that did not, in the end, deliver us to the ferry any more rapidly than if we had simply followed the main commuter routes.
Then the construction along the waterfront required a Gordian knot maneuver in the car simply to get into line at the ferry. To add injury to that insult, the place where you used to be able to get coffee while waiting for the next ferry had been displaced by the redevelopment that is giving this part of the city a full facial.
Our plan had been to be on the water, at a spot where the Kitsap Peninsula stuck an elbow into Puget Sound, while the morning light was still low and the silvers would be cruising within range of our single-handers.
Precious minutes of early morning drained away as we navigated the route to the ferry. But if anything the bonhomie and anticipation that mark the inception of a fishing trip ratcheted higher.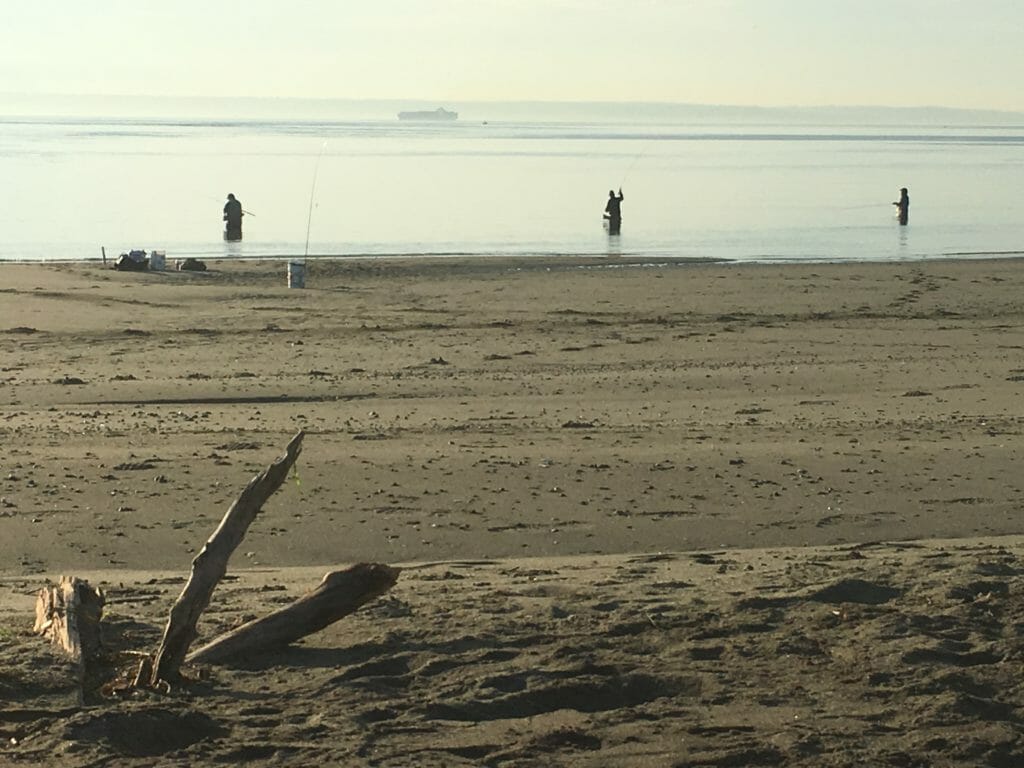 That's because for my partners, Rene and Lang, any setback short of a nuclear conflagration is insufficient to merit any slackening in their stream of continuous banter, which leapt like a drunken cricket from one topic to another.
The status of northwest salmon runs (very poor in recent years). The inability to fish for salmon in Washington state without a printer or visiting a retail shop—which we did the day before to acquire licenses and catch cards for me and Rene, requiring a full hour of fingernail-chewing while waiting in line for the sole customer service person. Food and music (Lang and Rene are both epicures and musical cognoscenti).
I wondered aloud how we could be fishing for coho if adult salmon returns up and down Washington and Oregon are so compromised. It turns out silver salmon are the only salmonid species in the northwest, along with winter steelhead, whose numbers this season are predicted to be better than last year.
---
Trout Unlimited is working across the Pacific Northwest to protect, restore and sustain wild salmon and steelhead runs. TU's Wild Steelhead Initiative, the Save Bristol Bay campaign, and our work in watersheds such as the Wenatchee, Umpqua, Klamath and Eel rivers is helping to address the "Four Hs"—habitat restoration, the impacts of hydropower operations, the influence of hatchery fish on wild populations, and harvest numbers—as well as impacts from mining and other resource development. Go here for more information on some of the projects and initiatives that are advancing this conservation effort.
---
At length we pulled up at one of Lang's go-to places for shore-fishing for salmon. As it happens, this spot is also the go-to place for quite a few other salmon anglers.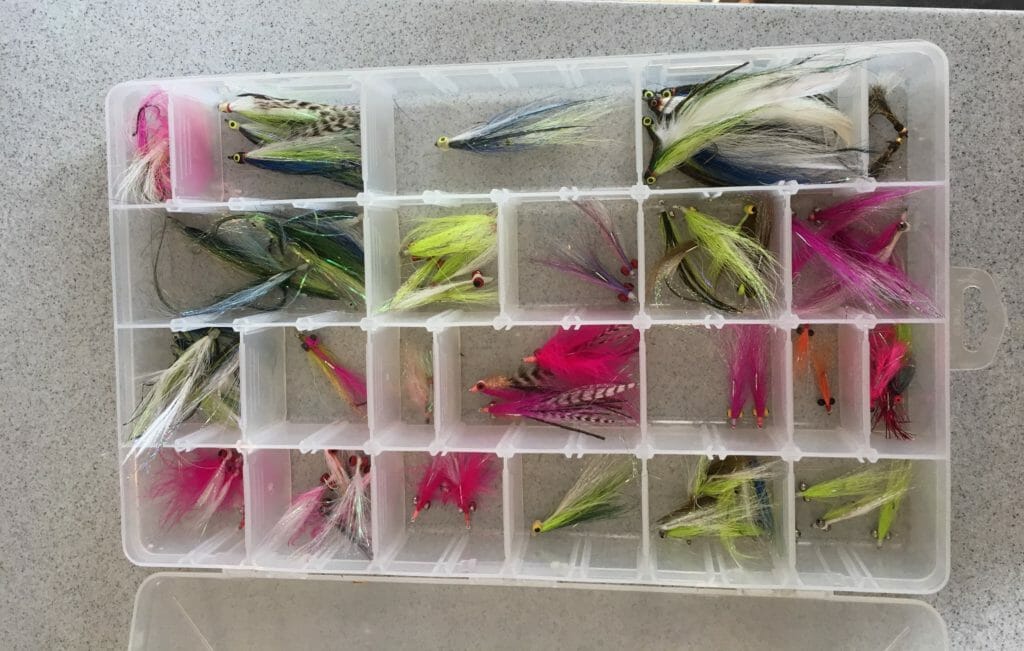 Welcome to Point No Point County Park, home to the oldest lighthouse on Puget Sound and the location of the signing of a treaty in 1855 between the U.S. Government and three local Native American tribes under which the tribes ceded their ownership of the northern Kitsap Peninsula and all of the Olympic Peninsula in exchange for small reservations along Hood Canal and $60,000.
But I didn't read the plaque describing that sorry history until later. I had never fished for salmon with a fly rod and was keen to get on the water.
The water in the Sound, at least during the three days we fished it, was relatively calm and there was no shore-break—it was like fishing a big lake. The only waves to reach us were generated by the wakes of commercial marine ships, and seemed to come out of nowhere many minutes after the massive craft had lumbered past.
I watched as Lang and Rene waded in and started casting. The formula seemed to be, cast as far as you can, strip-retrieve a baitfish imitation, repeat.
Meanwhile gear anglers were casting and retrieving their spoons, herring-halves and plugs all around the point. One or two other fly anglers plied their craft, as well. I squeezed into a slot next to Rene and Lang and began to cast, using flies tied and recommended by Lang himself (he deemed the Clousers I use for stripers on the beaches at home too beefy).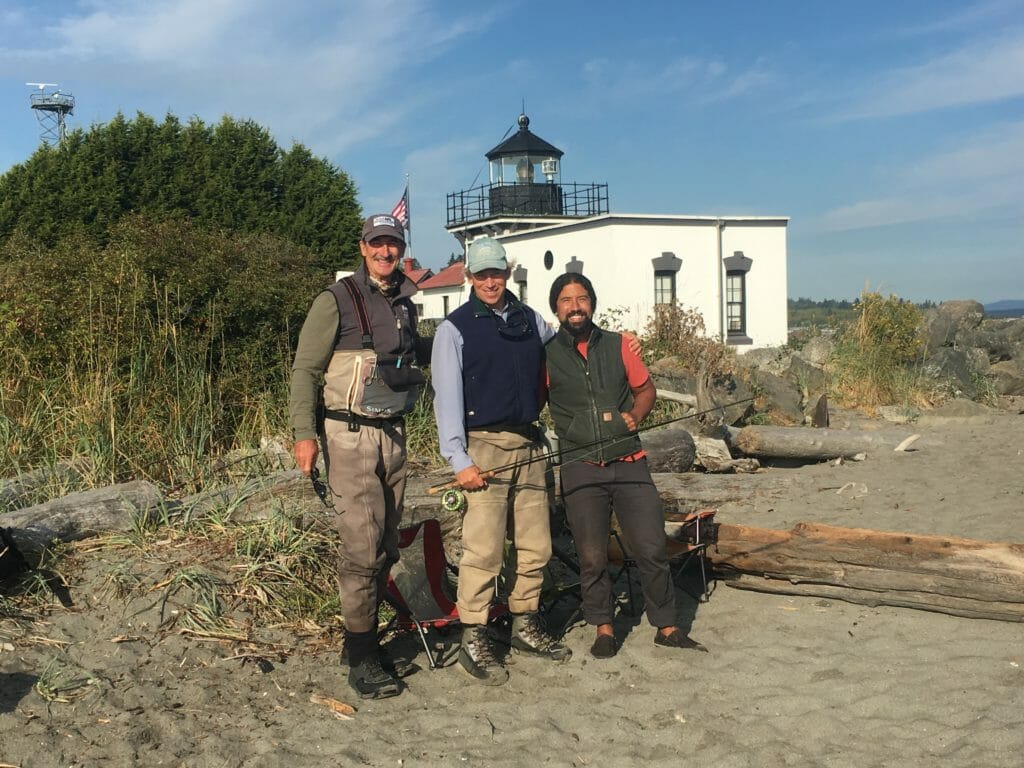 And for many hours we waved our wands back and forth, to no avail, even with Lang's highly refined and thoroughly-proven flies. We learned only one salmon, not large, had been landed there that day, first thing in the morning, on gear.
The tide ebbed and waned, at times causing the water around the point to become almost turbulent, with mini-cross currents all working at once. And then, as the afternoon gave way to evening and the light softened, we began to see a few fish come to the surface.
It seemed to me that they were mostly shakers and maybe jacks, launching themselves into the air well beyond casting range. But our hopes and energy were renewed.
Eventually I felt a half-hearted take, what my friend the Steelhead Whisperer calls a "tail grab," from a small fish. Then, nothing.
Until a half hour or so later when, mid-retrieve, a more sizeable fish struck. I strip-set, the rod bowed, and an adult salmon went airborne.
What ensued, as I brought the fish in, was a running commentary from Lang as he filmed the procedure on his smart phone.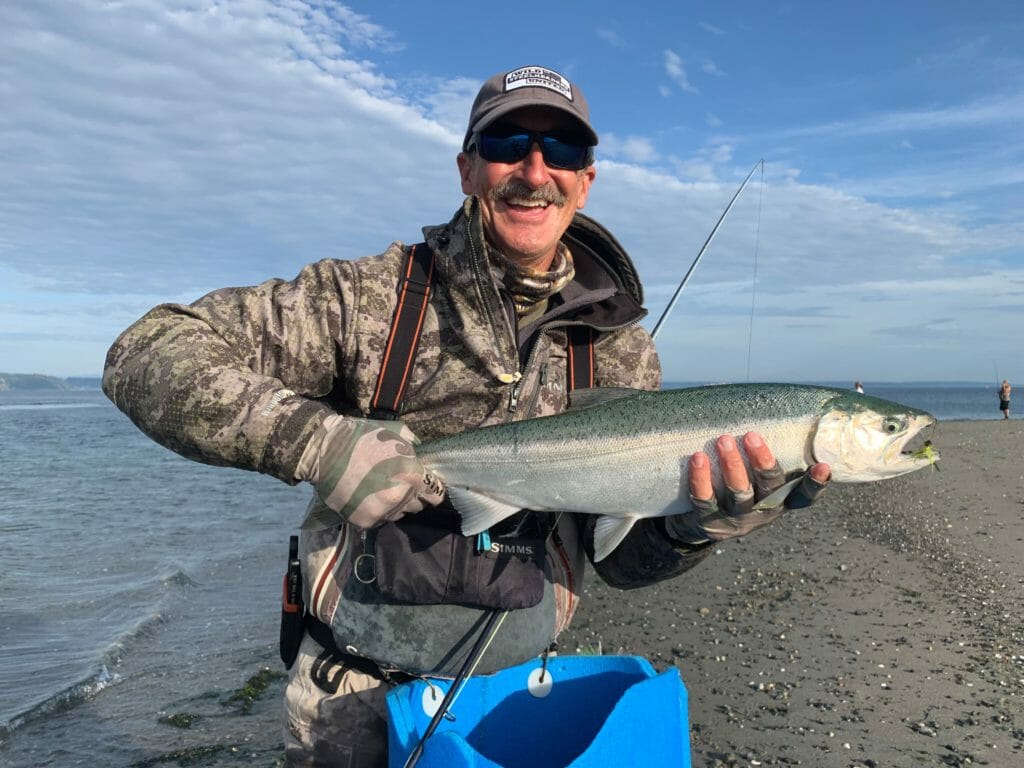 "Ah, probably a resident!
"Nice! Maybe four, five pounds.
"Looks like a hatchery fish.
"What are you doing?! Haul him up on shore!
"Are you trying to release him?
"Stop fooling around, this isn't a steelhead! Drag him up on the beach!
"Do you want to let this fish go, or what?
"I'm amazed you actually landed that fish. Do you think you can bleed it out and clean it by yourself?"
In short, I did plenty wrong in bringing that salmon—a hatchery female silver that had stayed in the Sound rather than going out into the open ocean—to hand. My reputation did not get any better when I gutted the fish. In my defense Lang's jack-knife was not particularly sharp.
"Geez, I hope the fillets are intact after all that Sumo wrestling."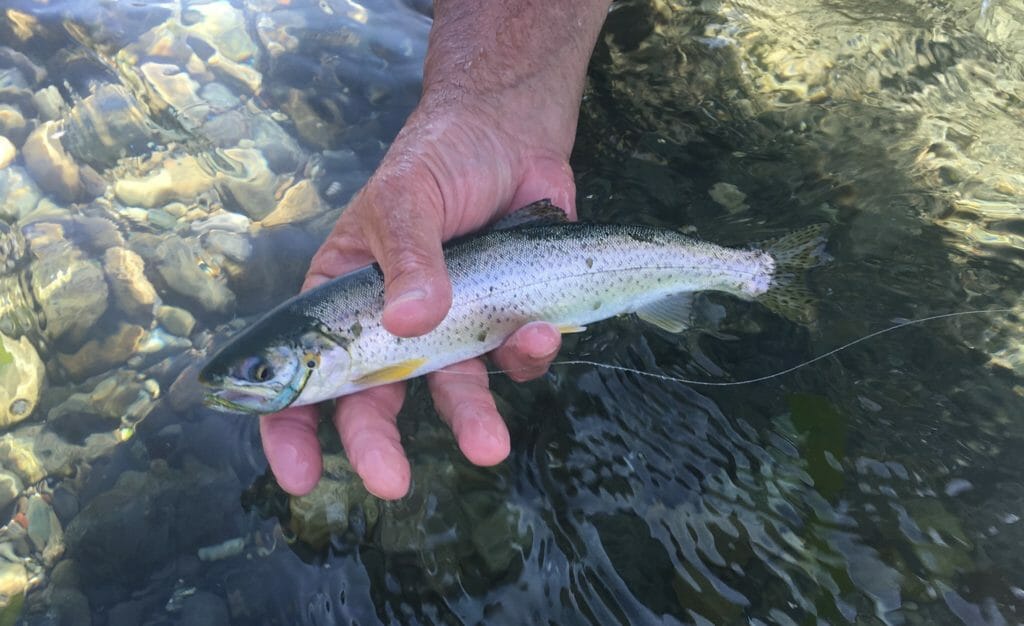 No one cares more about salmon than Lang. He's likely one of the leading lay authorities in the country on the subject, after penning an excellent book published last year, called Upstream: Searching for Wild Salmon, from River to Table. He's also a renowned forager and gourmet chef, and salmon is one of his most sacred foods.
So I welcomed his guidance—until it came time to prep my salmon for brining and smoking the next evening. But that is another story.