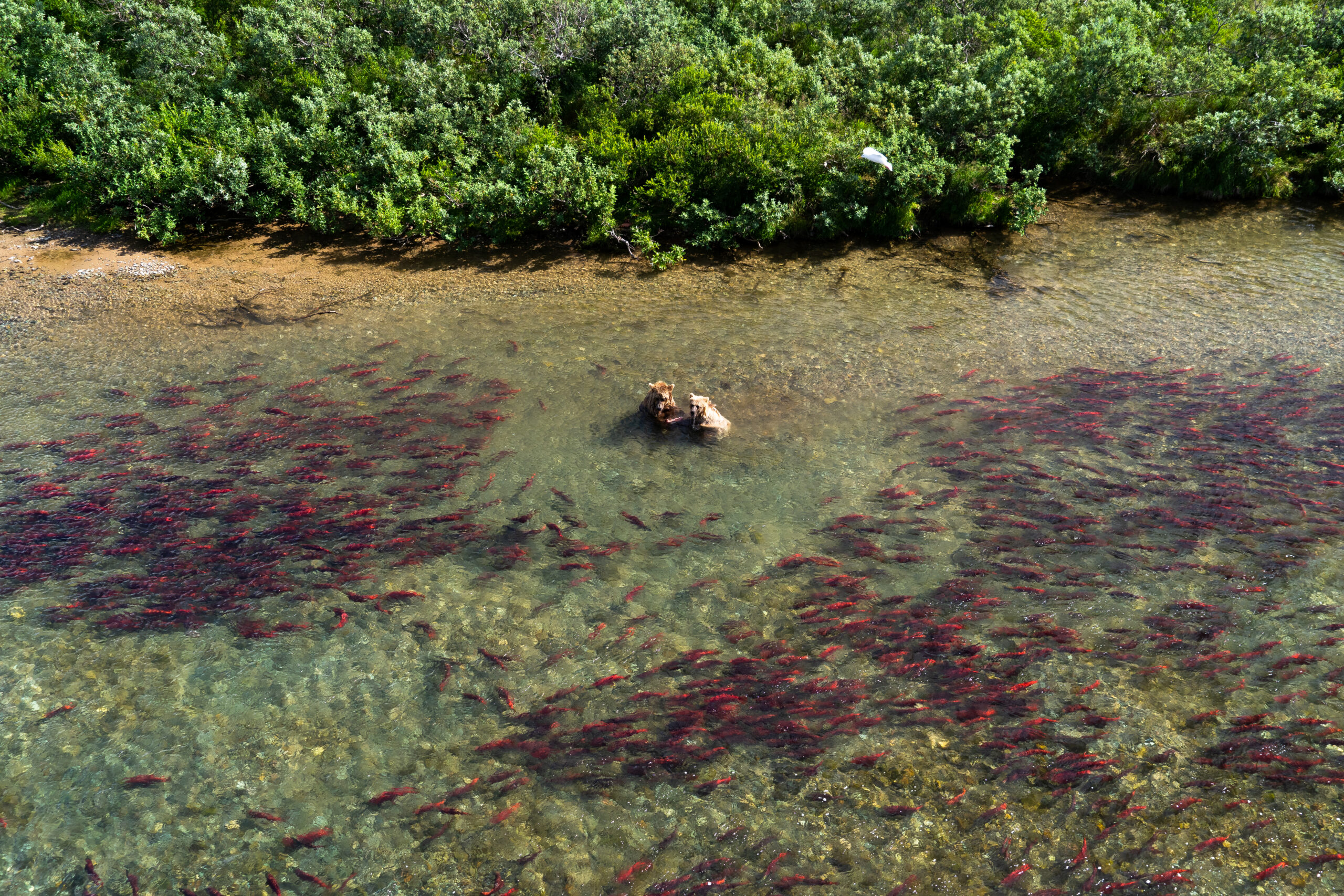 Photo by Fly Out Media
Protective measures will safeguard important salmon spawning rivers in Bristol Bay's headwaters from large-scale mine waste disposal.
FOR IMMEDIATE RELEASE
Contacts:
Nelli Williams, Alaska director, Trout Unlimited, (907) 230-7121, nelli.williams@tu.org
Chris Wood, CEO and president, Trout Unlimited, chris.wood@tu.org
Brian Kraft, president, Katmai Service Providers, owner, Alaska Sportsman's Lodge, (907) 227-8719
May 25, 2022
ANCHORAGE, Alaska—Today, the U.S. Environmental Protection Agency (EPA) announced it is taking an important step toward safeguarding Bristol Bay's fisheries, communities and economy through section 404(c) of the Clean Water Act by announcing its revised Proposed Determination for Bristol Bay. If these proposed protections are finalized, they will prohibit and restrict the discharge of mine waste into rivers, streams and wetlands of the North and South Fork of the Koktuli River and Upper Talarik Creek, rivers that would be heavily impacted if the Pebble mine was built. Today's announcement also marks the start of a 40-day public comment period that ends on July 5th and coincides with the beginning of fishing season in Bristol Bay, where a record of more than 70 million sockeye salmon are forecasted to return in 2022.

"We applaud the EPA for taking this step toward protecting Bristol Bay's wild salmon fisheries and the Alaska communities that depend on them," said Chris Wood, president and CEO of Trout Unlimited. "There are no good arguments for a large-scale mining operation in the headwaters of some of the world's best and most critical salmon habitat. The Clean Water Act is designed to safeguard special places like these. We are pleased that the EPA is listening to Alaskans and anglers across the country and acting on the science showing that mining in Bristol Bay would lead to unacceptable impacts on Alaska's lands and waters."

"As an organization that represents more than 64 Alaska fishing, hunting and tourism businesses we are absolutely thrilled by the important step the EPA took today. We appreciate that the EPA recognizes how important and valuable these rivers are to our fisheries, businesses and families. This is great news heading into our busiest time of year." said Brian Kraft, President of the Katmai Service Providers and owner of Alaska Sportsman's Lodge in Bristol Bay.

"This is fantastic step forward that Alaskans have been urging for over a decade. It's clear that the EPA is taking the decades of strong science into consideration and the concerns of the people and businesses in Bristol Bay seriously." said Nelli Williams, Alaska director for Trout Unlimited. "Advancing 404(c) is a welcome and essential piece of the puzzle for keeping Bristol Bay's fisheries, and the communities, industries and opportunities they support vibrant."

"What a relief to see progress on something local people and businesses have been requesting for so long. This provides another layer of certainty that prevents the Pebble Mine from moving forward and takes some of the stress away from local businesses like ours. This step allows us to plan for the future without constantly having to worry that a giant mine, unwanted by the vast majority of Bristol Bay residents and Alaskans, will threaten what we have here." said Nanci Morris Lyon, long-time resident of Bristol Bay and owner of Bear Trail Lodge.

BACKGROUND ON CLEAN WATER ACT 404(c) BRISTOL BAY
Local Tribes, and sport and commercial fishing groups first requested the EPA to use the Clean Water Act to proactively protect Bristol Bay's headwaters in 2010. After numerous rounds of scientific assessment and review, proposed Clean Water Act protections were released in 2014 but never finalized. In 2019, the EPA under the previous administration sought to withdraw the 2014 Proposed Determination for Bristol Bay—a sudden decision based on politics and without scientific justification. Trout Unlimited challenged the EPA's decision as arbitrary and capricious and contrary to the Clean Water Act's governing standard in court. In July, 2021, the Ninth Circuit Court of Appeals ruled in favor of TU, finding that the EPA could withdraw a proposed determination only if the discharge of materials would be unlikely to have an "unacceptable adverse effect."

Following the lawsuit, EPA Administrator Regan publicly acknowledged the importance of clean water to the Bristol Bay region and committed to working towards protections for the fishery and the people who depend on it. In January, 2022, the agency announced that it intended to issue a revised Proposed Determination by May 31, 2022, for Alaska's Bristol Bay watershed.

During past public comment periods that sought input on Clean Water Act section 404(c) action in Bristol Bay, more than 1.5 million comments from Bristol Bay and Alaska residents, as well as others from across the country supported strong protections for the Bristol Bay watershed.
#
Trout Unlimited, the nation's oldest and largest coldwater fisheries conservation organization, is dedicated to caring for and recovering America's rivers and streams, so our children can experience the joy of wild and native trout and salmon. Across the country, TU brings to bear local, regional, and national grassroots organizing, durable partnerships, science-backed policy muscle, and legal firepower on behalf of trout and salmon fisheries, healthy waters and vibrant communities. In Alaska, we work with sportsmen and women to ensure the state's trout and salmon resources remain healthy far into the future through our local chapters and offices in Anchorage and Juneau.

Katmai Service Providers represents 64 Alaska fishing, hunting, bear viewing and tourism businesses that operate in the Bristol Bay region. The group is dedicated to resource protection through stewardship, promoting public access, fostering cooperation among users, participating in future development planning, promoting safety and education and enhancing Katmai National Park recreational activities. Brian Kraft is the president of the KSP and the owner of two sportfishing lodges in southwest Alaska, one in Igiugig, Alaska and one near Dillingham, Alaska. https://katmaipark.org/