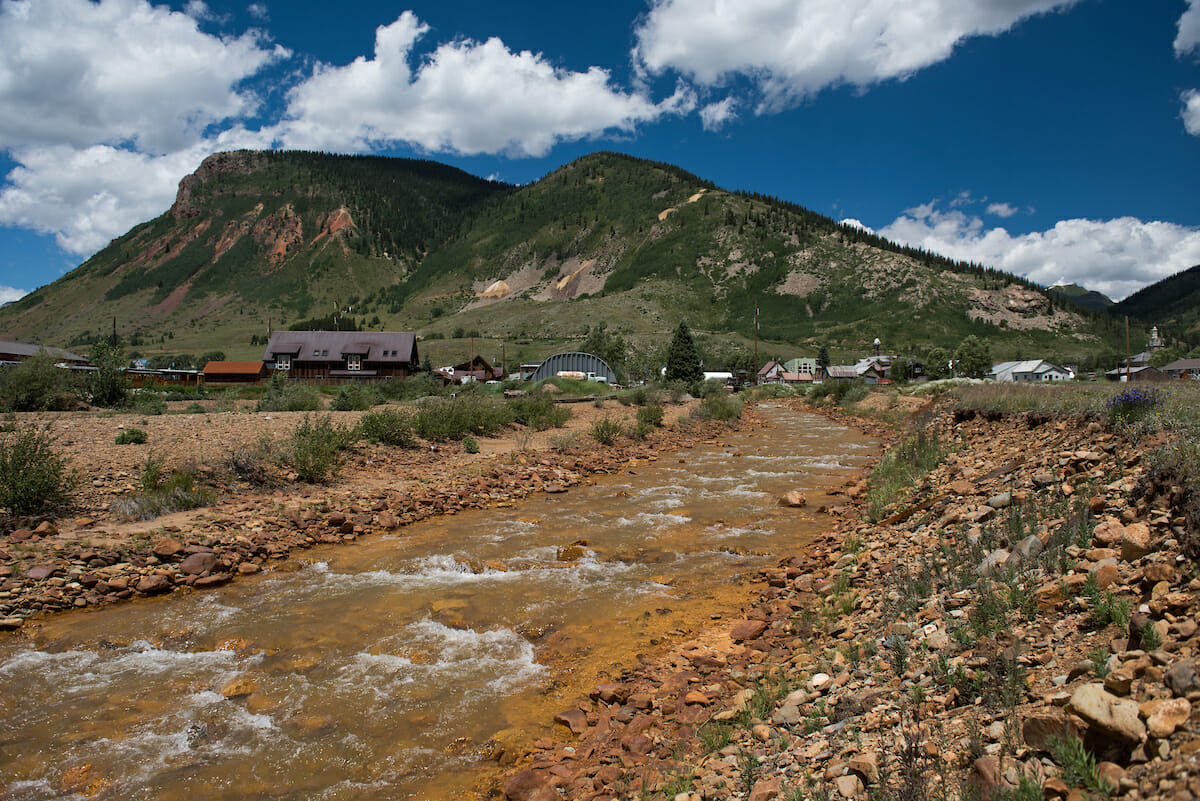 Bill would enable 'Good Samaritans' to clean up abandoned mine pollution to improve water quality.
Contacts:
Arlington, VA. (September 13, 2023) – A bipartisan coalition of 19 Senators today introduced 'Good Samaritan' legislation to help clean up chronic pollution leaking from abandoned hardrock mines. Lead bill sponsors Sens. Martin Heinrich (D-NM) and  James Risch (R-ID) were joined by Sens. Mark Kelly (D-AZ), Cynthia Lummis (R-WY), Michael Bennet (D-CO), John Boozman (R-AR), Catherine Cortez Masto (D-NV), Kevin Cramer (R-ND), Jacky Rosen (D-NV), Dan Sullivan (R-AK), John Thune (R-SD) Ben Ray Luján (D-NM), Steve Daines (R-MT), Jon Tester (D-MT), Mike Crapo (R-ID), Kyrsten Sinema (I-AZ), John Hickenlooper (D-CO),John Barrasso (R-WY), Ron Wyden (D-OR).  
"There is no constituency for orange water and no one responsible for cleaning up the abandoned mines causing it," said Chris Wood, President and CEO of Trout Unlimited. "We're excited for Congress to take bipartisan action that will allow organizations such as TU to step in and help protect our communities and clean our rivers and streams. We thank Sens. Risch and Heinrich for their years of attention to addressing the greatest threat to water quality in our nation."
The American West is plagued with over half a million abandoned hardrock mines, with tens of thousands causing environmental damage. Acid mine drainage leaks toxic metals such as mercury, lead, and arsenic, impairing 110,000 miles of freshwater streams. However, under current law, 'Good Samaritan' entities and state agencies wishing to clean up acid mine drainage can be held liable and face legal jeopardy for pollution they didn't create. In short, the law treats those who want to clean up abandoned mines as if they themselves are polluters.
The Good Samaritan Remediation of Abandoned Hardrock Mines Act of 2023 creates a pilot permitting program for entities which had no role in causing the pollution to clean up abandoned mine waste at up to 15 low-risk sites without the threat of long-term legal and financial liability currently imposed by the Clean Water Act. This will allow agencies and nonprofit organizations like Trout Unlimited to reduce the pollution impairing our waters, even if it is not feasible to achieve 100% of Clean Water Act standards.
Volunteer, third-party Good Samaritan groups currently undertake some projects to clean up abandoned mine solid waste, such as waste rock piles and mill tailings. , But, point-source pollution – where toxic water is discharging out of a mine openings and inner workings – often have to rely on federal Superfund cleanup, which are limited compared to the scale of abandoned mines. Superfund cleanups are not well suited to the tens of thousands of isolated, smaller mines with difficult access that cumulatively pollute an estimated 40 percent of headwaters across the West.
"We have more abandoned mine messes than hands to clean them up," said Corey Fisher, Public Land Policy Director for Trout Unlimited. "Without Good Samaritan legislation, abandoned mines that could be cleaned up will go on polluting our rivers and communities with no end in sight. Qualified organizations like Trout Unlimited and state mine remediation agencies stand ready to tackle this problem, but first Congress must unshackle those who want to help. It is unconscionable to let this problem persist, and it is long past time for Congress to enact this commonsense solution. Many hands make light work and there's a lot of work to be done that will not only create clean water, but also jobs in local communities."
Learn more about Good Samaritan legislation and Trout Unlimited's work to clean up abandoned mines at https://www.tu.org/good-samaritan/.
About Trout Unlimited:
Trout Unlimited is the nation's oldest and largest coldwater fisheries conservation organization dedicated to caring for and recovering America's rivers and streams so our children can experience the joy of wild and native trout and salmon. Across the country, TU brings to bear local, regional and national grassroots organizing, durable partnerships, science-backed policy muscle, and legal firepower on behalf of trout and salmon fisheries, healthy waters and vibrant communities. 
###