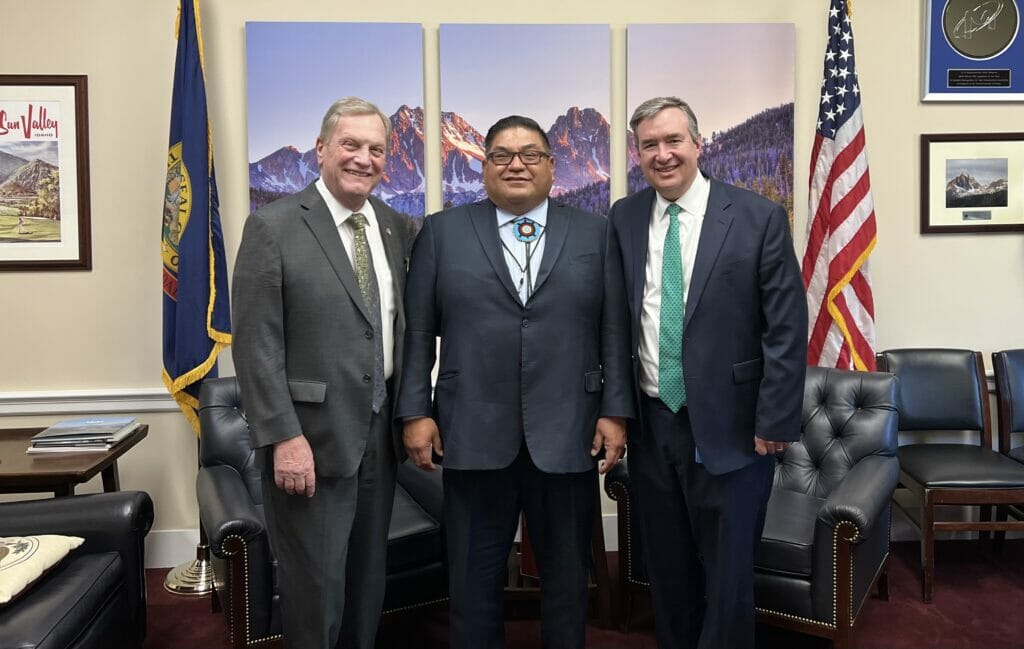 Reorganized policy, communications teams promise to amplify TU's impact
Contacts:
ARLINGTON, Va.—Longtime congressional staffer Lindsay Slater—who was instrumental in protecting wilderness areas in the Northwest and building momentum for a comprehensive plan to remove the lower four Snake River dams, rebuild the region's infrastructure, and recover imperiled Pacific salmon and steelhead—is joining Trout Unlimited as Vice President for Government Affairs.
Slater was chief of staff for 23 years under U.S. Rep. Mike Simpson (R-ID), now chairman of the House Interior Appropriations Committee, and has worked on Capitol Hill since 1997. He starts at TU on April 4.
"Lindsay is as solid as they come. He brings a unique combination of experience and vision to Trout Unlimited," said Chris Wood, Trout Unlimited president and CEO. "He has demonstrated over the years a distinct flair for bipartisanship that fits well with TU's approach to collaborative stewardship."
Slater was instrumental in helping U.S. Rep. Greg Walden (R-OR) develop the Steens Mountain Wilderness Act, which protected the Donner und Blitzen Wild and Scenic River and created the Donner und Blitzen Red Band Trout Reserve. With Representative Simpson, Slater helped to pass the Boulder-White Clouds Wilderness Act, which created three large wilderness areas in the mountains of central Idaho.
Over the past five years, Slater has worked nonstop on Representative Simpson's Columbia Basin Initiative, which would remove the four lower Snake River dams and allow sustainable populations of wild salmon and steelhead access to pristine high-elevation rivers and spawning grounds in Idaho and northeast Oregon. At the same time, it would protect the interests and livelihoods of local communities that depend on agriculture, reliable energy, transportation and the recreation economy.
"Trout Unlimited is lucky to have Lindsay as part of their team," Representative Simpson said. "Lindsay's fingerprints are all over the major legislative victories I have had during my time in Congress. He played a crucial role in crafting the original LAND Act, which eventually became the Great American Outdoors Act, a widely supported and bipartisan recreation and public lands bill. He was instrumental in crafting and passing legislation to fix the wildfire suppression budget, ending the practice of fire borrowing and restoring the funding intended for those important land management projects that make our forests healthier and more resistant to fire. Not to mention ending long-time controversy in the Boulder-White Clouds by creating a comprehensive solution to the challenges that ranchers, recreationists, conservationists, and local leaders faced for many years. He will be an asset to the great organization Trout Unlimited and their CEO Chris Wood."
Slater grew up on a fifth-generation ranch near the town of Wallowa (population: 800) in northeastern Oregon, where three trout streams run through the property. A graduate of Oregon State University and the Southwestern University School of Law in Los Angeles, Calif., he lives on Capitol Hill with his wife and two children.
TU's longtime VP for Government Affairs, Steve Moyer, retired in February after 30 years at the organization.
Slater arrives amid a reorganization of TU's policy and communications teams. David Kinney, who has worked in policy and communications at TU since 2016, was named Vice President for Communications, and his team will work closely with an expanded government affairs group under Slater to drive TU's national policy initiatives and broader conservation objectives. Before coming to TU, Kinney worked for 22 years as a newspaper journalist and nonfiction author, and was a political reporter on a team at the Newark Star-Ledger that won a 2005 Pulitzer Prize for coverage of Gov. Jim McGreevey's resignation.
###
Trout Unlimited is the nation's oldest and largest coldwater fisheries conservation organization dedicated to caring for and recovering America's rivers and streams so our children can experience the joy of wild and native trout and salmon. Across the country, TU brings to bear local, regional and national grassroots organizing, durable partnerships, science-backed policy muscle, and legal firepower on behalf of trout and salmon fisheries, healthy waters and vibrant communities.