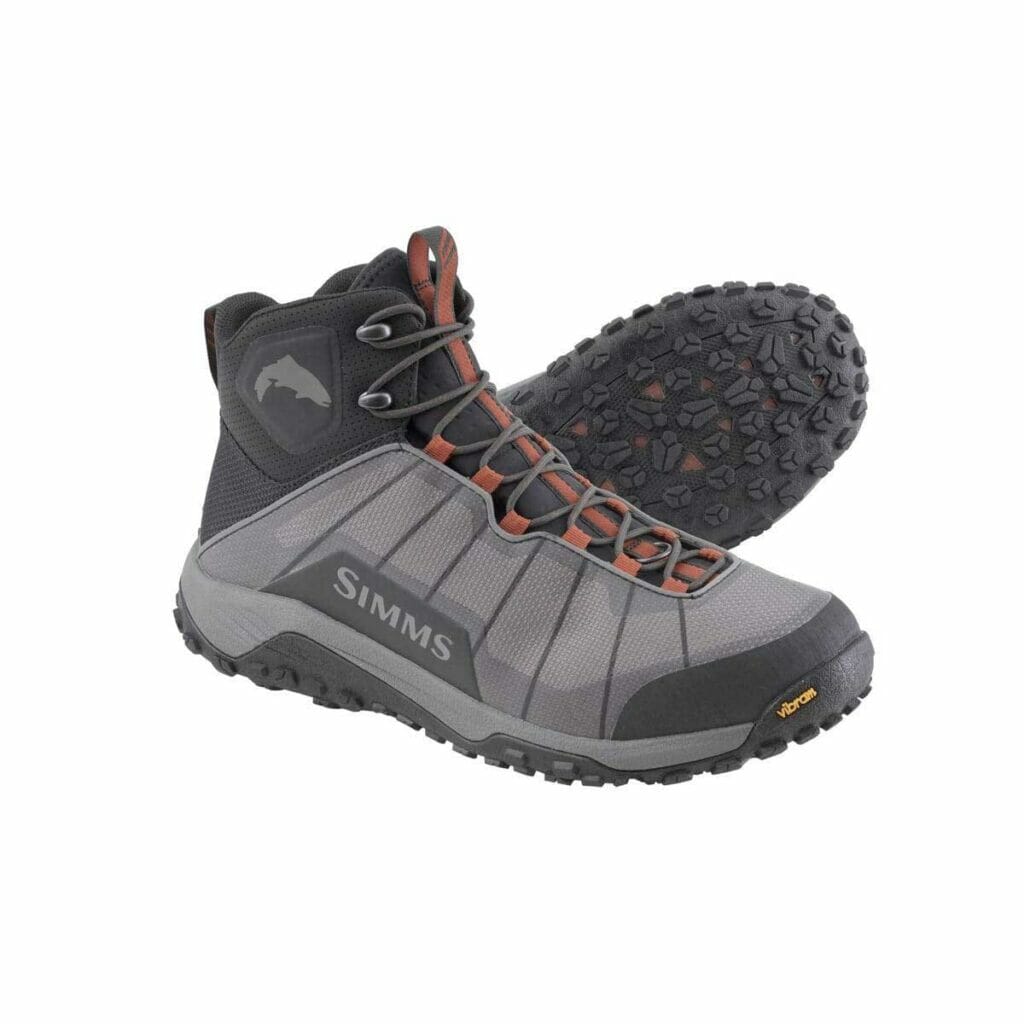 Simms FLYWEIGHT wading boots
If there ever was a boot that lived up to its name it's the Flyweight wading boot from Simms. This boot is lighter-weight than my hiking boots, yet Simms didn't scrimp on durability. There is reinforcement on high-wear areas on the sides, arches and toe. And its low-profile upper still offers plenty of ankle support that's important when wading.
I was impressed with the aggressive tread that even wraps over along the sides for extra traction and stability on rocks and loose debris when fishing freestone and high-gradient streams. Each sole also provides 12 areas for attaching studs. This number of options for stud location on a boot is important for creating custom patterns that are right for your specific wading environment.
And each pair of boots comes with an extra pair of laces. This is great foresight on the part of Simms and an indicator of the lifespan expectation for these boots. If you wear a good pair of boots long enough, you will definitely need to replace the laces. Stick these in your pack or glove compartment. At some point, you or a friend are sure to break a lace on a fishing trip and you'll be the trip hero.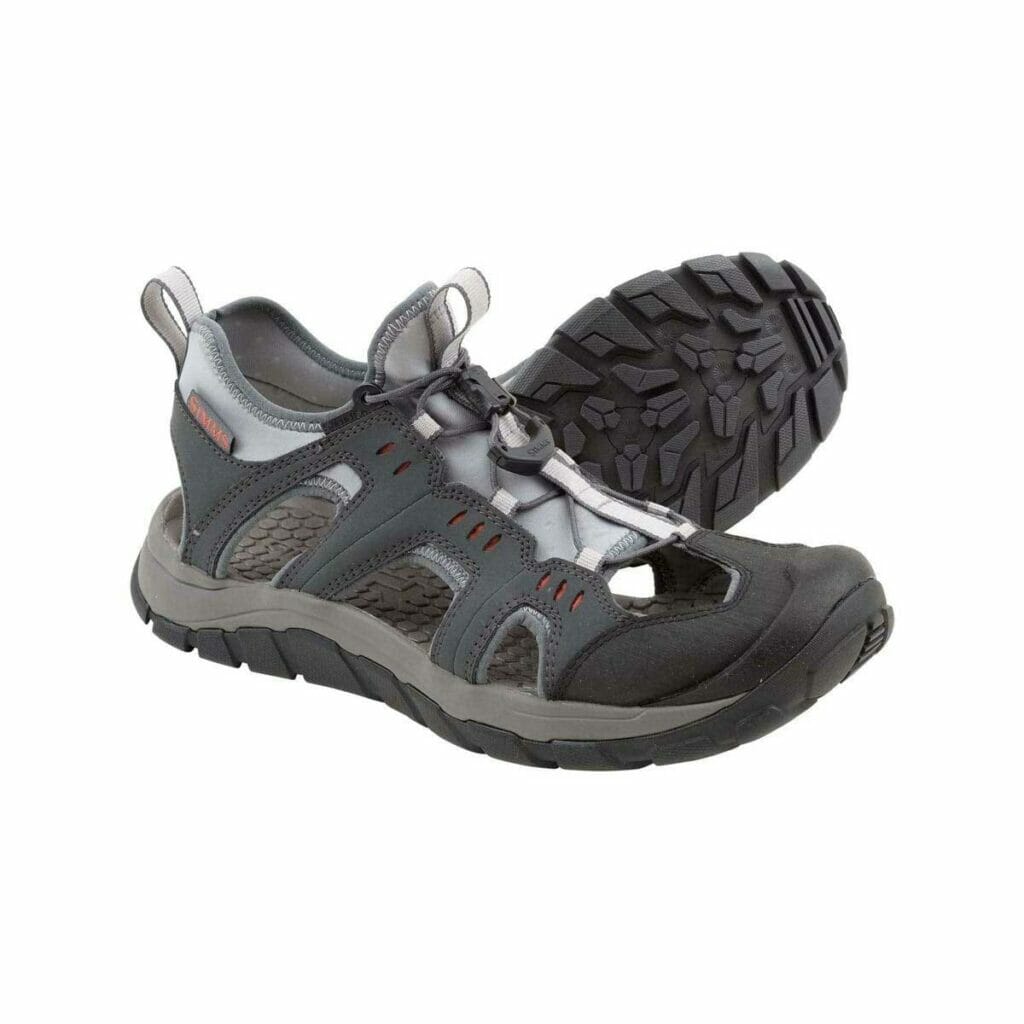 Simms Wading Sandal
I'll start by saying that I've never had a Simms product that was poorly made or designed. Simms' new Confluence Wading Sandal is well made, comfortable and rather cool looking. It will be my boat sandal for years to come. It is rugged, but still light weight, with a fine no-slip tread. So if you're going to hike a trail to fish a river edge or lake edge, I expect that this sandal would be perfect. But here's the rub for this fisherman. When I wet wade, I get in the river and slog, which means sand, stones and rocks. Simms says that the sandal incorporates an open designed upper, which lets debris easily wash out. That is a fact. It is also a fact that debris gets washed into the sandal in the first place through the same holes. If that's not a problem for you, then these sandals are perfect. If it is, then I'd either wear my boots or choose the Simms flyweight wading shoe, which has a tight fit around the top of the foot or ankle to keep out debris in the first place. I have a predecessor model and they work great.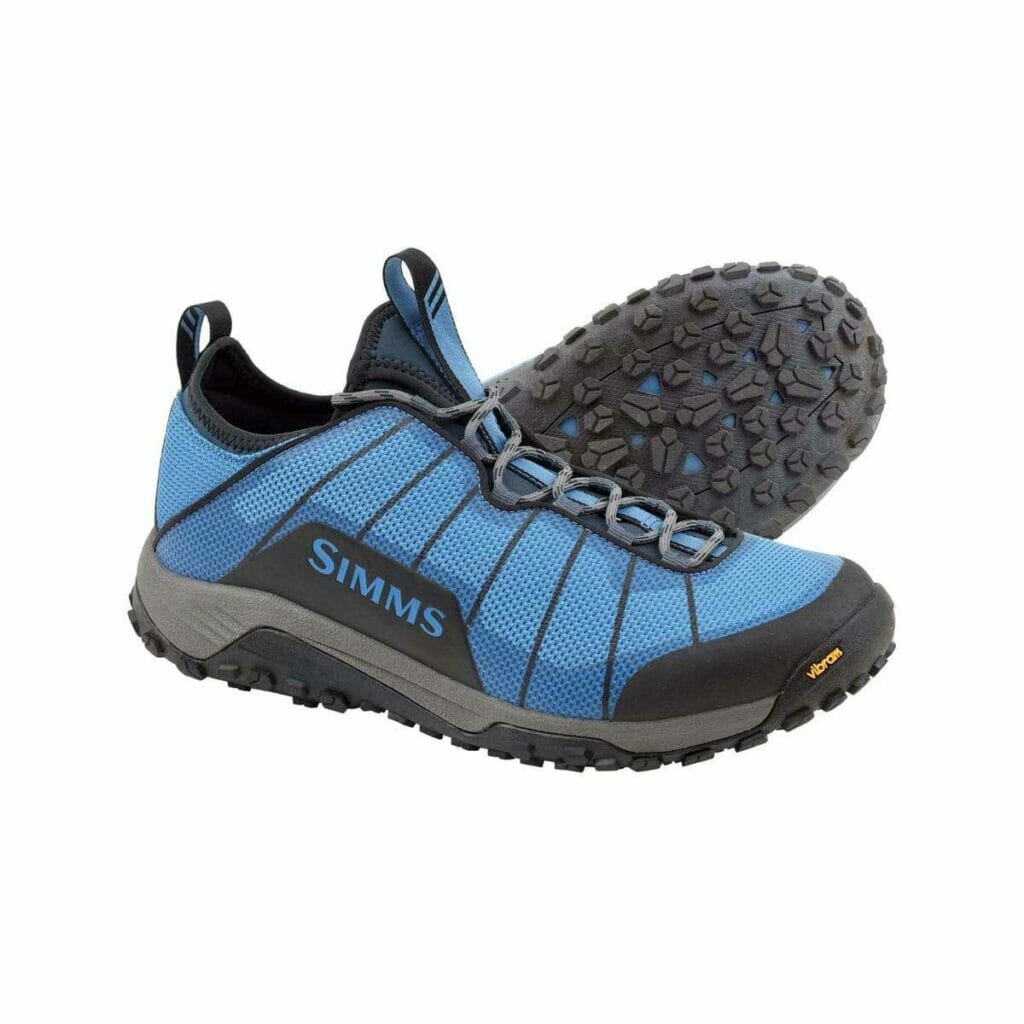 Simms Flyweight Wet Wading Shoes
Love to wet wade, but have issues with wading boots being too bulky? Enter the Simms Flyweight wading shoe.
For years, Simms has staked out a leadership position in wading footwear, from traditional boots to flats-wear to sandals. I'm of the mind, though, that the Flyweight line of wading boots/shoes is among the best available on the market, and there are lots of good reasons for it.
The Flyweight shoe is much more than just a wading shoe. Yes, its tightly woven mesh uppers are, indeed, virtually indestructible, and the latest in Vibram sole technology is grippy and durable. But where this shoe really shines is on the trail. It's an all-purpose hiker as well as a water-shedding wading shoe — the two-for-one bonus is real.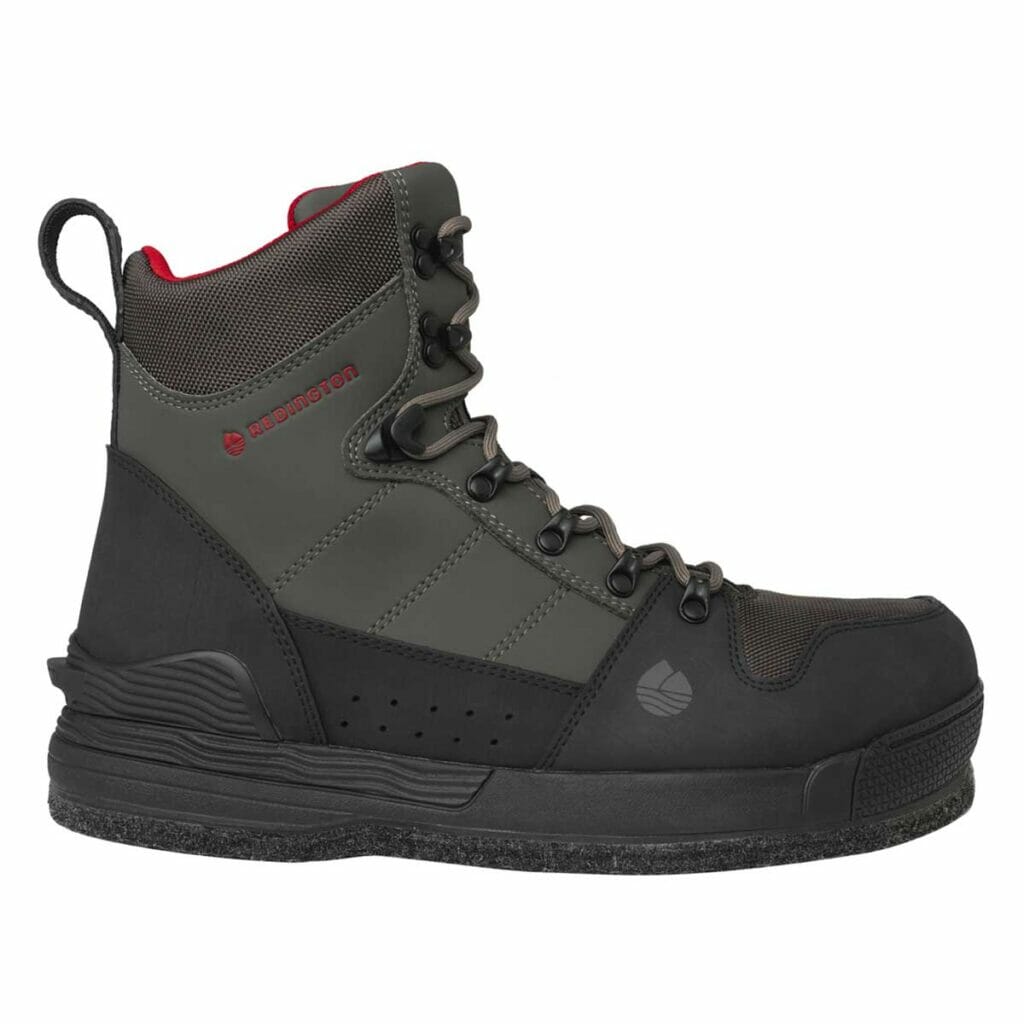 Redington PROWLER wading boots
Redington's Prowler wading boots provide anglers a nice mix of functionality and affordability. The boots are the company's premier wading boots and anglers can choose either felt of stick rubber soles. Where it's allowed, I recommend the felt, but the rubber-soled boots are light enough to serve as hikers, too, making it easy to move around when you're not in the water.
They're comfortable and easy to pull on and off, and they dry quickly, a nice bonus for avid anglers who don't love the idea of sliding into wet gear first thing in the morning.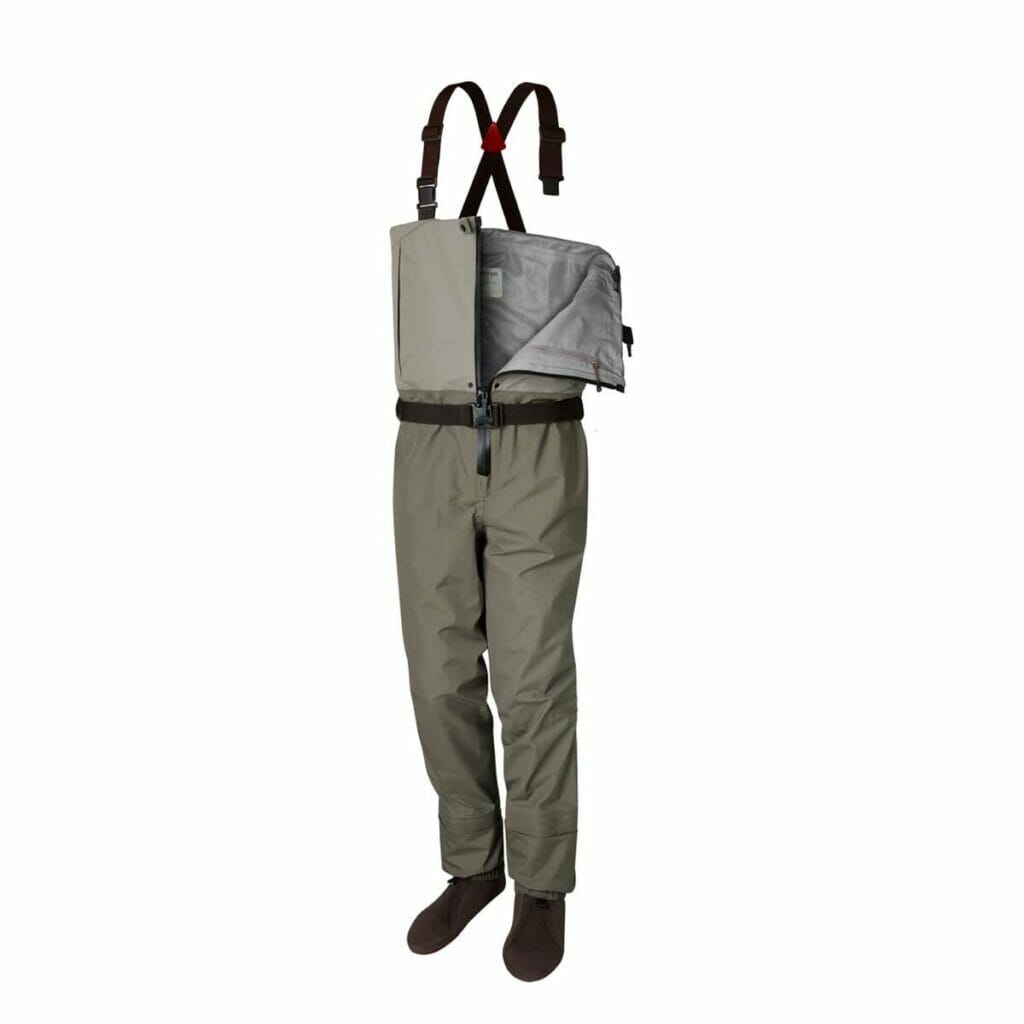 Redington ESCAPE zip waders
If weight and comfort are important to you when you don waders, the Redington ESCAPE zip waders might be worth a look.
No, these waders aren't nearly as bomb-proof as the heavy-duty products offered by competitors (nor do they cost nearly as much!), but for the average angler who might wear waders a dozen times or less over the course of a fishing season, the ESCAPE zip-front offering from Redington is still a quality product. It's also lighter than it competitors (and a little thinner — something to be aware of if you're a cold-weather fisher).
The zipper in the front is a nice touch and allows you quickly shed the waders when nature calls, or just a cool off a bit if you're wading on a hot day. The price point is about as good as it gets for a solid set of waders that will last beyond a single season.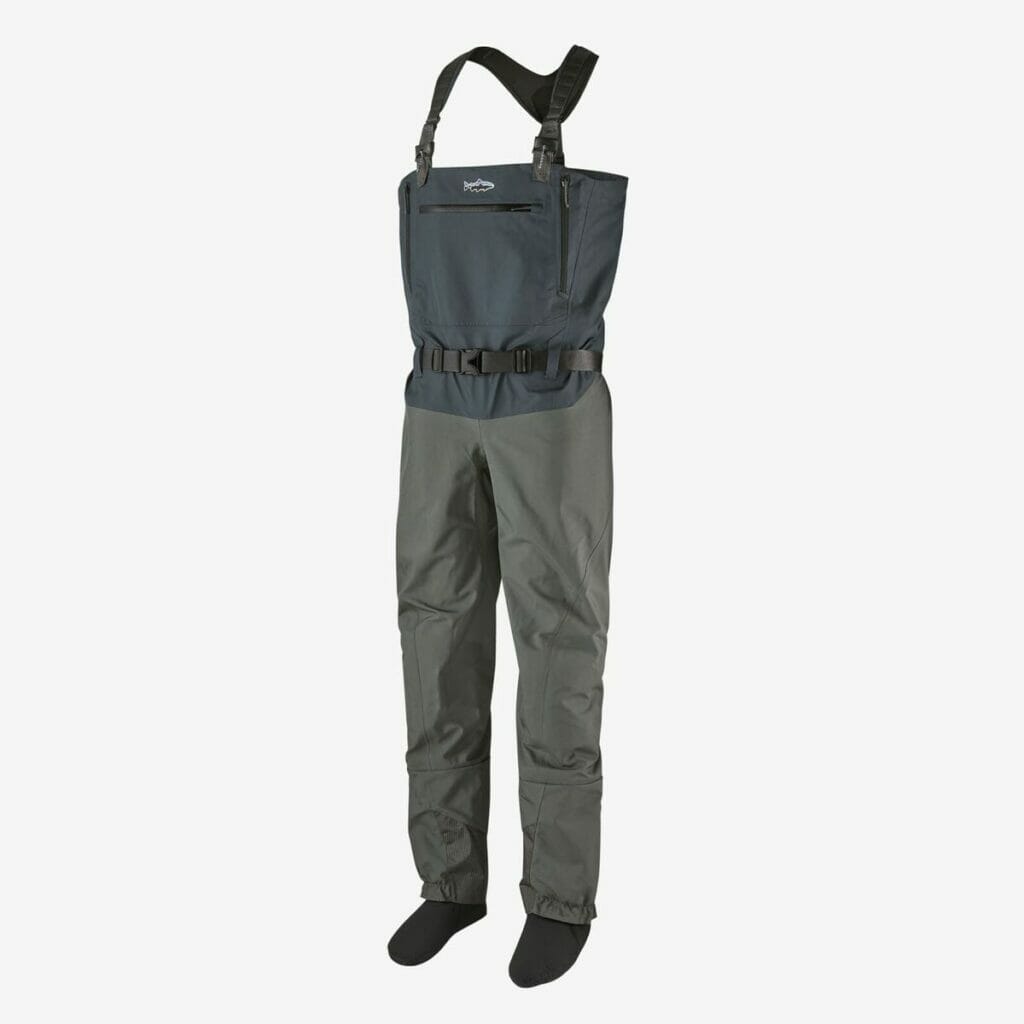 Patagonia Swift Current Expedition waders
A solid pair of waders should last a while. Not just a season or two, but several years. Patagonia's Swift Current Expedition waders not only provide the durability avid anglers need over the course of multiple fishing seasons, but they come with company's reputation for excellent service — if they fail or spring a leak, Patagonia is renowned for its efforts to make repairs.
The Swift Current Expeditions zip-front waders aren't cheap, but in this case, you really do get what you pay for. Right out of the box, you know you're holding some quality gear that will last a a long. These are Patagonia's most technical waders to date, and 100 percent of the fabric in these waders is recycled. Looking for waders you won't have to worry about for years? This is your pair.