For those of us that prefer dirt, mountains, and streams, commonly our introduction to nature came from a role model. Someone who recognized the benefits of spending time outdoors and desired to bestow their knowledge unto others. These role models serve as important figures as you grow and are developing values. I count myself incredibly lucky for the people in my life who have served as role models.
I cannot begin to fully express my gratitude to the many teachers who put up with my snail-like pace and incessant questions to explain to me the wonder of nature. The most enjoyable parts of my life have come from sitting with these teachers in their beautiful classrooms. Whether it was on the ski slopes, on the trail, or in a canoe I have considered every outing a privilege.
As I conclude my internship at Trout Unlimited, I have been reflecting on the lessons of a specific teacher and I would like to tell you a little bit about him, his impact on me and how he shaped my view on how future generations will experience the outdoors.
      I must have been about six or seven years old when my grandpa, Roger McCarville, took me and my brother out fishing for the first time. He bought us some spinning rods at a flea market, and we drove to a local lake to fish from the dock. As he taught me how to bait the worm and cast, I was quite excited and determined to be the first to catch something. However, I was not prepared for how hard the tug on my line was going to be and when I got my first bite, I let the pole slip right out of my hands and into the lake. I had absolutely nothing to say as my gaze fell to the ground and I anticipated words of disbelief and frustration. Thankfully for my sake, my grandpa just began laughing as he made up a story about how it must have been a gigantic walleye that took my pole opposed to the small perch it likely was. I knew that every outing with my grandpa would be a fun opportunity to learn no matter what happened.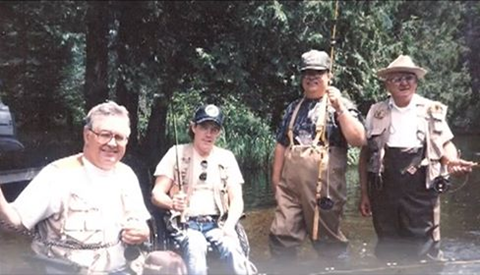 In his words, lessons, and actions he instilled in many an appreciation of nature and a desire to help others get outside. It was important to him that all people had an equal opportunity to access outdoor recreation. He had been in a boating accident in the 1970s in which he lost his leg. As an enthusiastic hunter and angler before the accident, he was not going to let his disability prevent him from doing the things he loved so he became an outspoken advocate for the rights of people with disabilities. His work included the forming of local handicap associations, developing handicap athletic leagues and working with the Michigan Department of Natural Resources to increase handicap accessibility for outdoor recreation areas. He even created and hosted a public access television program called "Disabilities Today" that showcased stories about innovative ways of making life easier for handicapped individuals. He never wanted any person to feel like they were prevented from enjoying time outdoors as a result of their disability and he taught me about all the ways he was able to be outside. He surely made me appreciate how fortunate I am and never take a day out on the trail for granted.
I am tremendously fortunate that I had my grandpa and other teachers as my role models. Their guidance and passion have been a driving force behind my majoring in Environmental Studies, involvement with various outdoor groups and desire to work in natural resources policy. They inspired hope in my view on how future generations will interact with nature and appreciate its value, but recent studies have me feeling less optimistic. According to a recent study by the market research firm Childwise, "Children aged five to sixteen spend an average of six and a half hours a day in front of a screen". Another study from the English non-profit National Trust estimated that "On average, children were playing outside for just over four hours a week."
This increase in screen time and lack of outdoor exposure that is becoming more common among younger generations gives me great concern. To alleviate that concern I would like to ask something of all who read this. I would like you to think about ways you can instill an appreciation in nature in the young people in your life. There is a meaningful impact you can have by just taking them on a hike, giving them a good book (I recommend The Only Kayak by Kim Heacox), or going out fishing. I know that I needed the guidance of my role models and I believe that the future leaders growing up today will need some as well. The great conservationist Gifford Pinchot once said: "The vast possibilities of our great future will become realities only if we make ourselves responsible for that future".