Makes 2 to 3 "to go" mugs.
4 to 6 yellow onions
1-½ tbsp salt plus more for seasoning to taste
2 tbsp butter
4 cups water
¼ cup sherry
¼ cup red wine
1 cup flaked or shredded cheese such as Gruyere, Emmentaler, Parmesan or Fontina
2-3 slices stale bread
If preparing over campfire, build up sufficient coals to last about 3-plus hours.
Slice onions from pole to pole in ¼- to ½-inch slices.
Build bed of light coals for a low and slow heat. If preparing indoors, heat a large Dutch oven over low heat. Place butter in Dutch oven and set it on the coals to melt.
Add onions, stirring to coat in butter.
Add salt and leave lid off.
Continue to stir frequently as onions take on color. This will take 2-3 hours until they have turned a dark amber color and sweetened considerably.
Add water, scraping up all bits on the bottom.
Add sherry and red wine. Taste the soup for seasoning and allow it to come to a simmer uncovered. As it simmers, the flavor will condense. Continue to taste and adjust seasoning as desired.
Toast bread until very dry.
Add a handful of shredded cheese to bottom of mug, ladle in very hot soup, add bread and then top with more cheese. Cover with lid or tin foil. If preparing over campfire in cold weather (and eating immediately) cheese can be added to the Dutch oven to give it sufficient heat to melt.
The mere thought of winter fishing makes my feet cold. And with all due respect to the ice anglers out there, there's nothing quite as cold as standing in the waist deep water of a mighty steelhead river in the Northwest, swinging flies for hours as the feeling slowly drains from your toes.
Dear Lord, that gives me goosebumps just writing it.
When I first moved to Montana, it was a revelation to me that I could pack up the truck, throw my then-toddler in her car seat and be on a steelhead river by the time the sun hit the water. A hop over the mountain pass into Idaho, and we were ready to fish, come sun or come snow.
But by lunchtime, after the icy chill of the water had seeped deep into our bones and soaked the fourteen pairs of tiny mittens packed for toddler hands, our zeal for what seemed like fewer and fewer fish dwindled into bad attitudes. In recent decades, Snake River basin salmon and steelhead runs have seen a steady decline, putting them on track for extinction. As numbers have declined, so, too, have our opportunities to fish for them. (Learn more about how TU is working to recover wild steelhead and salmon on the Lower Snake).
The best savior for a crabby kid — and a cold, luckless angler — was a warm lunch. And as the saying goes, "If I only knew then what I know now."
Forget the store-bought broth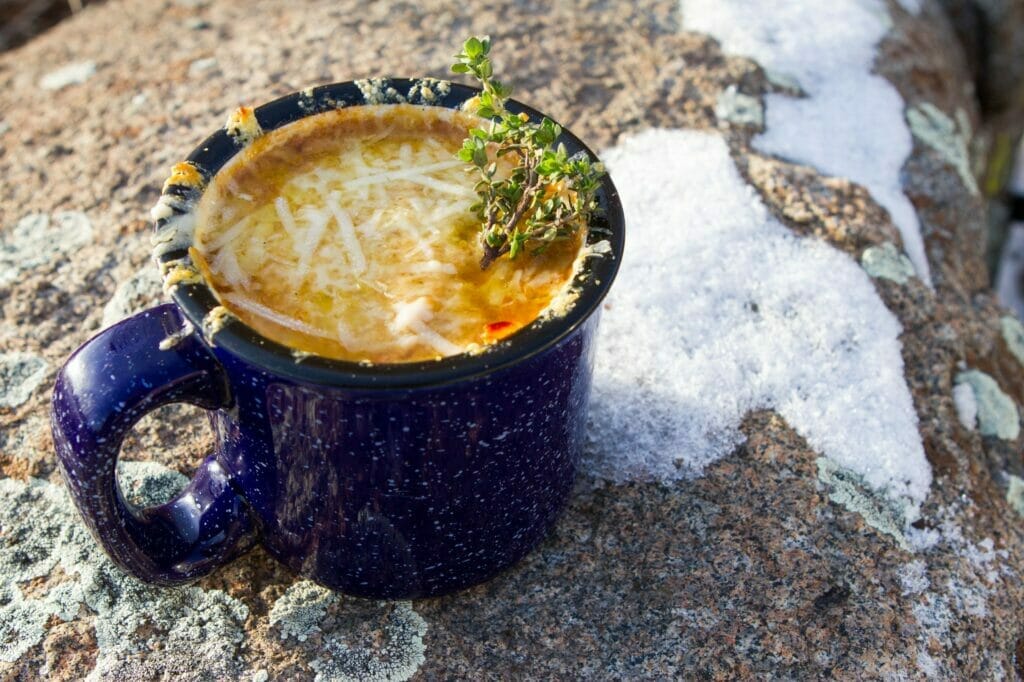 Traditionally a peasant dish, French onion soup has taken a turn for the fancy in modern renditions. Adding broths and herbs and multiple layers of booze, what used to be a model of utility has become almost gawdy.
The trick to the rich flavor of this soup lies in the patience of the preparation. Too short and it tastes like watered down onions. Too long and it's like licking what's left over from the sizzling fajita plate at a Mexican restaurant. The truth is this is isn't something you're likely to crank out before breakfast.
The other truth is, after tasting it, you're never going to stop for the cup-o-ramen at the gas station ever again. A cold peanut butter and jelly sandwich for lunch will be only laughable.
Luckily, French onion soup always tastes better the next day, so preparing it the day before and then warming it over a camp stove on the river is likely your best route — unless you're lucky enough to land one of those steelhead runs that take you hours to fish. In that perfect world, you'd build a small fire, get your onions going on shore and then take short breaks between casts to stir the onions.
No special ingredients here
In this adaptation, we opt for simplicity, drawing from what you might reasonably carry with you on a camping trip, save for sherry. Can't say I know anyone who just packs that around.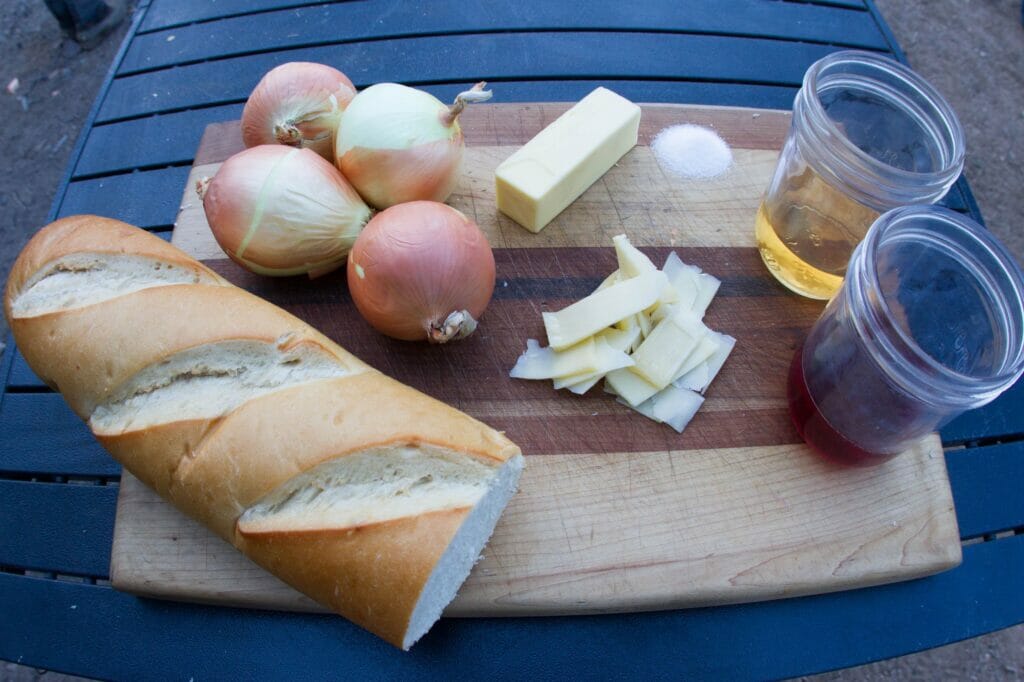 One caveat would be to opt for organic ingredients whenever you can. Many conventional agriculture chemicals and techniques are hard on fish and the habitats which sustain them.
We also account for the fact that many travel mugs that fit easily in a wading pack, are slender in shape. This exacerbates one of the Cardinal sins of this dish: running out of cheese before you get to the bottom.
To accommodate, we layer cheese into the bottom of the mug, add the broth, the bread and then finish with a liberal layer of cheese again on the top.
One quick note on cheese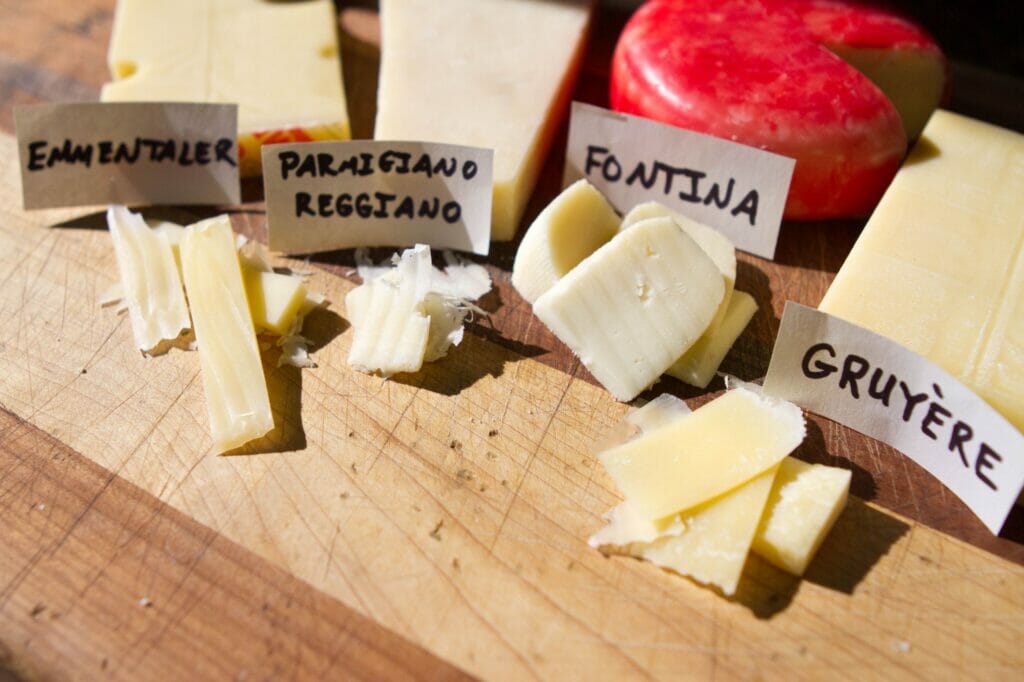 While Gruyere is the go-to for traditional French onion soup, there are other options out there. Eaten cold, Gruyere doesn't have much to crow about. But melted into a hot, rich soup and it transforms. That said, you can't go wrong with something such as an Emmentaler, a Fontina or even just a good ol' hunk of parmesan. No judgement here — pick what tastes good to you and what holds up under pressure.
A few more facts to impress your travel companions
Some people swear by sweet onions, but the truth is once heat is applied, the chemical reaction in sweet onions is the same as yellow. You'll save a few pennies if you opt for the organic yellow onions.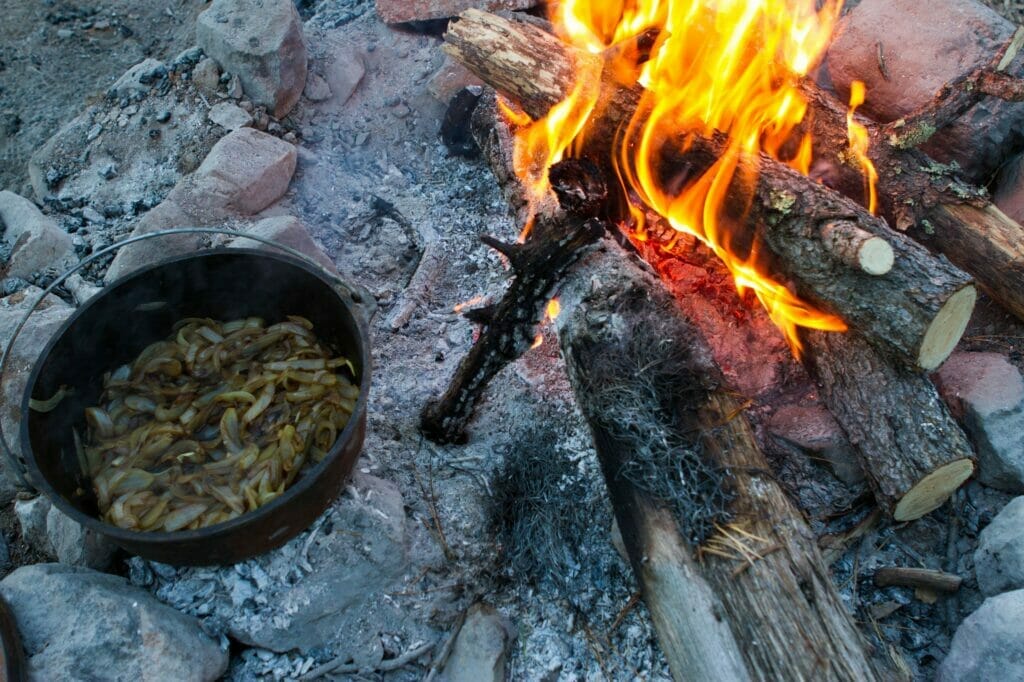 The tears caused by cutting onions is actually the result of a volatile chemical which escapes the onion when it is cut and attacks the nerve endings in your eyes and nose. The chemical then breaks down into hydrogen sulfide, sulfur dioxide and sulfuric acid. Ouch.
Onions take up sulfur as they grow, creating sulfur dioxide which is meant to ward off animals from eating the bulbs. Sweet onions are grown in places with less sulfur in the soil.
The name onion was given to the vegetable by Roman farmers and means "one," "oneness" or "unity." Pretty good foresight into a vegetable that would come to be a connecting culinary thread in cultures across the world.