By Meghan Barker
It doesn't take much time spent in Alaska's largest city to see that Anchorage is a growing hub for women who are taking charge and leading others in the fly fishing community. With access to some of the best salmon and trout streams in the world, the female angling community in Alaska is strong, and growing as new people are brought to the streams and encouraged to take part in the sport. Check out some of the leaders in this community who are providing opportunities for women to participate and grow in fly fishing.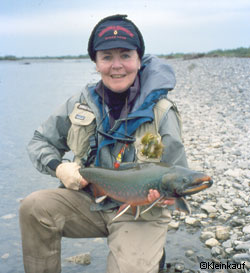 Pudge Kleinkauff:
Cecilia "Pudge" Kleinkauf has been Alaska's leading woman fly fishing instructor, fly tier, and guide, for over 30 years. Renowned for her teaching skills in both fly fishing and fly tying, she has offered lodge-based flyfishing schools and small-group guided trips for women and couples to a wide variety of Alaska's best-known fly fishing locations. Now retired, Pudge will be fishing (of course), promoting her five books, and writing for Fish Alaska Magazine and other publications.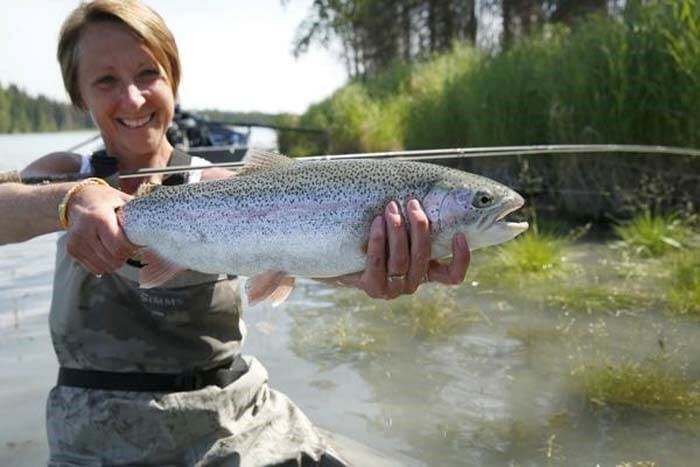 Linda Leary:
Linda Leary is the owner of two Alaska-based, Trout Unlimited Endorsed businesses, Fishe Wear and Women's Fly Fishing. Linda founded Fishe Wear with a desire to bring functional, fashionable and comfortable clothing options to women who fish. Women's Fly Fishing offers classes and guided fly fishing trips across the state of Alaska. Together, Linda's two companies work in-sync to outfit, educate and empower more women to take up fly fishing.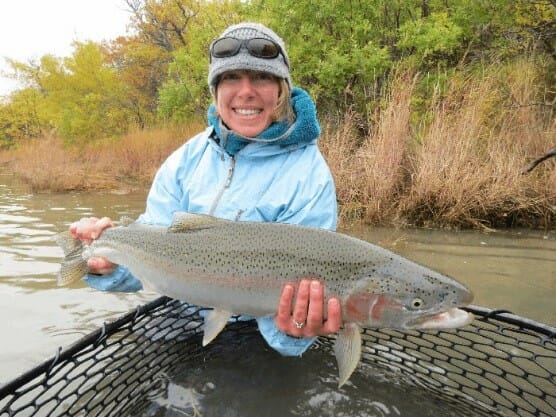 Nelli Williams:
TU's Alaska Program Director Nelli Williams has proven to be a leader in the conservation community while working to bring women in to the growing community of anglers. While leading key campaigns to protect coldwater fisheries in Bristol Bay and streams in the Tongass National Forest, Nelli facilitates programs like the Bristol Bay Guide Academy, bringing young men and women through training to become guides in the world-class recreational fishery that attracts anglers from around the world.
In celebration of the leaders in the community, Trout Unlimited Alaska, Fishe Wear and Women's Fly Fishing are hosting the 2nd annual Reel Spring Fever- Women in Fly Fishing Film Night on Tuesday, May 14, at the 49th State Brewing Company at 6 pm.
All are invited to connect with other fisherwomen, and to kick off an exciting fishing season in the Last Frontier.
Visit the Reel Spring Fever Facebook event to learn more about the event and to RSVP.