In New Mexico, fences protect trout habitat and livestock
It feels great to get out again on TU field projects. A few weeks ago, we journeyed to the Gila to take some stream measurements, and last week we went to the northwestern Jemez Mountains to replace some fence along the Rio de las Vacas.
Our volunteer crew of women and men from regional TU chapters and our partner organization, New Mexico Trout, included permittees from the grazing allotment where the work took place. We were excited to provide relief to a riparian zone under constant pressure from wild and domestic hooves. Rio de las Vacas means "river of cows" for good reason.
I got the feeling that we were more of a hindrance than a help to the Forest Service Cuba District range staff, especially since we seemed so overpopulated relative to the demands of the job, but the Forest Service guys said we helped them surpass their expectations. I'll take that, and to those volunteers who actually knew how to build fence, I tip my hat. You made the rest of us look good.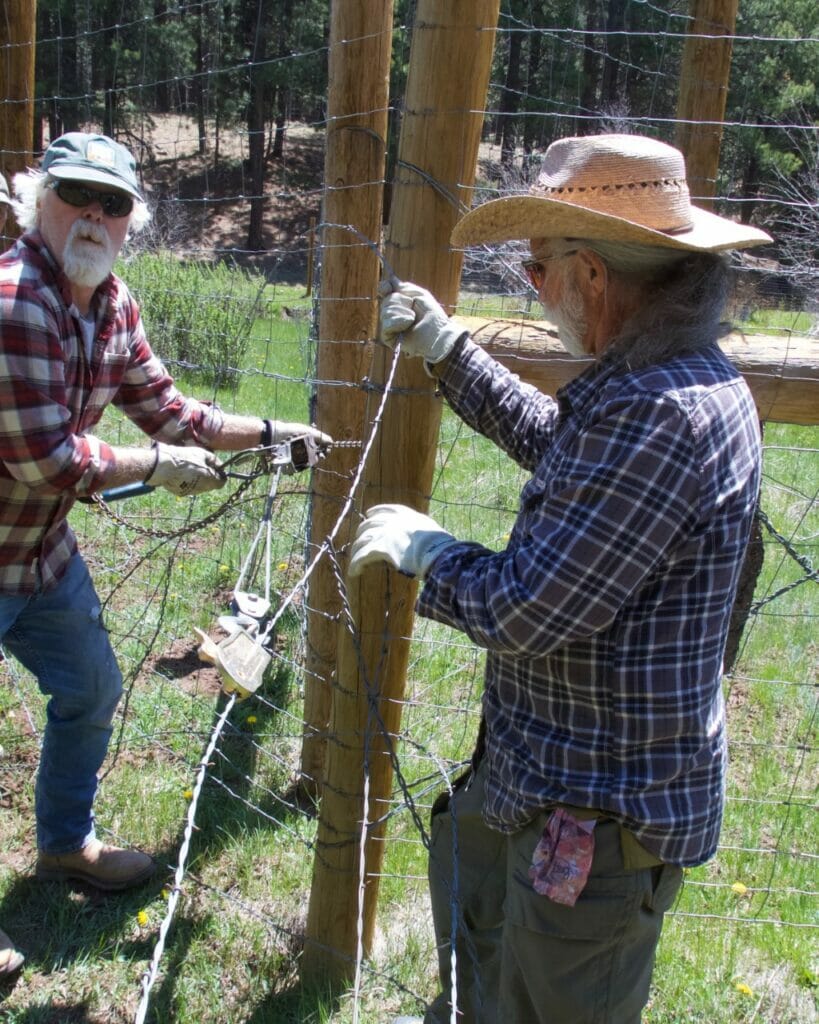 When it came right down to it, the day was simply people having fun. Fishing and hiking are my usual reasons for getting out, but when I think about it, the most miniscule excuse can pull me into the mountains. Along with moving the body and meeting nice and smart folks under a cool blue sky, there's serious value in getting out to improve public lands rather than just complaining that something or somebody is dragging us to hell in a hand basket. The Albuquerque Wildlife Federation, which also turned out for the de las Vacas effort, consistently taps into this constructive energy. Like TU, they do these kinds of projects all the time, and judging from the crowded and smiley pictures they always post on social media, you'd think the volunteers are playing beach volleyball instead of hauling rocks and wielding shovels.
I can't get enough of learning about what happens on public land, be it legal, nefarious or, in the context of grazing in New Mexico, particularly frowned upon. Working hand in hand with interests we don't completely understand — the Forest Service, ranchers, rural towns, other NGOs etc. — offers great, and I would say the only, potential for making peace in an increasingly disharmonious space where recreationists and cattle growers speak with pointed fingers before using said fingers to plug their ears.
We fishermen love how fences keep things out, of streams mainly, but also the riparian areas where we want shade trees and willows to grow. We don't like cowpies and flies, or the erosion that increasingly comes with urban glamping vehicles and their ATV-loaded trailers. In the Jemez region, there's also the looming shadow of the Endangered Species Act and its power to impose restrictions on grazing and recreation if the New Mexico meadow jumping mouse, Jemez Mountain salamander, or Mexican spotted owl are inadequately protected. Fences protect.
An important, though less appreciated aspect of fences, is how they keep things in. Many believe that ranchers are only too happy to let their herds run free, and while this may be true for certain producers, others can measure a downside in straight dollars and cents.
For several years, TU's New Mexico chapters have worked with two proactive grazing groups (San Diego Grazing Association and Cebolla/San Antonio grazing permittees) that attribute much of their success to sound fencing. In their minds, lost cows rob time from other tasks. In Jemez country especially, chasing an animal calls for a man on horseback or, in rougher canyons, on foot. It's dangerous work that costs sweat and money. Ignoring a runaway is the least favored option for the grazers. They prefer ranching to fighting environmentalists and the Forest Service over something as preventable as a gate left open by hikers or fences in poor repair.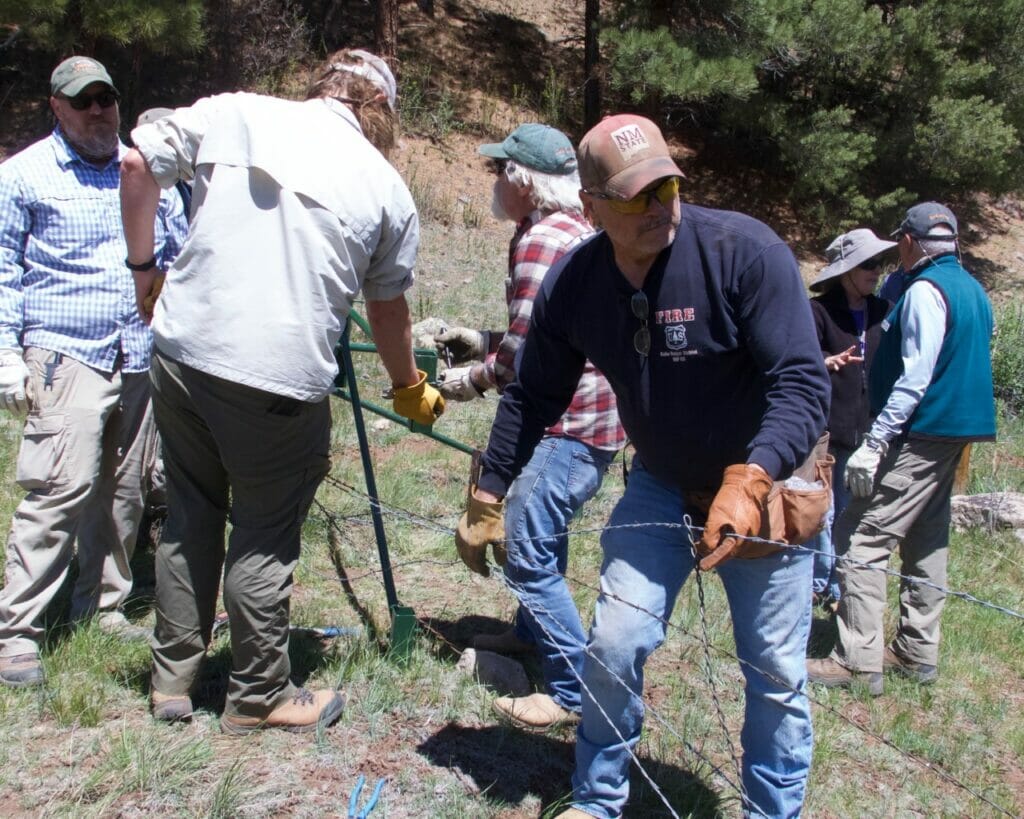 The San Diego Association demands rigorous participation from its members, including thorough fence patrols around each pasture before it gets stocked. The association communicates frequently with TU, putting volunteers to work on fencing and other projects. With TU's help, they've purchased chainsaws (battery-powered to enable operation during fire restrictions) for cutting fallen timber off their fences and clearing routes leading to drinker sites.
Everything adds up, as efficiency or as waste. I'd like to think that every day we trout bums work with ranchers frees up another for deferred maintenance on the allotments. Depending on which side of the fence we're on, I like seeing the results of our combined efforts as clean water or high grass. Maybe we see the work as both, or better, as friendship and trust. A fence goes up as another comes down.
Toner Mitchell is TU's water and habitat coordinator in New Mexico.