By Jacob Commer
One can only explain a passion for fly fishing to a chuckling audience so many times before a chip starts to form on your shoulder. It doesn't help that our boats are rental canoes or secondhand rafts, rather than Bass Trackers.
Such is the burden of a fly angler in north-central Mississippi.
Fortunately, we found strength in numbers through the Ole Miss Fly Fishing Club. And a sanctuary a short drive away in the shadow of Bull Shoals Dam.
To kick off our second semester as an organization, our 5 Rivers Trout Unlimited college club made its first official venture to Cotter, Ark., on a cold and clear weekend back in January. Nine of the club's 23 inaugural members made the trip, sharing a cabin over the Martin Luther King holiday weekend.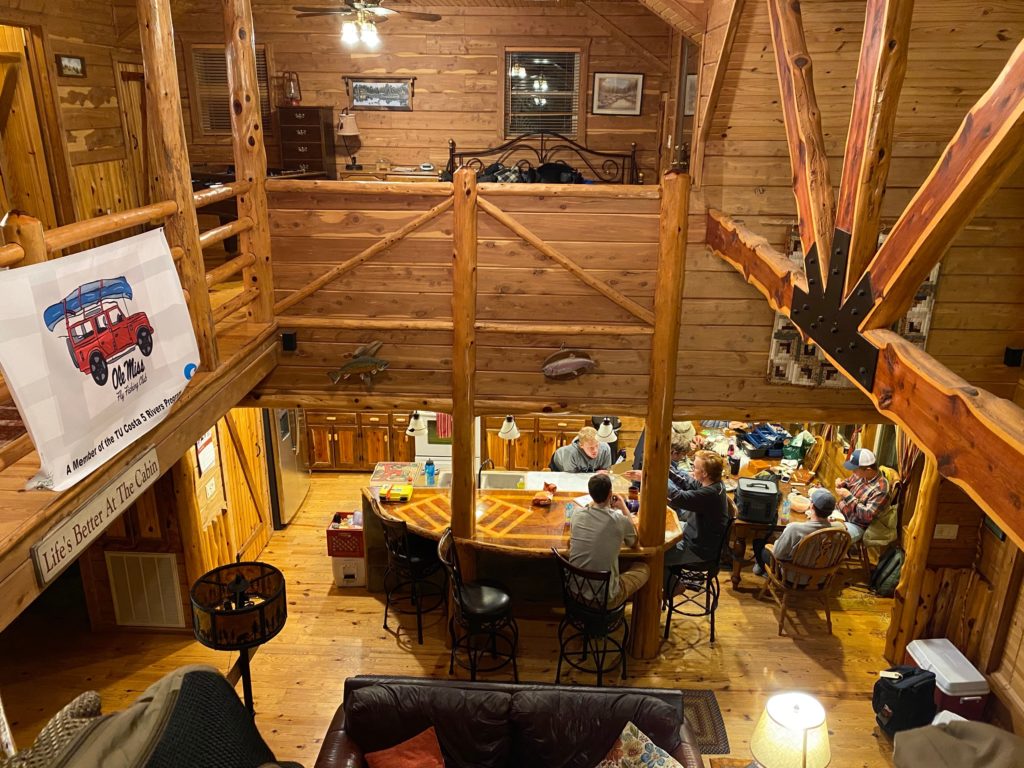 The A-frame cabin we called home sits on a ridge overlooking the confluence of the White and Buffalo rivers, each river renowned for its own variety of brown fish (trout and smallmouth bass, respectively.) These fisheries are enjoyed by fly and conventional anglers alike, though at times they can be totally baffling to both parties. It's refreshing to suffer in community, rather than being steadily outfished by soft plastic lures on bass lakes.
Each day, we navigated 26,000 CFS of tailwater on a fleet of the White's signature ride: flat-bottom fiberglass jet sleds. There was an exception — a trio of stubborn anglers who bobbed around the river in a whitewater raft which had been outfitted for fishing. You better believe the raft crew got an earful from Ben, Steve-O, Gabe and Dirty Martin (local guides and proprietors of the aforementioned sleds). Chips on the shoulder took the form of a bright blue NRS raft that weekend.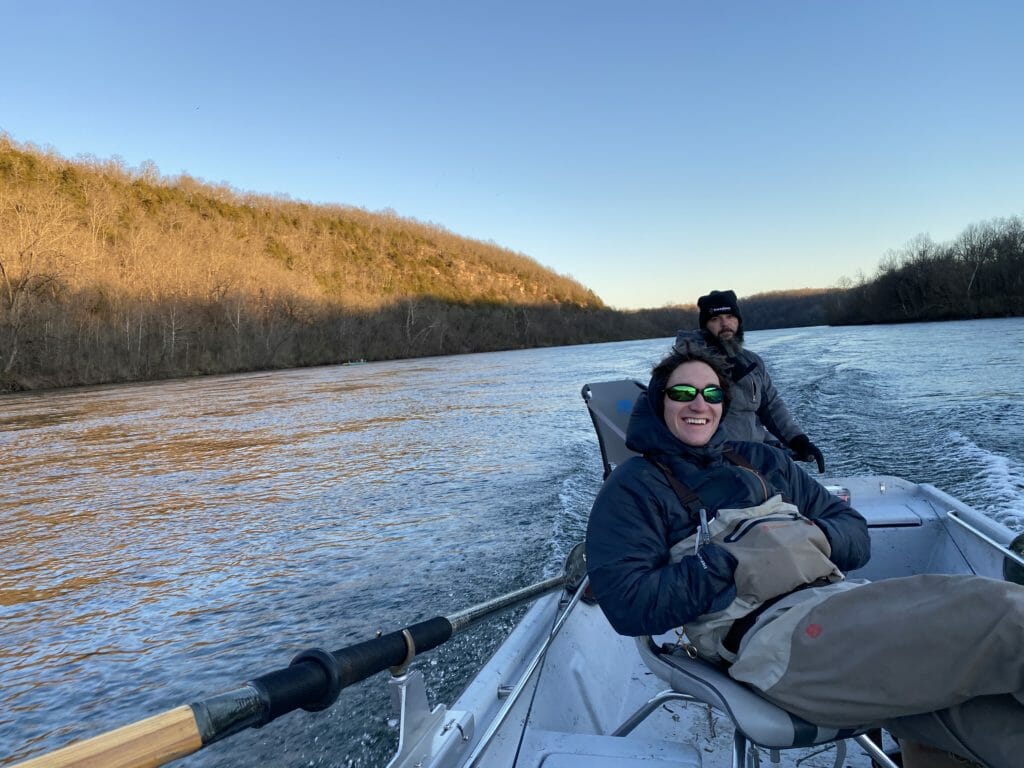 We knew it would be cold and the fishing could be slow regardless of tactics, so streamer fishing got the nod. We figured slinging streamers would be less boring than watching a bobber and the constant motion might have even kept us slightly warmer. We fished hard, throwing 4- to 8-inch flies on full-sink lines sunup to sundown both days. Banks were pounded, fly lines were lodged in and recovered from trees, and big streamers were engulfed by brown trout.
Depending on who you ask, the guides said we probably brought in 100 total inches of Arkansas brown trout, but the fishermen in the hottest boat of the trip might tell you it was 150. For some anglers, the trip was their first glimpse at the White River, and for others, their first brown trout landed. Some have been fishing in the Ozarks for a decade or more, with a few guiding anglers to the region's smallmouth and trout on breaks in classes. One thing was certain by the end of the long weekend: we all love it there, and we will be back.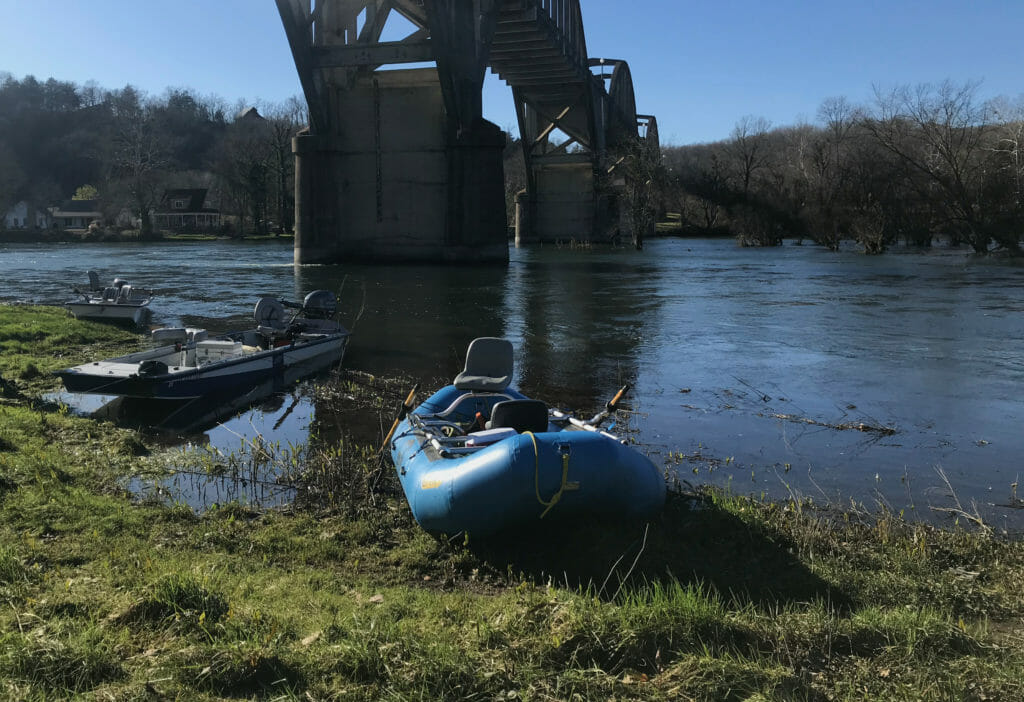 Appreciative is not a word often used to describe college students, but that is exactly what we are. We're glad to have fisheries like the White River a short drive away (and some "meh" bass ponds much closer), and we're thankful for a group of likeminded people that want to share them. We even welcome the bait shop inquisitions — they give us an excuse to talk about fly fishing.
Jacob Commer is president of the Ole Miss Fishing Club chapter of Trout Unlimited's 5 Rivers college program. He encourages those interested to follow the club on Instagram at @olemissflyfishing