Bipartisan opposition to the mine gives the president ammunition to deny Pebble permit
Today, in The Wall Street Journal, sporting groups from across the country once again delivered the message to President Donald J. Trump that Bristol Bay is the wrong place for the Pebble Mine.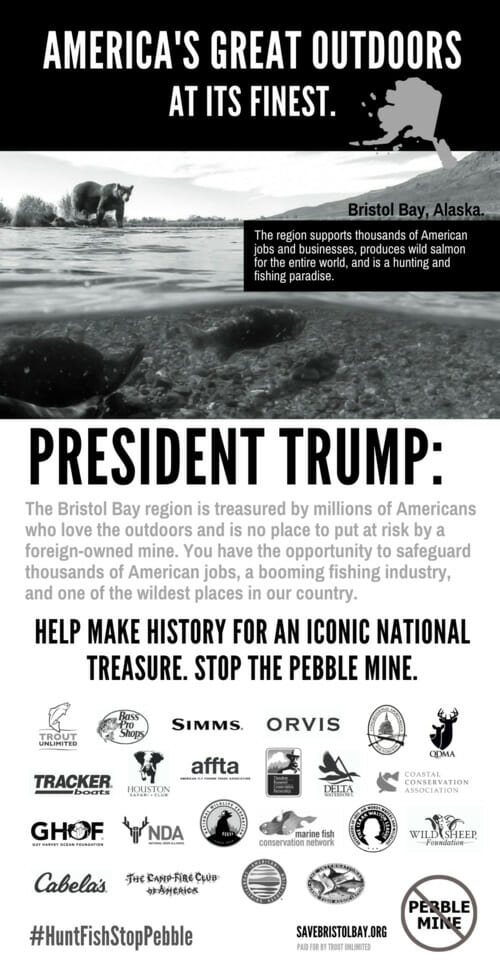 The ad, signed on by 22 of the largest hunting and fishing businesses and organizations in the country, directly calls on the President to deny the Pebble Mine its key federal permit. With the release of the Final Environmental Impact Statement on July 23, a decision on Pebble's permit could be issued as soon as Monday, Aug. 24.
The President has the power to direct the U.S. Army Corps of Engineers to deny Pebble its permit, a decision that sportsmen and women from across the political spectrum have repeatedly requested.
Following a host of influential Republicans speaking out against the Pebble mine in recent weeks, on Friday, FOX News host Tucker Carlson aired a segment on the opposition to the Pebble Mine from sportsmen and women. He was joined by CEO of Bass Pro Shops, Johnny Morris, who spoke about American unity in conservation, and the sporting paradise that is Bristol Bay. Watch the segment below (and look for his Trout Unlimited shout-out at the end).
Tucker Carlson is now the newest in the long list of influential Americans who see Bristol Bay as a critical place to conserve for the fishing and hunting resources it provides. Each addition to that list adds pressure on the President to deny Pebble's permit. With the clock ticking, it's up to all of us — no matter our political affiliation — to speak up now for Bristol Bay.
Take action now- join us in calling on the President to deny Pebble's permit today.