By Chris Wood
Do not fall in love with a walleye fly–at least not in Ontario because here there be monsters. Northern pike, with scores of needle-sharp teeth are a toothy circumpolar fish that occupy habitat from Siberia to Alaska to Wisconsin, and in Canada share much of the range of walleye. A pike's teeth point toward its gullet, so the more its prey struggle, the closer to its death it comes.
I learned this the hard way on my first day at a remote lake in Canada. I tied a fly on a #4 hook with a white body, white marabou tail, and a collar topped with a menacing looking red and black bead head. I will not lie. I thought that fly my coolest. Ever. On my first cast, I felt a tug, set; and then, nothing. On another cast, I put my fly in the water to strip line from my reel, only to have a pike swim along and break it off.
So began a pattern. Keith Curley, our Vice President for Eastern Conservation, and I fished all day, and then tied at night; trying to determine 1) how to avoid the pike (except when we wanted to catch them) and 2) how to catch walleye on a fly.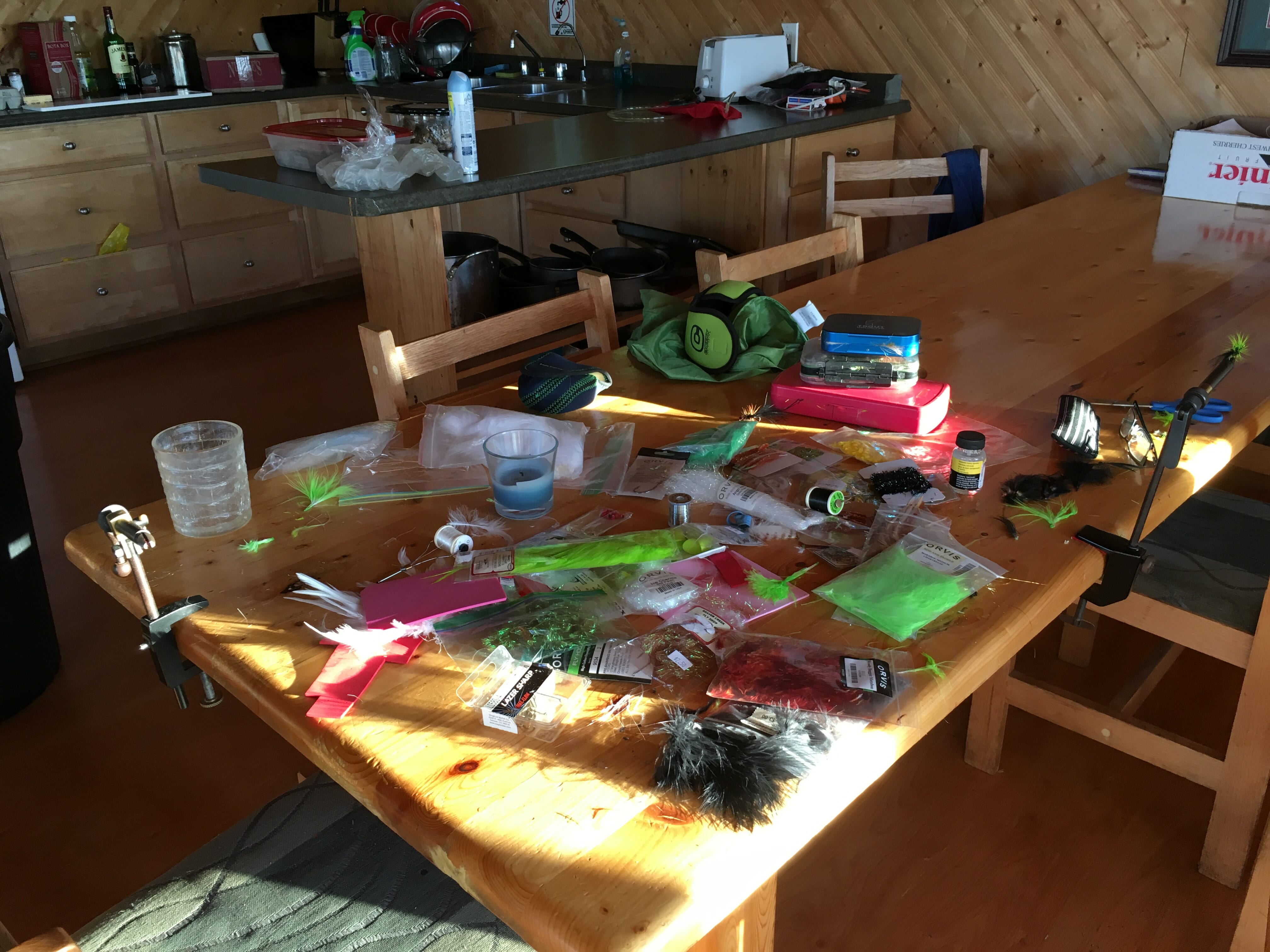 The water quality in our wilderness lake was very clear, so I used a six foot 1-2x leader; and 2x doesn't leave a lot of room for error with the "wolves of the lake" swimming around. We never completely figured out how to avoid the pike, although we did find that a slower retrieve, while not fool-proof, was effective at both avoiding pike and catching walleye. The most effective strategy was to use full-sink line with a 7-weight rod, cast downwind, and allow the motion of the boat to carry you and your fly; and then to almost jig your fly back.
I imitated Mike Dombeck, a walleye whisperer who guided for 11 years before he led both the Bureau of Land Management and the US Forest Service. While spin-fishing, he is a man of constant small motions as he jigs. So, I learned to lower my rod tip near the water, and then jig it six inches upwind two or three times, and then take up the slack created by the jigging motion while lowering my rod to the water again.
It is very important to stay in constant contact with your fly, as the walleye has a gentle bite. If you ask yourself "is that a bite, bottom, or weed?" Set the hook, it is just as likely a walleye.
I spent many evenings tying flies in anticipation of the trip. By the fourth day of fishing, we ran out of hooks and bead heads. I started pulling the tails of those home-tied flies with pliers, and cutting their bodies with a sharp knife.
We decided that brighter patterns worked in deeper water and on dark, windy, or stormy days while darker patterns worked better in shallow water and on bright days. We also found that an extra long marabou or rabbit fur tail along with a weighted head best stimulated the jigging motion to which walleye, crappie, and other fish are attracted.
By the end of the trip, the flies were fishing as well as the twister tails, and almost as well as the bait. On the last day, I fished a zonker-like streamer made of yellowish barred rabbit strip tail that imitated the very small yellow perch that seem to be the prey base for both the pike and walleye. That fly caught a passel of walleye, and survived landing six pike. It did not survive the seventh.
I looked at the cleanly cut line and realized that whether you target trout, walleye, pike, or even bluegill, fishing is the same the world-over. It is about spending time with friends (or alone) in beautiful places, learning, and learning to slow down and trying to figure out, and then appreciate, the wonder of nature.
Chris Wood is the president and CEO of Trout Unlimited. He lives in Washington, D.C., and works from TU's Arlington, Va., headquarters.