I tie flies like I play guitar. Poorly. An occasional creation will resemble a known fly, and an even more occasional fly will fool a fish, but my skills as a tyer are limited. That may explain my fascination with really-good tyers—people who can create, with a combination of fur, wire, tinsel, and feathers, creations that catch fish.
Dozens of TU members and chapters from all over the country sent in boxes and padded envelopes filled with flies—more than 400. The Pennsylvania Fly Fishing Museum included artfully rendered classics. The Maine Council of Trout Unlimited sent colorful streamers—useful works of art—meant to imitate smelt and other baitfish. John Schollenberger, a winner of the 1976 Buz Buszek Memorial Fly Tying award sent impossibly small size 32 gnats. I showed them to one of my sons, and he said, "where are they?" Tradd Little, a 13-year old fly tying machine gave my assistant, Liz, a passel of flies when she visited the Mountain Bridge (SC) chapter. The one fly I did not display was from Connor Curley, Keith's 5-year-old son, who sent the offering below—that one, I kept. (See pic)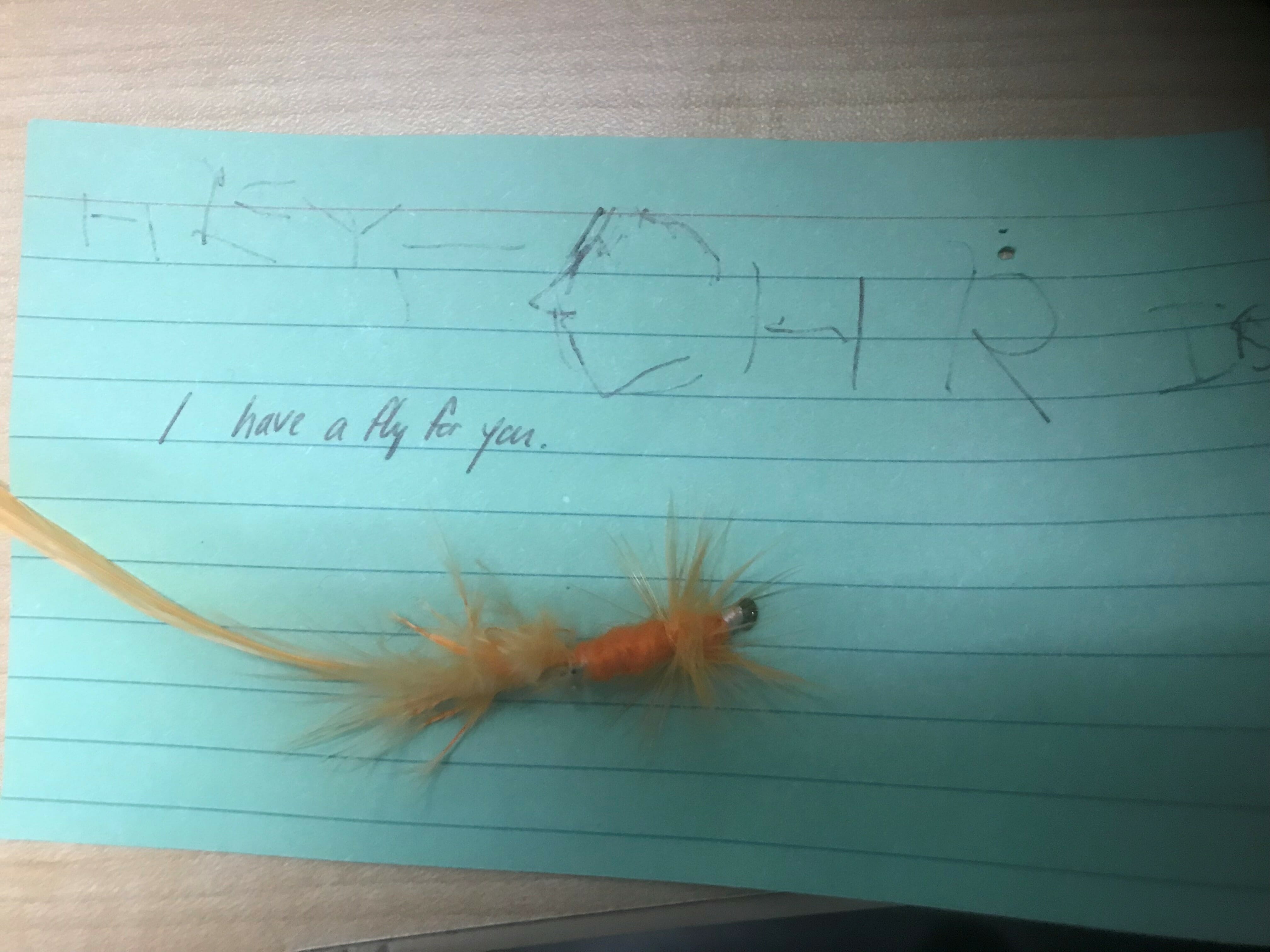 These, and many more flies are on display in shadow-boxes that hang in the conference room of the intergalactic headquarters of Trout Unlimited. My friend, Pete Hobbie, who helped me build a guest house at our place in West Virginia, made the cases. His shop is also building another box that will display three fiberglass, bamboo, and graphite rods made by the late Art Neumann—Trout Unlimited's last founding member—and his garage, cum Wanigas Rod Company (Wanigas, by the way, is "Saginaw," Art's hometown, spelled backwards).
The flies are lovely, and colorful. They remind us of the luminaries of our sport. Lefty's deceiver is an homage to Lefty Kreh, and his pursuit of stripers in the Chesapeake. The Megan Boyd is a salmon fly named after a woman who received the British Empire Medal from Prince Charles. Dave and Emily Whitlock are two of my favorite people in fly-fishing, and Dave has invented more flies than I have tied. All are represented in our modest collection.
Many of the flies are works of art, although I did manage to sneak in a carp fly from my 11-year old son, Casey. The rods, generously donated by Michigan volunteer stalwarts Robb Smith and Jake Shinners, are also works of art, lovingly crafted by one of the giants of Trout Unlimited. My hope is that none of these rods or flies ever find their way to water. Instead, they will serve as a reminder of our roots as group of fly-anglers who grew tired of fish stocking being used to mask the loss of fish habitat.
Fly tying and rod-making require patience, skill, and commitment—the very same ingredients that make good conservationists. As a nation we tend toward forgetfulness. The flies and rods recall the long history of fly-fishing. They are a reminder that our connection to conservation is not ephemeral—not a passing fancy. It is as real as a mother teaching a young daughter to fish; as a father who can only connect with his teen-age son on the water. These flies and rods remind us of remote rivers, bad coffee, long drives with friends, and the passion that comes with the desire—the absolute need—to protect and restore the places we live, fish, and love.
— Chris Wood