Paint Creek restoration highlights chapter partnership potential in metro Detroit.
"It's hard to believe there's a trout stream 10 feet from this road," remarked Joe Bruce, conservation committee chair for the Vanguard Chapter of Trout Unlimited. "It's pretty unique."
We stood at a crosswalk waiting for heavy traffic crossing a bridge over Paint Creek in the middle of Rochester Hills, Michigan – a northern suburb of Detroit in heavily-populated Oakland County – with Michigan Trout Unlimited aquatic ecologist Kristin Thomas, Clinton River Watershed Council (CRWC) executive director Jennifer Hill, and CRWC watershed ecologist Mikela Dean.  
We'd just toured the results of the chapter's Paint Creek restoration project, which the chapter, contractors and volunteers finished early after a little over a week of installing in-stream habitat to transform relatively flat, featureless stream stretches into riffle-pool-cover habitat. This work also helped reduce bank erosion threatening to undercut the Paint Creek Trail, a gravel rail-to-trail that parallels the stream.
"I live five minutes from the creek, so I can go right after dinner to wet wade and fly fish for trout, and sometimes I'll have as good of luck as when I'm up on the Au Sable," Bruce said. "It's a blast on a 3wt. You're not getting those long casts, but in the spring, you fish wooly buggers, then you match the hatch, then it's hopper-dropper time – it has it all."
Paint Creek is not like the iconic trout streams of northern Michigan: places like the Au Sable, Pere Marquette or Pigeon River. However, it is the most accessible trout stream to a majority of Michigan's population and one of the very few in southeast Michigan. The Michigan DNR annually stocks brown trout, but natural reproduction occurs, too. It's a small stream with heavy streamside vegetation that likes to steal flies from errant backcasts, where short, accurate roll-casts rule the day.
"Paint Creek is really a hidden gem," said Hill. "It's a place where people can recreate close to home and not have to drive somewhere else for that experience."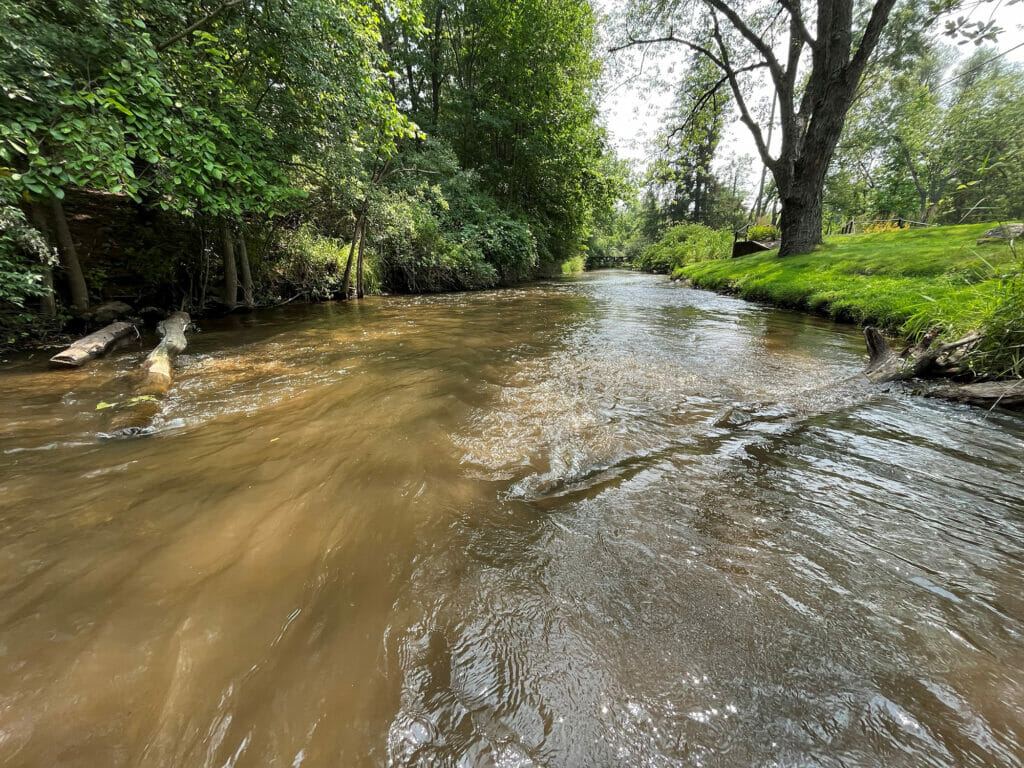 The Vanguard Chapter of Trout Unlimited considers Paint Creek their home water. In 2016, Michigan Trout Unlimited's executive director Bryan Burroughs and aquatic ecologist Kristin Thomas conducted an evaluation of the 17-mile cold-transitional stream to assess its habitat potential and deficiencies. The Vanguard Chapter took that report and ran with it.
"We call it habitat mapping," Thomas said. "We have reports like that for streams throughout Michigan and what happens is that my team will float the entire section of the stream or river and coarsely map habitat features in it."
Eli Stanesa, then conservation committee chair for Vanguard TU, brought the report to the committee and the chapter used it as a roadmap for improving the habitat in Paint Creek. They did this by focusing on the flat, slow, wide sections lacking many trout habitat features and adding vanes to channel current, divert sediment and create structure and riffle-pool sections, while simultaneously reducing streambank erosion creeping toward the rail-trail above.
Working with Thomas and Michigan TU, they hired Aaron Snell, owner of Streamside Ecological Services and a member of the Schrems West Michigan Chapter of Trout Unlimited, to lead the design and installation of log vanes, angled at 20-30 degrees upstream, over two phases completed in 2019 and 2021, as well as this third phase.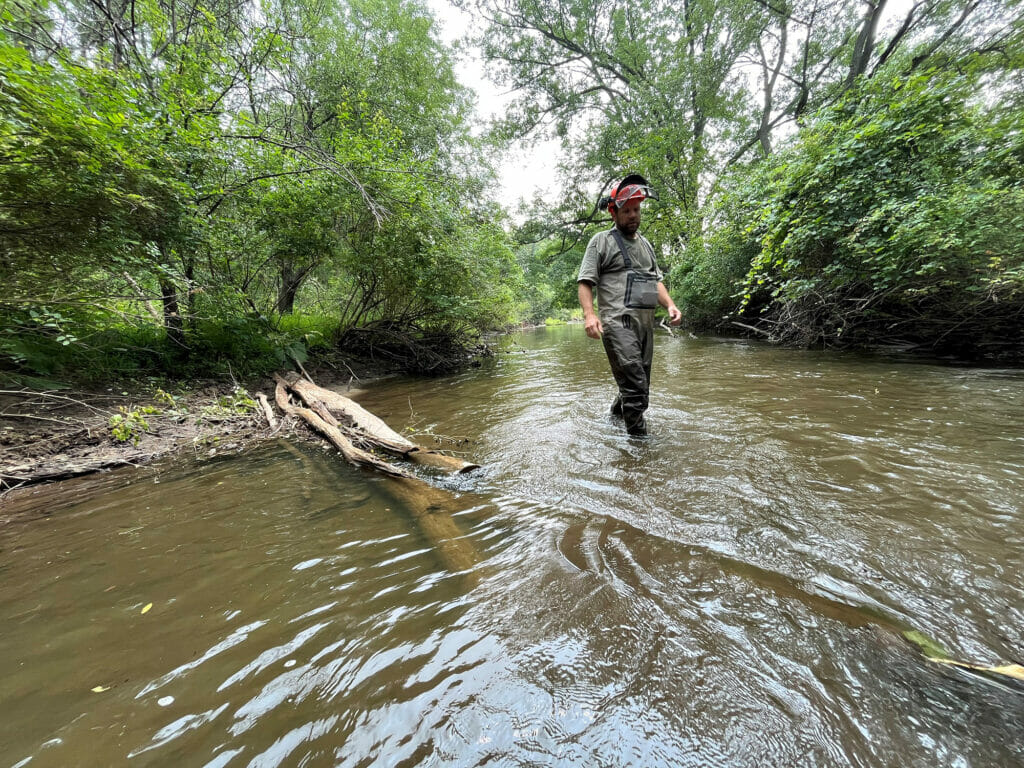 "When we did the first project, we weren't sure it was going to have a significant impact," Thomas said. "That wasn't the case at all. It worked really well, both in terms of river health, habitat diversity and for the volunteers empowered and invested in their waters."
The results of the first two phases were apparent; as new streambank built up on the trail side where vanes were anchored, riffles emanated from them, and channels and pools formed in the meandering stream sections. The third phase continued this work on a single stretch of stream longer than the first two combined, about 1,800 linear feet.
The third phase consisted of 61 logs, cut streamside or dismantled from logjams and anchored in place into the substrate with sledgehammers and steel rods. The physical installation took place over two weeks, but significant planning and fundraising across multiple project partners occurred over the months beforehand, building upon the success of the first two phases of the restoration initiative.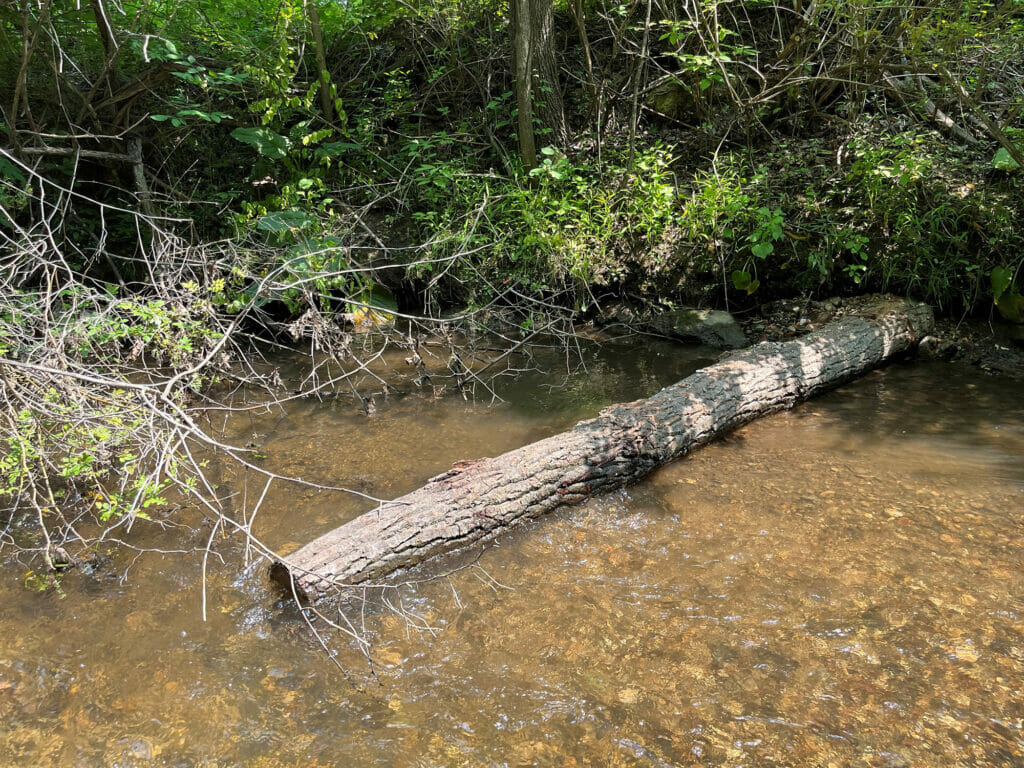 While one side of Paint Creek is paralleled by the public Paint Creek Trail and most falls within the former railroad easement, the other side is occupied primarily by single family homes. Joe Bruce worked with the landowners to secure permission to access their side of the creek and, critically, local support for the project.
"I saw some of the work they were doing downstream, and part of what I like is that it benefits me because they're reducing some of the erosion problems and making the stream contain better habitat for trout," said Jeff VanHoorne, one of the riparian landowners. "That's all good."
Multiple TU chapters chipped in to help with the cost of the approximately $20,000 project, including the Clinton Valley Chapter of TU and the Challenge Chapter of TU. Michigan TU and the CRWC, headquartered locally in Rochester, supplied staff members to help with the labor. Finally, the U.S. Fish and Wildlife Service provided funding through its Partners for Fish and Wildlife program, which leverages Farm Bill programs to provide funding and technical assistance to landowners and NGOs for fish and wildlife habitat improvements.
"The impact is pretty significant on a stream of this size," Bruce said. "There's an opportunity in projects like this for chapters to work together using simple techniques with manageable budgets and make a big difference for local habitat."