By Brett Prettyman
Each year about this time fly fishers find inspiration to stock those boxes they had grand intentions of filling over the winter months. It is called the Fly Fishing Film Tour, also known as F3T.
What started as a celebration of a beloved sport has grown into an annual event drawing anglers to theaters, meeting halls and brew pubs across the country for 13 years. Roughly 5,000 people attended 20 shows during the inaugural tour in 2007. Organizers have 180 showings scheduled this year and expect more than 85,000 people to see F3T, as it is often called.
Trout Unlimited is a proud long-time sponsor of the tour and encourages anglers to get to a show for a great lineup in 2019.
TU is particularly proud to have sponsored the production of a very special film, at least in our eyes, included in the F3T lineup this year. Trout Unlimited helped from the national level, but it was contributions from the Wyoming Council of TU and the Jackson Hole Chapter of Trout Unlimited, among other sponsors, that truly made "The Return" possible.
Dave Sweet is a Trout Unlimited member based out of Cody, Wyoming, and important part of the East Yellowstone Chapter of TU. About a decade ago Dave decided to get involved with efforts to try and protect the declining population of Yellowstone cutthroat in Yellowstone Lake due to the appearance of nonnative lake trout into the ecosystem. He's been serving as a volunteer coordinator for TU on the project ever since.
Dave Sweet hooked up with a Yellowstone cutthroat trout that may not have been there if it wasn't for his efforts to restore declining populations in the Yellowstone ecosystem. KGB Productions photo.
In the summer of 2018 Dave and his daughter, Diana, journeyed to the headwaters of the Yellowstone in an area known as the Thorofare to see if they could find the once strong spawning runs of the famous cutthroat.
A crew from KGB Productions out of Jackson, Wyoming, went with them to document the trip.
"Going into the Thorofare was an incredible experience," said Chris Kitchen, producer/director of the film. "It was a spot I heard about for decades and, even though we live close, it's a difficult spot to get to that requires some time."
Chris had the idea to do a film several years ago when an outfitter friend told him the big spawning cutthroat were returning.
"Once we became aware of Dave's story that changed everything and gave us a way better story and a direct line to someone working on the forefront of the issue," Chris said.
This was the second trip into the Thorofare for Dave and Diana, who works as a fisheries biologist for Wyoming Game and Fish and used the trip to collect genetic data from the fish they landed, but the first time for Chris.
"We have been to some very remote places in our careers and this felt as out there as any place," he said. "Although we didn't see any bears, it was very obvious bear were all around us and leaving fresh signs daily for us. And yea, there are a lot of mosquitoes, a lot."
The F3T is an action packed show causing anglers in the audience to "oooo" and "ah" like it's the Fourth of July. Mixing conservation into the lineup took a special film. We at TU feel "The Return" fits the bill. So do others.
"The Return has been a fan favorite already; it's an amazing story, one we our glad to share with people across the country," said Doug Powell, co-founder of the F3T crew. "Kudos to Trout Unlimited to showing our audience a gorgeous film and an incredible story of conservation through the passions of a true hero. People will not want to miss this on the big screen."
Other films on the tour this year include fishing in British Columbia, Australia, Florida, a road trip from Alaska to the East Coast, the Seychelles, Anaa Atoll, Florida and South Dakota (in a film only Hank Patterson himself could pull off).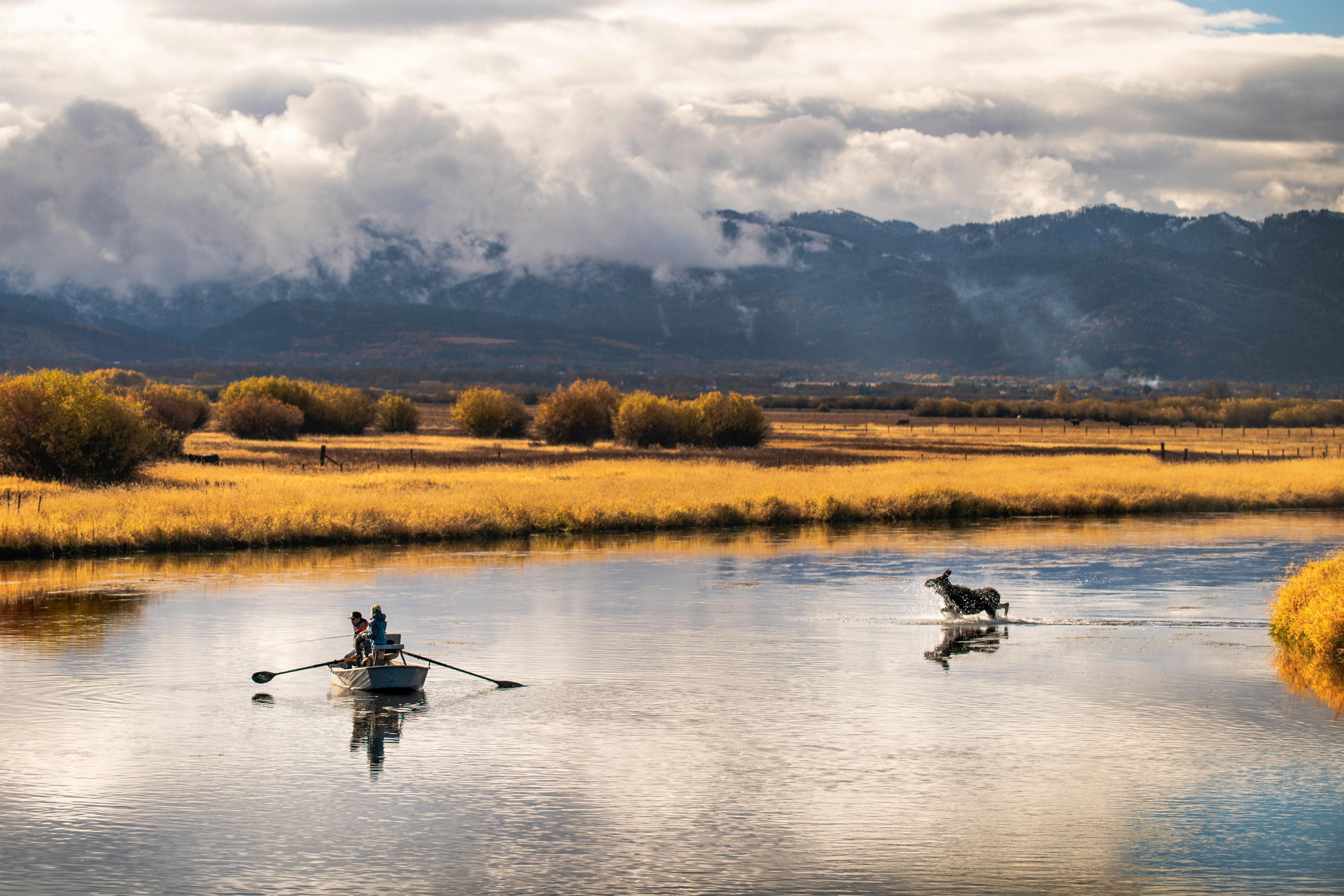 Young anglers fishing the South Fork of the Snake in Idaho have a hard time focusing on the fishing with a moose splashing around being the dory. NexGen Idaho – Arian Stevens
There are also two film from Idaho – one called NexGen featuring some serious fly fishers getting after it on the South Fork of the Snake River and another from the fabled Henry's Fork telling the story of Karlie Roland's emergence as a fly fisher and her eventual return as a guide to the place where it all started.
For the founders of the tour getting people to sit and watch others traipsing around the globe in pursuit of tight lines is about more than entertainment, although it certainly qualifies.
"Since its inception we believe roughly $2.5 to $3 million has been raised for conservation and charities through F3T shows," said Doug Powell with the F3T crew. "Trout Unlimited chapters are hosting, or involved with, 120 shows in 2019. We couldn't this without the support of TU. We are incredibly proud of our long partnership. It is wonderful to connect through our shared passions and core values."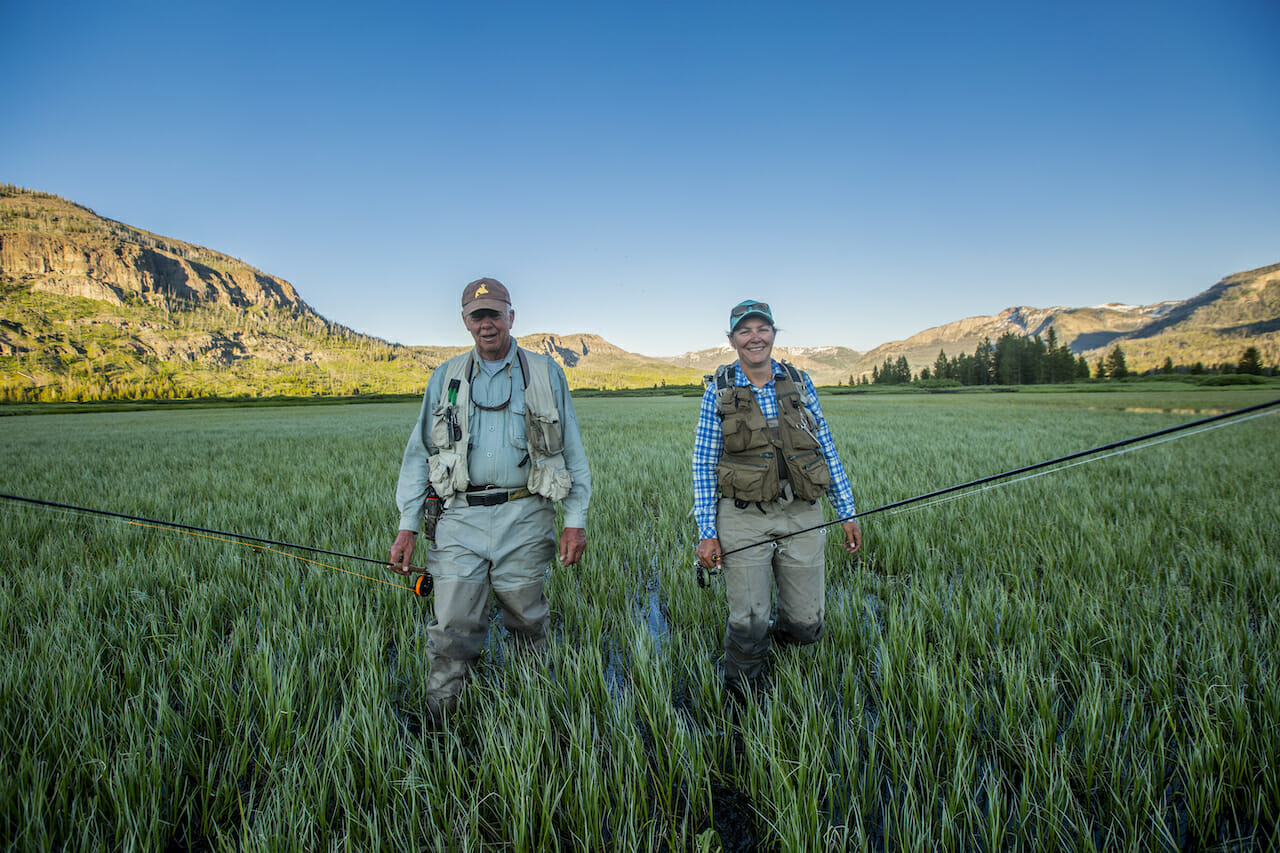 Dave Sweet and Diana Miller celebrate a successful journey into the Thorofare. KGB Productions photo.
So, get out and catch the tour – if nothing else it will help motivate you to tie some flies and plan some epic trips. Here's the schedule for the 2019 tour. For those interested in donating to help TU continue our efforts to control lake trout in Yellowstone Lake visit the Wyoming Council webpage.
Brett Prettyman is the Intermountain Communications Director for Trout Unlimited. He is based out of Salt Lake City and makes the trip to Yellowstone often.