"Dad, look!" I followed Wylie's arm and saw a big bald eagle perched in a tree. It was one of 10 sightings that week. Wylie, 13, has grown taller than my 6'2". When we go back-to-back, it is only a mother who remembers her first baby, and his hyper-competitive brothers who refuse to allow their older brother to be taller than I.
He is a quiet kid, and, as is likely the case with all first kids, I worry about him. Perhaps because he is always the first; first to go to school, first to play a sport, and this year, first to go to High School. Perhaps because he is so careful and never went through the goofball phase within which my own brothers claim I remain. Perhaps because he simply keeps such close counsel. He's a very good baseball player and athlete with broader shoulders but similar features to mine. Until this fishing trip to Canada, unlike his younger brothers, he had rarely been overnight alone with just me.
We were on the fourth day of our trip to Shabuskwia Lake in Ontario Province when Wylie spotted the eagle. Walleye and pike were the catch of the trip with an errant yellow perch and white sucker. We fished for seven days with my old boss, Mike, two of Mike's nephews, and kids aged 21, 17, and another 13-year old.
Although I love to spin-fish, I stubbornly insisted on fly-fishing for walleye. The pike were a lot more willing on the fly than the walleye, initially. Three tricks improved my productivity. First, I used a full sink line with a weighted clouser-minnow. After Wylie mastered the art of jigging with a twister tail, on the fourth day, I sheepishly added the end of a twister-tail to my clouser. That worked well. But the superior innovation was sweetening the streamer with a little leech. Purists would turn up their nose, but for catching dinner, it worked.
We slept two to a room, and fished two to a boat. At bedtime, Wylie would say, "hey Dad, think we should go to sleep?" I would wake, and remove the book perched on my chest, and we would turn off our headlamps. Other than having the Canadian fish police fly-in to check our licenses, and then losing our way before Wylie remembered a feature on the lake and guided us back to camp, we fell into a set-routine. Breakfast. Make lunch. Clean up. Fish-hard. Play catch in the evening. Have dinner. Clean-up. Plan for the next day.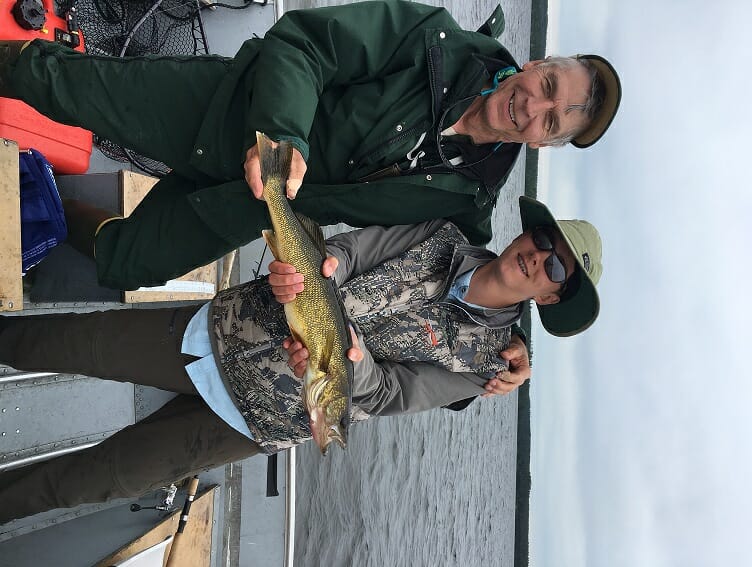 Mike wanted to switch fishing partners each day, but I guarded my time with Wylie. On the fifth day, Mike and I fished the afternoon together. Before he entered the Forest Service, Mike was a walleye and musky guide in Wisconsin for 11 years, so we caught plenty of fish. After a while, we were surprised to see another boat on the lake. It was Wylie and Joe, the 17 year old. We could hear them hooting and hollering and catching fish.
We went back to camp on the heels of a storm. Joe and Wylie came in right behind us. They then proceeded to clean the day's catch. On the last evening at camp, I fished with Mike's nephews, and we caught our limit in two hours. When we got back, Mike already had the kids pull the boats, clean the house, and pack bags for the morning's flight out. Mike came up to me and said, "Wylie and the kids were running around, and having fun. He's a great kid."
Before the trip, many told me how Wylie would remember this trip for the rest of his life. I hope so. But in a funny way, I think it was more important for me than Wylie. I will never stop worrying about him, but think Wylie will be just fine.