Patience is a virtue that humans have collectively had to learn over the course of the last three months.
Patience looks different for us all. For some, it comes easy. For others, patience is our biggest daily challenge. But as anglers, it's a concept that we know well. After all, many of us will wait all day for a tug on the line or a single bite at our fly. And when we don't get either of those things, we come back and practice patience again the next day.
In Alaska, patience is a necessity to thrive here. We wait for the sun to come back, only gaining a few minutes of daylight each day after Winter Solstice in December. In the spring, we wait for the snow and ice to melt, and our rivers to unfreeze. Right now, we are waiting for the hooligan to start running, indicating that King salmon will follow soon after. When it comes to COVID-19, we've been waiting to hear on how travel restrictions will impact our seasonal economies that are dependent on open borders and millions of visitors.
Alaskans are some of the most patient people I know, and are often rewarded for their willingness to wait. But there is one place where our patience is tested: the proposed Pebble mine.
The majority of Alaskans have vocally opposed Pebble for over a decade. We've looked to our elected leaders to step in and stop a proposal that threatens a $1.5 billion economy, and over 15,000 jobs. We've been told to be patient, and to let Pebble go through the permit review process. Our elected officials are confident that if the project can't meet the standards established by environmental laws we have in our country, it won't be permitted.
So, we have been patient, but not quiet. Alaskans have weighed in where we can to express concern for both the project proposal itself, and the fast-tracked nature of the permit review process.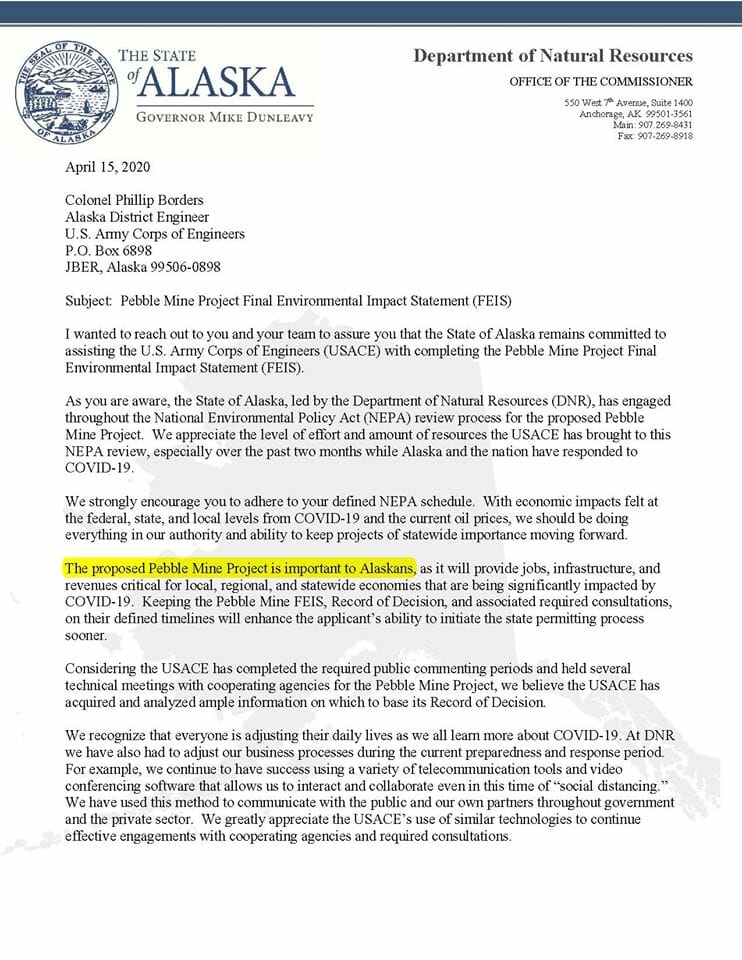 Our patience was tested two weeks ago when we saw a letter written by the State of Alaska to the Army Corps of Engineers encouraging them—not to stray from their rushed permit review amid COVID-19. They even went so far as to say "Pebble is important to Alaskans." This is a slap in the face to most Alaskans who have opposed this project from the beginning.  
Alaskans are taking this opportunity to again remind the governor that we remain opposed to Pebble. On Wednesday, nearly 50 Bristol Bay sport fishing and recreation businesses sent a letter to Alaska Gov. Mike Dunleavy, calling on him to stop his blatant support for the Pebble project and Pebble Limited Partnership. They included a list of actions that the Governor has taken that override the requests of Alaskans in support of a Canadian mining company with a risky and a financially unviable mine plan. Read the full letter here.  
We will continue to be patient, yet vigilant, as we near the end of the federal permitting process. In the next 2 to three 3 months, Alaskans will see a Final Environmental Impact Statement, and a Record of Decision on Pebble's most important permit. We will most likely know if Pebble is going to be a reality in Bristol Bay in just a few short months.  
Pebble's permit can be added to the long list of things where Alaskans and fishermen will apply their honed skill of patience. We wait for the light to return, our rivers to fill with fish again, and for a sense of pre-COVID-19 normalcy to return. And we are prepared to be patient on Pebble as long as we must in order to outlast this ill-advised and disastrous project.
Alaskans, please take a moment to call the governor and remind him that we remain opposed to Pebble. If you live outside of Alaska, please sign the petition to the President calling on him to deny Pebble's permit.  
Meghan is the Bristol Bay Organizer for Trout Unlimited, and lives and works in Anchorage, AK.