By Jamie Vaughan
Michigan has no shortage of freshwater lakes, rivers and streams, and local environmental groups are always collaborating to come up with creative ways to protect the precious water resources.  
In western Michigan, partners joined together to create the Grand River Rainscaping Program, which is helping homeowners, landscapers and contractors learn about and incorporate green infrastructure practices into their traditional development approaches. 
"Green Infrastructure" is a term that encompasses a variety of practices that combines natural and engineered features to mimic the natural water cycle, protect and restore water quality and provide benefits to wildlife, the economy and quality of life. Green infrastructure practices include rain gardens and other bioretention, green roofs, rainwater harvesting, permeable pavement, trees and tree boxes and more.  
To kickstart the Grand River Rainscaping Program, Trout Unlimited and partners received funding from the National Fish and Wildlife Foundation to install demonstration practices in targeted watersheds so the community could see the visual and practical benefits of green infrastructure.
In the Rogue River watershed, Trout Unlimited targeted a neighborhood in the headwaters of Barkley Creek, a coldwater tributary to the Rogue River, that has historically suffered from hydrologic issues including flashiness and erosion, for the installation of some green infrastructure practices.
Trout Unlimited brought on Revery, a landscape architecture studio, to design three rain gardens in the right-of-way to intercept polluted stormwater coming from the road and into the rain garden rather than the storm drain which leads to the creek.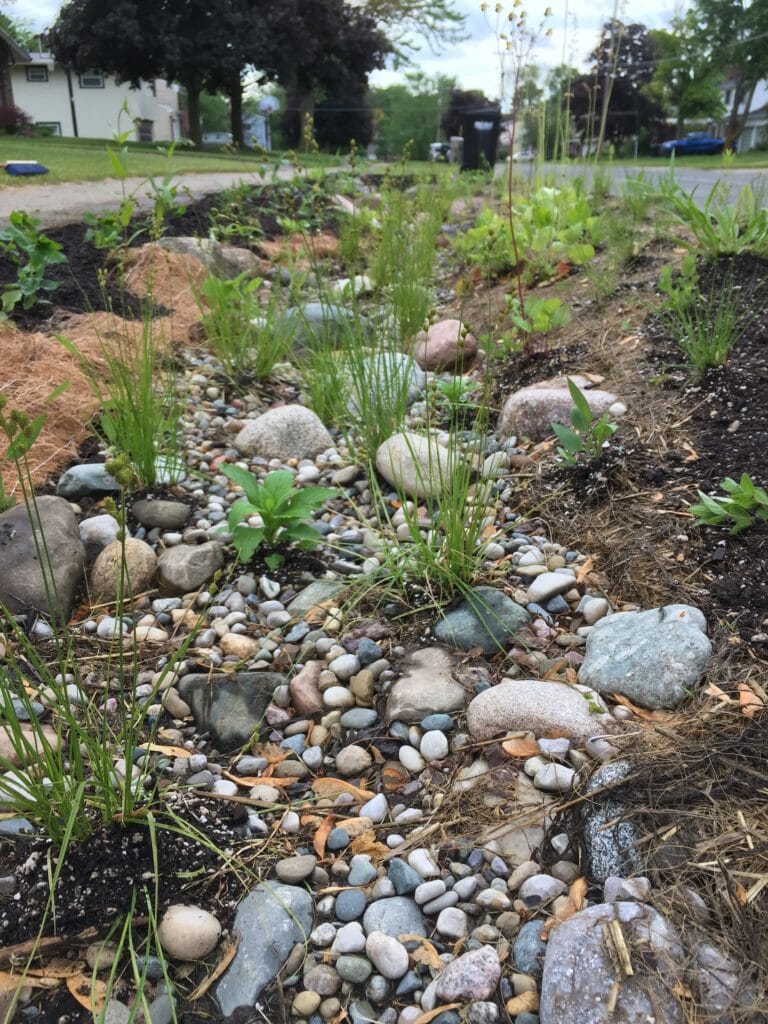 Last fall, the three rain gardens were excavated and planted with Michigan native species that tolerate flooding and drought, as well as a rock channel to help slow down the water.
This spring, the rain gardens are looking and functioning beautifully.
Trout Unlimited and partners hope the community will learn the connection between our land and water and that people will see the potential for caring for your watershed at home with innovative and effective green infrastructure practices.
Other partners, such as the Lower Grand River Organization of Watersheds, the City of Grand Rapids, Plaster Creek Stewards, and the West Michigan Environmental Action Council, implemented similar projects in other key watersheds throughout the Lower Grand River, using this collaborative effort to create a comprehensive network of demonstration projects to further the promotion of "Rainscaping" techniques for the community to adopt.
The Rogue River Home Rivers Initiative Project is funded by the Frey Foundation, the Grand Rapids Community Foundation, the Wege Foundation, the Wolverine World Wide Foundation, and the Schrems West Michigan Trout Unlimited.