By Dylan Cooper
An important historical site in Virginia got a long-awaited face-lift after more than 70 years of being hampered by the presence of man-made barriers to aquatic organism passage.
Bob Downey Branch, a Class III wild trout water, is once again open for trout thanks to efforts by Trout Unlimited and the George Washington and Jefferson National Forest.
The Longdale Furnace Recreation Area is located between Clifton Forge and Lexington, just a few minutes from Interstate 64.
Dawn Kirk, Forest Fisheries Biologist for the GWJNF, said collaboration with Trout Unlimited was a key for the project's success.
"The partnership with Trout Unlimited increased our capacity, by bringing people with time and expertise to the table, so that we could reconnect 2.5 miles of stream, restoring it to a more natural form and function, while maintaining access to an historic recreation area," Kirk said. "TU personnel were integral to the project, all the way from thoughtful planning through implementation."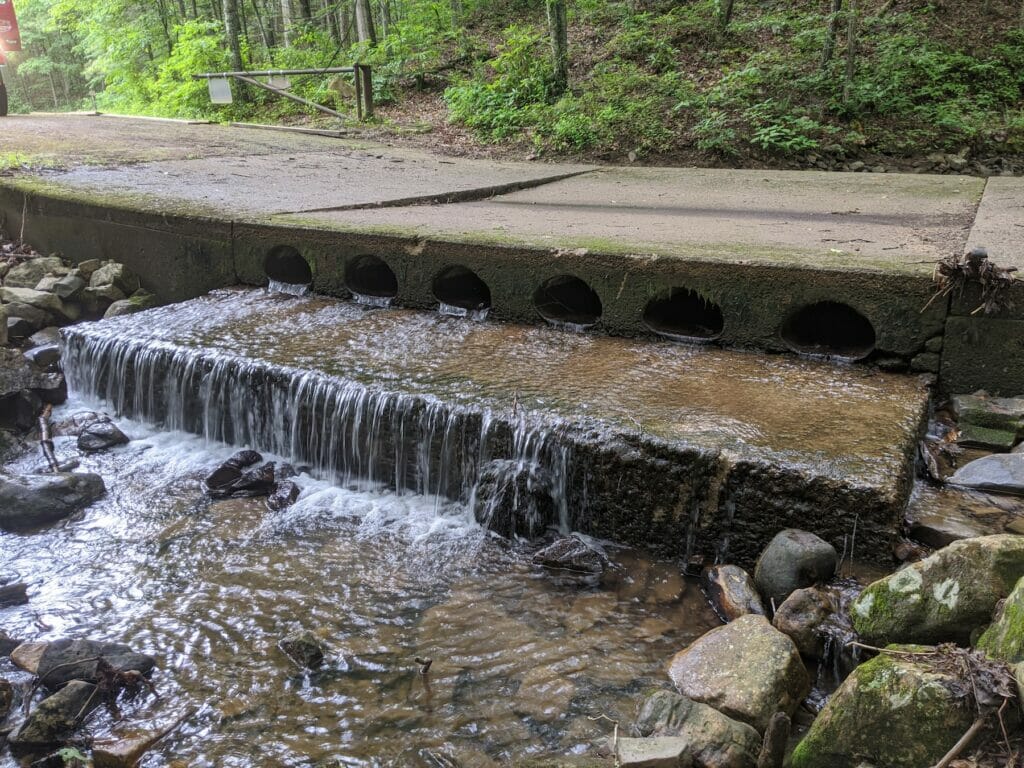 Originally named Green Pastures Recreation Area, it was built by the CCC between 1938 and 1940 to serve the region's African American population when the nearby Douthat Lake State Park was designated a whites-only facility. It included a small swimming lake and beach, bathhouse, toilets, and picnic shelters.
The area was closed in 2014 and listed as "Ten Buildings that Changed Black History in Virginia" by the Virginia Society of the American Institute of Architects.
The Simpson Creek watershed, in which Bob Downey Branch is located, is a priority watershed for the GWJNF and their 2014 Revised Land and Resource Management Plan with the goal of promoting functional riparian corridors for aquatic and terrestrial organisms.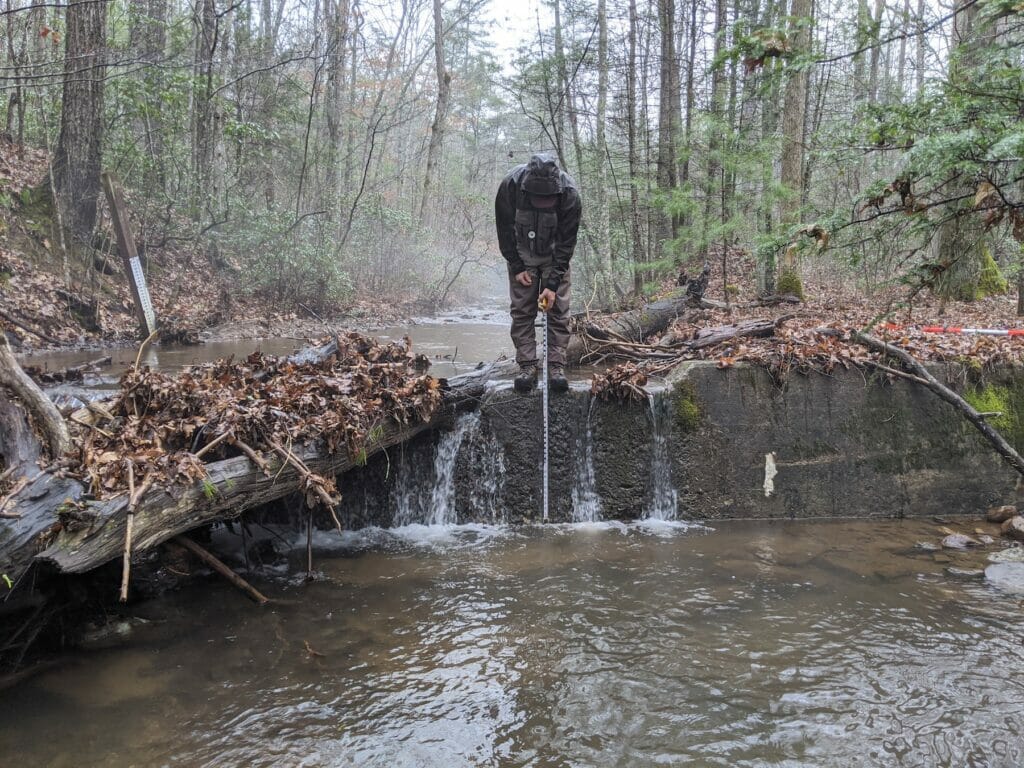 Historic fish population monitoring (1979, 1986, 1995) in Bob Downey Branch showed the presence of native brook trout in low numbers, but in June 2018, monitoring efforts by VDGIF did not indicate a presence of brook trout at any of their sampling locations in the creek.
Installed in the 1960s, a concrete vented ford on a forest service road over Bob Downey Branch was clogged and collapsing, preventing fish passage and making vehicular crossing unsafe to the point where the road was closed to public access.
During the project, all concrete and pipe materials were removed from the stream, and a new wet ford was put in place using Articulated Concrete Block (ACB) mats. The ACBs allow for a non-erodible, stable driving surface that permits stream flow and aquatic organism passage across it.
Immediately downstream of the new ford is a 100-foot-long series of step-pools made of boulders and logs harvested from the forest by Forest Service personnel. This alleviated the elevation change in a controlled manner of steps averaging 9 inches while allowing for fish passage all the way up and over the new ford while enhancing pool habitat locally.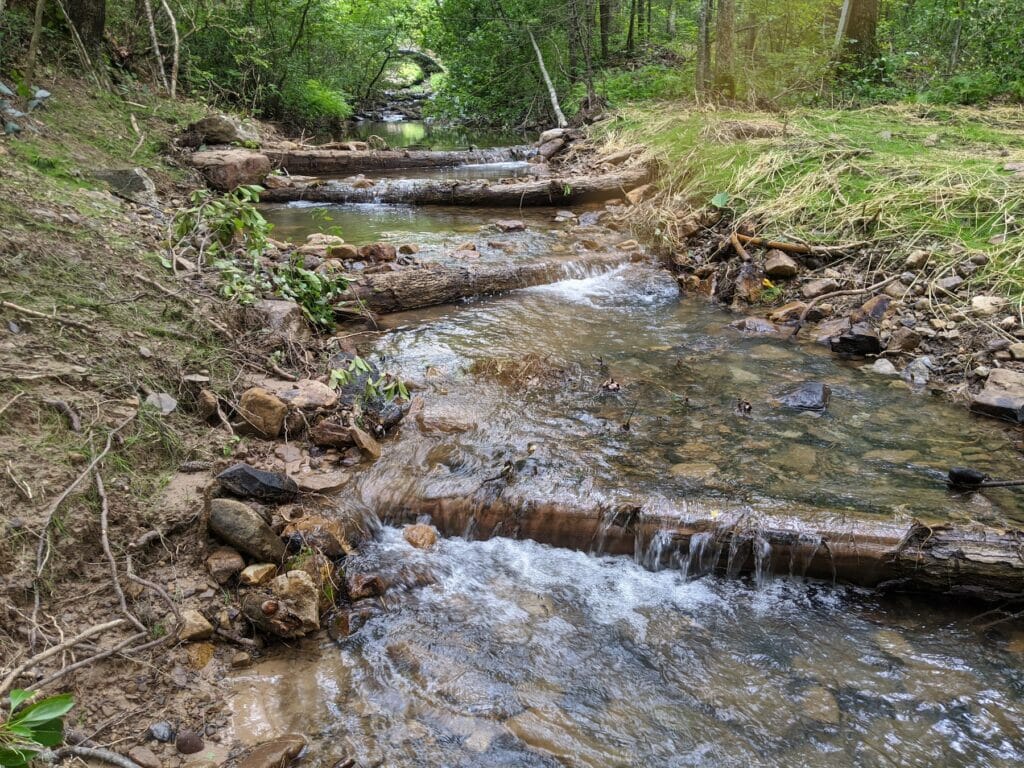 Approximately a half-mile upstream in Bob Downey Branch were two concrete weirs about two 2 feet and 3 feet tall, installed in the 1940s and 50s to provide water to the downstream recreation area, small motel, and Forest Service residence. They proved to be inadequate for the water needs and were abandoned in the 1970s, but unfortunately remained in place as aquatic organism passage barriers.
Crews from local contractor Shenandoah Streamworks removed the weirs using a hydraulic hammer attached to an excavator but left the ends of the old weirs in place per a request by the Virginia Department of Historic Resources.
The upstream weir was replaced by boulder step-pool structures due to the shallow underlying bedrock. The lower weir was replaced with log step-pool structures, once again allowing for easier aquatic organism passage and pool habitat creation.   

Plans for helping brook trout repopulate the stream are being developed. Options include allowing trout to naturally return to the stream from Simpson Creek, or to possibly relocate wild brook trout from a nearby stream, such as what TU, the Forest Service and the Virginia Department of Wildlife Resources did after a restoration project on Passage Creek in 2017.
 
Dylan Cooper is a stream restoration specialist with Trout Unlimited. A graduate of Virginia Tech, he is a licensed professional engineer.